What's Up?
I did a lot of catching up yesterday and got to the laundry as well. More of the same today plus beginning to pack for the next big trip. Leaving on Friday. See more on that below. This blog post took about two hours to write and was published from my home sweet home in Indian Lake Estates, FL at 6:51am.
To show your appreciation for my efforts here, we ask, as always, that you use our the B&H and Amazon affiliate links on the right side of the blog for all of your purchases. B&H Is recommended for you major photography gear purchases, Amazon for your household, entertainment, and general purpose stuff. Please check the availability of all photographic accessories in the BIRDS AS ART Online Store, especially Gitzo tripods, Wimberley tripod heads, and the like. We sell only what I have used, have tested, and can depend on. We will not sell you junk. We know what you need to make creating great images easy and fun. And we are always glad to answer your gear questions via e-mail.
I would of course appreciate your using our B&H affiliate links for all of your major gear, video, and electronic purchases. For the photographic stuff mentioned in the paragraph above we, meaning BAA, would of course greatly appreciate your business. Here is a huge thank you to the many who have been using our links on a regular basis and visiting the BAA Online store as well.
BAA Bulletin #470
BAA Bulletin #470 was published this morning. It can be accessed online here. Be sure to check out the Bosque Moon Shot Repair Tutorial.
Bosque Moon Shot Repair
The Blog is the Bomb!
Jim Neiger Osprey Heaven and Custom Anytime Workshops
The New Canon EF 100-400mm f/4.5-5.6L IS II USM Lens
Selling Your Used Photo Gear Through BIRDS AS ART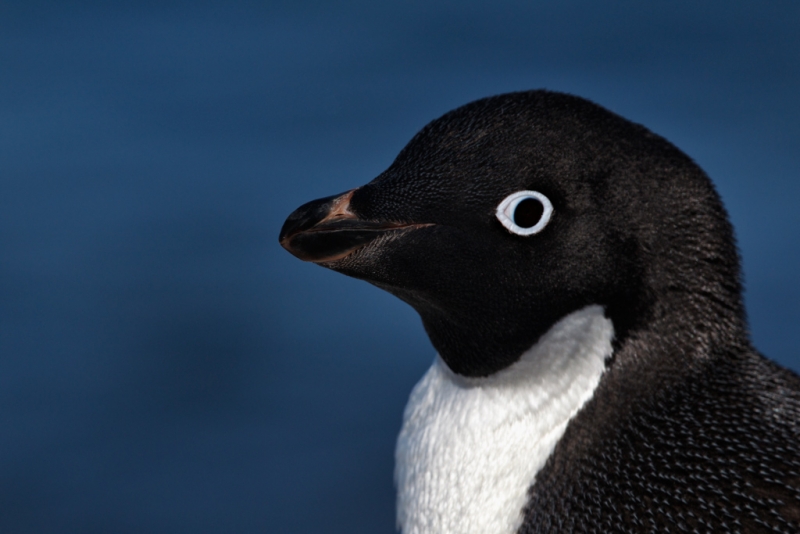 This Adelie Penguin head portrait was created on Paulet Island with the tripod-mounted Canon 300mm f/2.8 L IS II lens, the 2X III teleconverter, and the EOS-1D Mark IV. ISO 400. Evaluative metering -1/3 stop: 1/2500 sec. at f/8 in Manual mode.
The 300 II has served me very well on two previous Southern Ocean trips. Now I am putting all of my long lens eggs in one basket….
Huge Cheesemans' Southern Oceans Expedition Gear Bag Decision
My original plan was to bring both the Canon EF 300mm f/2.8L IS II USM lens and the Canon EF 200-400mm f/4L IS USM lens with Internal 1.4x Extender. I had been hoping against hope to get my hands on the new Canon EF 100-400mm f/4.5-5.6L IS II USM lens and leave the 200-400 at home. As fate would have it, B&H will have the 100-400II to ship this coming Friday, the day that I take a red-eye flight to Buenos Aires, Argentina en route to Ushuaia. I have a 5-hour layover in Atlanta and an 8 hour layover in Buenos Aires.
As the thought of traveling light intrigued me, I was strongly considering leaving the 200-400 at home, in part because of the 1.6X crop factor of my Canon EOS 7D Mark II. The final key to the puzzle was the fact that the 300 II with the hood in place and with a 1D X attached fit perfectly into the Think Tank Glass Limo, a really neat harnessed backpack. To learn about the Glass Limo first click here, then click on Camera Backpack, and then on Long Glass Backpacks.
As it is an absolute necessity that I hike with my big lens with the hood in place and a camera body attached, ready for action. With the 300 II as my big lens, I will be using the Glass Limo for the first time; after trying it out around the house yesterday and adjusting the straps, I am fully confident in it. (It is in stock on the Think Tank website right now.)
I go with the 3X Expandable Long Lens Bag when working with the 200-400 or the 500 II is the big gun, or the 4X Expandable Long Lens Bag (both of those from LensCoat) when hiking with the 600 II. Each of the Expandable Long Lnes bags will be outfitted with the Padded Harness for the LensCoat Long Lens Bags. I have used each of these bags before with great success, both at Nickerson Beach and at Fort DeSoto and will be using the 4X bag to tote my 600 II around the UK on next summer's Puffin IPTA. Scroll down here for complete details on the 3X and 4X LensCoat Expandable Long Lens Bags.
For the most part I will be working with the 7d II on the 300 II. With the 2X III TC in place this rig will get me out to a very respectable 960mm. I'll have the Canon EF 70-200mm f/2.8L IS II USM lens with a camera body attached on my shoulder via a Black Rapid RS-7 Strap. With the tame penguins and wildlife the 70-200 will be indispensable alone or with either TC.
My TCs and a wide angle zoom or two will be in my XtraHand Vest from Vested Interest along with lots of water and my emergency tool kit.
The Risk
The big risk is damaging the 300 II (as I did when I fell and destroyed my brand new 500 II along with a brand new 1D X a few years back at Fortuna Bay in South Georgia). That would leave me with the 70-200 II as my long lens. Even then I'd still be able to work at 640mm with the 2X III and the 7D II…. I will, however, be very careful. And when hiking the Glass Limo construction provides superb protection for my rig. In God and in the Glass Limo I will trust.
The Rolling Bag
All of my photo gear will be carried aboard in the Think Tank Airport International™ V 2.0 Rolling Camera Bag. My workhorse rolling bag, the slightly larger Airport Security™ V 2.0 Rolling Camera Bag, does not fit into my Seal Line Dry bag so I am going with the slightly smaller roll-aboard. How good are these bags? They are currently sold out on the Think Tank web site. Learn more by clicking here, then clicking on Camera Rolling Bags, and then clicking on Airport Series. If you'd like to receive a Think Tank product for free with every order of $50 or more, and free shipping, and the best pricing, you will need to wait until your choice is back in stock. Do know that all Think Tank bags come with their famous "No Rhetoric" warranty and the best customer service in the industry.
If you cannot wait, you can use one (or both) of our B&H affiliate links:
Think Tank Photo Airport Security V 2.0 Rolling Camera Bag (Black)
Think Tank Photo Airport International V 2.0 Rolling Camera Bag (Black)
What's in the bag?
Canon EF 300mm f/2.8L IS II USM lens
Canon EF 70-200mm f/2.8L IS II USM lens
Canon EF 24-70mm f/2.8L II USM lens
Canon EF 16-35mm f/4L IS USM lens
The Canon 15mm fisheye lens (now replaced by the "circle lens," the Canon EF 8-15mm f/4L Fisheye USM lens
Canon EOS-1D X (two)
Canon Extender EF 1.4X III (three)
Canon Extender EF 2X III (two)
As I said, I will enjoy traveling light.
Used Canon EF 100-400 f 4.5-5.6 L IS Lens
New Gear Listing: lowest price ever for this item!
Barry Mansell is offering a used Canon EF 100-400 f 4.5-5.6 L IS lens in excellent condition for $949 including insured shipping via UPS Ground to US addresses only. The plastic lens hood has a very few light scratches. The sale includes the original tough fabric case, the front and rear caps, and the lens hood. Your gear will be shipped only after your check clears.
Please contact Barry via e-mail, by phone at 904-388-8675, or on his cell at 904-655-0022. Eastern Time Zone.
The 100-400 is a versatile intermediate telephoto zoom lens with 1,000+ uses. It makes a great starter lens especially for folks who do general nature and wildlife in addition to birds. I've sold 100s of images made with a 1-4 and denise loved hers for many years forsaking it only recently for the Canon EF 70-200mm f/2.8L IS II USM lens. Barry's 100-400 is priced to sell.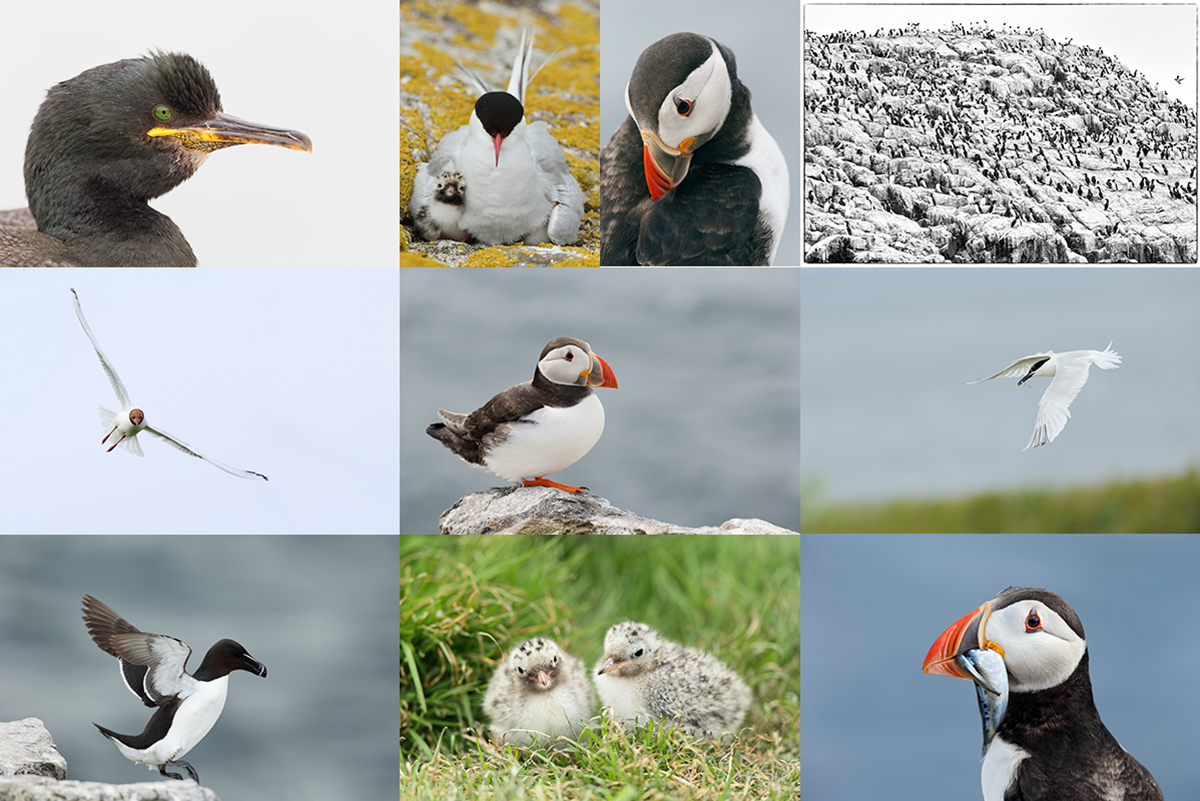 Images and card design copyright 2014: Arthur Morris/BIRDS AS ART. Click on the card to enjoy a spectacular larger version.
The 2015 UK Puffins and Gannets IPT
June 29 through July 5, 2015: $5499: Limit 10 photographers/Openings 1. Two great leaders: Denise Ippolito and Arthur Morris.
Here are the plans for next year: take a red eye from the east coast of the US on 28 June arriving in Edinburgh, Scotland on the morning of Monday 29 June (or simply meet us then either at the Edinburgh Airport (EDI) or later in the day at our cottages if you are driving your own vehicle either from the UK or from somewhere in Europe. Stay 7 nights in two gorgeous modern country cottages.
There are 5 days of planned puffin/seabird trips—weather permitting, and 1 full day of gannet photography with 2 sessions on the boat.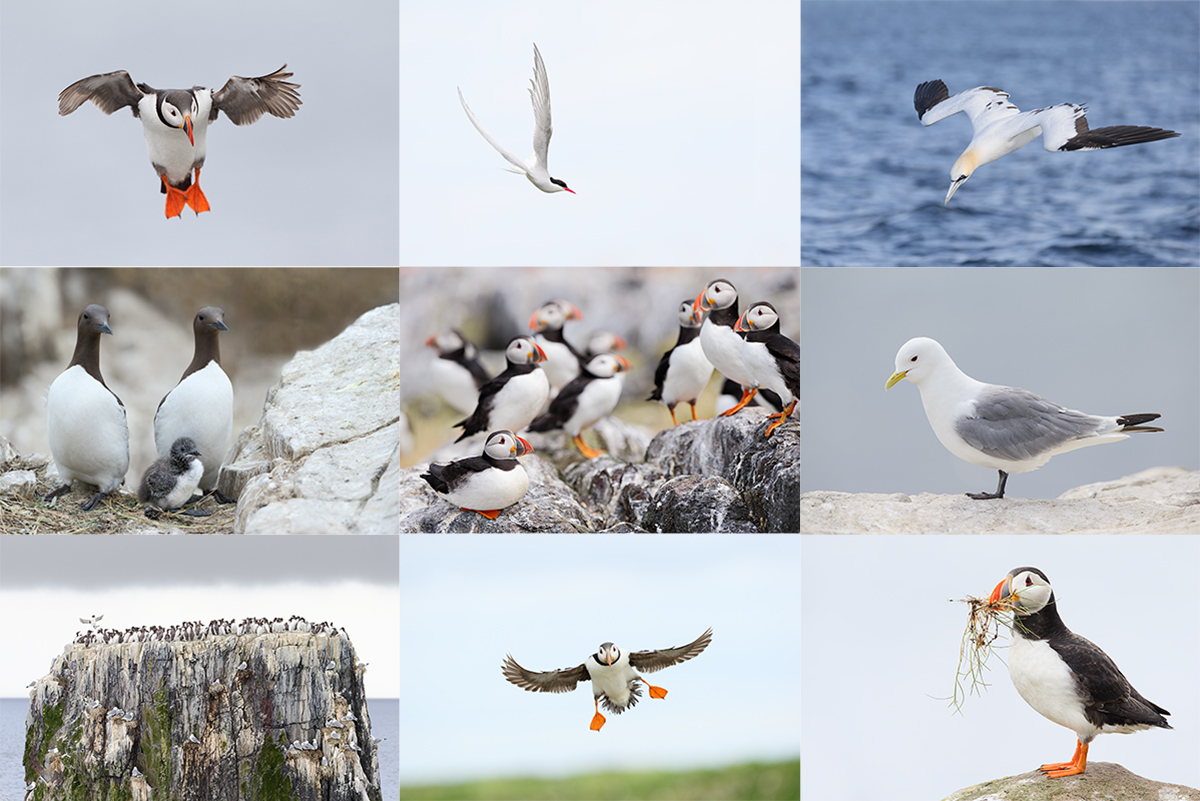 Images and card design copyright 2014: Arthur Morris/BIRDS AS ART. Click on the card to enjoy a spectacular larger version.
The Details
We will be staying in upscale country-side cottages that are beyond lovely with large living areas and lots of open space for image sharing and Photoshop lessons. The shared rooms are decent-sized, each with two roomy single beds and a private bathroom. See the single supplement info below.
All breakfasts, lunches and dinners are included. All 5 puffins boat lunches will need to be prepared in advance, taken with, and consumed at your leisure. I usually eat mine on the short boat trip from one island to the other. Also included is a restaurant lunch on the gannet boat day and a farewell fine dining thank you dinner. The cost of your National Heritage Trust is also included; that covers the twice a day landing fees.
Plan to fly home on the early morning of Monday 6 July or to continue your stay or travels.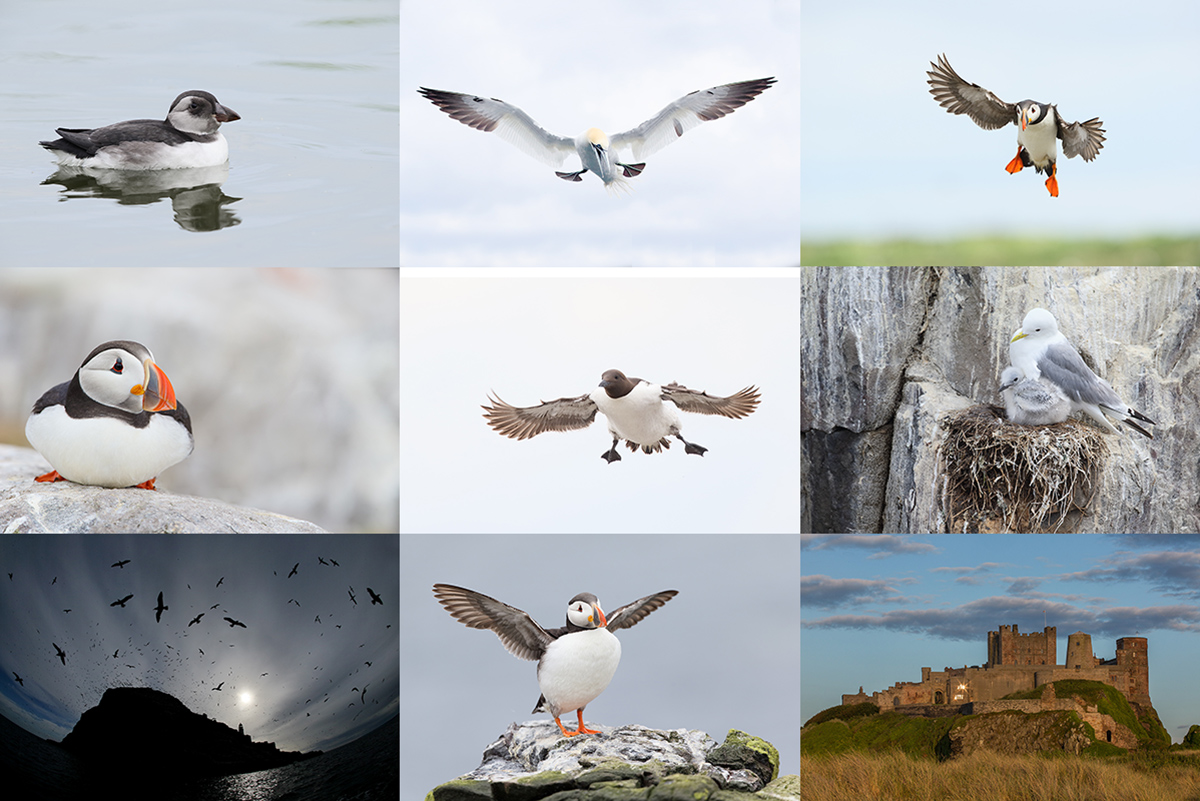 Images and card design copyright 2014: Arthur Morris/BIRDS AS ART. Click on the card to enjoy a spectacular larger version. Scroll down to join us in the UK in 2015.
Single Supplement Info
The single supplement is $1475. As we will be renting a third cottage the $1475 is due with your deposit and is also non-refundable.
If you are good to go please send your $2,000 deposit check now to save a spot. The balance will be due on March 29, 2015. Please make your check out to "Arthur Morris" and send it to Arthur Morris/BIRDS AS ART, PO Box 7245, Indian Lake Estates, FL, 33855. If you cancel and the trip fills, we will be glad to apply a credit applicable to a future IPT for the full amount less a $100 processing fee. If we do not receive your check for the balance on or before the due date we will try to fill your spot from the waiting list. Whether or not your spot is filled, you will lose your deposit. If not, you can secure your spot by paying your balance.
We do hope that you can join us.
Cheesemans' Ecology Safaris
A great safari is more than remote destinations and remarkable wildlife – it is a journey woven through foreign lands and seas leading to experiences made possible through inspiration, organization, and leadership. For over thirty years, Cheesemans' Ecology Safaris has provided these unforgettable experiences during in-depth tours to the world's richest ecosystems. Their itineraries are unique and preparation is thorough, but most importantly, the leadership is exceptional. With broad backgrounds in nature and wildlife, their leaders desire to deepen your understanding of each destination so you can take-away the photographs and memories that allow you to become nature's ambassador.
Gail and Doug Cheeseman have been leading wildlife safaris to their favorite destinations since 1978. Inspired by his parent's passion, Ted joined them in leading safaris over 15 years ago. Now the three work together with their staff to offer you superlative nature tours to destinations such as Antarctica, Tanzania, Kenya, Bhutan, Brazil, India, Galapagos, and many more. Doug is a professor emeritus of Ecology and Zoology, Ted holds a Masters in Tropical Conservation Biology, and Gail is a naturalist of the best kind – self-taught through a lifetime in the field. Together, they are a family of truly remarkable ecologists who seek to inspire travelers to enjoy and conserve the Earth's wild landscapes.
Find out more about Cheesemans' Ecology Safaris, including a complete tour listing, by clicking here. If you have any questions you can ask them here, shoot them an e-mail or call them at 800.527.5330.
Facebook
Be sure to like and follow BAA on Facebook by clicking on the logo link upper right. Tanks a stack!
Support the BAA Blog. Support the BAA Bulletins: Shop B&H here!
We want and need to keep providing you with the latest free information, photography and Photoshop lessons, and all manner of related information. Show your appreciation by making your purchases immediately after clicking on any of our B&H or Amazon Affiliate links in this blog post. Remember, B&H ain't just photography!
…..
Amazon.com
Those who prefer to support BAA by shopping with Amazon may use this link:
Amazon Canada
Many kind folks from north of the border, eh, have e-mailed stating that they would love to help us out by using one of our affiliate links but that living in Canada and doing so presents numerous problems. Now, they can help us out by using our Amazon Canada affiliate link by starting their searches by clicking here. Many thanks to those who have written.
Typos
In all blog posts and Bulletins, feel free to e-mail or to leave a comment regarding any typos or errors. Just be right :).