Important Note
My sam and mayas att e-mail account was suspended on 18 DEC. Those who tried to reach me by e-mail between then and yesterday had their mails bounced back. If you tried to reach me during that period please re-send any important e-mails.
What's Up?
Yesterday was more of the same. If you missed the Canon Digital Learning Center "Bird Photography with Arthur Morris" seven video series, be sure to click here for a link and the complete details. I still have many more exciting new images, tales, and lessons from my recently concluded Southern Oceans trip to share with you here over the course of the next few weeks and am looking forward to doing just that.
Today's blog post took about 1 1/2 hours to create in all and was published at 6:56am from my home at Indian Lake Estates, FL. Today, I will be continuing to work on the upcoming 7D Mark II User's Guide.
Huge Thanks!
Though page views dropped by about 35% during my absence y'all did a great job of remembering to use my B&H affiliate links while I was on my busman's holiday. We sold about ten each of the new 100-400 II L IS lenses and 7D Mark IIs. I should be getting my 100-400 from B&H in a few days and plan on bringing it to San Diego where I will be using it with both my 7D II and a 1D X. IAC, thanks a stack to all those who use the BAA affiliate links for their December and early January purchases. Readership is now back to normal levels at about 3,200 page views/day.
To show your appreciation for my continuing efforts here, we ask, as always, that you use our the B&H and Amazon affiliate links on the right side of the blog for all of your purchases. B&H Is recommended for you major photography gear purchases, Amazon for your household, entertainment, and general purpose stuff. Please check the availability of all photographic accessories in the BIRDS AS ART Online Store, especially Gitzo tripods, Wimberley tripod heads, and the like. We sell only what I have used, have tested, and can depend on. We will not sell you junk. We know what you need to make creating great images easy and fun. And we are always glad to answer your gear questions via e-mail. I just learned that my account was suspended during my absence; it should be up and running by Monday at the latest.
I would of course appreciate your using our B&H affiliate links for all of your major gear, video, and electronic purchases. For the photographic stuff mentioned in the paragraph above we, meaning BAA, would of course greatly appreciate your business. Here is a huge thank you to the many who have been using our links on a regular basis and visiting the BAA Online store as well.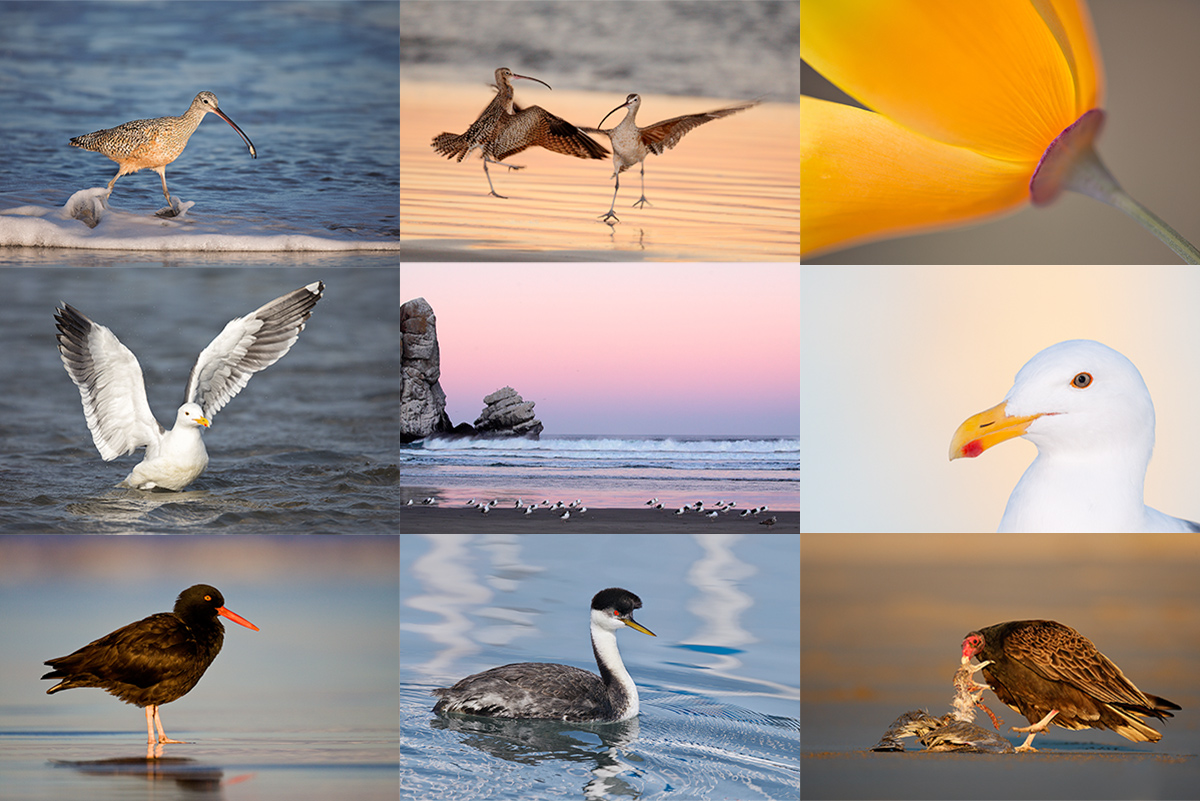 Morro Bay offers a wealth of very attractive natural history subjects in a variety of attractive settings. Do consider joining me there on the March 20-22, 2015 Canon Destination Workshop. Complete info and register here
BIRDS AS ART Morro Bay, CA Canon Live Learning EOS Destination Workshop
March 20-22, 2015: $1050

Borrow great Canon gear. Head home with a print or two. Learn from the best.
Click here for complete info or to register.
Click here to see the course agenda.
Join me in one of the most beautiful and scenic places on the planet to photograph a large variety of birds of the sea and shore. The star of the show will be the spectacular Long-billed Curlew. There will be lots of Marbled Godwits and Willets as well as lots of the smaller shorebird species. Black Oystercatcher is likely and we should get to photograph large flocks of Western Sandpipers in flight over the bay; with any luck we should enjoy some great sunrise and sunset photography. There are lots of gulls including Western, California, and Mew. There is one good location where we should get to photograph Western, Clarke's, Eared, and Pied-billed Grebe, Lesser Scaup, and Common Loon–you will be able to borrow a long lens from Canon along with various camera bodies. We may get to photograph some passerines including Anna's Hummingbird, Brewer's Blackbird, and White-crowned Sparrow. And we have a chance for several species of raptors. Yikes, I almost forgot California Poppy. And California Ground Squirrel. Sea Otters are also possible.
Folks who register after seeing this notice are asked to shoot me a copy of their BIRDS AS ART Morro Bay Registration Confirmation via e-mail.
See lots more Morro Bay images here.
All previously scheduled BIRDS AS ART Canon Destination Workshops have sold out without being advertised in the blog or in a Bulletin. As Canon has not advertised this offering yet it represents a special opportunity to get in on the fun and learning.
Canon Digital Learning Center Bird Photography with Arthur Morris 7-Video Instructional Series Update
The series is getting lots of play on Facebook and Twitter. All are invited with thanks to share or to re-Tweet. If you missed the fun and learning you can see all seven videos by clicking here and then clicking on any one of the seven images in the scrolling photo bar.
Here, in order of popularity, are the CDLC stats as of Friday afternoon:
Gear – 3,482 views
AI Servo and One-shot – 2,477 views
Camera settings – 2,372 views
Location scouting – 2,358 views
Exposure – 2,016 views
Tele-extenders – 1,533 views
Sunrise and Sunset Blurs and Silhouettes – 1,310 views
All of the above are in addition to the YouTube views. Thanks a stack to Canon's Mike Chan for providing this info.
Here is a typical YouTube comment:
DesertPackrat: Thank goodness. Finally a video that teaches the more advanced, subtle improvements of light and position placement for nature photography. I have seen plenty of beginner camera tips and a fair amount of advanced studio lighting techniques but this is the first series that I have seen that covers more advanced concepts for outdoor photography. Thank you so much for sharing. I am now inspired to see the Sandhill cranes in Willcox, AZ. Please keep making these tutorials; I promise to buy more Canon gear if you do.
National Park Service to Hold Open House on the Status of the Jamaica Bay Wildlife Refuge West Pond Environmental Assessment
Hurricane Sandy put a huge hurt on JBWR when the the West Pond was breached by the storm. Since then a firestorm of environmental debate has raged: restore the fresh water pond or leave things as be? I have no horse in this race but I would love to see the West Pond restored to fresh as fresh water abutting salt is always a huge magnet for birds as it gives them options for resting, feeding, and bathing.
Learn more about the NPS open house here and learn lots more on the issues on the NYC Audubon web site here.
This quote from NYC Audubon outlines the basics:
The Jamaica Bay Wildlife Refuge was created as a wildlife sanctuary in 1951, occupying "West Island," a landfill composed of Rulers Bar Hassock and Goose Creek Marsh. At the urging of Robert Moses, then New York City's Parks Commissioner, additional dredging and filling took place in order to form two freshwater impoundments, the East and West Ponds (115 acres and 44 acres, respectively). At the time, the ecological value of salt marsh was not fully recognized, and it was believed that freshwater would better serve the needs of wildlife, especially ducks and geese. In 1974, the refuge was turned over to the National Park Service as part of the formation of Gateway National Recreation Area, and both fresh- and saltwater habitats in the refuge have been important to resident and migratory birds in the ensuing years. In October 2012, the storm surge from hurricane Sandy breached both the East and West Ponds. While the East Pond was quickly repaired by the Transit Authority as part of its efforts to restore train service to the Rockaways, the West Pond has remained breached, transforming it from a pond into a lagoon of Jamaica Bay.
On a personal note I have seen White-faced Ibis, breeding adult Curlew Sandpiper, and juvenile Broad-billed Sandpiper on the West Pond. The first two are rare; I believe that the broad-billed was the only one ever sighted on the east coast of the US.
Facebook
Be sure to like and follow BAA on Facebook by clicking on the logo link upper right. Tanks a stack!
Support the BAA Blog. Support the BAA Bulletins: Shop B&H here!
We want and need to keep providing you with the latest free information, photography and Photoshop lessons, and all manner of related information. Show your appreciation by making your purchases immediately after clicking on any of our B&H or Amazon Affiliate links in this blog post. Remember, B&H ain't just photography!
…..
Amazon.com
Those who prefer to support BAA by shopping with Amazon may use this link:
Amazon Canada
Many kind folks from north of the border, eh, have e-mailed stating that they would love to help us out by using one of our affiliate links but that living in Canada and doing so presents numerous problems. Now, they can help us out by using our Amazon Canada affiliate link by starting their searches by clicking here. Many thanks to those who have written.
Typos
In all blog posts and Bulletins, feel free to e-mail or to leave a comment regarding any typos or errors. Just be right :).