What's Up?
I continue to feel a bit better each day with only a bit of chest congestion left from my seemingly never-ending cold; the end is in sight.
With the Seahawks winning in miraculous fashion I was one for two yesterday. It will be the Seahawks versus the Patriots in the Super Bowl in two weeks. I will be pulling for Seattle with a grudging respect for pretty boy Tom Brady and his nefarious coach Bill Belichick. (When I did a Google search to check on the spelling of the coach's last name I was not surprised to learn that I was not the first person to use the word nefarious to describe him.) But for two unlikely-at-best plays, each executed by my beloved NY Giants, the duo would be 5-0 in Super Bowls….
Today's blog post took about 1 1/2 hours to create. It was published at 5:55am from my home at Indian Lake Estates, FL. Today, I will continue to work on the upcoming 7D Mark II User's Guide and on Used Photography Gear e-mails.
If you are one of the few who missed the Canon Digital Learning Center "Bird Photography with Arthur Morris" seven video series, be sure to click here for a link and the complete details. I still have many exciting new images, tales, and lessons from my recently-concluded trip to share with you here over the course of the next few weeks and am looking forward to doing just that.
Huge Thanks!
Though page views dropped by about 35% during my absence y'all did a great job of remembering to use my B&H affiliate links while I was on my busman's holiday. We sold about ten each of the new 100-400 II L IS lenses and 7D Mark IIs. I should be getting my 100-400 from B&H in a few days and plan on bringing it to San Diego where I will be using it with both my 7D II and a 1D X. IAC, thanks a stack to all those who use the BAA affiliate links for their December and early January purchases. Readership is now back to normal levels at about 3,000 page views/day. Yesterday's post was a hit with 3874 page views.
To show your appreciation for my continuing efforts here, we ask, as always, that you use our the B&H and Amazon affiliate links on the right side of the blog for all of your purchases. B&H Is recommended for you major photography gear purchases, Amazon for your household, entertainment, and general purpose stuff. Please check the availability of all photographic accessories in the BIRDS AS ART Online Store, especially Gitzo tripods, Wimberley tripod heads, and the like. We sell only what I have used, have tested, and can depend on. We will not sell you junk. We know what you need to make creating great images easy and fun. And we are always glad to answer your gear questions via e-mail. I just learned that my account was suspended during my absence; it should be up and running by Monday at the latest.
I would of course appreciate your using our B&H affiliate links for all of your major gear, video, and electronic purchases. For the photographic stuff mentioned in the paragraph above we, meaning BAA, would of course greatly appreciate your business. Here is a huge thank you to the many who have been using our links on a regular basis and visiting the BAA Online store as well.
This image was created on January 7, 2015 with the hand held Canon EF 300mm f/2.8L IS II USM lens and the amazing Canon EOS 7D Mark II. ISO 400. Evaluative metering +2 stops off the white sky in cloudy conditions: 1/3200 sec. at f/4 in Manual mode was a bit of an underexposure.
Central sensor/AI Servo/Manual selection–single point/Shutter Button AF (as originally framed–this is a substantial crop) just caught the far side of the bird's back just behind the head and was of course active at the moment of exposure. Click on the image to see a larger version.
Your browser does not support iFrame.
Photographing an Erratic, Speeding-Bullet-of-a Bird with the Canon EOS-7D Mark II
I was sitting in the bar/salon on our first full day of crossing the Drake Passage on the way home. My roommate, the affable John McGarvey–he could sleep through a tornado–happened by and told me that flight photography from the stern of the Ortelius had been pretty good for an hour or so with lots of birds following the ship. I grabbed a quick bite of lunch, got dressed warmly, and headed out for what turned out to be my last photo session of the trip. I had taught the group early on that the stern was almost always the best location for doing flight photography from the ship; I did virtually all of my flight photography from the back of the ship.
The session was indeed a good one with the highlight being a young Wandering Albatross that flew unusually close to the ship on several occasions. There were a few black-broweds as well along with lots of speeding Pintado (Cape) Petrels. And there were lots of Antarctic Prions but I had long ago given up hope of getting a sharp useable image of this species. They are smaller than the Cape Petrels, twice as fast, and are uncommonly erratic fliers; they dart up and down endlessly while changing direction constantly. They stay well away from the ship and always fly low giving you an proximal ocean background. The latter makes it very difficult to get a sharp image as working against a background-other-than-sky gives most AF systems problems. Simply getting one in the frame is a huge challenge. And acquiring focus and tracking the bird just long enough to create a sharp image or two had always been out of the question.
Out of the question that is, until this bird flew towards the stern of the ship on the starboard side and glided towards the horizon at 12:53pm. with the bird flying a relatively straight course just above the horizon I was able to attain AF, track the bird successfully, and create two images before it made an insane and instantaneous turn to port. The first frame–with its nice dorsal view was sharp enough so that the tube on the top of the bill (from which the term "tubenose" is derived) was clearly visible.
Thanks to the light weight, crop factor, and the superb AF system of the 7D II and a bit of luck on my part it was a keeper. I used the 300 II/7D II combo for all of my flight photography from the ship.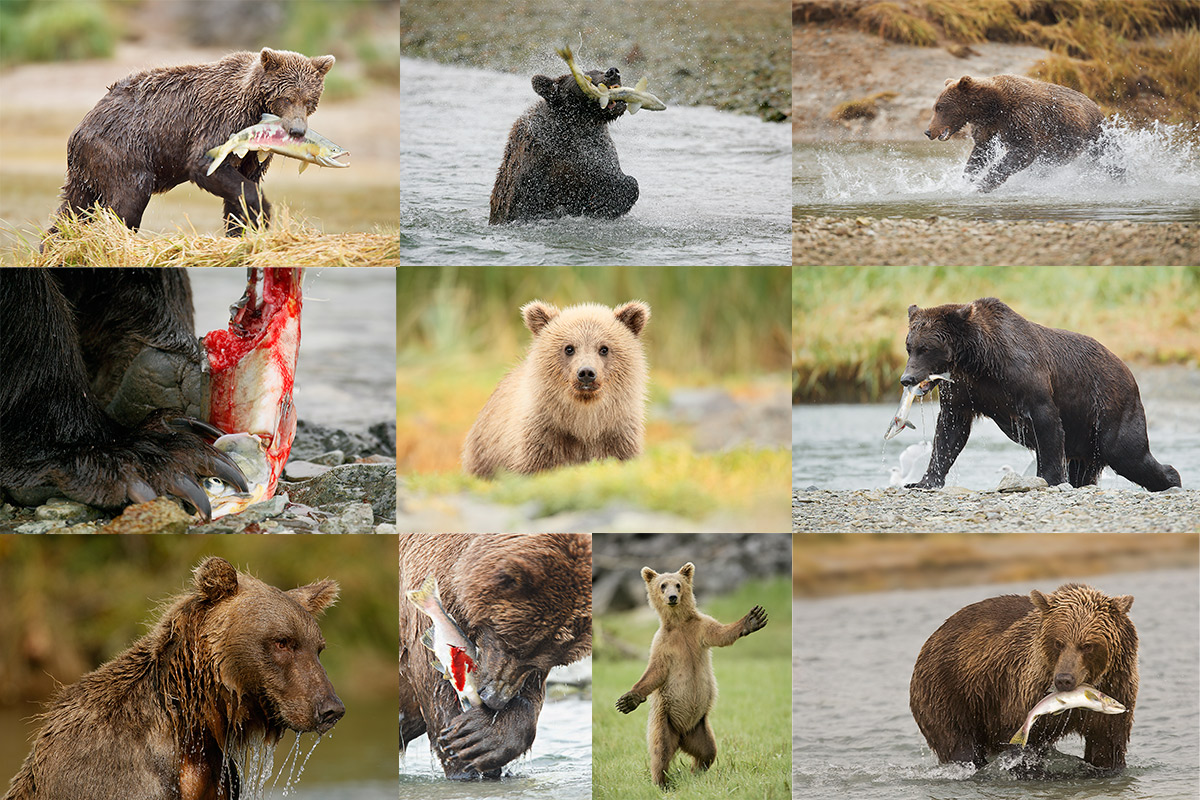 All of the images in the bear boat card above were created in Katmai National Park during the month of September.
Bear Boat/Bears Catching Salmon IPT: September 1-8, 2015 from Kodiak, AK/6 FULL & 2 1/2 DAYS: $6699. Happy campers only! Maximum 8/Openings: 4. Plus the leader: Arthur Morris.
If and when a promised deposit check arrives, this trip will be a go.
Join me in Katmai National Park, AK for seven days of photographing Coastal Brown Bears (grizzlies) catching salmon, fattening up for the long winter. Other subjects will include Mew and Glaucous-winged Gulls in flight and dip-feeding on salmon roe. Did I mention that we live on a boat and that the food is great? Most of our photography will be done in a variety of famed locations: Geographic Harbor, Kinak Bay, and Kukak Bay. We once had 39 bears fishing the creek at Kukak….
It is mandatory that you be in Kodiak no later than the late afternoon of August 31, 2015 September to avoid missing the float planes to the boat on the morning of September 1. With air travel in AK being what it is, with the chance of fog or other bad weather–being on Kodiak on August 30 is an even better plan). I be on Kodiak on August 30 to avoid any potential disaster. That said in my nearly a dozen bear boat trips I was delayed only once but since I was day early as noted above there was no harm, no foul.
We will take one or more float planes to the boat mid-morning on September 1. We will photograph bears fishing that afternoon and every day for the next six days (weather permitting of course). We should have bears catching salmon every day. In addition, we will get some nice stuff on Mew Gull and Glaucous-winged Gulls dining on roe and the remains of predated salmon. We may–depending on where the concentrations of bears are–get to photograph Harbor seals and some hauled out Steller's Sea Lions (an endangered species). Halibut fishing (license required) is optional. On September 8, our last morning on the boat, those who would like to enjoy one last photo session will do so. The group returns to Kodiak via float plane midday. Most folks will fly to Anchorage and then continue on red-eye flights to their home cities.
The eight days will consist of six full days (Sept 2, 3, 4, 5, 6, & 7) of photography featuring lots of Coastal Brown Bears catching salmon as above plus a variety of other natural history subjects plus some nice scenic photography that I forgot to mention above. Plus the first afternoon and the last morning.
What's included? 8 DAYS/7 NIGHTS on the boat as above. All meals on the boat. (The food is quite excellent.) National Park fees. One night's double occupancy lodging on Kodiak; arrive: Sept 1/depart: Sept 2. The thank-you-in-advance dinner on Sept 1. In-the-field photo tips, instruction, and guidance. An insight into the mind of a top professional; I will constantly let you know what I am thinking, what I am doing, and why I am doing it. Small group image review, image sharing, and Photoshop instruction on the boat.
What's not included: Your round trip airfare to and from Kodiak, AK (almost surely through Anchorage). All necessary lodging other than the cost of your double occupancy room on the night of August 31 should you opt to arrive early–we can arrange that in advance for you. We will let you know the cost of a single supplement for the one night if so desired. The cost of the round-trip float plane to the boat on September 2 and back to Kodiak on September 9. The cost of a round trip this year was $500. The suggested crew tip of $210.
Is this an expensive trip? Yes, of course. But with 6 full and two half days, a wealth of great subjects, and the fact that you will be walking with the bears just yards away (or less….) it will be one of the great natural history experiences of your life. Most folks who take part in a Bear Boat IPT wind up coming back for more.
A $2,000 per person non-refundable deposit by check only made out to "Arthur Morris" is required to hold your spot. Please click here to read our cancellation policy. Then please print, read, and sign the necessary paperwork here and send it to us.
Your deposit is due immediately. That will leave a balance of $4699. The next payment of $2699 will be due on February 15, 2015. The final payment of $2000 is due on May 1, 2015.
I hope that you can join us for this wondrously exciting trip.
By e-mail from Bill Keown, veteran of three bear boat trips!
Hi Artie, What a great trip! With the exception of the one bright sunny day it was just great. Very different from my first trip in June where we only had the bears clamming; the fishing bears were amazing! As always I learned a lot and enjoyed the group immensely. All the Best, Bill
Facebook
Be sure to like and follow BAA on Facebook by clicking on the logo link upper right. Tanks a stack!
Support the BAA Blog. Support the BAA Bulletins: Shop B&H here!
We want and need to keep providing you with the latest free information, photography and Photoshop lessons, and all manner of related information. Show your appreciation by making your purchases immediately after clicking on any of our B&H or Amazon Affiliate links in this blog post. Remember, B&H ain't just photography!
…..
Amazon.com
Those who prefer to support BAA by shopping with Amazon may use this link:
Amazon Canada
Many kind folks from north of the border, eh, have e-mailed stating that they would love to help us out by using one of our affiliate links but that living in Canada and doing so presents numerous problems. Now, they can help us out by using our Amazon Canada affiliate link by starting their searches by clicking here. Many thanks to those who have written.
Typos
In all blog posts and Bulletins, feel free to e-mail or to leave a comment regarding any typos or errors. Just be right :).