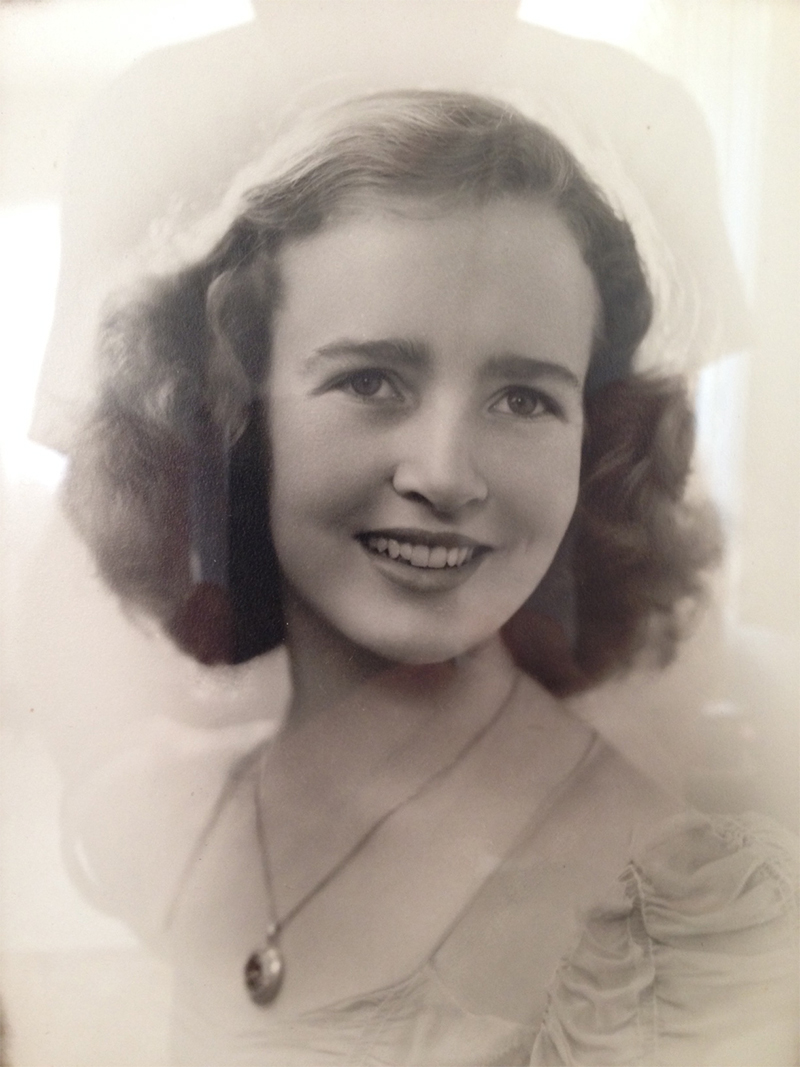 Dr. Cliff Oliver's Mom as a young woman.
Condolences
Am sending love, strength, and energy to my bud, Dr. Cliff Oliver of The Center for Balance in San Diego, CA. Cliff's mom, Edie Oliver (she hated Edith), died recently at age 92. Nearly two decades ago Cliff inspired me to quit trying to kill myself with food. We talk most every week.
Four years ago Cliff stood by his Mom's bedside. The doctors took him into the X-ray room at the side of the ICU and showed him why she would only live another two weeks at the most. "The oxygen that had been incorrectly administered during surgery has destroyed her lungs." Edie Oliver lived to enjoy four pretty darned good years until her death last Wednesday. The kidney failure that eventually killed her was caused by short term over-medication….
My Mom is 92.
What's Up?
I felt good enough yesterday afternoon to take my first swim in two months. I did about a half mile in my 74 degree pool. And I took my first ice bath as well. The tub was 59 F when I got in to do my 44 minutes of relaxation and healing. My efforts paled in comparison to those of the ice swimmers below.
Today's blog post took about 1 1/4 hours to create. It was published at 5:25am from my home at Indian Lake Estates, FL. Today, I will continue to work on the upcoming 7D Mark II User's Guide, on Used Photography Gear e-mails, and on the next BAA Bulletin.
If you are one of the few who missed the Canon Digital Learning Center "Bird Photography with Arthur Morris" seven video series, be sure to click here for a link and the complete details. I still have many exciting new images, tales, and lessons from my recently-concluded trip to share with you here over the course of the next few weeks and am looking forward to doing just that.
Huge Thanks!
Though page views dropped by about 35% during my absence, y'all did a great job of remembering to use my B&H affiliate links while I was on my busman's holiday. We sold about ten each of the new 100-400 II L IS lenses and 7D Mark IIs. I should be getting my 100-400 from B&H in a few days and plan on bringing it to San Diego where I will be using it extensively with both my 7D II and a 1D X. IAC, thanks a stack to all those who use the BAA affiliate links for their December and early January purchases. Readership is now back to normal levels at about 3,000 page views/day.
To show your appreciation for my continuing efforts here, we ask, as always, that you use our the B&H and Amazon affiliate links on the right side of the blog for all of your purchases. B&H Is recommended for you major photography gear purchases, Amazon for your household, entertainment, and general purpose stuff. Please check the availability of all photographic accessories in the BIRDS AS ART Online Store, especially Gitzo tripods, Wimberley tripod heads, and the like. We sell only what I have used, have tested, and can depend on. We will not sell you junk. We know what you need to make creating great images easy and fun. And we are always glad to answer your gear questions via e-mail. I just learned that my account was suspended during my absence; it should be up and running by Monday at the latest.
I would of course appreciate your using our B&H affiliate links for all of your major gear, video, and electronic purchases. For the photographic stuff mentioned in the paragraph above we, meaning BAA, would of course greatly appreciate your business. Here is a huge thank you to the many who have been using our links on a regular basis and visiting the BAA Online store as well.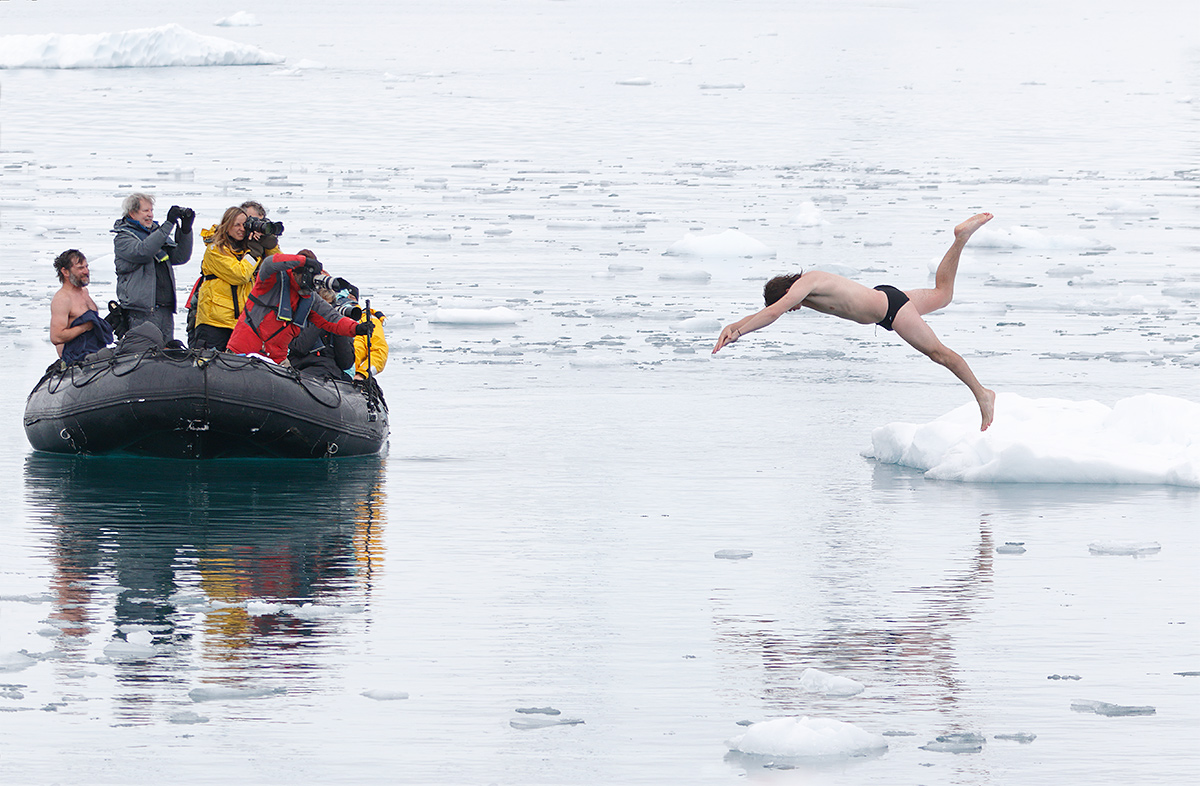 This image was created on the cloudy afternoon of January 5, 2015 at Neko Harbor, Antarctica with the hand held Canon EF 70-200mm f/2.8L IS II USM lens, the Canon Extender EF 2X III (at 192mm), and the amazing Canon EOS 7D Mark II. ISO 400. Evaluative metering +2 stops off the light gray sky: 1/1600 sec. at f/6.3.
Central sensor/AI Servo Surround Rear Focus AF on the swimmer standing on the small iceberg and re-compose left Click here to see the latest version of the Rear Focus Tutorial. Click on the image to see a larger version.
Trip participant Cameron Sinden of Australia dives from a small iceberg into the -2 degree centigrade (28.4 F) water.
Your browser does not support iFrame.
The South Georgia Heritage Trust Rat Eradication Project
Kudos to Cheesemans' for conducting their annual fund raiser to support the South Georgia Heritage Trust (SGHT) Rat Eradication Project (REP) on the recent Southern Ocean expedition. Expedition leader Hugh Rose informed me yesterday via e-mail that folks pledged roughly $1600 for the SGHT REP to sponsor the 20 brave ice swimmers…. The entire SGHT Rat Eradication Project fund raiser auction raised more than $20,000. Four 16X20 inch prints donated by BIRDS AS ART raised about $1500. The auction, always a raucous affair, was once again conducted by CES Expedition Staff member Joe Kaplan who as always had folks rolling on the floor while emptying their wallets.
From the SGHT website:
Team Rat completed their 2013 baiting target
Team Rat has now reached its 2013 target, baiting a further 580 square kilometres of South Georgia, despite operating in some of the worst weather in a decade. This year's work means that the team has baited 70% of the infested area of the island. You can support Team Rat's work by sponsoring a hectare of the island to be cleared of rodents by clicking You can make a donation here. And you can even do it by Paypal.
Used 13″ Macbook Pro for sale
Steve Ellis is offering a used 13″ Macbook Pro in very good condition for $799. (The laptop was purchased new for $1650 on 2/13/12.)
PROCESSOR: 2.8GHz Dual-core Intel Core i7. MEMORY: 8GB 1333MHz DDR3 SDRAM – 2x4GB. HARD DRIVE: 750GB Serial ATA Drive @ 5400. OPTICAL DRIVE: 8x Double-Layer SuperDrive. The sale includes insured shipping via UPS Ground to US addresses only. Personal checks only; the laptop will be shipped only after your check clears.
Contact Steve via e-mail or call him at 203-292-3101 (weekdays/eastern time zone).
Facebook
Be sure to like and follow BAA on Facebook by clicking on the logo link upper right. Tanks a stack!
Support the BAA Blog. Support the BAA Bulletins: Shop B&H here!
We want and need to keep providing you with the latest free information, photography and Photoshop lessons, and all manner of related information. Show your appreciation by making your purchases immediately after clicking on any of our B&H or Amazon Affiliate links in this blog post. Remember, B&H ain't just photography!
…..
Amazon.com
Those who prefer to support BAA by shopping with Amazon may use this link:
Amazon Canada
Many kind folks from north of the border, eh, have e-mailed stating that they would love to help us out by using one of our affiliate links but that living in Canada and doing so presents numerous problems. Now, they can help us out by using our Amazon Canada affiliate link by starting their searches by clicking here. Many thanks to those who have written.
Typos
In all blog posts and Bulletins, feel free to e-mail or to leave a comment regarding any typos or errors. Just be right :).