What's Up?
Another day, another swim, another ice bath. Lots accomplished and great visit to my chiropractor TJ McKeon. My wrist and thumb are improving dramatically. Today's blog post took about 2 1/4 hours to create. It was published at 8:52am from my home at Indian Lake Estates, FL.
If you are one of the few who missed the Canon Digital Learning Center "Bird Photography with Arthur Morris" seven video series, be sure to click here for a link and the complete details. I still have many exciting new images, tales, and lessons from my recently concluded trip to share with you here over the course of the next few weeks and am looking forward to doing just that.
Huge Thanks!
Though page views dropped by about 35% during my absence, y'all did a great job of remembering to use my B&H affiliate links while I was on my busman's holiday. We sold about ten each of the new 100-400 II L IS lenses and 7D Mark IIs. I should be getting my 100-400 from B&H in a few days and plan on bringing it to San Diego where I will be using it extensively with both my 7D II and a 1D X. IAC, thanks a stack to all those who use the BAA affiliate links for their December and early January purchases. Readership is now back to normal levels at about 3,000 page views/day.
To show your appreciation for my continuing efforts here, we ask, as always, that you use our the B&H and Amazon affiliate links on the right side of the blog for all of your purchases. B&H Is recommended for you major photography gear purchases, Amazon for your household, entertainment, and general purpose stuff. Please check the availability of all photographic accessories in the BIRDS AS ART Online Store, especially Gitzo tripods, Wimberley tripod heads, and the like. We sell only what I have used, have tested, and can depend on. We will not sell you junk. We know what you need to make creating great images easy and fun. And we are always glad to answer your gear questions via e-mail. I just learned that my account was suspended during my absence; it should be up and running by Monday at the latest.
I would of course appreciate your using our B&H affiliate links for all of your major gear, video, and electronic purchases. For the photographic stuff mentioned in the paragraph above we, meaning BAA, would of course greatly appreciate your business. Here is a huge thank you to the many who have been using our links on a regular basis and visiting the BAA Online store as well.
This image was created in cloudy conditions at 6:10am on December 23 at Salisbury Plain, South Georgia with the tripod-mounted Canon EF 300mm f/2.8L IS II USM lens and the Canon EOS-1D X. ISO 800. Evaluative metering +1/3 stop: 1/160 sec. at f/14. Cloudy WB.
Central sensor/AI Servo Expand Rear Focus AF on the first row of Oakum Boys (the brown young King Penguins) and re-compose. Click here to see the latest version of the Rear Focus Tutorial. Click on the image to see a larger version.
This image is all about zig zags and triangles.
Your browser does not support iFrame.
Piles of Penguins
Salisbury Plain is one of the premier South Georgia landings, one of the top wildlife photography destinations on the planet. Expedition leader Hugh Rose used some sleight of hand by making a deal with another ship and arranging a 4:00am, 4 1/2 hour landing there. We were a bit behind schedule after a Force 9 gale slowed us down on our Falklands/South Georgia crossing. Cheesemans' raison d'être is to get folks safely in the best spots for the longest possible time.
Entrusting My Images to Delkin Compact Flash Cards
I have used and depended on Delkin Compact Flash Cards since I started doing digital photography just after the turn of this century. I have never had a card failure with a Delkin 16, 32, or 64gb card. I have never lost a single image because of a faulty Delkin card. I currently have either a Delkin 64GB CF 700X UDMA 7 Memory Card or a Delkin 64GB CF 1000X UDMA 7 Memory Card in each of my four digital camera bodies. I do not use SD cards and I do not worry about putting all my eggs in one basket. Using one large card in each camera and never losing it is much better than using lots of small cards and losing one….
A friend once purchased four Delkin cards from the BAA Online Store and e-mailed soon thereafter:
"I am so disappointed in you. You swear by Delkin Cards but two of the four cards that I purchased from you failed on my trip."
I responded something to this effect: "Steve, The longer you are involved in digital photography the greater the chance that you will at some time run into a faulty card. You had some bad luck. When I visited the Delkin facility in Poway, CA and saw the hundreds of tiny welds that are part of the manufacturing process I was amazed that so few cards ever fail. A weld is most likely to fail when the card is first used. For that reason I recommend that folks test a new card over the course of several days before embarking on a big trip. Delkin will replace your cards no questions asked. Later and love, artie"
Delkin replaced both cards immediately and Steve has been using Delkin products ever since without a problem.
See all of the Delkin cards that we carry here. If you wish to purchase an SD card or do not see the Delkin card that you want, call Jim and he will have it drop-shipped at no additional costs to you.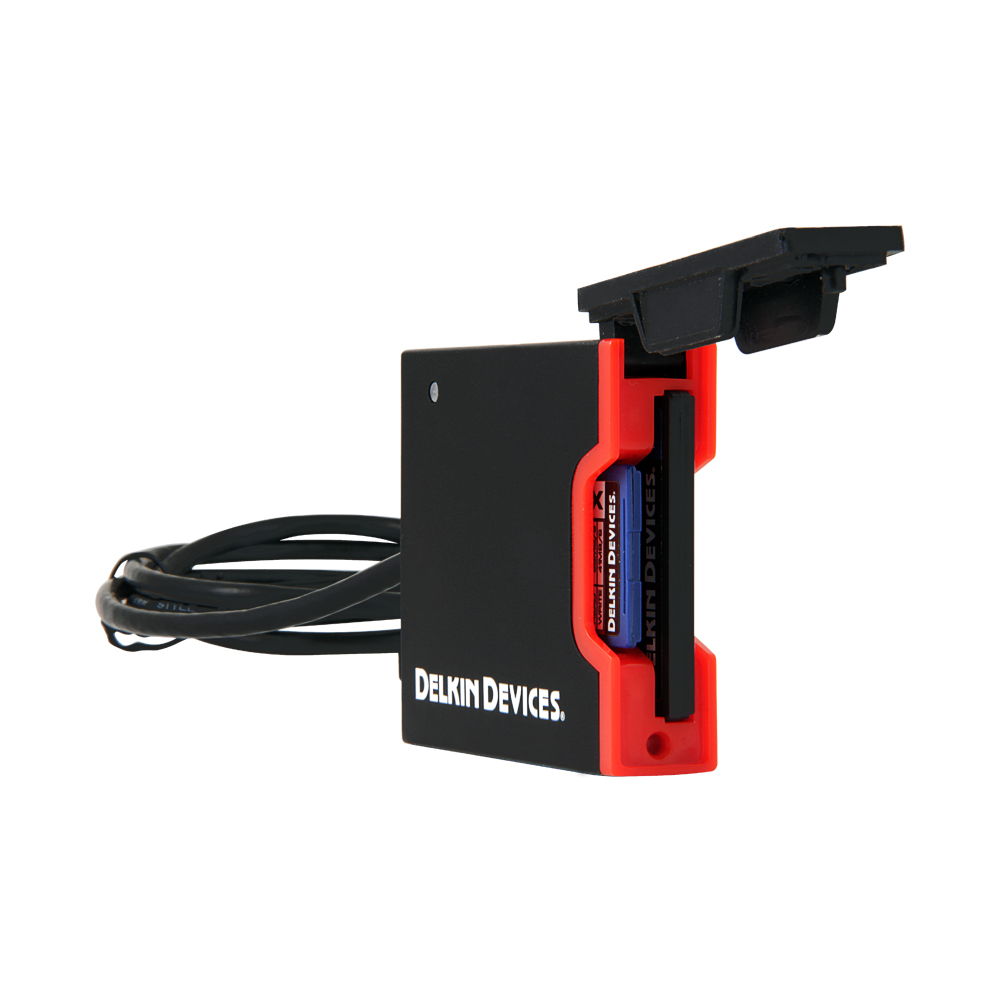 The blazingly fast Delkin USB 3.0 Dual Slot SD UHS-II & CF Memory Card Reader.
The 4.49 Times Faster Mystery…
Before I left for the big Southern Ocean expedition, Ana Lopez of Delkin sent me their new USB 3.0 Dual Slot SD UHS-II & CF Memory Card Reader to test. Since I went to Mac I had been using their USB 3.0 Universal Memory Card Reader. "Heck, a card reader's a card reader" I reasoned foolishly. I did not try the new card reader until halfway through the trip. The first time I used it I thought, "Wow. That is the fastest card reader I have ever seen." My feelings were confirmed after each shooting session. I was so enthusiastic when I told folks on the ship about the new card reader that some feared that I had not been eating enough citrus fruit like oranges and lemons on our long voyage…. (Can you say "scurvy"?)
When I got home I called Delkin to check on the differences between the old 3.0 card reader and the newer 3.0 card reader. I was told that I was in error, that the download speeds for each card would be roughly the same. I was dubious. This morning I created 500 images on a Delkin 64GB CF 700X UDMA 7 Memory Card by photographing my TV screen with the 7D II and the 100 macro. I used the stopwatch on my cell phone and downloaded the card first with the new USB 3.0 Dual Slot SD UHS-II & CF Memory Card Reader. The download was complete in 2 minutes, 9.85 seconds. Then I downloaded the same card with the older 3.0 card reader: 9 minutes, 41.56 seconds.
Fearing that the old card reader was somehow slowed down because of the already downloaded images in the Jan 21 15 folder I deleted the folder, emptied the Trash, and repeated the test in reverse order downloading first with the old card reader and then again with the new one. The results were consistent: old card reader: 9 minutes, 16.62 seconds; new card reader: 2 minutes, 4.11 seconds. The math showed that the new Delkin USB 3.0 Dual Slot SD UHS-II & CF Memory Card Reader. That of course on my new Apple 15.4″ MacBook Pro Notebook Computer with Retina Display (Mid 2014). I have no idea why my findings were so different than the manufacturer's, but I was glad to learn that faster is indeed faster. I have no idea how things will play out on a PC or on other macs….
The two things that I love most about the new Delkin USB 3.0 Dual Slot SD UHS-II & CF Memory Card Reader in addition to the speed, are the smaller size, the sturdy construction, and the permanently and securely attached cord. For travel, the new reader is the no-brainer choice.
My further understanding is that the new card reader is ten times faster than the older USB 2.0 readers. And that if folks are using the latest technology SD UHS-II cards then the new card reader is a must. Here is Delkin's pitch for the new card reader:
High-Speed Transfer of Images & Video Files
Download at Speeds up to 500MB/s
Works with Every Type of SD Memory Card
10x Faster with Improved Workflow
Dual Slots with Simultaneous Data Transfer
Cards Slide Completely Inside for Storage
Backwards Compatible with USB 2.0 & 1.1
Plug & Play
You can purchase your Delkin USB 3.0 High Speed Dual Slot Card Reader for $39.95 plus the shipping from the BAA Online Store by clicking here.
My New Mac
I am totally in love with my not so new anymore Apple 15.4″ MacBook Pro Notebook Computer with Retina Display (Mid 2014). When I need to work in the office on a PC I am pretty much lost. It is amazing how quickly the brain learns the new stuff and erases the old…. The light weight is a Godsend. And I have no problem optimizing my images on the smaller screen. I have pretty much figured out Apple Mail. Once in a great while I have trouble with file management but I am sure that that will be a thing of the past soon.
Used Canon EF 500mm f/4L IS (Image Stabilizer) USM Lens
Brad Lincoln is offering a used Canon EF 500mm f/4L IS (Image Stabilizer) USM Lens in excellent condition for the lowest-ever-by-far price of $4199. The sale includes the front leather hood, the rear dust cap, the strap, the original case with keys, a Lens Coat, a Really Right Stuff 63A Lens Plate, the lens manual, the original warranty card, and insured shipping to US addresses only. The lens had Canon's 11-Point EF Lens Maintenance Service in March 2014. Photos are available upon request via e-mail. The lens will be shipped only after your check clears unless other arrangements are made.
Folks can contact Brad by e-mail or reach him by phone at 1-703 440-5912, 6:00-9:00 pm Eastern Time. There are currently four of these lenses listed on the Used Photography Gear Page here at prices from as low as $4700 to as high as $5250; this is one is priced to sell instantly so best would be to e-mail Brad as it will be first come, first served.
The old five was at one time the world's most popular telephoto lens. It still makes great images with both TCs. artie
Used 13″ Macbook Pro for sale
Steve Ellis is offering a used 13″ Macbook Pro in very good condition for $799. (The laptop was purchased new for $1650 on 2/13/12.)
PROCESSOR: 2.8GHz Dual-core Intel Core i7. MEMORY: 8GB 1333MHz DDR3 SDRAM – 2x4GB. HARD DRIVE: 750GB Serial ATA Drive @ 5400. OPTICAL DRIVE: 8x Double-Layer SuperDrive. The sale includes insured shipping via UPS Ground to US addresses only. Personal checks only; the laptop will be shipped only after your check clears.
Contact Steve via e-mail or call him at 203-292-3101 (weekdays/eastern time zone).
Facebook
Be sure to like and follow BAA on Facebook by clicking on the logo link upper right. Tanks a stack!
Support the BAA Blog. Support the BAA Bulletins: Shop B&H here!
We want and need to keep providing you with the latest free information, photography and Photoshop lessons, and all manner of related information. Show your appreciation by making your purchases immediately after clicking on any of our B&H or Amazon Affiliate links in this blog post. Remember, B&H ain't just photography!
…..
Amazon.com
Those who prefer to support BAA by shopping with Amazon may use this link:
Amazon Canada
Many kind folks from north of the border, eh, have e-mailed stating that they would love to help us out by using one of our affiliate links but that living in Canada and doing so presents numerous problems. Now, they can help us out by using our Amazon Canada affiliate link by starting their searches by clicking here. Many thanks to those who have written.
Typos
In all blog posts and Bulletins, feel free to e-mail or to leave a comment regarding any typos or errors. Just be right :).