What's Up?
Another day, another swim, another ice bath. Lots of core strengthening and balance exercises. I sped into town yesterday afternoon to have my teeth cleaned and arrived five minutes and one day early. I thought that yesterday was Thursday. Everyone in the waiting room had a good laugh. So did I. Today's blog post took about 4 1/4 hours to assemble. It was finally published at 8:42am from my home at Indian Lake Estates, FL.
If you are one of the very few who missed the Canon Digital Learning Center "Bird Photography with Arthur Morris" seven video series, be sure to click here for a link and the complete details. I still have many exciting new images, tales, and lessons from my recently concluded trip to share with you here over the course of the next few weeks and am looking forward to doing just that.
Huge Thanks!
Though page views dropped by about 35% during my absence, y'all did a great job of remembering to use my B&H affiliate links while I was on my busman's holiday. We sold about ten each of the new 100-400 II L IS lenses and 7D Mark IIs. I should be getting my 100-400 from B&H in a few days and plan on bringing it to San Diego where I will be using it extensively with both my 7D II and a 1D X. IAC, thanks a stack to all those who use the BAA affiliate links for their December and early January purchases. Readership is now back to normal levels at about 3,000 page views/day.
To show your appreciation for my continuing efforts here, we ask, as always, that you use our the B&H and Amazon affiliate links on the right side of the blog for all of your purchases. B&H Is recommended for you major photography gear purchases, Amazon for your household, entertainment, and general purpose stuff. Please check the availability of all photographic accessories in the BIRDS AS ART Online Store, especially Gitzo tripods, Wimberley tripod heads, and the like. We sell only what I have used, have tested, and can depend on. We will not sell you junk. We know what you need to make creating great images easy and fun. And we are always glad to answer your gear questions via e-mail. I just learned that my account was suspended during my absence; it should be up and running by Monday at the latest.
I would of course appreciate your using our B&H affiliate links for all of your major gear, video, and electronic purchases. For the photographic stuff mentioned in the paragraph above we, meaning BAA, would of course greatly appreciate your business. Here is a huge thank you to the many who have been using our links on a regular basis and visiting the BAA Online store as well.
BirdPhotographers.Net (BPN): It Ain't Just Birds!
Honest critiques done gently….
I co-founded BPN late in 2007 with a small group of like-minded friends. Today I am the Publisher, and with the technically brilliant Peter Kes, co-owner. My vision then was to create an educational web site where photographers from around the globe could share their images and learn from "honest critiques done gently." At all costs, I wanted to avoid becoming just another "great shot, pat on the back" nature photography site. There were already enough of those around (and still are).
I truly believe that we have succeeded admirably. Check us out and see for yourself by visiting the home page here: BirdPhotographers.Net. Check out the Avian Forum here. As noted above, it ain't just birds. You can see a list of all of our forums by clicking here.
Like Stunning Wildlife Photography?
While going through 2014 Image of the Week selections for all of the Critique Forums last night, I was struck by the incredible high quality of the images and decided to share a selection of my favorites from the various forums with you here on the blog over the course of the net few weeks. I begin here today with the BPN Wildlife Forum. This forum is skillfully guided by moderators Steve Kaluski, Morkel Erasmus, and Rachel Hollander.
Wildlife: For posting and critiquing images of terrestrial and aquatic creatures other than birds and macro subjects. Images may included minor hand of man elements. If your subject is captive, please disclose that fact. If you have attracted your subject or subjects into photographic range with food, water, audio, or by any other means, please let us know. If you have significantly altered your image by adding or removing elements of the composition, we ask that you let folks know that as well.
You can click on the six BPN links to read the honest critiques done gently for each of the marvelous photographs presented here. The amount of learning that goes on with every posted image is even more notable than even the best images. My hope is not only that many of you visit but that you are so impressed that you join us and become part of our worldwide community of folks who enjoy nature photography and are keen on improving their skills.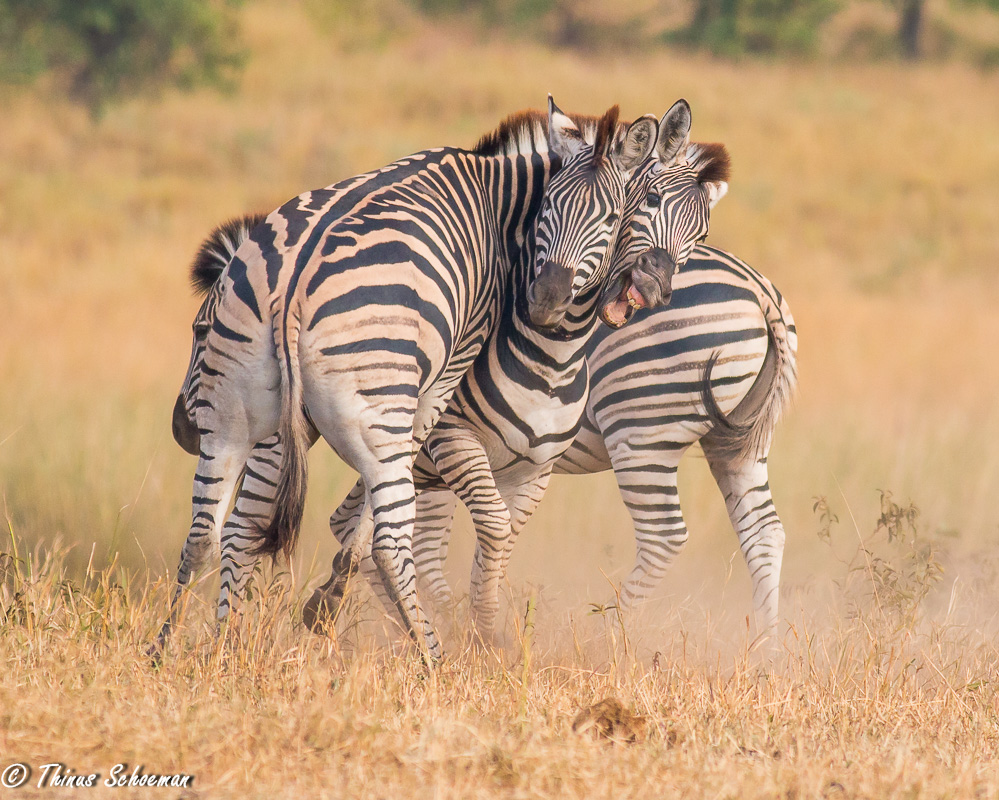 This image was created at the Mooiplaas waterhole near Mopani camp in the northern partat Kruger National Park with the Canon EF 400mm f/5.6L USM lens and the Canon EOS 70D.
I got hammered a bit (in a good way of course) when I posted the elephant image a few weeks ago. Well I'm back to have another go. On our recent visit to the Kruger National Park, I spent a lot of time late afternoons at the Mooiplaas waterhole near Mopani camp in the northern parts of the Park. The waterhole is visited by a variety of game, and especially the zebras were regular visitors. The zebras often got involved in scuffles, and I managed to capture this image of two zebras kicking up dust while being less than friendly with each other. The image was taken late afternoon and I was shooting a bit against the light that was left.
I edited the image in LR5. The image was cropped a bit on the right hand side as well as the top. The adjustment brush was used to selectively reduce the clarity on the background from about halfway up. I upped the exposure, contrast and clarity, and lifted the shadows. I upped the saturation a tad, but I didn't adjust anything to the colours. I applied sharpening after resizing, and applied noise reduction.
Thanks for looking, and all critique and comments welcome!
Zebra Scuffle. Image courtesy of and copyright 2014: Thinus Schoeman
Your browser does not support iFrame.
Zebra Scuffle by Thinus Schoeman
Many thanks to Thinus, who lives in Centurion, Gauteng, South Africa, for sharing this wonderfully exciting image with us. You can read all of the image critiques, view a single re-post, and learn a ton here.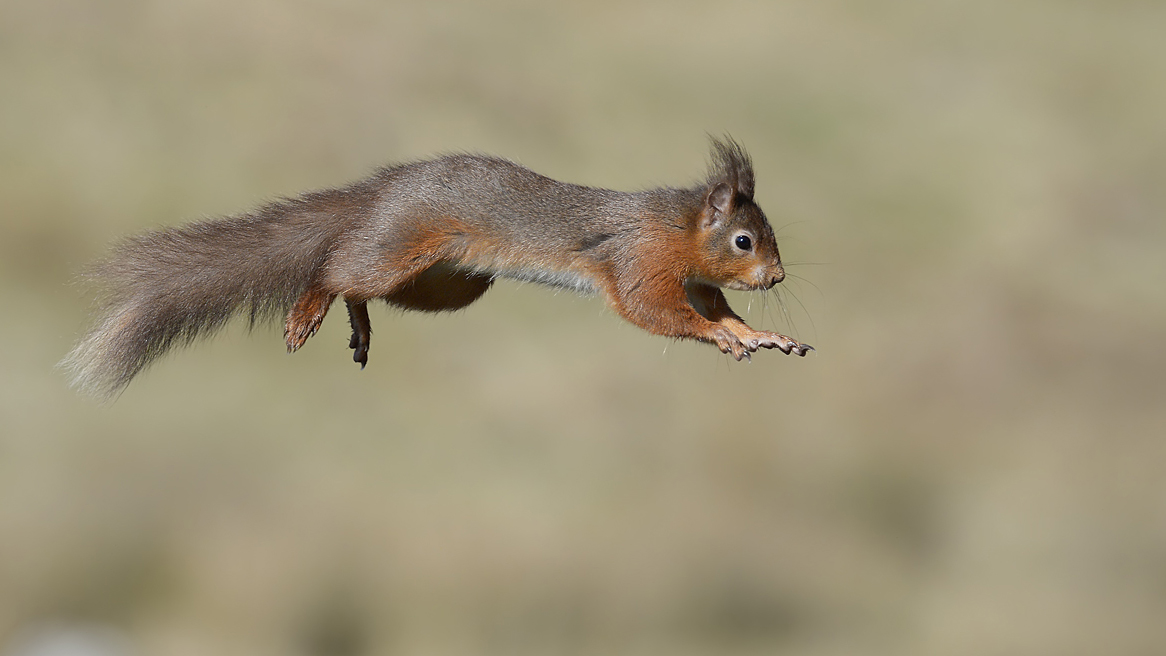 This image was created with the Nikon AF-S NIKKOR 300mm f/2.8G ED VR II lens and the Nikon D4 (now replaced by the Nikon D4S ). ISO 1000. 1/5000 sec. at f7.1.
Flying Red Squirrel. Image courtesy of and copyright 2014: Keith Mitchell
A good mate of mine gave me the opportunity to photograph his squirrels; it was my first attempt at this so I hope I have gotten something right. Thanks for looking and for any comments you would like to make.
Your browser does not support iFrame.
Flying Red Squirrel by Keith Mitchell
Thanks also to Keith Mitchell who hails from Lincolnshire in the UK for posting this spectacular image. You can read all of the image critiques by clicking here.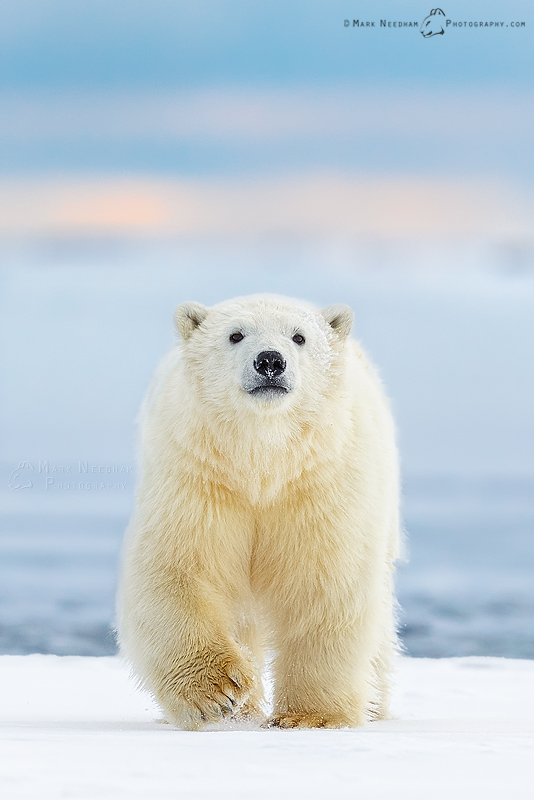 This image was created with the Canon EF 500mm f/4L IS II USM lens and the Canon EOS 5D Mark III . ISO 1600. 1/1600 sec. at f/5.
This wild polar bear cub was photographed in the High Arctic from a small boat among some barrier islands in the Beaufort Sea, Alaska. I recently returned from two consecutive trips up there. Apologies for my lack of activity on BPN recently, but it has been the start of a busy new teaching term here at the university. In addition, I have been slowly recovering after impaling my back on the boat's anchor while on the last trip to the arctic (I slipped backward on the boat's deck while photographing and the anchor was up on the deck at the time). Cracked ribs and severely bruised kidneys have made it difficult to sit at the computer for lengthy periods of time. Luckily and most importantly, the camera gear was fine. Anyway, back to the bears … there were four different females up there with cubs, and this little youngster was by far the most curious and fascinated with the boats. To avoid habituating the bears, we always made sure to back away before the cubs got close to the boat. Wild, not baited, no compositional elements changed. The lens was on a beanbag with the Walt Anderson Panning Ground Pod.
Curious Polar Bear Cub. Image courtesy of and copyright 2014: Mark Needham
Your browser does not support iFrame.
Curious Polar Bear Cub by Mark Needham
A big time thanks to Mark, from Corvallis, OR (score one for the US of A), for sharing not only this wonderful image but for sharing his post processing with the group. You can learn how he got such and even exposure for both the sky and the foreground and read all of the image critiques as well by clicking here.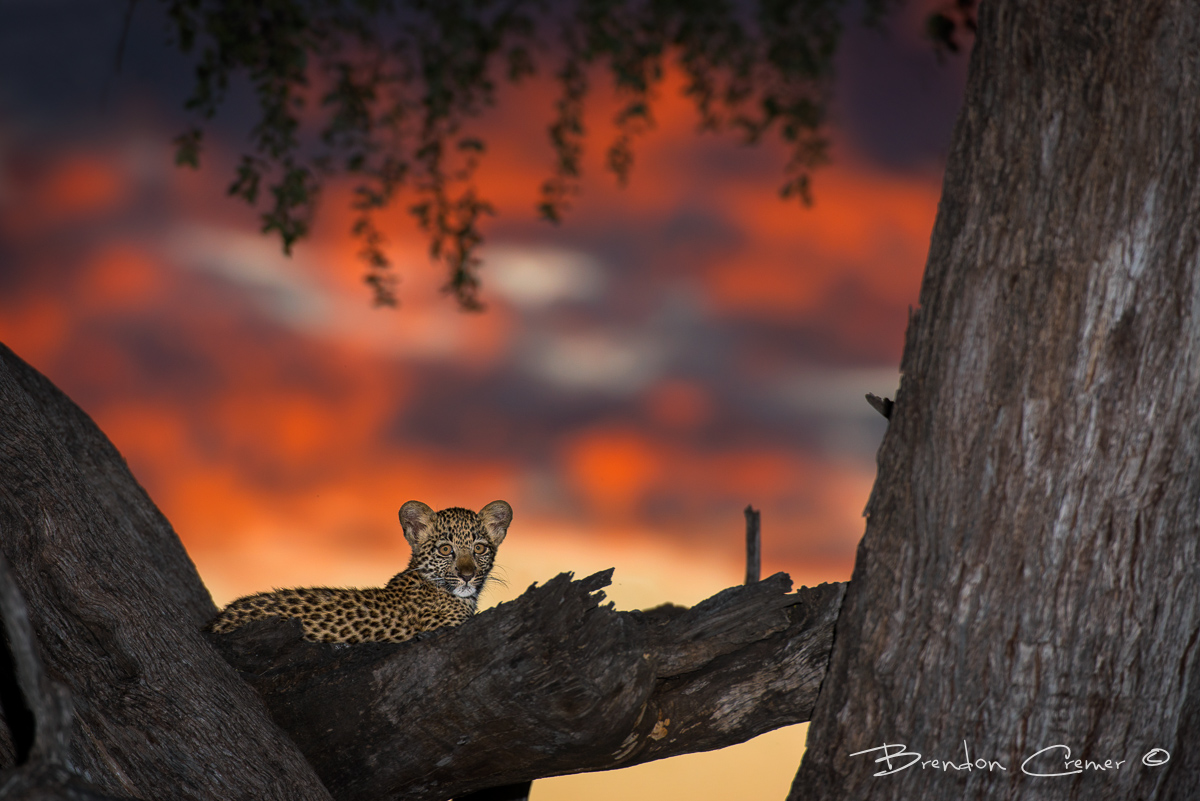 This image was created at Machaba Camp, Khwai, Botswana with the Nikon AF-S NIKKOR 200-400mm f/4G ED VR II lens and the Nikon D800 (now replaced by the Nikon D810 DSLR.) ISO 320. 1/200 sec. at f/5.6. With flash at -1 stop.
A Leopard cub perched up in a tree at sunset. We spent about 3 hours with this young cub and its mother as they lay and moved around in this tree; it was truly great to have the time to actually work the scene and capture it from all angles and under different lighting conditions.
Leopard Cub at sunset. Image courtesy of and copyright 2014: Brendon Cremer
Your browser does not support iFrame.
Leopard Cub at sunset by Brendon Cremer
Thanks to professional wildlife photographer Brendon Cremer for posting this delightful image on BPN. Brendon resides in Nelspruit, Mpumalanga, South Africa when he is not on safari. You can learn what folks had to say about this image and view the single re-post here.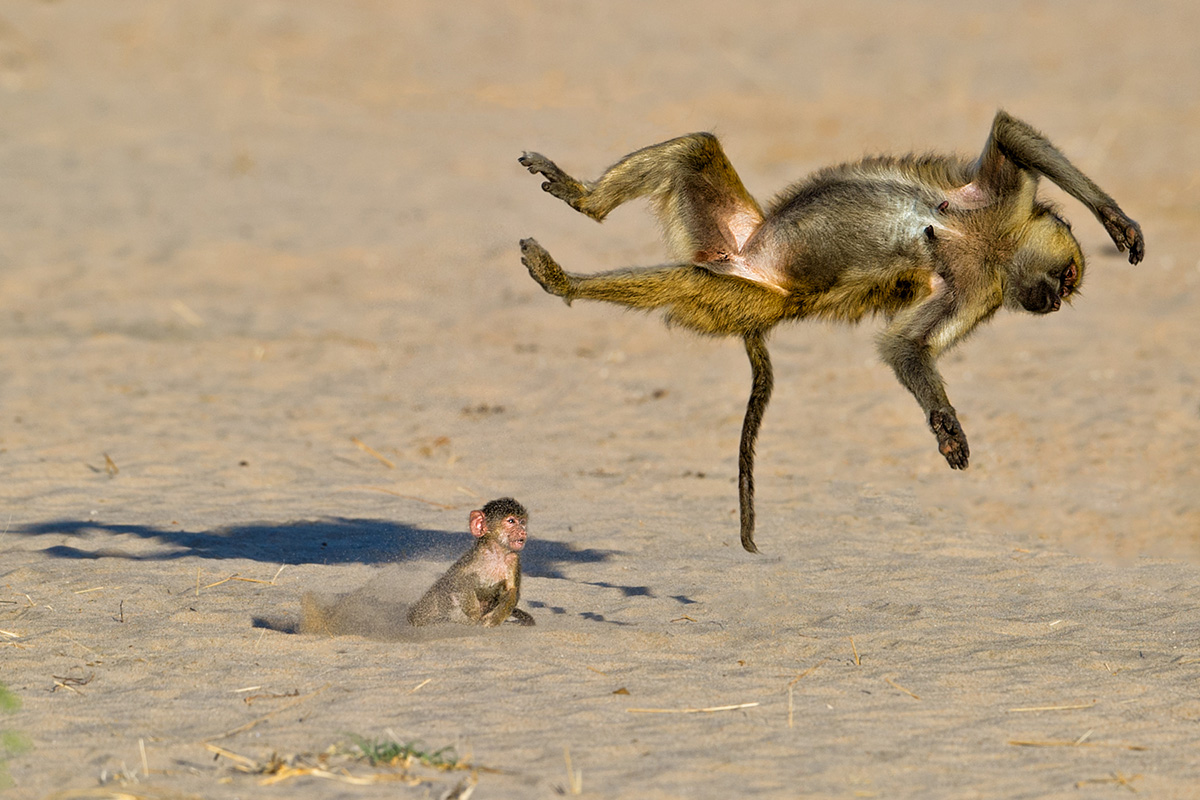 This image was created at Mwagusi River, Ruaha National Park, Tanzania with the Nikon AF-S NIKKOR 500mm f/4G ED VR lens (Black) and the Nikon D3s (now replaced by the Nikon D4S DSLR.) ISO 400. 1/2000 sec. at f/5.6.
In nice golden light this female was doing everything possible to entertain this baby. She wasn't the mother (possibly an aunt) but just loved doing back flips in front of this new born. The entertainment went on for more than 15 minutes. It was just a joy to sit, watch, and be witness to.
Flipped Out Sister. Image courtesy of and copyright 2014: Marc Mol
Your browser does not support iFrame.
Flipped Out Sister by Marc Mol
Thanks to Marc for sharing this most entertaining image in the Wildlife Forum. Mark, who enjoys photography & travel is currently located "somewhere else in the world." Read the critiques here.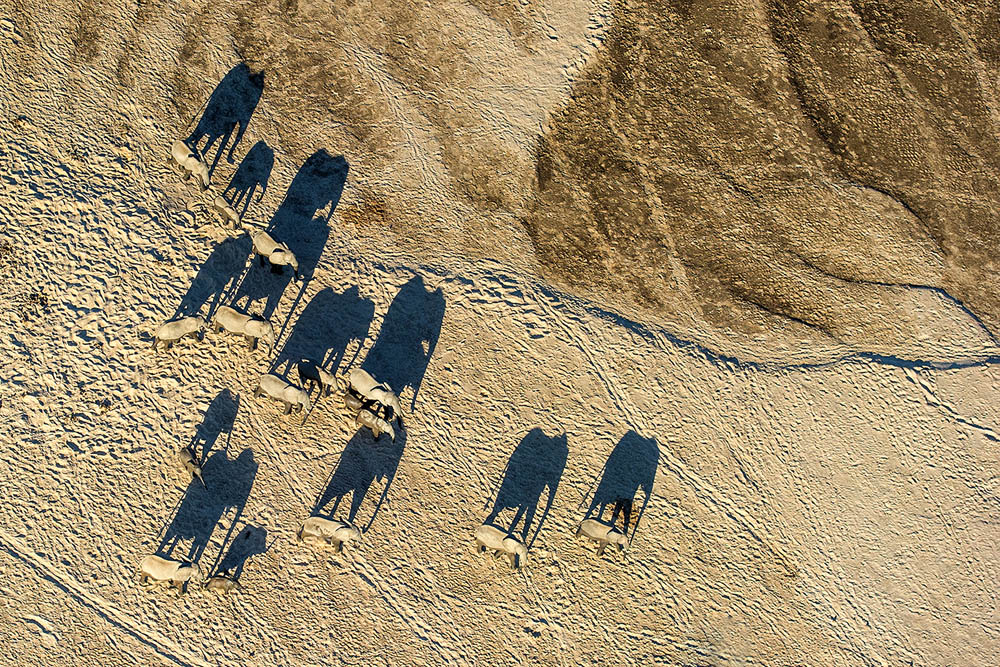 This image was created at South Luangwa National Park, Zambia with the hand held Nikon AF-S NIKKOR 70-200mm f/2.8G ED VR II lens and the Nikon D3S (now replaced by the Nikon D4S DSLR.) ISO 1600. 1/6400 sec. at f/4.
We had a beautiful crisp, clear and sunny morning to do some aerial shadow photography from a microlight, this herd of elephants was very cooperative as they traversed the dry Luangwa river floodplain. It was one of my best flights ever!
In the Shadow of the Elepants. Image courtesy of and copyright 2014: Marc Mol
Your browser does not support iFrame.
In the Shadow of the Elephants by Marc Mol
Thanks again to Marc for sharing this dramatic image with the boys and girls on BPN. You can read the critiques and learn or post a critique of your own here.
Your Favorite?
The images above were my BPN Wildlife Forum favorites from 2014. But there were lots of others that I loved and many of the calls were very close ones. Which of these six is your favorite?
If you visit Wildlife and see a 2014 image that you love, feel free to share it with us here by leaving a comment with the link.
Used Canon 400mm f/2.8L IS II Lens
Melissa Hahn is offering a used Canon 400mm f/2.8L IS II lens in mint condition for $8999. Original owner. The sale includes the lens hood, the E-180D front lens cover, the 400C lens trunk, the rear lens cap, the wide lens strap, a black LensCoat (an $89.99 value), a TravelCoat (a $59.95 value), and insured ground shipping to US addresses. The lens will ship only after your check clears. Glass and lens immaculate. The lens was very recently cleaned and checked by Canon. Photos are available upon request.
Interested folks can contact Melissa on here cell phone at 1-631-404-2965 (eastern time) or via e-mail.
This fast, super-sharp, relatively lightweight (8.49 pounds) super-telephoto lens (the Nikon version weighs 10.2 pounds) is a versatile lens for wildlife photographers. It creates super-sharp images with both the 1.4X III and the 2X III Extenders. It currently sells new at B&H for $10,499 and they are offering a used one for $9,899.95. You can save some significant bucks by grabbing Melissa's lens now.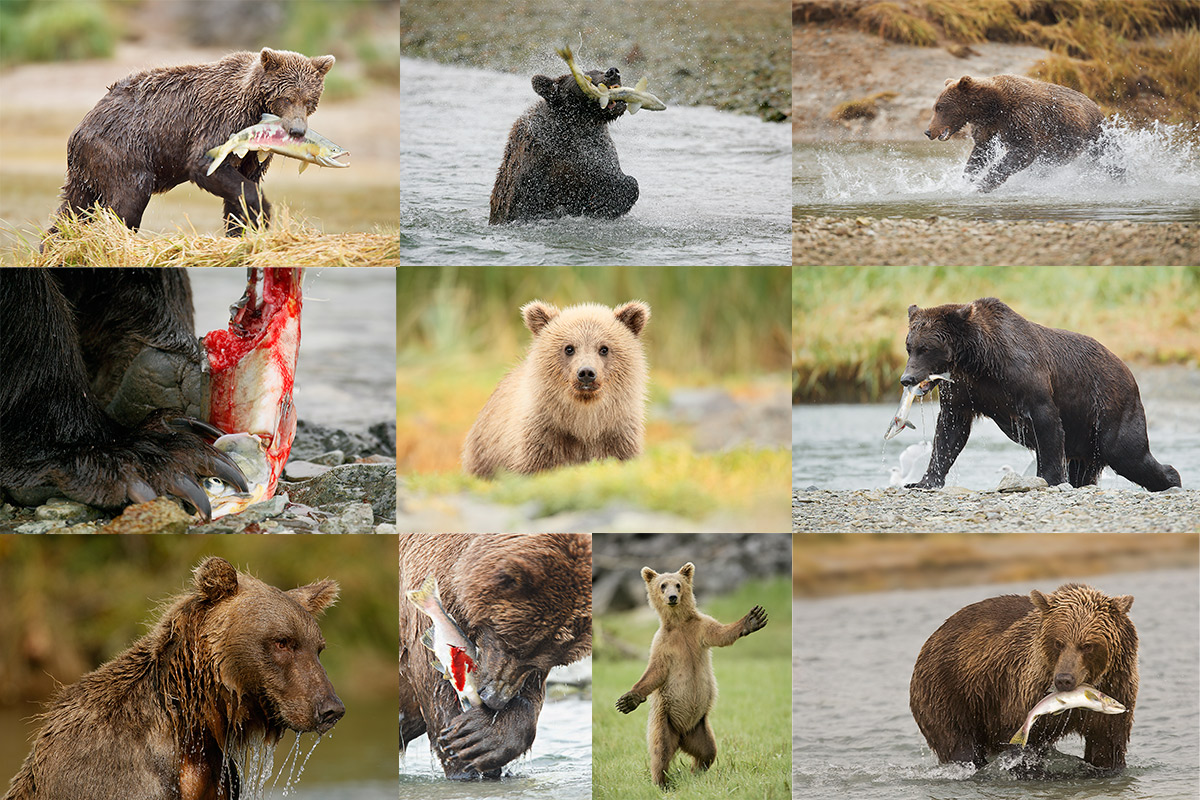 All of the images in the bear boat card above were created in Katmai National Park during the month of September.
Bear Boat/Bears Catching Salmon IPT: September 1-8, 2015 from Kodiak, AK/6 FULL & 2 1/2 DAYS: $6699. Happy campers only! Maximum 8/Openings: 4. Plus the leader: Arthur Morris.
If and when a promised (1-16-2015) deposit check arrives, this trip will be a go.
Join me in Katmai National Park, AK for seven days of photographing Coastal Brown Bears (grizzlies) catching salmon, fattening up for the long winter. Other subjects will include Mew and Glaucous-winged Gulls in flight and dip-feeding on salmon roe. Did I mention that we live on a boat and that the food is great? Most of our photography will be done in a variety of famed locations: Geographic Harbor, Kinak Bay, and Kukak Bay. We once had 39 bears fishing the creek at Kukak….
It is mandatory that you be in Kodiak no later than the late afternoon of August 31, 2015 September to avoid missing the float planes to the boat on the morning of September 1. With air travel in AK being what it is, with the chance of fog or other bad weather–being on Kodiak on August 30 is an even better plan). I be on Kodiak on August 30 to avoid any potential disaster. That said in my nearly a dozen bear boat trips I was delayed only once but since I was day early as noted above there was no harm, no foul.
We will take one or more float planes to the boat mid-morning on September 1. We will photograph bears fishing that afternoon and every day for the next six days (weather permitting of course). We should have bears catching salmon every day. In addition, we will get some nice stuff on Mew Gull and Glaucous-winged Gulls dining on roe and the remains of predated salmon. We may–depending on where the concentrations of bears are–get to photograph Harbor seals and some hauled out Steller's Sea Lions (an endangered species). Halibut fishing (license required) is optional. On September 8, our last morning on the boat, those who would like to enjoy one last photo session will do so. The group returns to Kodiak via float plane midday. Most folks will fly to Anchorage and then continue on red-eye flights to their home cities.
The eight days will consist of six full days (Sept 2, 3, 4, 5, 6, & 7) of photography featuring lots of Coastal Brown Bears catching salmon as above plus a variety of other natural history subjects plus some nice scenic photography that I forgot to mention above. Plus the first afternoon and the last morning.
What's included? 8 DAYS/7 NIGHTS on the boat as above. All meals on the boat. (The food is quite excellent.) National Park fees. One night's double occupancy lodging on Kodiak; arrive: Sept 1/depart: Sept 2. The thank-you-in-advance dinner on Sept 1. In-the-field photo tips, instruction, and guidance. An insight into the mind of a top professional; I will constantly let you know what I am thinking, what I am doing, and why I am doing it. Small group image review, image sharing, and Photoshop instruction on the boat.
What's not included: Your round trip airfare to and from Kodiak, AK (almost surely through Anchorage). All necessary lodging other than the cost of your double occupancy room on the night of August 31 should you opt to arrive early–we can arrange that in advance for you. We will let you know the cost of a single supplement for the one night if so desired. The cost of the round-trip float plane to the boat on September 2 and back to Kodiak on September 9. The cost of a round trip this year was $500. The suggested crew tip of $210.
Is this an expensive trip? Yes, of course. But with 6 full and two half days, a wealth of great subjects, and the fact that you will be walking with the bears just yards away (or less….) it will be one of the great natural history experiences of your life. Most folks who take part in a Bear Boat IPT wind up coming back for more.
A $2,000 per person non-refundable deposit by check only made out to "Arthur Morris" is required to hold your spot. Please click here to read our cancellation policy. Then please print, read, and sign the necessary paperwork here and send it to us.
Your deposit is due immediately. That will leave a balance of $4699. The next payment of $2699 will be due on February 15, 2015. The final payment of $2000 is due on May 1, 2015.
I hope that you can join us for this wondrously exciting trip.
By e-mail from Bill Keown, veteran of three bear boat trips!
Hi Artie, What a great trip! With the exception of the one bright sunny day it was just great. Very different from my first trip in June where we only had the bears clamming; the fishing bears were amazing! As always I learned a lot and enjoyed the group immensely. All the Best, Bill
Facebook
Be sure to like and follow BAA on Facebook by clicking on the logo link upper right. Tanks a stack!
Support the BAA Blog. Support the BAA Bulletins: Shop B&H here!
We want and need to keep providing you with the latest free information, photography and Photoshop lessons, and all manner of related information. Show your appreciation by making your purchases immediately after clicking on any of our B&H or Amazon Affiliate links in this blog post. Remember, B&H ain't just photography!
…..
Amazon.com
Those who prefer to support BAA by shopping with Amazon may use this link:
Amazon Canada
Many kind folks from north of the border, eh, have e-mailed stating that they would love to help us out by using one of our affiliate links but that living in Canada and doing so presents numerous problems. Now, they can help us out by using our Amazon Canada affiliate link by starting their searches by clicking here. Many thanks to those who have written.
Typos
In all blog posts and Bulletins, feel free to e-mail or to leave a comment regarding any typos or errors. Just be right :).