What's Up?
Another day, another swim. And lots more core strengthening and balance exercises. And again I made some decent progress on the 7D Mark II User's Guide. Today's blog post took about 3 hours to prepare. It was published at 8:00am from my home at Indian Lake Estates, FL. If you are one of the very few who missed the Canon Digital Learning Center "Bird Photography with Arthur Morris" seven video series, be sure to click here for a link and the complete details. I still have many exciting new images, tales, and lessons from my recently concluded trip to share with you here over the course of the next few weeks and am looking forward to doing just that. Do consider joining me in South Georgia next October for the trip of a lifetime
Please Remember to use our Affiliate Links 🙂
To show your appreciation for my continuing efforts here, we ask, as always, that you use our the B&H and Amazon affiliate links on the right side of the blog for all of your purchases. B&H Is recommended for you major photography gear purchases, Amazon for your household, entertainment, and general purpose stuff. Please check the availability of all photographic accessories in the BIRDS AS ART Online Store, especially the Mongoose M3.6 tripod heads, Gitzo tripods, Wimberley heads and plates, LensCoats and accessories, and the like. We sell only what I have used, have tested, and can depend on. We will not sell you junk. We know what you need to make creating great images easy and fun. And we are always glad to answer your gear questions via e-mail. I just learned that my account was suspended during my absence; it should be up and running by Monday at the latest.
I would of course appreciate your using our B&H affiliate links for all of your major gear, video, and electronic purchases. For the photographic stuff mentioned in the paragraph above we, meaning BAA, would of course greatly appreciate your business. Here is a huge thank you to the many who have been using our links on a regular basis and visiting the BAA Online store as well.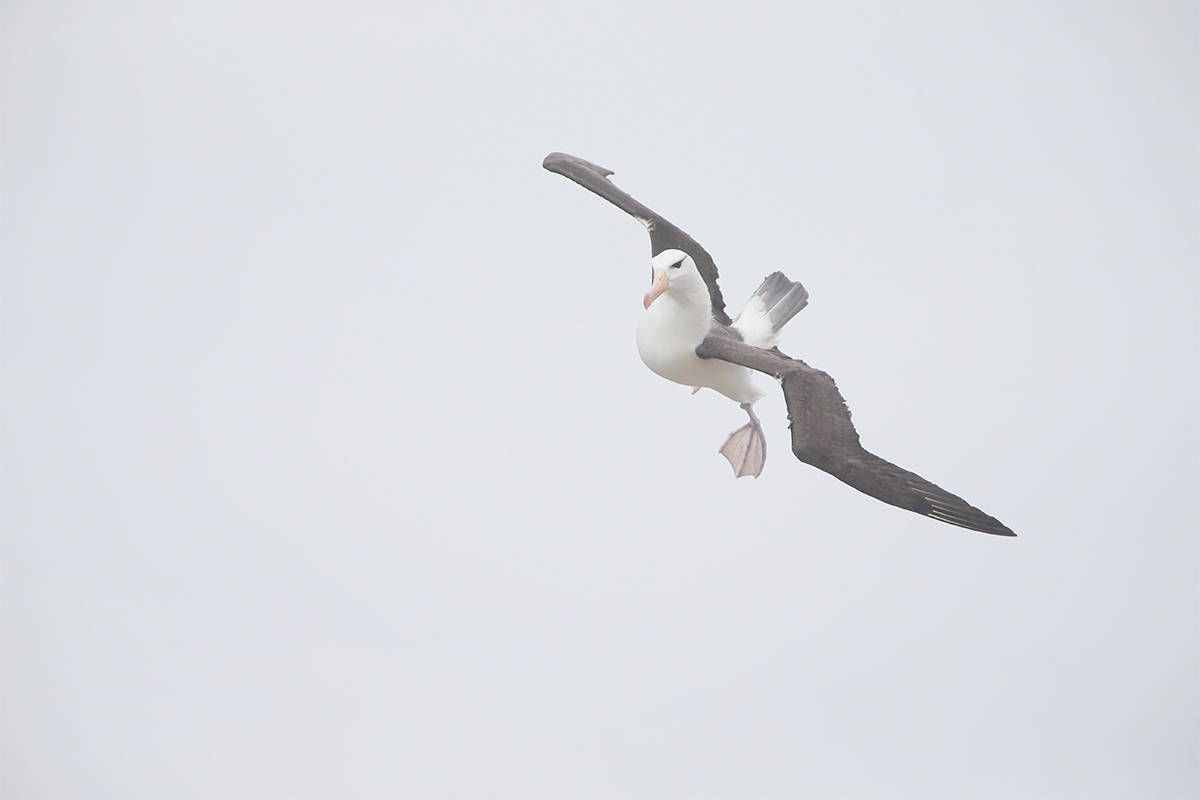 This image was created in cloudy conditions on the late afternoon of December 17, 2014 on New Island, the Falklands. I used the hand held Canon EF 70-200mm f/2.8L IS II USM lens with the Canon Extender EF 1.4X III (at 265mm) and the Canon EOS-1D X.
ISO 800. Evaluative metering +3 full stops off the white (actually very light grey) sky: 1/3200 sec. at f/4.5 in Manual mode. AWB.
One sensor up from the central sensor/AI Servo Surround Shutter Button AF as framed was active at the moment of exposure and just caught the bottom of the bird's breast. Click on the image to see a larger version.
Your browser does not support iFrame.
Creating Washed-Out Raw Files; On Purpose!
When working in low light/low contrast situations where the scene averages either to very light or close to white, I say this to folks, "The the image on the rear LCD should look washed out–over-exposed with barely any contrast." Most times they look at me as if I were nuts.
I continue by explaining that exposing to the right is the way to go. In all situations. "By moving the histogram (see image next) well to the right (without having any significant blinkies on the subject), you produce higher quality images files with more information and less noise. I finish up by saying that with one minute in Photoshop (or Aperture or Lightroom) the image will look great. Heck, the image will look darned good with simple Levels adjustment: hold down the Alt key (the Option key on a Mac) while pulling in the Highlight and Shadow sliders until warning pixels appear…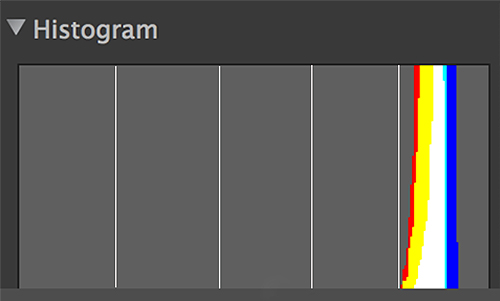 This histogram represents the histogram for the RAW file above.
Exposing Well to the Right on White Sky Days
The next time that you are out on a dreary day make an image at +3 stops off what I call the white sky. Nine times out of ten you will not have any blinkies in the sky. On some days, you can go to plus four stops off the sky without over-exposing a single pixel. In any case, note in the histogram above that even the black tones in the albatrosses upper wings are in the fifth histogram box. Now that is pushing things to the right. As you should.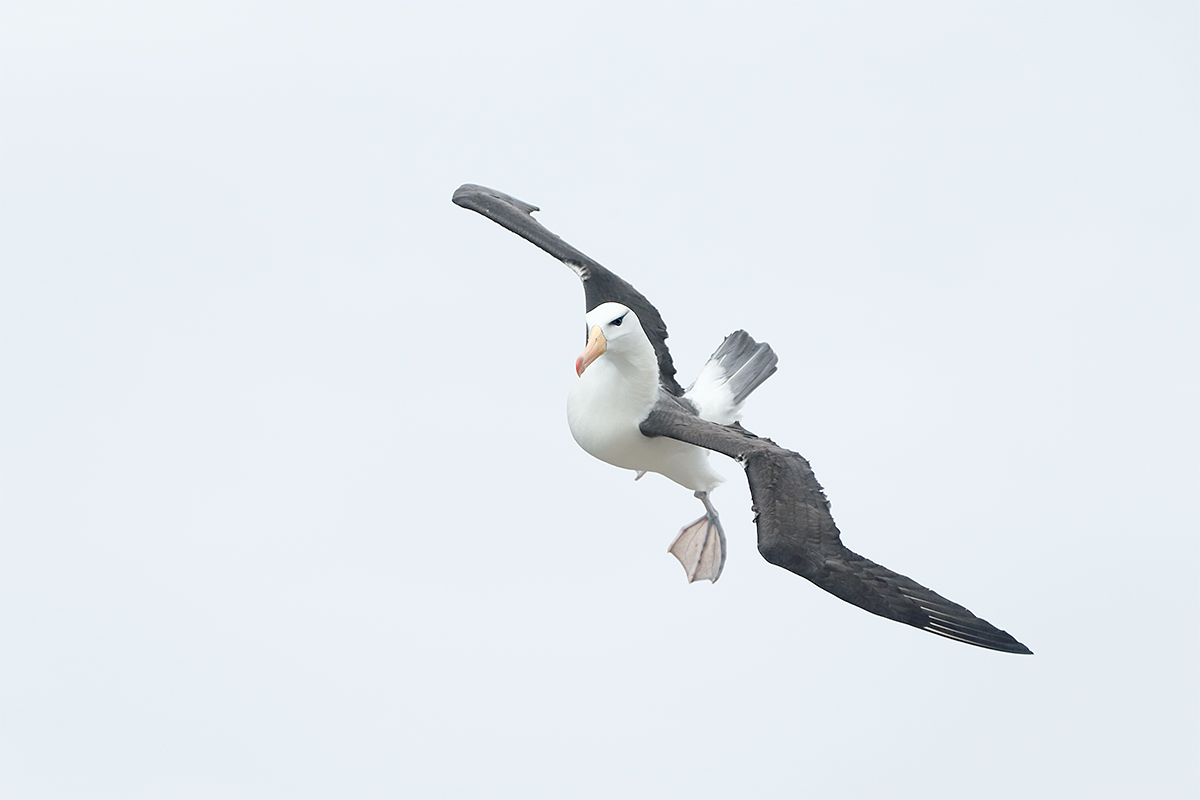 This is the optimized image.
The Image Optimization
During the RAW conversion in DPP I first darkened the image just a bit by moving the Brightness slider to the left to -.33 and then boosted the contrast just a bit to +2. Then I did the usual work on the Perform image lens correction and the Adjust image detail tabs.
After bringing the image into Photoshop I did the afore-mentioned Levels adjustment, added some BLACK to the BLACKs and NEUTRALs in Selective Color, and ran my NIK 50-50 pre-set on the bird's dark wings only (reducing the Opacity of that layer as I do nearly all the time). I sharpened the eye and the bill only with a Contrast Mask and then selected only the bill (again with the Quick Selection Tool) and increased the Saturation about ten points. Then the artistic crop and I was done.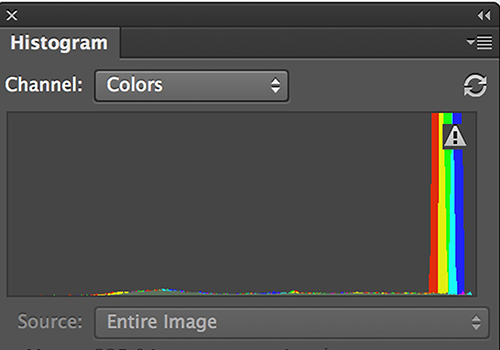 This is the histogram for the optimized image.
Ah, Now We See the Data for the Dark Wings
Note that the smattering of data across the bottom of the histogram represents the dark tones of the wings. Note also that the dark tones are well off the left-hand axis of the histogram as they should be. This assures lots of detail in the black wings.
Digital Basics
Everything that I did to optimize today's images is covered in detail in my Digital Basics File–written in my easy-to-follow, easy-to-understand style. Are you tired of making your images look worse in Photoshop? Digital Basics File is an instructional PDF that is sent via e-mail. It includes my complete digital workflow, dozens of great Photoshop tips (including the Surface Blur settings as taught to me by Denise Ippolito), details on using all of my image clean-up tools, the use of Contrast Masks, several different ways of expanding and filling in canvas, all of my time-saving Keyboard Shortcuts, Quick Masking, Layer Masking, and NIK Color Efex Pro basics, Contrast Masks, Digital Eye Doctor techniques, using Gaussian Blurs, Tim Grey Dodge and Burn, a variety of ways to make selections, how to create time-saving actions, and tons more.
The DPP 4 eGuide
The RAW file for this image was converted in DPP v4.01.0 that now supports the 7D Mark II along with image files from the 1D X, the 5D III, the 6D. The latest version, DPP v4.1.50 has added support of several older Canon camera bodies as well. DPP is far more sophisticated and complex than the various iterations of DPP 3. Thus, Arash and I created a new, stand-alone eGuide for DPP 4, one that really simplifies things. As so much work and effort went into the creation of the DPP 4 eGuide, it does require a separate purchase. Learn more about this great new guide by clicking here, or purchase a copy here.
Note: the Sharpness and Noise Reduction Charts have already been updated to include the recommended values for the 7D Mark II. We will be adding values for the Mark IV, the 7D, and likely for the 70D but those will require some time so please be patient as the his process will involve a lot of work on Arash's part; the update will of course be free.
APTATS I & II
I use Quick Masks and both types of Layer Masks with probably 75% of the images that I work on. You can learn the details of advanced Quick Masking techniques in APTATS I and can learn Advanced Layer Masking Techniques in APTATS II. Mention this blog post and apply a $5 discount to either with phone orders only. Buy both APTATS I and APTATS II and we will be glad to apply at $15 discount with phone orders only. Please call Jim or Jennifer at 863-692-0906 weekdays to order.
Selling Your Used Photo Gear Through BIRDS AS ART
Selling your used (or like-new) photo gear through the BAA Blog or via a BAA Online Bulletin is a great idea. We charge only a 5% commission. One of the more popular used gear for sale sites charges a minimum of 20% plus assorted fees! Yikes. The minimum item price here is $500 (or less for a $25 fee). If you are interested please e-mail with the words Items for Sale Info Request cut and pasted into the Subject line :). Stuff that is priced fairly–I offer free pricing advice, usually sells in no time flat. In the past few months, we have sold just about everything in sight. Do know that prices on some items like the EOS-1D Mark IV, the old Canon 500mm, the EOS-7D, and the original 400mm IS DO lens have been dropping steadily.
Used Gear Cautions
Though I am not in a position to post images of gear for sale here or elsewhere, prospective buyers are encouraged to request for photos of the gear that they are interested in purchasing via e-mail. Doing so will help to avoid any misunderstandings as to the condition of the gear. Sellers are advised to take care to photograph their used gear with care against clean backgrounds so that the stuff is represented accurately and in the best light; please pardon the pun :).
Three Brand New Listings (1/25/2105)
Used Canon EF 500mm f/4L IS II USM Lens
Zack Skochko is offering a used Canon EF 500mm f/4L IS II USM Lens in like-new condition for the amazingly low price of $7499. Save $2,000 right now. No marks, no blemishes, glass perfect. Request photos via e-mail as below. The sale includes the front leather hood, the rear dust cap, the strap, the original lens trunk, a Really Right Stuff replacement foot, the lens manual, the original warranty card, and insured shipping to US addresses only. The lens will be shipped only after your check clears unless other arrangements are made.
Folks can contact Zack by e-mail or reach him by phone at 703-965-7432, EST. Day and evenings OK.
Note: Used "new fives" are exceedingly rare. They sell new at B&H for $9499. B&H is offering a used old 500 (Item condition 9) for $6,299.95. This "new 500" is priced to sell instantly so please do not hesitate and risk being disappointed.
Used Canon EF 300mm f/2.8L IS II USM Lens
Rod Bracken is offering a used Canon EF 300mm f/2.8L IS II USM Lens in like-new condition for the very low price of $5200. No marks, no blemishes, glass perfect. Request photos via e-mail as below. The sale includes the original box, a Realtree Max 4 HD LensCoat, the front leather hood (Canon E-145C Lens Cap), the lens trunk (w/ keys), wide strap B, the rear dust cap, and insured shipping to US addresses only. The lens will be shipped only after your check clears unless other arrangements are made.
Folks can contact Rod by e-mail or reach him by phone at (772) 341-1808 between 7am and 7pm EST.
Used "new threes" are exceedingly rare. They sell new at B&H for $6599. B&H is offering one used for $5899.95. This "new 300" is priced to sell today so please do not hesitate and risk being disappointed. Everyone who reads the blog knows how much I love and use the 300 II, and it is a killer combo with both TCs with either a 7D II or a full frame body. You've seen the images here.
Used Canon EF 400mm f/5.6 L USM Lens
Bill Lloyd is offering a one year old used Canon EF 400mm f/5.6 L USM lens in excellent conditions with perfect glass and several minute, barely visible scratches for $949. The hood locks/unlocks smoothly and the focusing ring operates smoothly. Request photos via e-mail as below. The sale includes with the Canon LZ1132 Pouch and Strap (both unused), the lens Guide Sheet, the front and rear lens caps, the tripod mount ring AII(W), and insured shipping to US addresses only. The lens will be shipped only after your check clears unless other arrangements are made.
Folks can contact Bill via e-mail.
Though I put my beloved "toy lens" on the map about 2 decades ago, this versatile lightweight lens is still in production for good reason. It makes a great flight lens or a great starter lens. It is super sharp. 7D II folks can add a 1.4X III TC and enjoy tremendous reach (though I recommend using a good tripod and the Mongoose M3.6 with a teleconverter to ensure sharp images). The 400/5.6 sells new today at B&H for $1339.
Facebook
Be sure to like and follow BAA on Facebook by clicking on the logo link upper right. Tanks a stack!
Support the BAA Blog. Support the BAA Bulletins: Shop B&H here!
We want and need to keep providing you with the latest free information, photography and Photoshop lessons, and all manner of related information. Show your appreciation by making your purchases immediately after clicking on any of our B&H or Amazon Affiliate links in this blog post. Remember, B&H ain't just photography!
…..
Amazon.com
Those who prefer to support BAA by shopping with Amazon may use this link:
Amazon Canada
Many kind folks from north of the border, eh, have e-mailed stating that they would love to help us out by using one of our affiliate links but that living in Canada and doing so presents numerous problems. Now, they can help us out by using our Amazon Canada affiliate link by starting their searches by clicking here. Many thanks to those who have written.
Typos
In all blog posts and Bulletins, feel free to e-mail or to leave a comment regarding any typos or errors. Just be right :).