What's Up?
I actually set an alarm last night. For 3:30am. As is almost always the case, I woke well before the alarm. At 5:30am. Jim is taking me to the airport at about 5:30am this morning. My flight from Orlando (MCO) to San Diego (SAN)–with a connection in Dallas (DFW)–departs at 9:00am.
Today's blog post took about 2 hours to prepare; thanks to Arash for his e-mail help. It was published at 3:11am from my home at Indian Lake Estates, FL. If you are one of the very few who missed the Canon Digital Learning Center "Bird Photography with Arthur Morris" seven video series, be sure to click here for a link and the complete details. I still have many exciting new images, tales, and lessons from my recently concluded trip to share with you here over the course of the next few weeks and am looking forward to doing just that. Do consider joining me in South Georgia next October for the trip of a lifetime. See here for the complete details.
Please Remember to use our Affiliate Links 🙂
To show your appreciation for my continuing efforts here, we ask, as always, that you use our the B&H and Amazon affiliate links on the right side of the blog for all of your purchases. B&H Is recommended for you major photography gear purchases, Amazon for your household, entertainment, and general purpose stuff. Please check the availability of all photographic accessories in the BIRDS AS ART Online Store, especially the Mongoose M3.6 tripod heads, Gitzo tripods, Wimberley heads and plates, LensCoats and accessories, and the like. We sell only what I have used, have tested, and can depend on. We will not sell you junk. We know what you need to make creating great images easy and fun. And we are always glad to answer your gear questions via e-mail. I just learned that my account was suspended during my absence; it should be up and running by Monday at the latest.
I would of course appreciate your using our B&H affiliate links for all of your major gear, video, and electronic purchases. For the photographic stuff mentioned in the paragraph above we, meaning BAA, would of course greatly appreciate your business. Here is a huge thank you to the many who have been using our links on a regular basis and visiting the BAA Online store as well.
Saved From the Darkness…
From Arash Hazeghi's 's post here on BirdPhotographers.Net. Arash is one of seven moderators in BPN's Avian Forum.
Because of the changing light this frame was significantly underexposed: I should have been at 1/1600sec at ISO 4000. Thanks, however, to DPP4 and the great imaging sensor of the 1DX, I was able to create a good quality output file.
You can see the optimized image file that Arash made from the well under-exposed original above immediately below.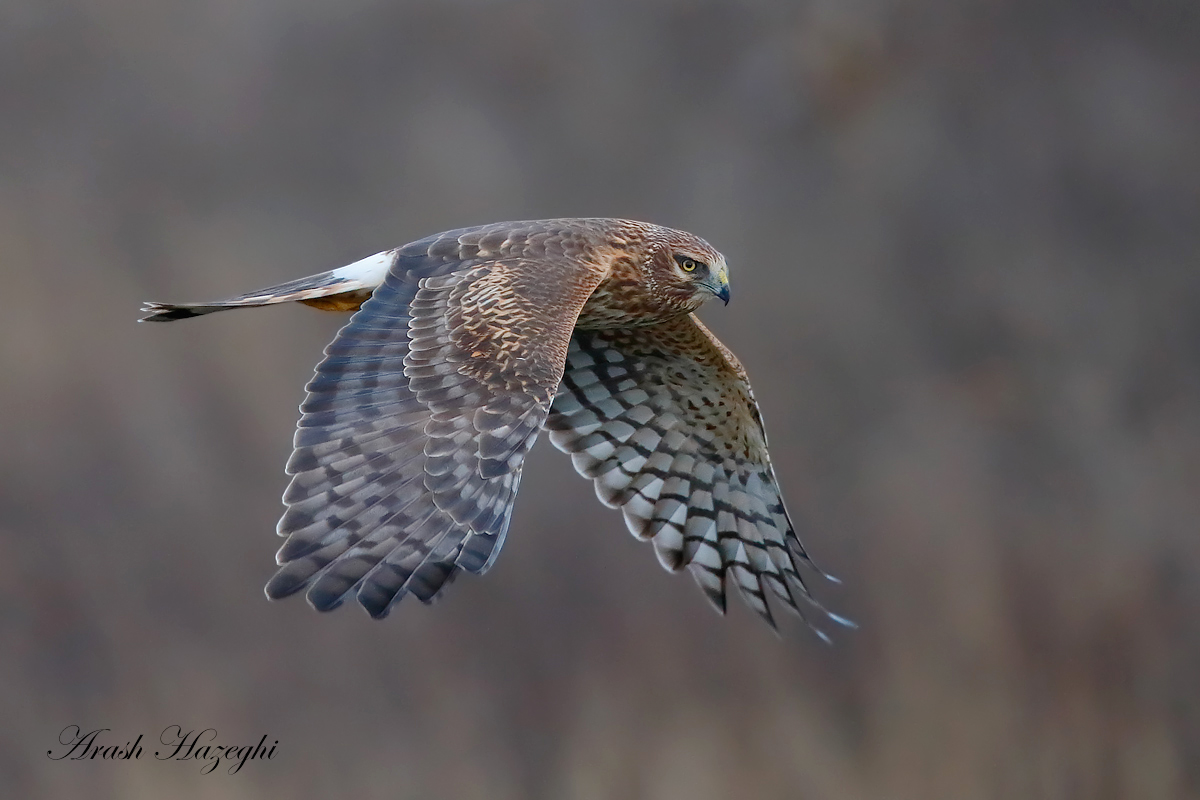 This is the optimized image that Arash created from the well under-exposed original above.
Image courtesy of and copyright 2014: Arash Hazeghi
The DPP 4 RAW Conversion
Arash lightened the image by moving the Brightness slider to +1.33 and opened up the shadows by moving the Shadow slider to +3. He moved the Highlight slider to -3 to protect the WHITEs of the raptor's rump. Then he adjusted the Reduce chrominance noise slider to eliminate the color noise and lastly adjusted the Reduce luminance noise slider to suppress the graininess. BPN Member Willie asked a good question in Pane #3 of the thread regarding depth-of-field and flight photography. Arash gave the same answer that I would have given.
Even more amazing is the fact that today's featured image was about a 60% crop….
Stuff…
At times, I run into beginners who use only JPEG capture. I always say, "With JPEGs, when you screw up, you are screwed. With RAW, you almost always have a chance…." As always, the proof–in the form of today's featured image–is in the pudding.
The DPP 4 eGuide
The RAW file for this image was converted in DPP v4.1.50 that now supports the 7D Mark II along with image files from the 1D X, the 5D III, the 6D, the 7D, the EOS-1D Mark IV,and several other older Canon camera bodies as well. DPP is far more sophisticated and complex than the various iterations of DPP 3. Thus, Arash and I created a new, stand-alone eGuide for DPP 4, one that really simplifies things. As so much work and effort went into the creation of the DPP 4 eGuide, it does require a separate purchase. Learn more about this great guide by clicking here, or purchase a copy here.
Note: the Sharpness and Noise Reduction Charts have already been updated to include the recommended values for the 7D Mark II. We will be adding values for the Mark IV, the 7D, and likely for the 70D but those will require some time so please be patient as the his process will involve a lot of work on Arash's part; the update will of course be free. Arash's recommended values for both chrominance and luminance noise reduction are key to making successful RAW conversions in DPP. He developed these values–which are in nearly all cases much more aggressive than the values calculated by the program itself–after extensive testing of dozens of camera-specific RAW files.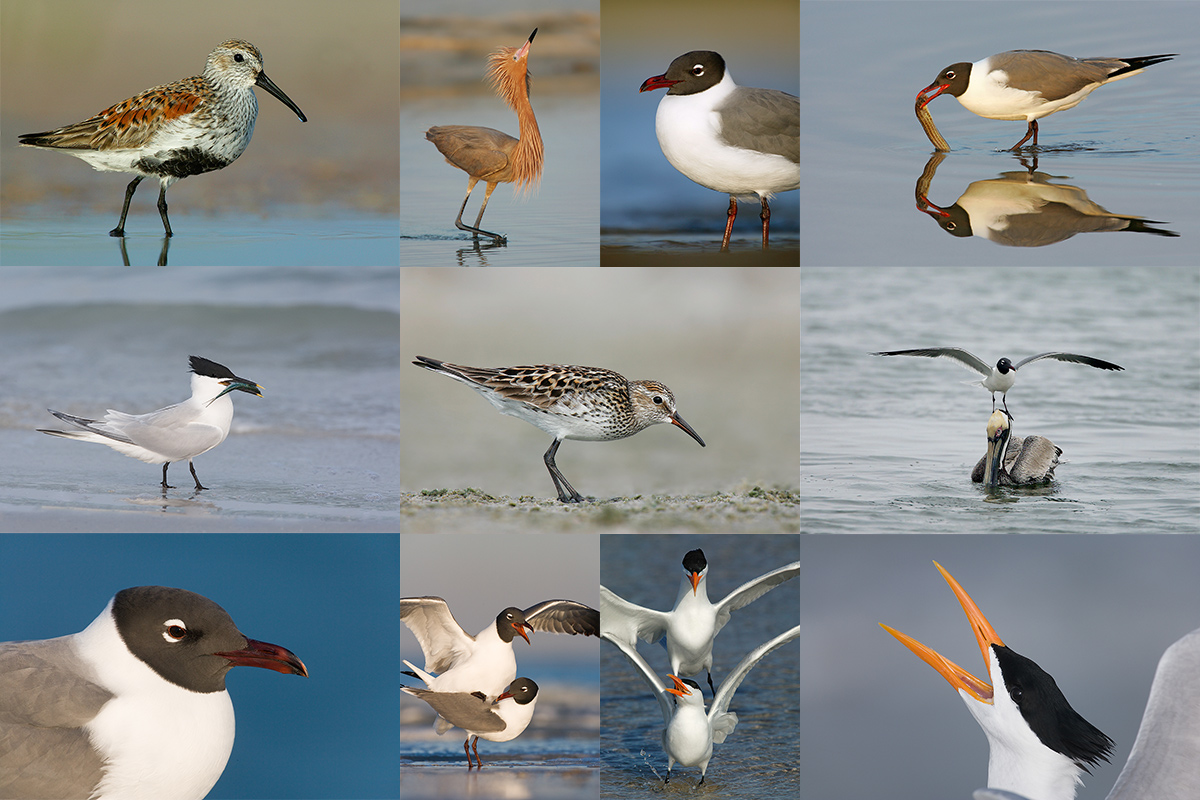 Fort DeSoto in spring can be bird photographer's heaven. And most of the birds are stupid tame.
Fort DeSoto in Spring/Breeding Plumage IPT: April 24-26, 2015. 3 FULL DAYs: $1099. Limit 8/Openings: 5.
Meet and Greet at 8pm on Thursday, April 23.
Join me at Fort DeSoto at the height of the breeding season for many of our target species: Laughing Gull, Royal Tern, Sandwich Tern, dark and light morph Reddish Egret, Great Egret, Tricolored Heron, and Yellow-crowned Night-Heron. In addition, we will have a good shot at photographing a variety of arctic-bound shorebird species in breeding plumage. We should have good chances with a variety of courtship behaviors including courtship feeding, courtship displays, pre-copulatory stands, and copulation.
On this IPT you will the learn basics and fine points of digital exposure and how to get the right exposure every time after making a single test exposure, how to approach free and wild birds without disturbing them, to understand and predict bird behavior, to identify many species of shorebirds, to spot the good situations, to choose the best perspective, to see and understand the light, and to design pleasing images by mastering your camera's AF system. And you will learn learn how and why to work in Manual mode (even if you're scared of it).
At lunch (included) we will review my images–folks learn a ton watching me edit–why keep this one and delete that one. If you opt to bring your laptop, we will take a look at five of your best images from the morning session. We will process a few of my images in Photoshop after converting them in DPP. That followed by Instructor Nap Time.
A $499 non-refundable deposit is required to hold you spot. The balance, $600 will be due on February 7, 2015. Please click here to read our cancellation policy. Then please print, read, and sign the necessary paperwork here and send it to us.
Facebook
Be sure to like and follow BAA on Facebook by clicking on the logo link upper right. Tanks a stack!
Support the BAA Blog. Support the BAA Bulletins: Shop B&H here!
We want and need to keep providing you with the latest free information, photography and Photoshop lessons, and all manner of related information. Show your appreciation by making your purchases immediately after clicking on any of our B&H or Amazon Affiliate links in this blog post. Remember, B&H ain't just photography!
…..
Amazon.com
Those who prefer to support BAA by shopping with Amazon may use this link:
Amazon Canada
Many kind folks from north of the border, eh, have e-mailed stating that they would love to help us out by using one of our affiliate links but that living in Canada and doing so presents numerous problems. Now, they can help us out by using our Amazon Canada affiliate link by starting their searches by clicking here. Many thanks to those who have written.
Typos
In all blog posts and Bulletins, feel free to e-mail or to leave a comment regarding any typos or errors. Just be right :).