What's Up?
Up at 2:45am. Left the house at 5:30am. After getting TSA-Pre (checked-in) in Orlando my two flights went as smoothly as possible. I landed in San Diego at about 1:30pm. Unpacked, took a very short nap, answered some e-mails, and had dinner with friends Patrick and Robin Sparkman; Patrick loaned me his 600 II. Then a quick stop at Trader Joe's for breakfast and a case of spring water. I was back in the room just after 9:30 Pacific time, 12:30am in Florida. I may sleep in tomorrow…. IAC, I decided to complete this short blog post before I hit the sack.
Today's blog post took about 30 minutes to put together; talk about a day off. This one was published at 10:14pm PT, 1:14am ET on Thursday from my hotel room in San Diego. I still have many exciting new images, tales, and lessons from my recently concluded trip to share with you here over the course of the next few weeks and am looking forward to doing just that. Do consider joining me in South Georgia next October for the trip of a lifetime. See here for the complete details.
Please Remember to use our Affiliate Links 🙂
To show your appreciation for my continuing efforts here, we ask, as always, that you use our the B&H and Amazon affiliate links on the right side of the blog for all of your purchases. B&H Is recommended for you major photography gear purchases, Amazon for your household, entertainment, and general purpose stuff. Please check the availability of all photographic accessories in the BIRDS AS ART Online Store, especially the Mongoose M3.6 tripod heads, Gitzo tripods, Wimberley heads and plates, LensCoats and accessories, and the like. We sell only what I have used, have tested, and can depend on. We will not sell you junk. We know what you need to make creating great images easy and fun. And we are always glad to answer your gear questions via e-mail. I just learned that my account was suspended during my absence; it should be up and running by Monday at the latest.
I would of course appreciate your using our B&H affiliate links for all of your major gear, video, and electronic purchases. For the photographic stuff mentioned in the paragraph above we, meaning BAA, would of course greatly appreciate your business. Here is a huge thank you to the many who have been using our links on a regular basis and visiting the BAA Online store as well.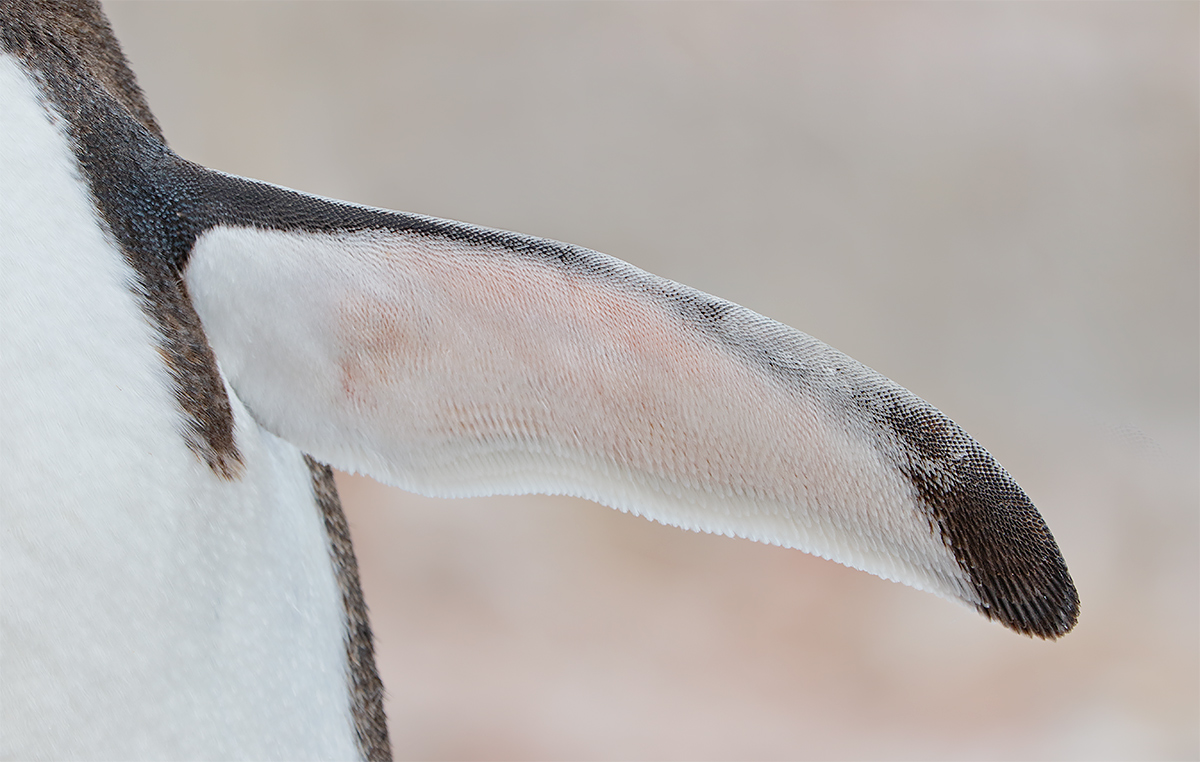 This image was created at 9:45am in cloudy conditions on January 5, 2015 at Neko Harbor, Antarctica tripod-mounted Canon EF 70-200mm f/2.8L IS II USM lens, the Canon Extender EF 2X III (at 400mm–effective 640), and the amazing Canon EOS 7D Mark II. ISO 400. Evaluative metering +1 stop: 1/500 sec. at f/8 in Manual mode.
Central sensor (manual selection) AI Servo/Rear Focus AF as framed was active at the moment of exposure. Click here to see the latest version of the Rear Focus Tutorial. Click on the image to see a larger version.
Your browser does not support iFrame.
70-200/2X III TC/7D II Yields Flesh Pink on Krill Guano Pink
As noted here previously, the later into the trip we got the lighter I went. I made many landings in Antarctica with "only" the 70-200 II with both series III TCs and the 7D II. And made lots of wonderful images. Funny how that works…
I had been looking in vain for days for a situation where I could use the pink krill guano as background when suddenly an isolated Gentoo Penguin extended a wing and held the pose long enough for me to create about half a dozen image with the background I had been looking for. The flesh pink underside of the stretched wing was the perfect icing on the perfect cake.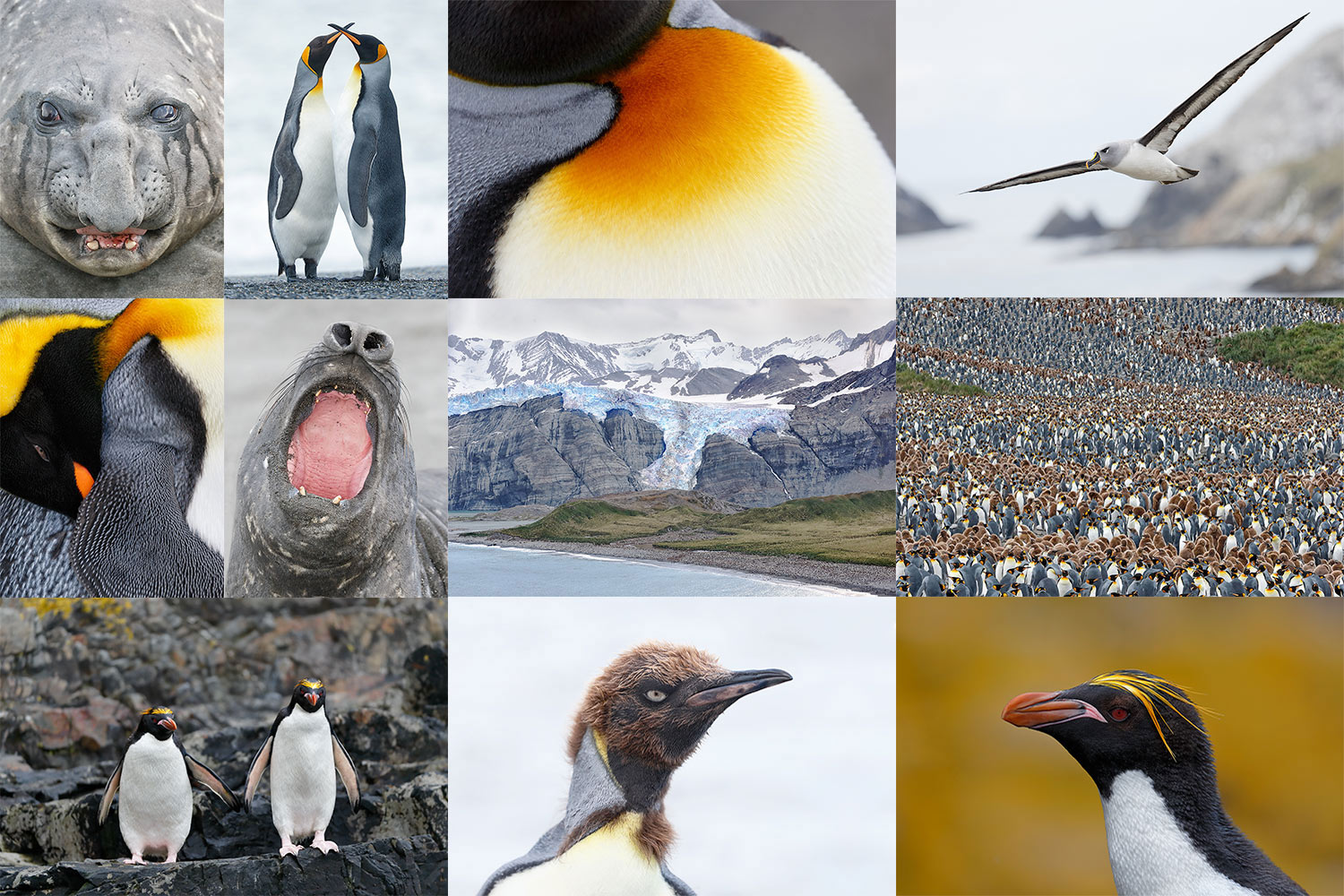 All of the images on the card were made on South Georgia. This remote wilderness island offers both spectacular scenery and hordes of tame wildlife and birds. From top left clockwise to the center: Southern Elephant Seal, courting King Penguin pair, King Penguin abstract, Grey-headed Albatross, King Penguin rookery on Salisbury Plain, Macaroni Penguin head portrait, King Penguin molting Okum Boy, Macaroni Penguin pair, King Penguin preening, Southern Elephant Seal yawning, the view of Gold Harbour from a Light-mantled Sooty Albatross nest.
Click on the image to see an extra-large version.
The 2015 South Georgia Expedition Voyage
Why Sign Up Through BIRDS AS ART?
If you have been thinking and dreaming of finally visiting South Georgia, this is the trip for you. Quit dreaming and act now. Though I will not be an official leader on this trip, those who have traveled with me know that I cannot help but teach. I will make pre-trip gear recommendations. I will hold informal pre-landing briefings. In the same vein, everyone will receive a free copy of our Antarctica Site Guide once they are paid in full (July 2, 2015). I will be available on the ship to review your images,, answer questions, and conduct informal over-the shoulder Photoshop sessions. And best of all, everyone who signs up under the auspices of BAA are invited to tag along with me on the landings where I will be glad to offer invaluable in-the-field advice. And the same goes for the ship-board birds in flight and marine mammal photography opportunities.
Do join us. To learn how to be part of the BAA group please e-mail me with the words Antarctica/Extended Expedition BAA Info Please cut and pasted into the Subject line.
Important Notes
#1: If you fail to e-mail me as noted directly above, and register directly with CES you MUST let them know that you would like to be part of the BIRDS AS ART group.
#2: Joining the BIRDS AS ART group as above will not cost you one penny.
Click here for complete details and to learn about Cheesemans' Ecology Safaris. Please e-mailor with any questions or try me on my personal line this weekend at 863-692-2806.
Facebook
Be sure to like and follow BAA on Facebook by clicking on the logo link upper right. Tanks a stack!
Support the BAA Blog. Support the BAA Bulletins: Shop B&H here!
We want and need to keep providing you with the latest free information, photography and Photoshop lessons, and all manner of related information. Show your appreciation by making your purchases immediately after clicking on any of our B&H or Amazon Affiliate links in this blog post. Remember, B&H ain't just photography!
…..
Amazon.com
Those who prefer to support BAA by shopping with Amazon may use this link:
Amazon Canada
Many kind folks from north of the border, eh, have e-mailed stating that they would love to help us out by using one of our affiliate links but that living in Canada and doing so presents numerous problems. Now, they can help us out by using our Amazon Canada affiliate link by starting their searches by clicking here. Many thanks to those who have written.
Typos
In all blog posts and Bulletins, feel free to e-mail or to leave a comment regarding any typos or errors. Just be right :).