What's Up?
I fly to Charolotte, NC this afternoon and then drive to Spartanburg, SC for the CNPA Annual Meeting. I have tons more on the 100-400II and the 7D II and lots more Southern Ocean and San Diego images to share with you here and will be doing that on a daily basis.
This blog post took about 1 1/2 hours to prepare. It was published at 4:46am from my home at Indian Lake Estates, FL.
CNPA
I will be presenting 3 programs at the Carolina Nature Photographer's Annual Meeting, Friday thru Sunday. My keynote presentation, "What Makes a Great Natural History Image," on Friday, is being generously sponsored by Canon USA/Explorers of Light. I hope to see many of you there. Be sure to say "hi" and get a hug. Learn more or register here.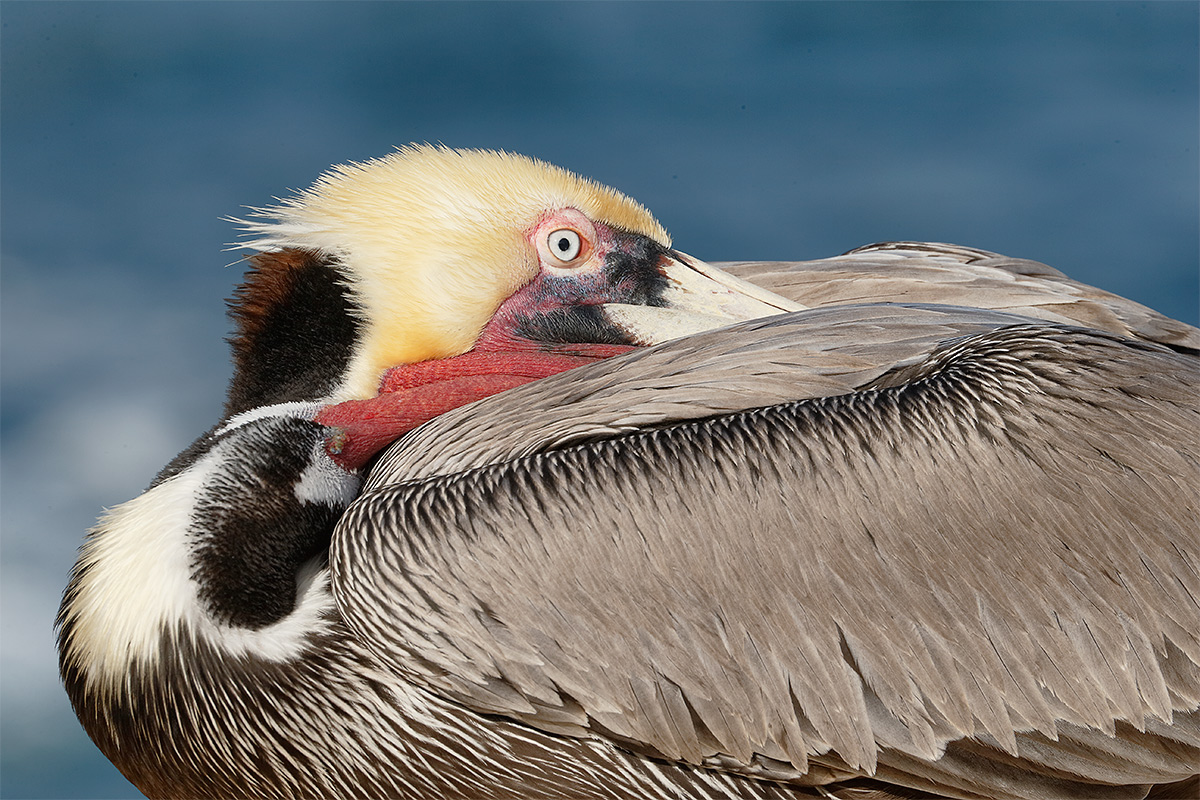 This image was created at La Jolla, CA on the recently concluded San Diego IPT with the hand held Canon EF 100-400mm f/4.5-5.6L IS II USM lens, the Canon Extender EF 1.4X III (at 560mm), and the Canon EOS-1D X. ISO 400. Evaluative metering at zero: 1/400 sec. at f/14 in Manual mode. Rig on the Black Rapid RS-7 Strap.
Important Note: I was 100% positive that this image was created with the 7D II but in fact it was created with the 1D X. I made the corrections above at about 11:50am on Thursday. Honest mistake. The fact is that I did not do much with the 7D II/1.4X III/100-400 II on the trip….
Center AF point (by necessity)/AI Servo Rear Focus AF on the bird's eye and re-compose with both forearms resting on a rock at chest level for stability. Click here to see the latest version of the Rear Focus Tutorial. Click on the image to see a larger version.
Your browser does not support iFrame.
Playing With Fire…
There is numerous internet chatter and even a BPN thread or two regarding unsharp 7D Mark II images. Many mention a distinct lack of sharpness when a 7D II is hand held with a telephoto lens and a 1.4X teleconverter. Read on to learn why these folks need to look in the mirror and strongly consider operator error….
For today's image I was working fully zoomed in to 560mm. What folks are forgetting is that with the 1.6X crop factor of the 7D II the effective focal length works out to 896mm. That yields 17.92X magnification. Folks hand holding this combination are indeed playing with fire. Those who run around hand holding this combo who do not realize that they need to take extraordinary care to keep the lens completely still are doomed to failure in the form of unsharp images. Only those with superb sharpness techniques should even attempt to hand hold this combination. In most cases the use of high shutter speeds is recommended even if doing so requires setting higher ISOs.
It is mandatory that folks understand that the effects of camera and lens shake are a factor not of the effective focal length, but of the square of the focal length. This is also the reason that there are some internet reports that IS does not appear to be working properly when folks who have never used 1.6 crop factor cameras before the 7D II are hand holding telephoto and super-telephoto lenses for the first time when using a camera with a CMOS 22.4 × 15 pixel sensor. It is not the Image Stabilization, it is the square of the effective focal length that is the culprit….
Best would be to use this rig on a tripod topped by a Mongoose M 3.6. Note that even when working on tripod at long effective focal lengths you will need to employ both high shutter speeds and excellent sharpness techniques. See the section on Sharpness Techniques in The Art of Bird Photography II (ABP II: 916 pages, 900+ images on CD only).
To a lesser but still significant degree, the warning here also applies to those use the 7D II/100-400 combo without the addition of a TC: long effective focal lengths require the use of top-notch sharpness techniques even with the great 4-stop IS system of the new 1-4.
Image Questions
#1: Why f/14?
#2: Why no plus compensation in the relatively soft light?
Facebook
Be sure to like and follow BAA on Facebook by clicking on the logo link upper right. Tanks a stack!
Support the BAA Blog. Support the BAA Bulletins: Shop B&H here!
We want and need to keep providing you with the latest free information, photography and Photoshop lessons, and all manner of related information. Show your appreciation by making your purchases immediately after clicking on any of our B&H or Amazon Affiliate links in this blog post. Remember, B&H ain't just photography!
…..
Amazon.com
Those who prefer to support BAA by shopping with Amazon may use this link:
Amazon Canada
Many kind folks from north of the border, eh, have e-mailed stating that they would love to help us out by using one of our affiliate links but that living in Canada and doing so presents numerous problems. Now, they can help us out by using our Amazon Canada affiliate link by starting their searches by clicking here. Many thanks to those who have written.
Typos
In all blog posts and Bulletins, feel free to e-mail or to leave a comment regarding any typos or errors. Just be right :).