What's Up?
My keynote program at the CNPA Annual Meeting was well received as were Denise's two programs. About 350 folks were in attendance at each. Funny that way back when I cut a Speech course repeatedly when I was scheduled to give my speech in fear of public speaking. That was in my senior year. I had been an undergraduate for six years, first on scholarship at Brooklyn Polytechnic Institute and then at Brooklyn College. On the last day of the term I showed up terrified and gave a short speech on my then love of golf as I needed a passing grade in order to graduate.
When I first met Denise I asked her to do a short program for an IPT group. She too was terrified. Finally she agreed. Now she does several programs each month and is a hugely popular and effective speaker as well as being the most creative photographer I know, both in the field and at her computer.
And we both love large audiences….
This post took about 1 1/2 hours to prepare and was published at 5:52am from my hotel room at the Marriott in Spartanburg, SC.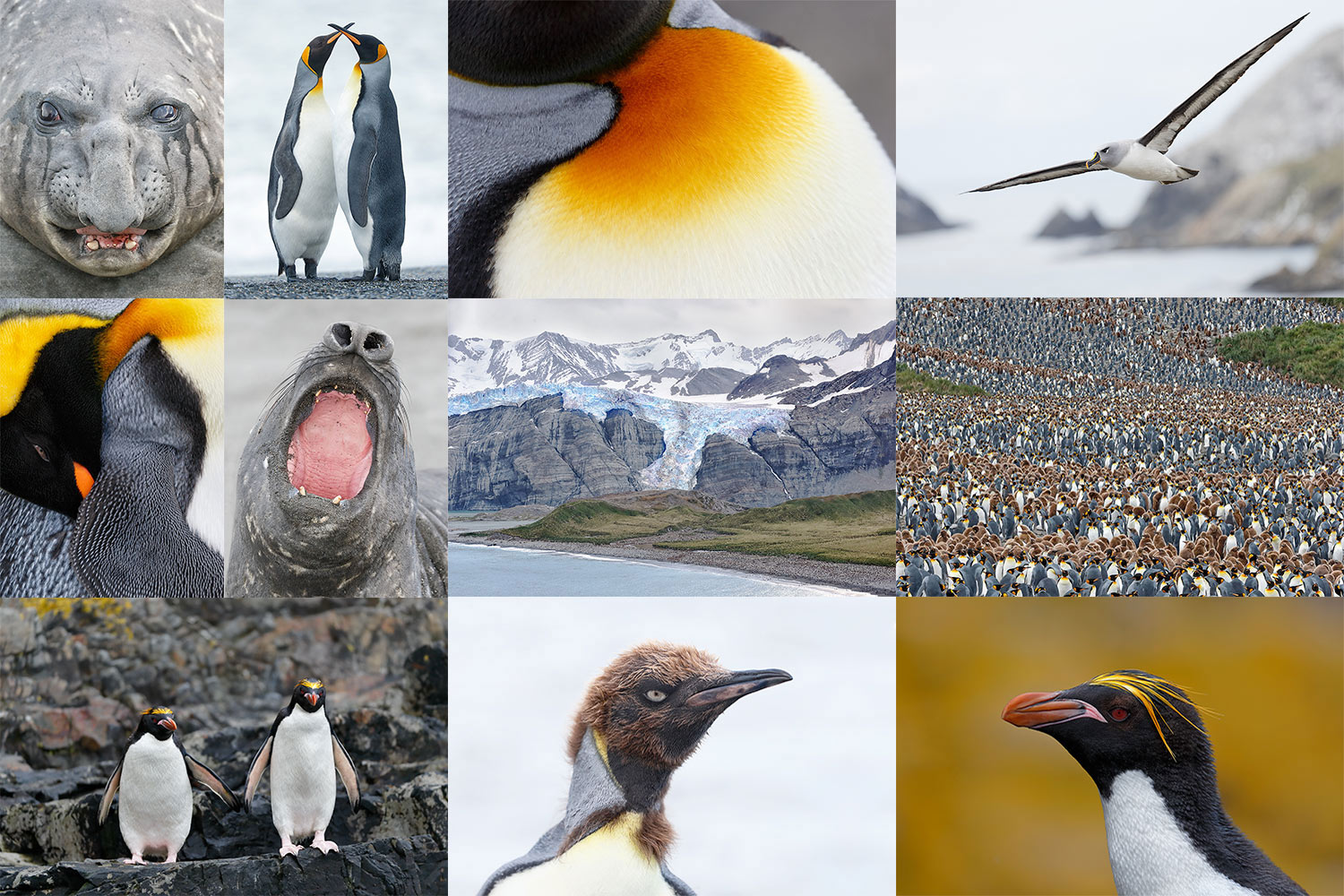 All of the images on the card were made on South Georgia. This remote wilderness island offers both spectacular scenery and hordes of tame wildlife and birds. From top left clockwise to the center: Southern Elephant Seal, courting King Penguin pair, King Penguin abstract, Grey-headed Albatross, King Penguin rookery on Salisbury Plain, Macaroni Penguin head portrait, King Penguin molting Okum Boy, Macaroni Penguin pair, King Penguin preening, Southern Elephant Seal yawning, the view of Gold Harbour from a Light-mantled Sooty Albatross nest.
Click on the image to see an extra large version.
Back to the Southern Ocean
South Georgia Expedition Voyage
I've been blessed. I've now made four trips to the Southern Ocean, three expeditions that visited the Falklands, South Georgia, and the Antarctic Peninsula, and one to the Falklands and South Georgia. Each was a truly amazing experience. South Georgia has been the star of the show each time: rugged snow covered peaks, tame and abundant wildlife including Southern Elephant Seal and Southern Fur Seal, and penguins: more King Penguins than you could ever have dreamed of. Gentoos. And my favorite, the golden-yellow spaghetti-topped Macaronis. With four trips to South Georgi under my belt, I have a pretty good idea about how to make great images at each of the iconic landings. In addition, we should have some pretty good flight photography sessions from the stern of the ship. I would love the chance to share my knowledge with you.
Do consider joining me in South Georgia next October for the trip of a lifetime. See here for the complete details.
Save $242
Register now for the South Georgia trip and receive a $242 on your return airfare. Please e-mail for details.
Please Remember to use our Affiliate Links 🙂
To show your appreciation for my continuing efforts here, we ask, as always, that you use our the B&H and Amazon affiliate links on the right side of the blog for all of your purchases. B&H is recommended for you major photography gear purchases, Amazon for your household, entertainment, and general purpose stuff. Please check the availability of all photographic accessories in the BIRDS AS ART Online Store, especially the Mongoose M3.6 tripod heads, Gitzo tripods, Wimberley heads and plates, LensCoats and accessories, and the like. We sell only what I have used, have tested, and can depend on. We will not sell you junk. We know what you need to make creating great images easy and fun. And we are always glad to answer your gear questions via e-mail. I just learned that my account was suspended during my absence; it should be up and running by Monday at the latest.
I would of course appreciate your using our B&H affiliate links for all of your major gear, video, and electronic purchases. For the photographic stuff mentioned in the paragraph above we, meaning BAA, would of course greatly appreciate your business. Here is a huge thank you to the many who have been using our links on a regular basis and visiting the BAA Online store as well.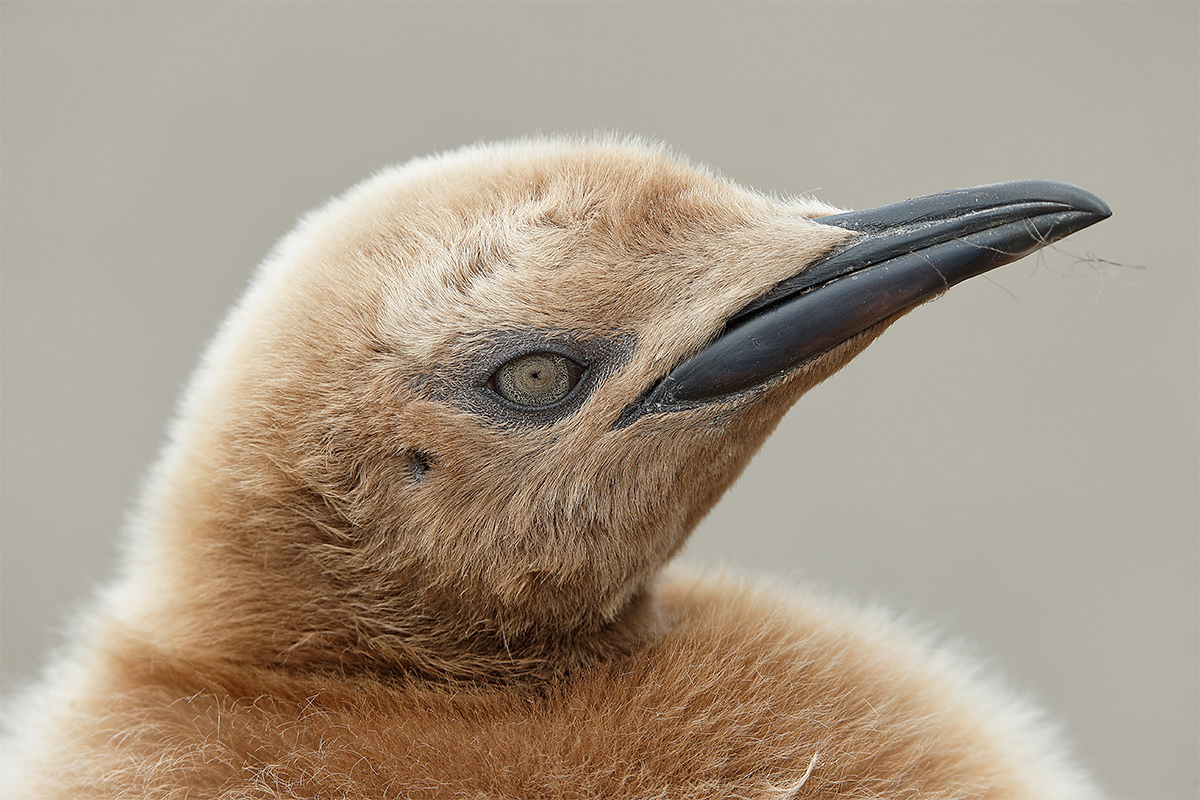 This image was created in cloudy conditions on Salisbury Plain, South Georgia with the Canon EF 300mm f/2.8L IS II USM lens, the Canon Extender EF 2X III, and the Canon EOS-1D X. ISO 400. Evaluative metering +1 stop: 1/200 sec. at f/7.1. Cloudy WB.
AI Servo/Rear Focus/Zone AF as framed was active at the moment of exposure. With this image the three AF points activated by the AF system were just forward of the eye. Click on the image to see a larger version.
Image #2
Your browser does not support iFrame.
Head Angle Fine Points
In my not-so-humble opinion, the head angle in Image #2 in yesterday's blog post was far superior to the head angle in Image #1 for the reasons enumerated by the vast majority. The bird in #1 looked far more alive (as did the eye), and, with the tip of the bill on the same plane as the eye, the entire length of the bill in #2 was in relatively sharp focus. Not so in #1 where, with the head actually turned slightly away from us,the tip of the bill was not at all sharp. As almost always, head angle with the bird turned a very few degrees toward us is best.
This image was created in cloudy conditions on December 25, 2014 at St. Andrews Bay, South Georgia with the hand held Canon EF 300mm f/2.8L IS II USM lens, the Canon Extender EF 2X III, and the Canon EOS-1D X. ISO 400. Evaluative metering +1 2/3 stops: 1/500 sec. at f/5.6. Auto WB.
Center AF point (manual selection)/AI Servo/Rear Focus AF active on the bird's neck was active at the moment of exposure. Click on the image to see a larger version.
Your browser does not support iFrame.
King Penguin T-Pose
The T-pose, also known as the blind pose or the reference pose is the default un-animated state of a 3D model upon which the animation is based. I do not think that this penguin had any video games or animations in mind as it emerged from the surf at St. Andrews Bay, South Georgia. See the original image in the animated GIF below.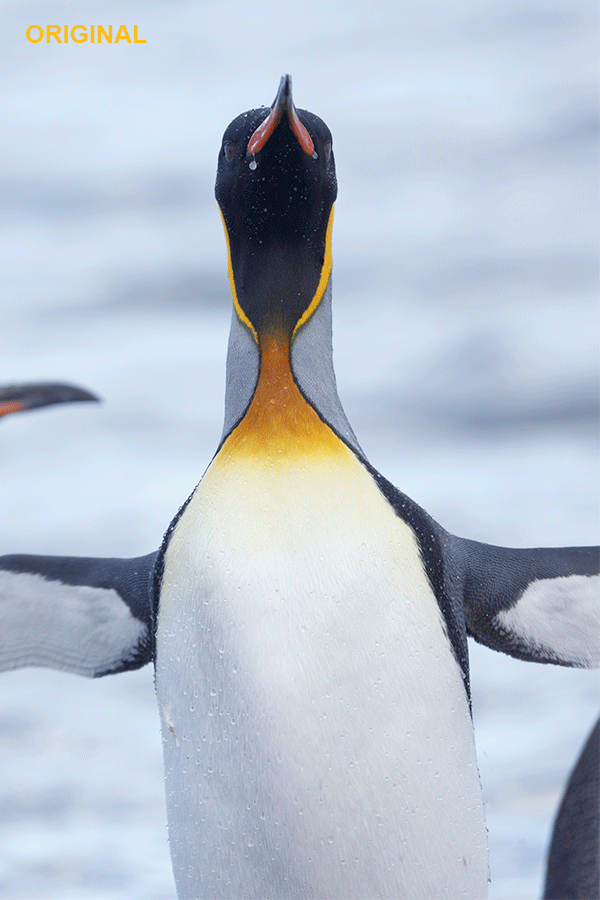 The "original" here is actually the converted TIFF file.
The Image Optimization
During the RAW conversion in DPP I first moved the brightness slider two clicks to the left to darken the image and then opened up the BLACKs by moving the Shadow Slider 3 to the right and toned down the highlights just a bit by moving the Highlight slider one click to the left.
Clean-up of the extraneous bird parts was done with the Clone Stamp Tool and the Patch Tool. To smooth out the repair work I put the whole image on its own layer, applied a 60-pixel Gaussian blur, and painted the effect in where needed using an Inverse(Black or Hide-all) mask. I did roughly the same thing to paint in my NIK 50-50 recipe on the bird only but used a 33% Opacity brush to apply the effect incrementally.
Digital Basics
Everything that I did to optimize both of today's images is covered in detail in my Digital Basics File–written in my easy-to-follow, easy-to-understand style. Are you tired of making your images look worse in Photoshop? Digital Basics File is an instructional PDF that is sent via e-mail. It includes my complete digital workflow, dozens of great Photoshop tips, details on using all of my image clean-up tools, the use of Contrast Masks, several different ways of expanding and filling in canvas, all of my time-saving Keyboard Shortcuts, Quick Masking, Layer Masking, and NIK Color Efex Pro basics, Contrast Masks, Digital Eye Doctor techniques, using Gaussian Blurs, Tim Grey Dodge and Burn, a variety of ways to make selections, how to create time-saving actions, the Surface Blur (background noise reduction) settings as taught to me by Denise Ippolito, and tons more.
APTATS I & II
Learn the details of advanced Quick Masking techniques in APTATS I. Learn Advanced Layer Masking Techniques in APTATS II. Mention this blog post and apply a $5 discount to either with phone orders only. Buy both APTATS I and APTATS II and we will be glad to apply at $15 discount with phone orders only. Please call Jim or Jennifer at 863-692-0906 weekdays to order.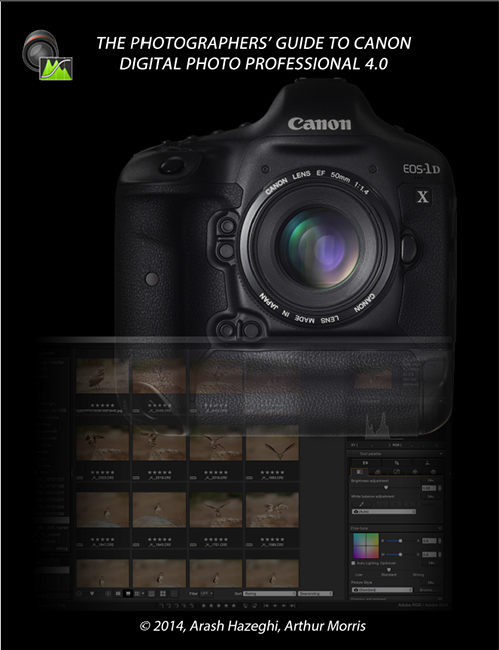 You can order your copy of "The Photographers' Guide to Canon Digital Photo Professional 4.0" (aka the DPP 4 Raw Conversion eGuide) by Arash Hazeghi and Arthur Morris by clicking here.
The DPP 4 eGuide (PDF)
Learn how and why I and many other discerning photographers choose and use only DPP 4 to convert their Canon RAW files in the DPP 4 RAW Conversion Guide by Arash Hazeghi and yours truly. The latest version supports all of the newer Canon camera bodies and several older models including the EOS-7D and the EOS-1D Mark IV.
Facebook
Be sure to like and follow BAA on Facebook by clicking on the logo link upper right. Tanks a stack!
Support the BAA Blog. Support the BAA Bulletins: Shop B&H here!
We want and need to keep providing you with the latest free information, photography and Photoshop lessons, and all manner of related information. Show your appreciation by making your purchases immediately after clicking on any of our B&H or Amazon Affiliate links in this blog post. Remember, B&H ain't just photography!
…..
Amazon.com
Those who prefer to support BAA by shopping with Amazon may use this link:
Amazon Canada
Many kind folks from north of the border, eh, have e-mailed stating that they would love to help us out by using one of our affiliate links but that living in Canada and doing so presents numerous problems. Now, they can help us out by using our Amazon Canada affiliate link by starting their searches by clicking here. Many thanks to those who have written.
Typos
In all blog posts and Bulletins, feel free to e-mail or to leave a comment regarding any typos or errors. Just be right :).