Stuff
The pool was down to 65 degrees on Saturday morning. No swim for me. I headed over to Brandon to meet the Hooptie group at 7:30pm for a meet and greet. As I typed on Saturday afternoon, I was in the car with Alan and Pat Lillich–where have they not been with me??? headed to Whole Foods in Tampa. First we had some nasty traffic and then two exits in a row were closed. Our 12 minute trip turned into more than a half hour trip.
This post about 90 minutes to prepare. It was published from my hotel room in Brandon, FL at 4:00am.
The Fort DeSoto Spring IPT joined the long list of sold out trips yesterday. And the Swarovski ATS 65 HD Spotting Scope with 20-60x eyepiece sold for the full asking price. As did the 70-300.
South Georgia October 2015
Do consider joining me in South Georgia next October for the trip of a lifetime. Click here for complete details.
Save $242
Register before the end of the month for the South Georgia trip and receive a $242 discount on your return airfare. Please e-mail for details.
Please Remember to use our Affiliate Links 🙂
To show your appreciation for my continuing efforts here, we ask, as always, that you use our the B&H and Amazon affiliate links on the right side of the blog for all of your purchases. B&H is recommended for you major photography gear purchases, Amazon for your household, entertainment, and general purpose stuff. Please check the availability of all photographic accessories in the BIRDS AS ART Online Store, especially the Mongoose M3.6 tripod heads, Gitzo tripods, Wimberley heads and plates, LensCoats and accessories, and the like. We sell only what I have used, have tested, and can depend on. We will not sell you junk. We know what you need to make creating great images easy and fun. And we are always glad to answer your gear questions via e-mail. I just learned that my account was suspended during my absence; it should be up and running by Monday at the latest.
I would of course appreciate your using our B&H affiliate links for all of your major gear, video, and electronic purchases. For the photographic stuff mentioned in the paragraph above we, meaning BAA, would of course greatly appreciate your business. Here is a huge thank you to the many who have been using our links on a regular basis and visiting the BAA Online store as well.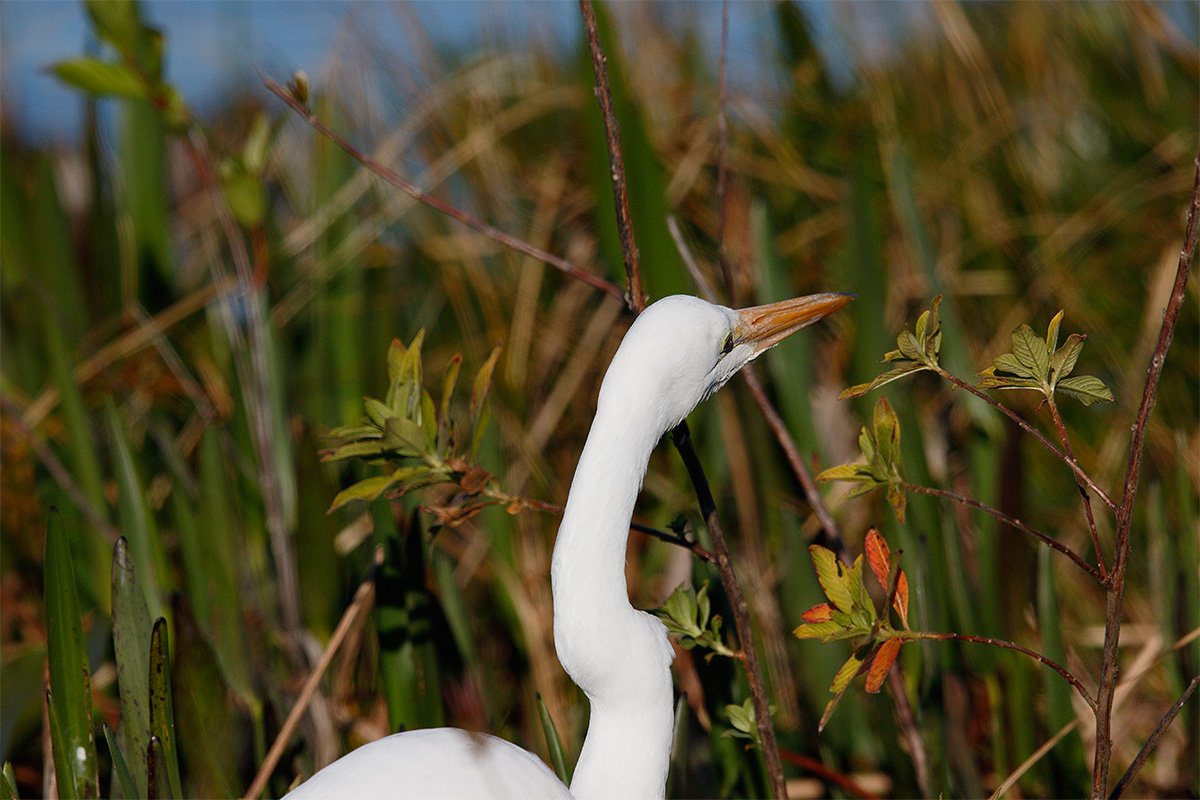 This image was created at 8:17am on a sunny morning down by the lake near my home from the car with the Canon EF 600mm f/4L IS II USM lens and the amazing Canon EOS 7D Mark II. ISO 400. I went with the standard 1/2000 sec at f/8 for ISO 400 bright WHITEs in sunny conditions for those using Highlight Tone Priority (HTP) and converting in DPP 4. Otherwise try 1/2500 sec. at f/8 as your best guess in this situation. Note: if you are not using DPP to convert you should never have HTP enabled.
One AF point to the right of the center AF Point (manual selection)/AI Servo/Rear Focus AF as framed was active at the moment of exposure. ???? Click here to see the latest version of the Rear Focus Tutorial. Click on the image to see a larger version.
Your browser does not support iFrame.
What the ???
Was the image above a mistake, an accidental push of the shutter button? Was I drunk? Was it supposed to show a hunting egret? Or was there some other reason that it was created? If the latter, why?
Answer tomorrow. I will withhold judgement on all comments so that everyone can have a crack at it.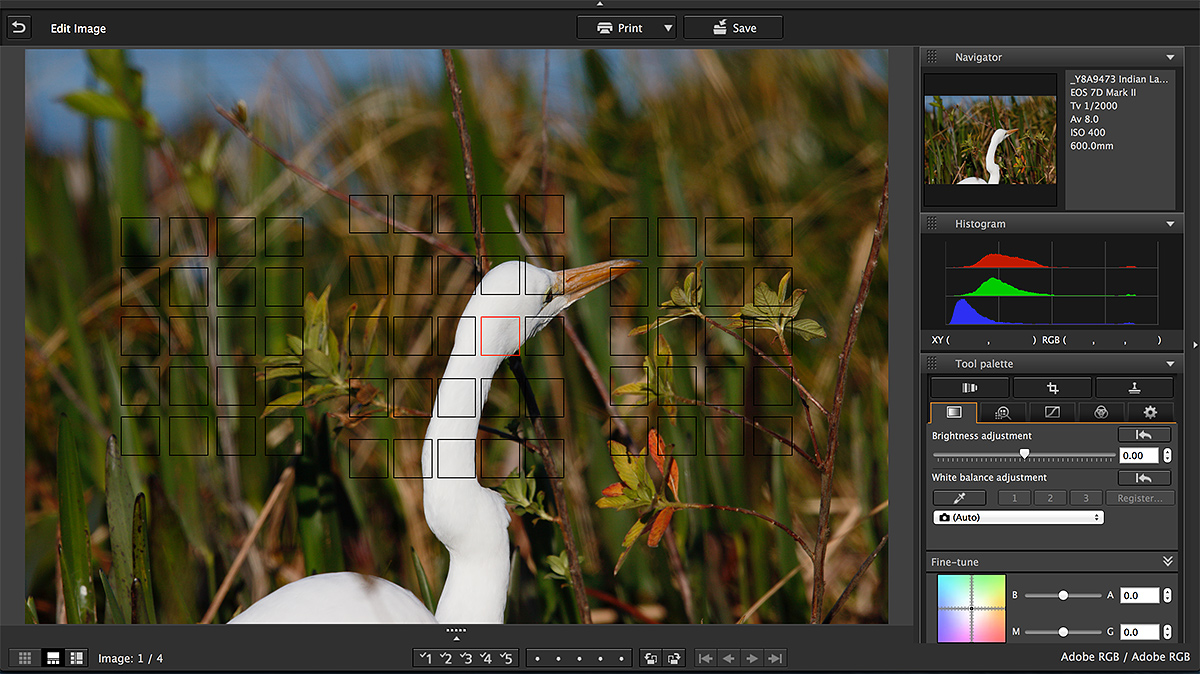 A DPP 4 screen capture for toady's featured image. Featured why????
Clues?
Can you find any clues in the DPP screen capture that might help you solve the riddle? Maybe….
New Listings and Price Drops
Click on the Used Photography Gear for Sale tab on the lower gold toolbar above to see the complete listings.
Used Canon 400mm f/4 IS DO Lens
Multiple IPT veteran Peter Hawrylyshyn is offering a used Canon 400mm f/4 IS DO lens in like-new condition for $3899. This is another lowest price ever. The sale includes everything that came in the original box—manual, the lens strap, the rear dust cap, the original front lens cover, etc, as well as the box itself, a hardwood snow LensCoat, a Lens Coat Hoodie, and insured ground shipping. Your item will not ship until your check clears unless other arrangements are made.
Please contact Peter via e-mail ­­­­­or by phone at 760-689-2434 (eastern time zone).
I used this lens for several years with great success, especially for birds in flight and while working from various type of water craft. Gannets in Love was created with the 400 DO. You can that one and 13 other killer images that I made with my 400 DO here. The title of that blog post is "The Canon 400mm f/4 IS DO Lens: Fourteen Images that Prove that the Internet Experts are Idiots."
Used Canon 400mm f/2.8L IS II Lens
Price reduced $300 on 2/20/2015!
Melissa Hahn is offering a used Canon 400mm f/2.8L IS II lens in mint condition now for $8699. (Original asking price as $8999.) Original owner. The sale includes the lens hood, the E-180D front lens cover, the 400C lens trunk, the rear lens cap, the wide lens strap, a black LensCoat (an $89.99 value), a TravelCoat (a $59.95 value), and insured ground shipping to US addresses. The lens will ship only after your check clears. Glass and lens immaculate. The lens was very recently cleaned and checked by Canon. Photos are available upon request.
Interested folks can contact Melissa on here cell phone at 1-631-404-2965 (eastern time) or via e-mail.
This fast, super-sharp, relatively lightweight (8.49 pounds) super-telephoto lens (the Nikon version weighs 10.2 pounds) is a versatile lens for wildlife photographers. It creates super-sharp images with both the 1.4X III and the 2X III Extenders. It currently sells new at B&H for $10,499 and they are offering a used one for $9,899.95. You can save some significant bucks by grabbing Melissa's lens now.
Used Canon EOS-1D X
Gary Meyer is offering a used Canon EOS-1D X in mint condition for $4,950.00. The sale includes an extra battery, the front cap, the original box and packaging along with all manuals, cords and CDs. Also included is insured shipping via UPS Ground. Your item will not ship until your check clears unless other arrangements are made. Paypal OK.
Please contact Gary by e-mail or by phone at 612-221-0150 (8am to 10pm Central time).
I currently own two EOS-1D X bodies and will not be selling either one soon. Super-fast frame rate, full frame body, high quality image files, high ISO performance, and the world's best AF system. The world's best flight photographers choose and use the 1D X. artie
Used Canon EF 300mm f/2.8L IS II USM Lens
Jacques Bouvier is offering a used Canon EF 300mm f/2.8L IS II USM lens in very good condition with clean glass for $4999 US. The sale includes the ET-120 Lens Hood, the Hard Case 300B, Lens Cap E-145C, Rear lens cap, and the wide Lens Strap B. Also included is insured shipping to US addresses via UPS Ground.
You can contact Jacques via e-mail or by phone at 613-524-1154 (home) or 613-677-5140 (cell)–eastern time zone.
The 300 f/2.8L IS II IS is a super-sharp, versatile lens that can be hand held easily by most folks. I use it often with both the 1.4X or 2X Series III teleconverters. It served as my big lens on the recently concluded Southern Ocean trip. In addition I have used it a ton in Japan and at Fort DeSoto. This one is priced to sell instantly.
Facebook
Be sure to like and follow BAA on Facebook by clicking on the logo link upper right. Tanks a stack!
Support the BAA Blog. Support the BAA Bulletins: Shop B&H here!
We want and need to keep providing you with the latest free information, photography and Photoshop lessons, and all manner of related information. Show your appreciation by making your purchases immediately after clicking on any of our B&H or Amazon Affiliate links in this blog post. Remember, B&H ain't just photography!
…..
Amazon.com
Those who prefer to support BAA by shopping with Amazon may use this link:
Amazon Canada
Many kind folks from north of the border, eh, have e-mailed stating that they would love to help us out by using one of our affiliate links but that living in Canada and doing so presents numerous problems. Now, they can help us out by using our Amazon Canada affiliate link by starting their searches by clicking here. Many thanks to those who have written.
Typos
In all blog posts and Bulletins, feel free to e-mail or to leave a comment regarding any typos or errors. Just be right :).