What's Up?
More spoonbills. Lots more White Ibises coming in each day. Lots of flight photography. This blog post took 2 hours to prepare and was published at 4:45am from my hotel room in Brandon, FL.
What the ???
See item 2 for the answer.
Hooptie Spoonbill Mini-IPT
The Hooptie Roseate Spoonbill Mini-IPT announced yesterday signed up two folks. There are just four slots left. Scroll down for details.
South Georgia October 2015
Do consider joining me in South Georgia next October for the trip of a lifetime. Click here for complete details.
Save $242
Register before the end of the month for the South Georgia trip and receive a $242 discount on your return airfare. Please e-mail for details.
Please Remember to use our Affiliate Links 🙂
To show your appreciation for my continuing efforts here, we ask, as always, that you use our the B&H and Amazon affiliate links on the right side of the blog for all of your purchases. B&H is recommended for you major photography gear purchases, Amazon for your household, entertainment, and general purpose stuff. Please check the availability of all photographic accessories in the BIRDS AS ART Online Store, especially the Mongoose M3.6 tripod heads, Gitzo tripods, Wimberley heads and plates, LensCoats and accessories, and the like. We sell only what I have used, have tested, and can depend on. We will not sell you junk. We know what you need to make creating great images easy and fun. And we are always glad to answer your gear questions via e-mail. I just learned that my account was suspended during my absence; it should be up and running by Monday at the latest.
I would of course appreciate your using our B&H affiliate links for all of your major gear, video, and electronic purchases. For the photographic stuff mentioned in the paragraph above we, meaning BAA, would of course greatly appreciate your business. Here is a huge thank you to the many who have been using our links on a regular basis and visiting the BAA Online store as well.
Canon's Two New 50+ Megapixel Camera Bodies
Many of you have read about the two new Canon 50+ megapixel bodies, the Canon EOS 5DS DSLR and the Canon EOS 5DS R DSLR. The two cameras look, sound, and pretty much are quite similar. I have withheld commenting until now because I did not have a good–heck, I did not have any–understanding of the single difference between the two bodies, that being the Low-Pass Filter Effect Cancellation.
If you missed the hugely popular "Canon's Two New 50+ Megapixel Camera Bodies/You Must Read This Before You Buy," you can click here to catch up and learn a ton to boot.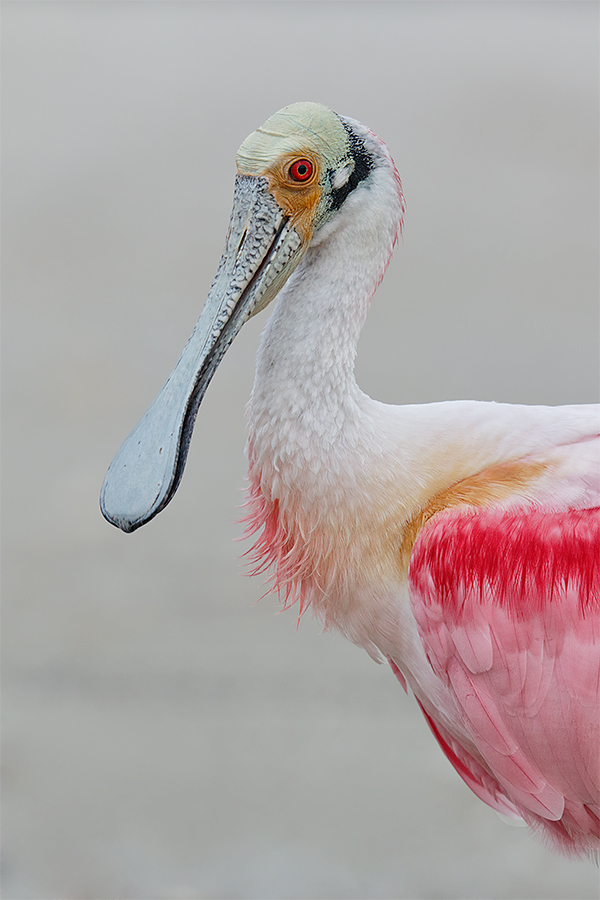 This image was created at Alafia Banks on the somewhat foggy morning of February 23, 2015 with the Canon EF 600mm f/4L IS II USM lens, the Canon Extender EF 2X III, and the amazing Canon EOS 7D Mark II. ISO 400. Evaluative metering +1 1/3 stops: 1/500 sec. at f/9. AWB.
Center AF point (by necessity)/AI Servo/Rear Focus/Expand AF as framed was active at the moment of exposure. Click here to see the latest version of the Rear Focus Tutorial. Click on the image to see a larger version.
Image #1: Roseate Spoonbill head and neck vertical portrait
Your browser does not support iFrame.
600II/2X III/7D II Spoonbill Image
When I first reached into the pouch on my waders I realized that I had brought both TCs, with the 2X III and the 1.4X III stacked around a 12mm Extension tube. My first thought was that with the 7d II on the 600 II that there was no need to have brought the 2X. But then I thought, "Why not?" and grabbed the 2X. The group had done a good job of getting into position when unexpectedly the four spoonbills that we had been photographing walked right towards us. Slowly.
What fun we had.
BTW, 1200mm X 1.6 is 1920mm. More than 38X magnification….
Is the 600II/2XIII/7DII a viable combo?
For folks employing top notch sharpness techniques (as detailed in ABP II), the answer is an obvious "Yes." Having only the central AF point (plus four more with Expand) is a somewhat limiting factor. Rear focus can help at times if the bird stays still. Note for the image above that the neck and the bird's eye were on the same plane. This allowed me to have AF active at the moment of exposure. Note that even skilled folks should not expect anywhere near 100% sharp images using this combo.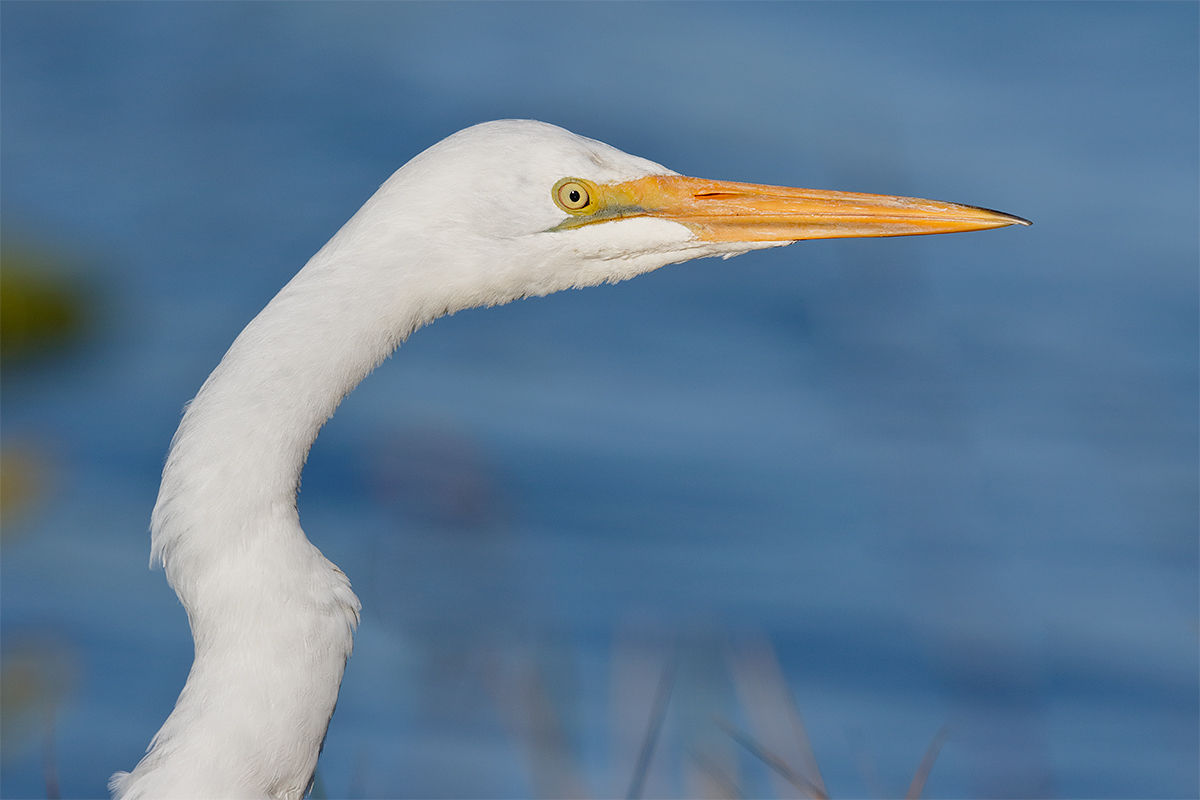 This image was created at 8:18am on a sunny morning down by the lake near my home from the car with the Canon EF 600mm f/4L IS II USM lens and the amazing Canon EOS 7D Mark II. ISO 400. I went with the standard 1/2000 sec at f/7.1 after making a single test exposure. This wound up being one-third stop brighter than the standard guideline values for ISO 400 for bright WHITEs in sunny conditions (for those using Highlight Tone Priority and converting in DPP 4): 1/2000 sec. at f/8. Note: if you are not using DPP to convert you should not have HTP enabled.
Upper center Zone/AI Servo/Rear Focus AF as framed activated three AF points, two of which fell directly on the bird's eye, was active at the moment of exposure. In other words, it nailed the focus. Click here to see the latest version of the Rear Focus Tutorial. Click on the image to see a larger version.
Image #2: Great Egret head portrait in early morning light
Your browser does not support iFrame.
What the ???
The admittedly terrible image presented here was nothing more than an exposure check. You should be making lots of similar (lousy) images each and every time that you encounter a new exposure situation in the field. It is much better to create a poor exposure on a test image than it is to get it wrong when the situation is perfect…. The exposure test image looked a bit dark on the rear LCD and the histogram was well off the highlight axis so I went with a bit more light, 1/2000 at f/7.1 as opposed to 1/2000 at f/8 for the test image.
In the past I relied solely on my experience when figuring a new exposure. Though I almost always got it right on the button, you only have to screw up once before you realize that it is far better to start making and evaluating test exposures than to err when it counts. After fine-tuning the exposure I was pleased to be rewarded when this non-breeding Great Egret raised its head above the reeds and posed for an instant.
The Head Angles
How would you rate the head angles in Image #1 and in Image #2? Would you change either one?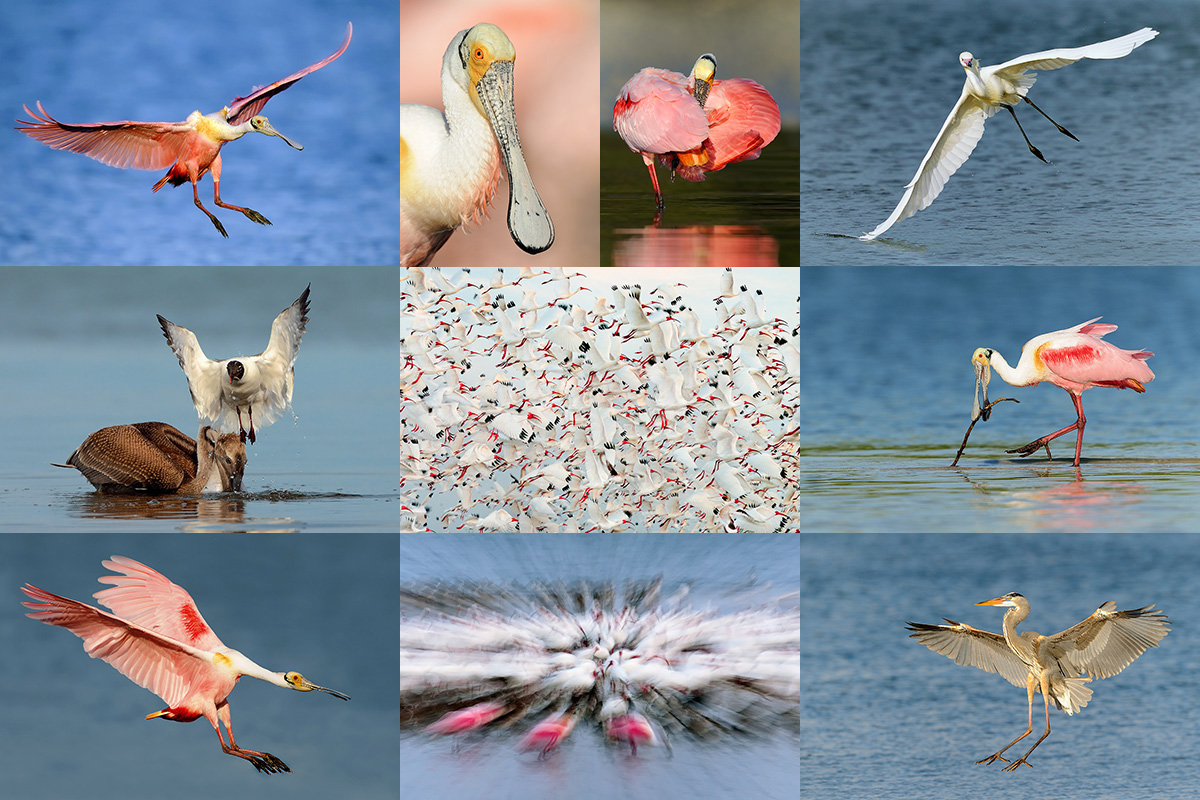 Images courtesy of and copyright Captain James Shadle (aka Froggie). All of the images here were created at Alafia Banks. Card creation and design by Arthur Morris/BIRDS AS ART.
The Hooptie Deux/Roseate Spoonbill Mini IPT. 1 1/2 DAYs: $1250. SAT MAR 7 (full day) and SUN Morning MAR 8, 2015. Working lunch on Saturday included. Strict Limit: 6 photographers/Openings: 4
Meet and greet on the evening of FRI MAR 6. Two great leaders: Captain James Shadle (Nikon) and Canon Explorer of Light Arthur Morris.
Roseate Spoonbill is one of if not the most sought after avian photographic subjects in Florida. They are generally hard to find and somewhat difficult to approach. They are relatively easy to find at Alafia Banks—heck, you can't miss seeing them, but even there they can on some days be somewhat difficult to approach. On some days we may be able to get ridiculously close to them. The huge incentive to get out to Alafia Banks in early March is the chance to photograph this species at the height of its spectacular breeding plumage….
Weather permitting there will be three boat trips: 2 mornings and 1 afternoons. Mornings at Alafia Banks for spoonbills and Brown Pelicans (with lots of flight photography with the birds likely carrying nesting material), cormorants, ibises (both Glossy and White in breeding plumage. Many of the White Ibises will be sporting their spectacular, distended, red, naked (un-feathered) throat pouches—typically larger in the females. In addition we will get to photograph egrets including Great and Reddish, both in full breeding plumage, shorebirds, and more. There will be lots of flight photography opportunities. The afternoon trip will be either to Alafia Banks for spoonbills and more or to a more sheltered inland rookery location for a variety of nesting birds. In the event of horrific weather artie will either take the group to Fort DeSoto or will conduct an image review/Photoshop session. This IPT includes one working lunch.
Important Notes
We stay in Brandon, FL for this IPT. From our hotel there it is is only about 20 minutes to the dock. The plan is for all sessions to be by boat. For the Alafia Banks segments, Captain Shadle provides light weight chest waders as much of the photography will be done while we are standing in fairly shallow water behind our tripods. We help you get in and out of the boat with your gear. This is likely not the best trip for folks with balance problems. Note however that some folks may opt to stay on the boat. They always have lots of good chances for flight photography of spoonbills and other species but are almost always pretty far away from the spoonbills that land.
This mini Hooptie IPT represents an incredible opportunity. It may fill quickly. We hope that you can join us. Scroll down for registration info.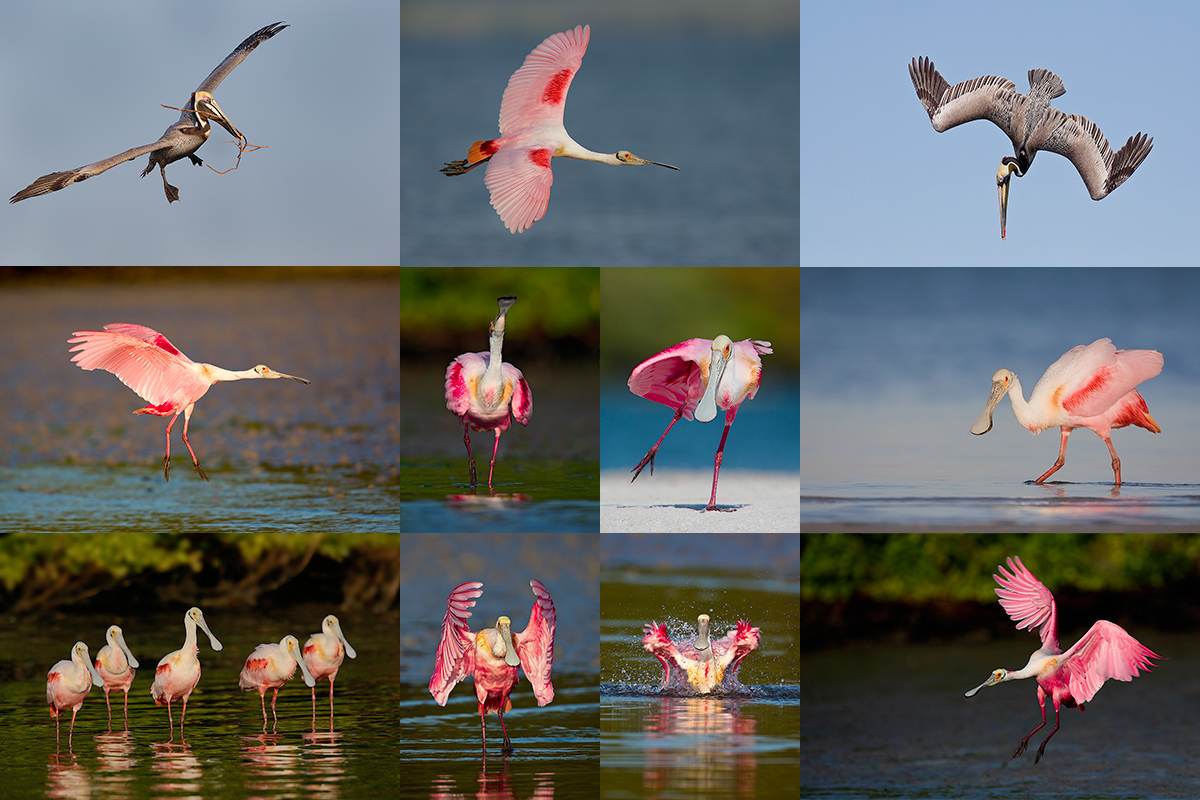 All of the images here were created at Alafia Banks early in the season. Images copyright Arthur Morris/BIRDS AS ART. Card creation and design by Arthur Morris/BIRDS AS ART.
Hooptie Mini-IPT Registration Info
Payment in full for this short notice trip is of course due upon registration. Call the office at 863-692-0906 to arrange to send us a check for payment in full (preferred) or to put the whole thing on a credit card. If by check, it should be made out to "Arthur Morris" and be mailed to BIRDS AS ART, PO Box 7245, Indian Lake Estates, FL 33855. If you cancel and the trip fills, we will be glad to apply a credit applicable to a future IPT for the full amount less a $100 processing fee.
However you arrange for payment, please print, complete, and sign the form that is linked to here and shoot it to us along with the paperwork. If you have any questions, please feel free to contact me via e-mail.
Facebook
Be sure to like and follow BAA on Facebook by clicking on the logo link upper right. Tanks a stack!
Support the BAA Blog. Support the BAA Bulletins: Shop B&H here!
We want and need to keep providing you with the latest free information, photography and Photoshop lessons, and all manner of related information. Show your appreciation by making your purchases immediately after clicking on any of our B&H or Amazon Affiliate links in this blog post. Remember, B&H ain't just photography!
…..
Amazon.com
Those who prefer to support BAA by shopping with Amazon may use this link:
Amazon Canada
Many kind folks from north of the border, eh, have e-mailed stating that they would love to help us out by using one of our affiliate links but that living in Canada and doing so presents numerous problems. Now, they can help us out by using our Amazon Canada affiliate link by starting their searches by clicking here. Many thanks to those who have written.
Typos
In all blog posts and Bulletins, feel free to e-mail or to leave a comment regarding any typos or errors. Just be right :).