What's Up?
Following a Saturday afternoon of torrential rain, the pool was down to 70 degrees but by 1pm it was up to 75 on a relatively balmy day so I took my first swim since last week. And enjoyed it. I did a lot of work on the 7D Mark II User's Guide and hope to have some great news for y'all this week. My #1 priority for today is to I will spend a good deal of time on the guide.
As I predicted yesterday, the used EOS-1D X camera body sold instantly…. It is hard to believe the the 300 II listed below has not sold: great lens, great price….
I wrote most of this blog post on Sunday night and put on the finishing touches on Monday morning. It was published at 7:26am from my home at Indian Lake Estates, FL.
Hooptie Spoonbill Mini-IPT
The Hooptie Roseate Spoonbill Mini-IPT announced on Wednesday past now has only two slots left. Please e-mail to check on availability. See the blog post here for prices and details and our morning and Saturday-only rates.
Comment from Cris Hamilton
Cris was a participant on the recently concluded Hooptie Spoonbill IPT:
I was fortunate enough to be a participant in the Hooptie Deux/DeSoto class, which ended on Friday past. It was so much fun and I learned TONS!!! Thank you, thank you, Artie!!!!! And thank you to James Shadle, the master boat commander. James is a vital and fun part of this duo. Super great guy. And, thanks to the other participants for putting up with all my questions!!! 🙂 We had a great group and a super time.
Estero Help Needed
I have heard from several folks that Little Estero Lagoon on Fort Myers Beach is very poor at best this year, that the lagoon has been cut off from the Gulf, is mostly dry, and that there are very few if any birds present. If you have visited recently I would appreciate your leaving a comment and sharing your experience with us.
South Georgia October 2015
Do consider joining me in South Georgia next October for the trip of a lifetime. Click here for complete details.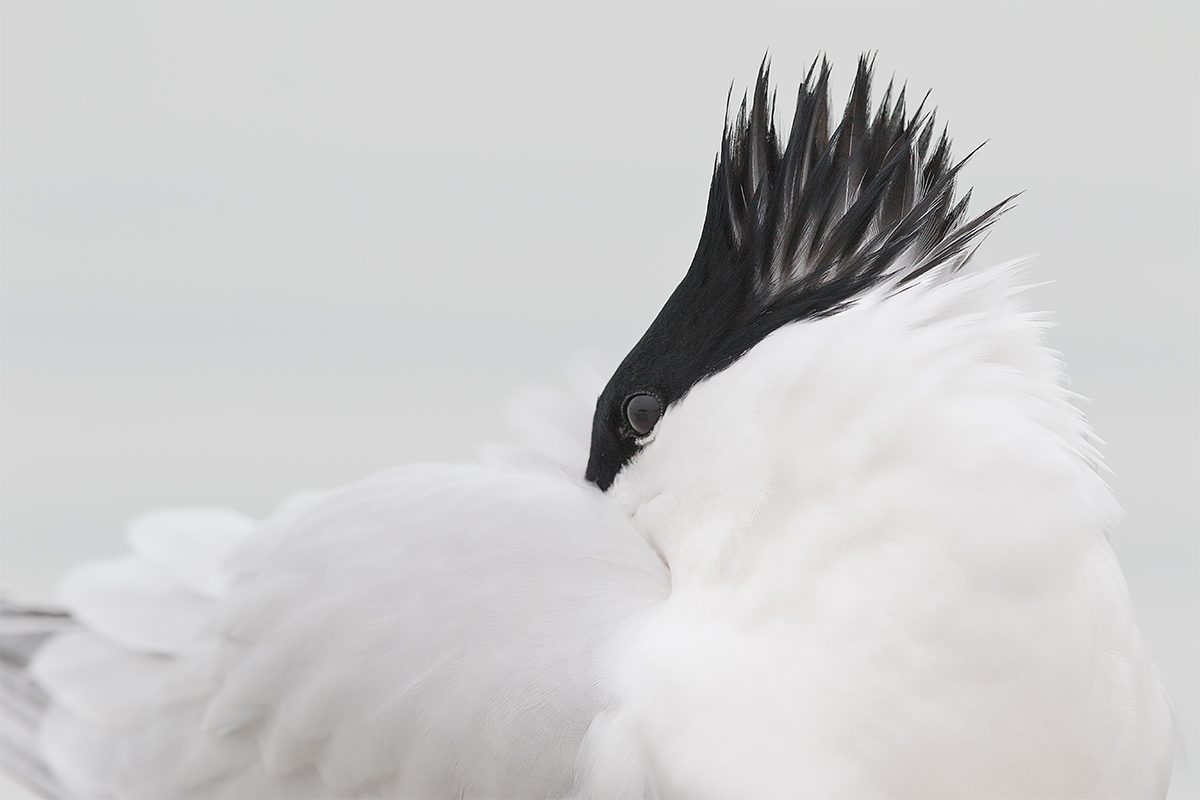 This image was created in cloudy conditions on the Fort DeSoto Add-on In-the-Field Workshop. I used the hand held Canon EF 300mm f/2.8L IS II USM lens with a Canon Extender EF 1.4X III and the Canon EOS 7D Mark II. ISO 800. Evaluative metering +2 2/3 stops off the white sky: 1/800 sec. at f/8. AWB.
One AF point to the right of the center AF point (manual selection)/AI Servo/Shutter Button AF as framed was active at the moment of exposure (as is always best when hand holding). The active AF point was squarely on the bird's eye. As noted here previously I have been working hard recently to get the active AF point right on the subject's eye and in addition to that end, I have been going more and more toward using a single, manually selected AF point in these situations. Click on the image to see a larger version.
I love the Black and White look and the absolutely perfect framing. And the superb 7D II low light image quality.
Your browser does not support iFrame.
A Lousy Morning at Fort DeSoto…
On Friday morning there were very few birds at the traditional morning spot: a tame oystercatcher pair, a very few gulls, and a Reddish Egret that left too soon. Then we searched in vain for the Great Horned Owl chicks reported from the Arrowhead Picnic Area. The weather was pretty crummy and the group seemed ready to throw in the towel. But I was not.
I took them to my last ditch spot and as we walked toward the Gulf things were not looking too good as the only birds in sight were a handful of Laughing Gulls. But as we got closer to the shoreline we spotted a tame group of Royal Terns. As expected, they were tame. And one was in full breeding plumage. First we made full body portraits and then, as I urged the group to get closer–we were advancing on our butts at that point, most folks got close enough for head shots.
We reviewed the cloudy day exposure principles: + 2 1/3 stops off the sky and check your histogram. Usually I would be working in Cloudy WB in these conditions but I forgot to change it. I was a bit surprised that the color balance was so close to perfect with WHITE RGB values within a point or two of 235 and the BLACK RGB numbers within a point of 40.
After a young child ran at the flock and scared off the terns I broke out my secret weapon; see tomorrow's blog post for details. On this "lousy" morning I wound up with 120 keepers. I will be sharing lots of them here with you, some tomorrow and more off and on over the course of the next few weeks.
A lousy morning at Fort DeSoto is a lot better than a day at work. Wait! I was at work. 🙂
Image Question
Why f/8 when I could have been working at f/4?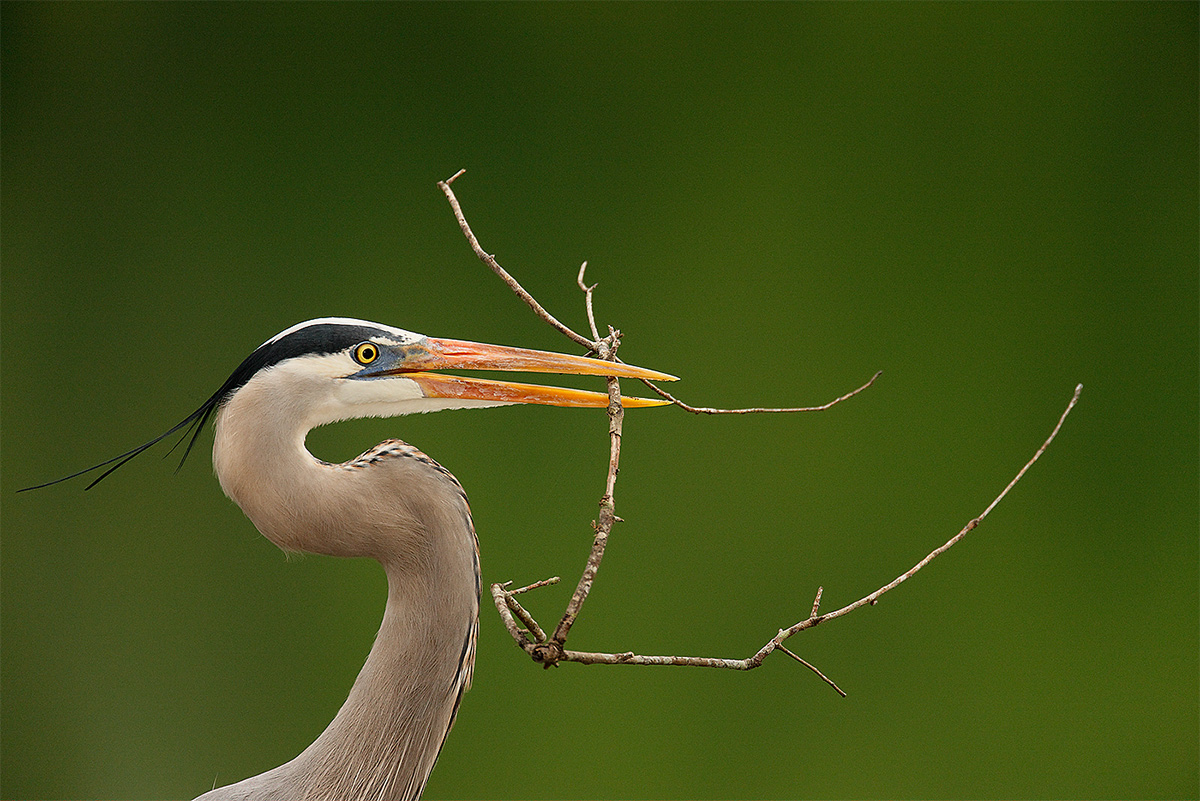 I created this image with the "old" 500mm f/4 L IS and a 1.4X TC with the Canon EOS-1Ds Mark III at the Venice Rookery.
New Used Gear Listing
Used Canon EOS-1Ds Mark III 21.1 MP Digital SLR Camera + RRS L-Plate + extra battery + FireWire cable
Janet Horton is offering a used Canon EOS-1Ds Mark III in very good to excellent condition for a ridiculously low price of $1299. The camera is in perfect working order having been cleaned and checked by CPS in early February 2015. It has a shutter count of 52,388 out of the estimated 300,000 for the life-of-the-camera. The body has some wear marks that do not affect function where the strap attaches. There is a small fine scratch on the LCD that is barely visible when the camera is on. The sale includes the original box if you want it and all of the items that came in the box: the battery charger, the English and Spanish instruction manuals, the pocket guide, the video cable, the DC Coupler with power adapter, 3 CDs, the ET-120 Lens Hood, the Hard Case 300B, the front lens cap E-145C, the rear lens cap, the wide Lens Strap B, and insured shipping to US addresses via UPS Ground. Extras include a RRS L-Plate, an extra battery, and a 14' FireWire 6 pin to 6 pin cable to connect the camera to computer for tethered capture. Please e-mail for a link to photos.
Contact details are below the next 1Ds III image.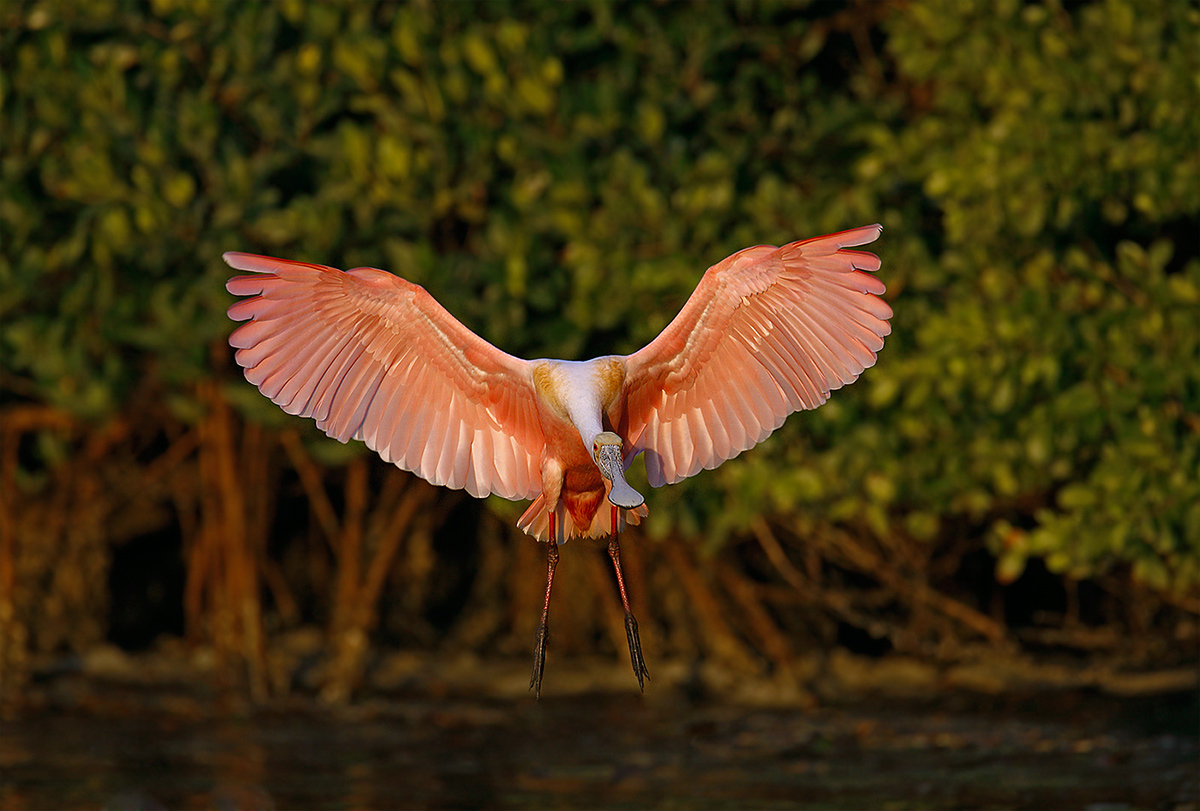 This image was also created image with the "old" 500mm f/4 L IS and a 1.4X TC with the Canon EOS-1Ds Mark III on a Hooptie Deux trip to Alafia Banks. For a chance to make images like this next weekend, considering joining James Shadle and me on the Hooptie Mini IPT; details below.
Interested folks may contact Janet via e-mail or call her at 425-313-3060 (Pacific Time Zone). The camera will be shipped only after your check clears unless other arrangements are made.
I used a 1Ds Mark III body for about two years. The camera has a superb AF system and produces superb image files. Janet's package is a steal for folks wanting to move up to a pro body. The purchase price for all items was $6,906.
Relevant Used Gear Listings
Used Canon EF 300mm f/2.8L IS II USM Lens
Jacques Bouvier is offering a used Canon EF 300mm f/2.8L IS II USM lens in very good condition with clean glass for $4999 US. The sale includes the ET-120 Lens Hood, the Hard Case 300B, Lens Cap E-145C, Rear lens cap, and the wide Lens Strap B. Also included is insured shipping to US addresses via UPS Ground.
You can contact Jacques via e-mail or by phone at 613-524-1154 (home) or 613-677-5140 (cell)–eastern time zone.
The 300 f/2.8L IS II IS is a super-sharp, versatile lens that can be hand held easily by most folks. I use it often with both the 1.4X or 2X Series III teleconverters. It served as my big lens on the recently concluded Southern Ocean trip. In addition I have used it a ton in Japan and at Fort DeSoto. This one is priced to sell instantly.
Used Canon EF 500mm f/4L IS (Image Stabilizer) USM Lens
Price reduced $350 on 10/17/2014!
Price reduced an incredible $650 on 12/10/2014!!!
Lowest price ever for this item!
Dan Womack is offering a used Canon EF 500mm f/4L IS (Image Stabilizer) USM lens in excellent condition with clean glass with a few small nicks on the lens hood for $4500. B&H was recently offering a virtually identical used "old 500" for $6,299.95; you can save nearly $2K by grabbing Dan's lens asap. The sale includes the front leather hood, the rear dust cap, the original case with keys, and insured shipping to US addresses only. Your lens will be shipped only after your check clears unless other arrangements are made.
Please contact Dan via e-mail or by phone at 337 412 1898.
The old five was at one time the world's most popular telephoto lens. It still makes great images with both TCs. artie
Note: there are several other "old" fives listed here. Click on that link to see the complete current listings.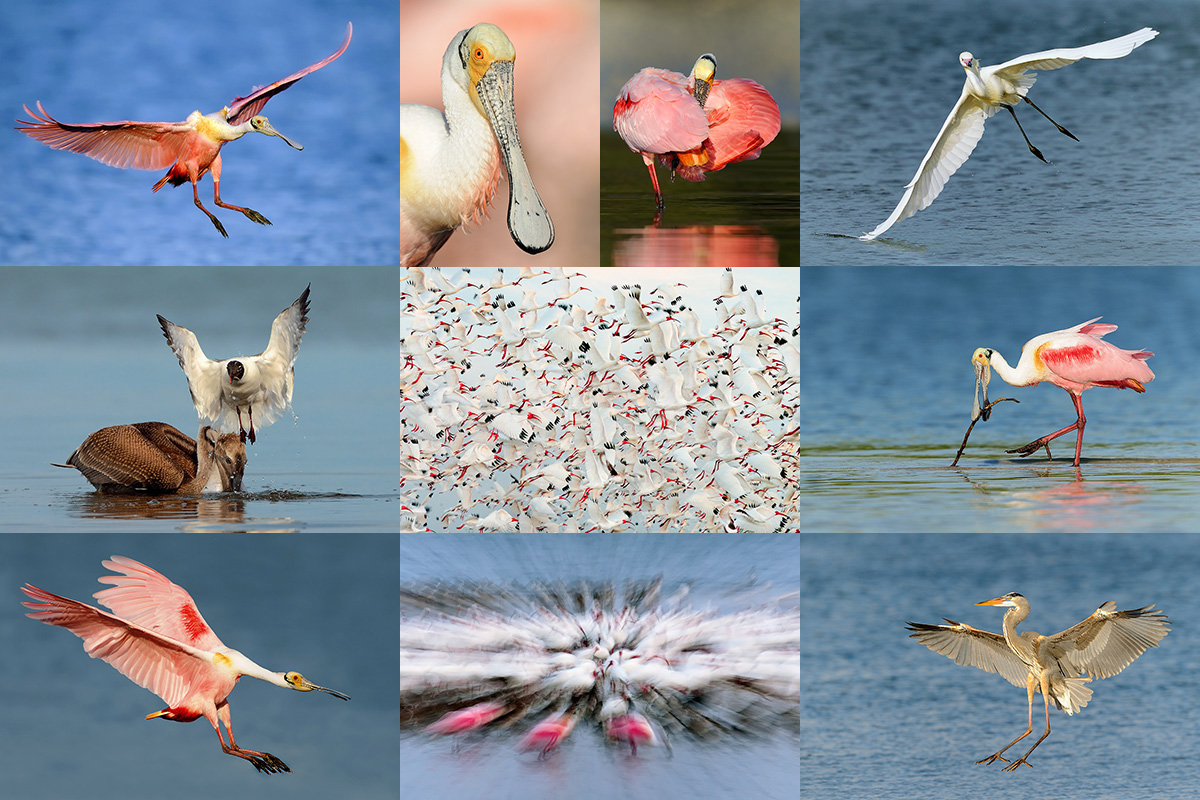 Images courtesy of and copyright Captain James Shadle (aka Froggie). All of the images here were created at Alafia Banks. Card creation and design by Arthur Morris/BIRDS AS ART.
The Hooptie Deux/Roseate Spoonbill Mini IPT. 1 1/2 DAYs: $1250. SAT MAR 7 (full day) and SUN Morning MAR 8, 2015. Working lunch on Saturday included. Strict Limit: 6 photographers/Openings: 2
Either morning photo session only: $475. Saturday morning photo session plus working lunch: $525. Saturday Full Day: $775.

Two great leaders: Captain James Shadle (Nikon) and Canon Explorer of Light Arthur Morris.
Roseate Spoonbill is one of if not the most sought after avian photographic subjects in Florida. They are generally hard to find and somewhat difficult to approach. They are relatively easy to find at Alafia Banks—heck, you can't miss seeing them, but even there they can on some days be somewhat difficult to approach. On some days we may be able to get ridiculously close to them. The huge incentive to get out to Alafia Banks in early March is the chance to photograph this species at the height of its spectacular breeding plumage….
Weather permitting there will be three boat trips: 2 mornings and 1 afternoons. Mornings at Alafia Banks for spoonbills and Brown Pelicans (with lots of flight photography with the birds likely carrying nesting material), cormorants, ibises (both Glossy and White in breeding plumage. Many of the White Ibises will be sporting their spectacular, distended, red, naked (un-feathered) throat pouches—typically larger in the females. In addition we will get to photograph egrets including Great and Reddish, both in full breeding plumage, shorebirds, and more. There will be lots of flight photography opportunities. The afternoon trip will be either to Alafia Banks for spoonbills and more or to a more sheltered inland rookery location for a variety of nesting birds. In the event of horrific weather artie will either take the group to Fort DeSoto or will conduct an image review/Photoshop session. This IPT includes one working lunch.
Important Notes
We stay in Brandon, FL for this IPT. From our hotel it is only about 20 minutes to the dock. The plan is for all sessions to be by boat. For the Alafia Banks segments, Captain Shadle provides light weight chest waders as much of the photography will be done while we are standing in fairly shallow water behind our tripods. We help you get in and out of the boat with your gear. This is likely not the best trip for folks with balance problems. Note however that some folks may opt to stay on the boat. They always have lots of good chances for flight photography of spoonbills and other species but are almost always pretty far away from the spoonbills that land.
This mini Hooptie IPT represents an incredible opportunity. It may fill quickly. We hope that you can join us. Scroll down for registration info.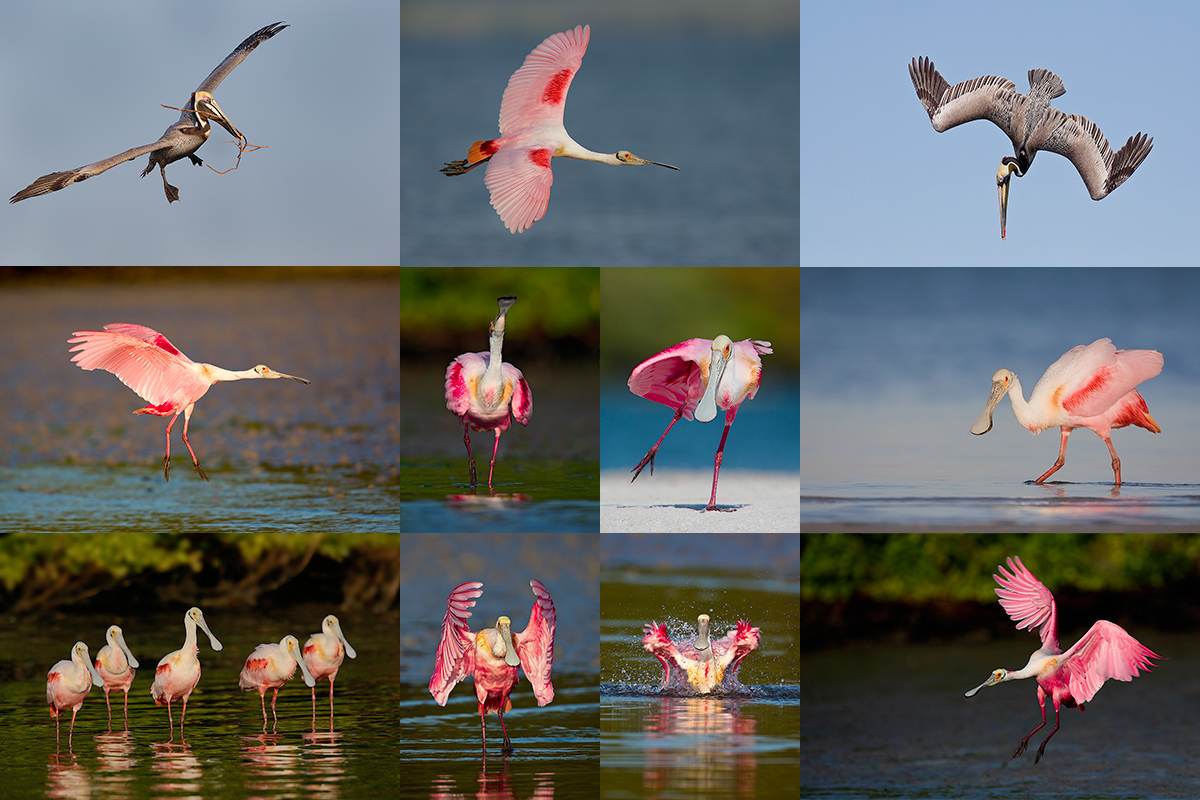 All of the images here were created at Alafia Banks early in the season. Images copyright Arthur Morris/BIRDS AS ART. Card creation and design by Arthur Morris/BIRDS AS ART.
Hooptie Mini-IPT Registration Info
Payment in full for this short notice trip is of course due upon registration. Call the office at 863-692-0906 to arrange to send us a check for payment in full (preferred) or to put the whole thing on a credit card. If by check, it should be made out to "Arthur Morris" and be mailed to BIRDS AS ART, PO Box 7245, Indian Lake Estates, FL 33855. If you cancel and the trip fills, we will be glad to apply a credit applicable to a future IPT for the full amount less a $100 processing fee.
However you arrange for payment, please print, complete, and sign the form that is linked to here and shoot it to us along with the paperwork. If you have any questions, please feel free to contact me via e-mail.
Facebook
Be sure to like and follow BAA on Facebook by clicking on the logo link upper right. Tanks a stack!
Support the BAA Blog. Support the BAA Bulletins: Shop B&H here!
We want and need to keep providing you with the latest free information, photography and Photoshop lessons, and all manner of related information. Show your appreciation by making your purchases immediately after clicking on any of our B&H or Amazon Affiliate links in this blog post. Remember, B&H ain't just photography!
…..
Amazon.com
Those who prefer to support BAA by shopping with Amazon may use this link:
Amazon Canada
Many kind folks from north of the border, eh, have e-mailed stating that they would love to help us out by using one of our affiliate links but that living in Canada and doing so presents numerous problems. Now, they can help us out by using our Amazon Canada affiliate link by starting their searches by clicking here. Many thanks to those who have written.
Typos
In all blog posts and Bulletins, feel free to e-mail or to leave a comment regarding any typos or errors. Just be right :).