What's Up?
I spent most of yesterday hard at work on the 7D Mark II Users Guide that so many are clamoring for. I got a ton done and will continue my efforts today. I did have time for a nice swim and an ice bath.
This blog post, which took about 2 hours to prepare, was published at 7:29am from my home in Indian Lake Estates on yet another foggy morning.
Hooptie Spoonbill Mini-IPT
Not much time left!
The Hooptie Roseate Spoonbill Mini-IPT announced on Wednesday past has two full slots left. Please call us at 863-692-0906 or e-mail with questions or to check on availability. Scroll down here for details and prices and for the skinny on our morning and Saturday-only rates.
Please Remember to use our Affiliate Links 🙂
To show your appreciation for my continuing efforts here, we ask, as always, that you use our the B&H and Amazon affiliate links on the right side of the blog for all of your purchases. B&H is recommended for you major photography gear purchases, Amazon for your household, entertainment, and general purpose stuff. Please check the availability of all photographic accessories in the BIRDS AS ART Online Store, especially the Mongoose M3.6 tripod heads, Gitzo tripods, Wimberley heads and plates, LensCoats and accessories, and the like. We sell only what I have used, have tested, and can depend on. We will not sell you junk. We know what you need to make creating great images easy and fun. And we are always glad to answer your gear questions via e-mail. I just learned that my account was suspended during my absence; it should be up and running by Monday at the latest.
I would of course appreciate your using our B&H affiliate links for all of your major gear, video, and electronic purchases. For the photographic stuff mentioned in the paragraph above we, meaning BAA, would of course greatly appreciate your business. Here is a huge thank you to the many who have been using our links on a regular basis and visiting the BAA Online store as well.
Canon's Two New 50+ Megapixel Camera Bodies
Many of you have read about the two new Canon 50+ megapixel bodies, the Canon EOS 5DS DSLR and the Canon EOS 5DS R DSLR. The two cameras look, sound, and pretty much are quite similar. I have withheld commenting until now because I did not have a good–heck, I did not have any–understanding of the single difference between the two bodies, that being the Low-Pass Filter Effect Cancellation.
If you missed the hugely popular "Canon's Two New 50+ Megapixel Camera Bodies/You Must Read This Before You Buy," you can click here to catch up and learn a ton to boot.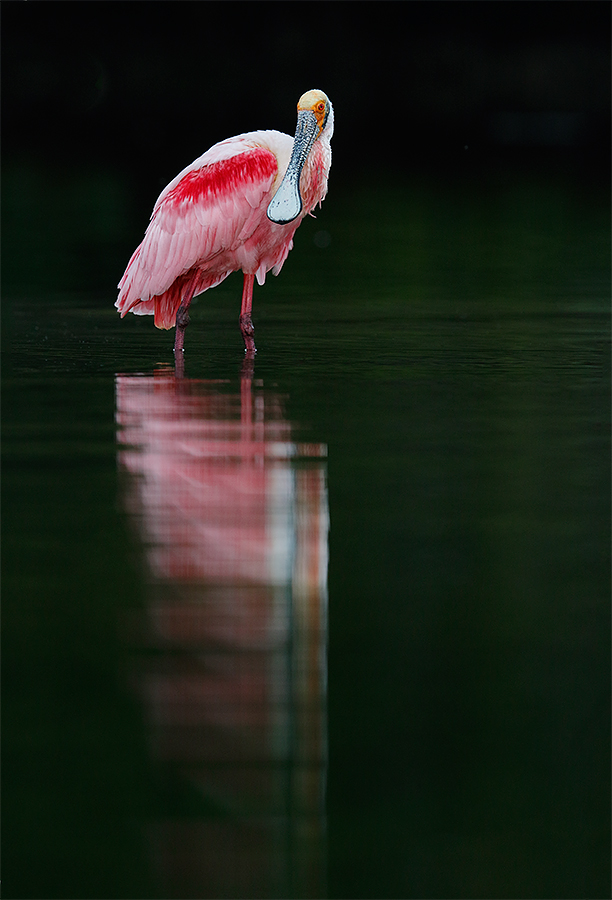 This image was created in cloudy conditions on February 23, 2105 on the Hoopite Deux SPoonbills and More IPT with the tripod-mounted Canon EF 600mm f/4L IS II USM lens and the Canon EOS 7D Mark II. ISO 800. Evaluative metering +2 2/3 stops off the light grey sky worked out to -2 1/3 stops as framed: 1/1250 sec. at f/4. A quick histogram check showed a perfect exposure.
Four AF points above the center AF point/AI Servo Expand/Rear Focus AF as framed was active at the moment of exposure. Click here to see the latest version of the Rear Focus Tutorial. Some who click on the image may enjoy a larger version.
Your browser does not support iFrame.
Teleconverter in the Waders Pouch
I had been working with the 600II/1.4X II/7D II rig doing large-in-the-frame verticals of Roseate Spoonbills. But when I saw the long line of pink reflections in the mangrove dark green water I knew that I needed to work wider. So I turned off the camera (to reduce the chance of attracting sensor dust), removed the TC, carefully placed it in the pouch of my neoprene waders, re-mounted the camera, and even remembered to turn the camera back on, something I rarely do…. I metered off the sky as above and was good to go. I had made only a very few frames when the relatively distant bird took flight bound for who-knows-where.
I moved around quite a bit in an effort to find different perspectives on other birds. Note: good photographers are almost constantly moving around in the field. At one point I noticed that I was in water almost to the top of my waders. Ooops. The pouch that the 1.4X III TC was in, along with a 25mm extension tube, was anything but waterproof. I looked down to see the two important items floating in the saltwater that had of course filled the pouch. I went back to the boat, rinsed them both in the fresh water in the cooler, and set them on a towel in the sun to dry. When I got back to the hotel, I placed both items in the far end of a pillowcase placed on a counter, put the hotel hair dryer in the open end of the pillowcase, put it on the low setting, and left it on for 30 minutes.
Your browser does not support iFrame.
The end result: the extension tube is fine, the 1.4X III TC is toasted. As TCs are such an important part of what I do, I always travel with three 1.4X III TCs and two 2X III TCs. Thus, I was able to reach into my Think Tank Rolling Bag (click on the link in the right hand column of each blog post for details on those) and grab another 1.4X III. I will be replacing the toasted one today.
Is the Image Above Art? Or Not?
All are invited to share their thoughts either way.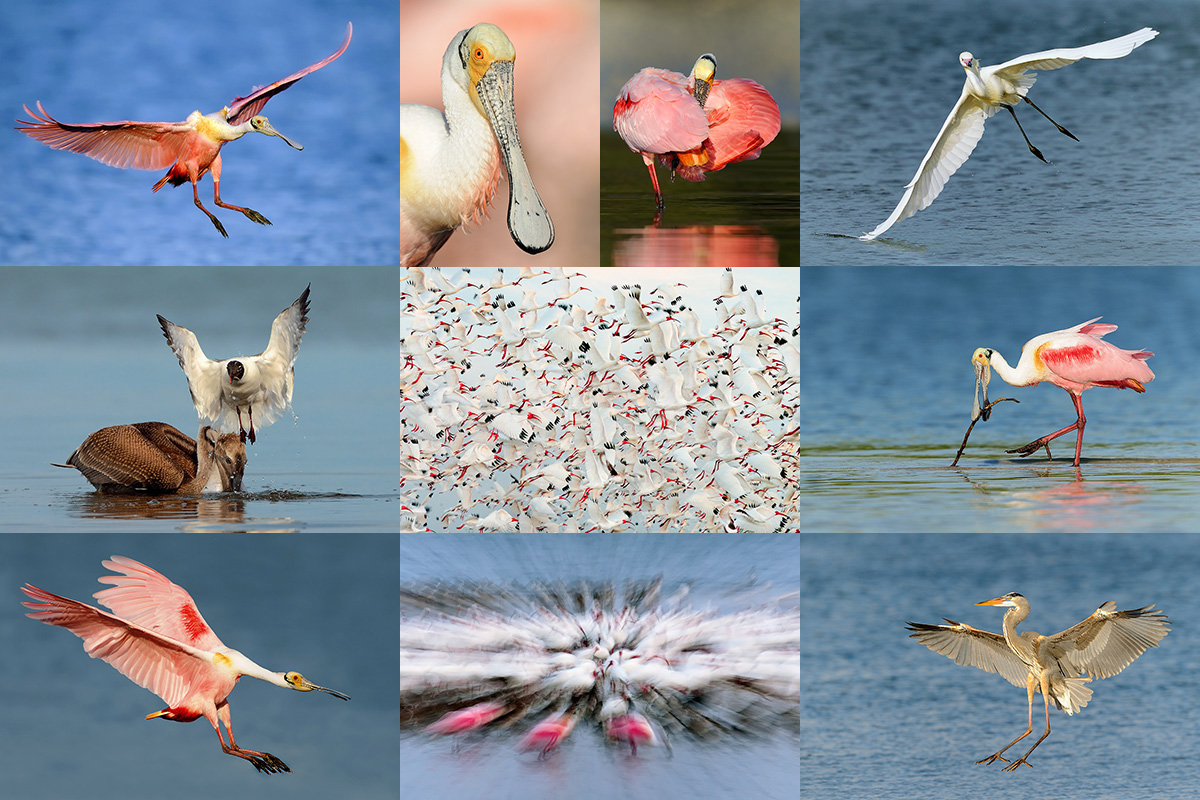 Images courtesy of and copyright Captain James Shadle (aka Froggie). All of the images here were created at Alafia Banks. Card creation and design by Arthur Morris/BIRDS AS ART.
The Hooptie Deux/Roseate Spoonbill Mini IPT. 1 1/2 DAYs: $1250. SAT MAR 7 (full day) and SUN Morning MAR 8, 2015. Working lunch on Saturday included. Strict Limit: 6 photographers/Openings: 2
Either morning photo session only: $475. Saturday morning photo session plus working lunch: $525. Saturday Full Day: $775.

Two great leaders: Captain James Shadle (Nikon) and Canon Explorer of Light Arthur Morris.
Roseate Spoonbill is one of if not the most sought after avian photographic subjects in Florida. They are generally hard to find and somewhat difficult to approach. They are relatively easy to find at Alafia Banks—heck, you can't miss seeing them, but even there they can on some days be somewhat difficult to approach. On some days we may be able to get ridiculously close to them. The huge incentive to get out to Alafia Banks in early March is the chance to photograph this species at the height of its spectacular breeding plumage….
Weather permitting there will be three boat trips: 2 mornings and 1 afternoons. Mornings at Alafia Banks for spoonbills and Brown Pelicans (with lots of flight photography with the birds likely carrying nesting material), cormorants, ibises (both Glossy and White in breeding plumage. Many of the White Ibises will be sporting their spectacular, distended, red, naked (un-feathered) throat pouches—typically larger in the females. In addition we will get to photograph egrets including Great and Reddish, both in full breeding plumage, shorebirds, and more. There will be lots of flight photography opportunities. The afternoon trip will be either to Alafia Banks for spoonbills and more or to a more sheltered inland rookery location for a variety of nesting birds. In the event of horrific weather artie will either take the group to Fort DeSoto or will conduct an image review/Photoshop session. This IPT includes one working lunch.
Important Notes
We stay in Brandon, FL for this IPT. From our hotel it is only about 20 minutes to the dock. The plan is for all sessions to be by boat. For the Alafia Banks segments, Captain Shadle provides light weight chest waders as much of the photography will be done while we are standing in fairly shallow water behind our tripods. We help you get in and out of the boat with your gear. This is likely not the best trip for folks with balance problems. Note however that some folks may opt to stay on the boat. They always have lots of good chances for flight photography of spoonbills and other species but are almost always pretty far away from the spoonbills that land.
This mini Hooptie IPT represents an incredible opportunity. It may fill quickly. We hope that you can join us. Scroll down for registration info.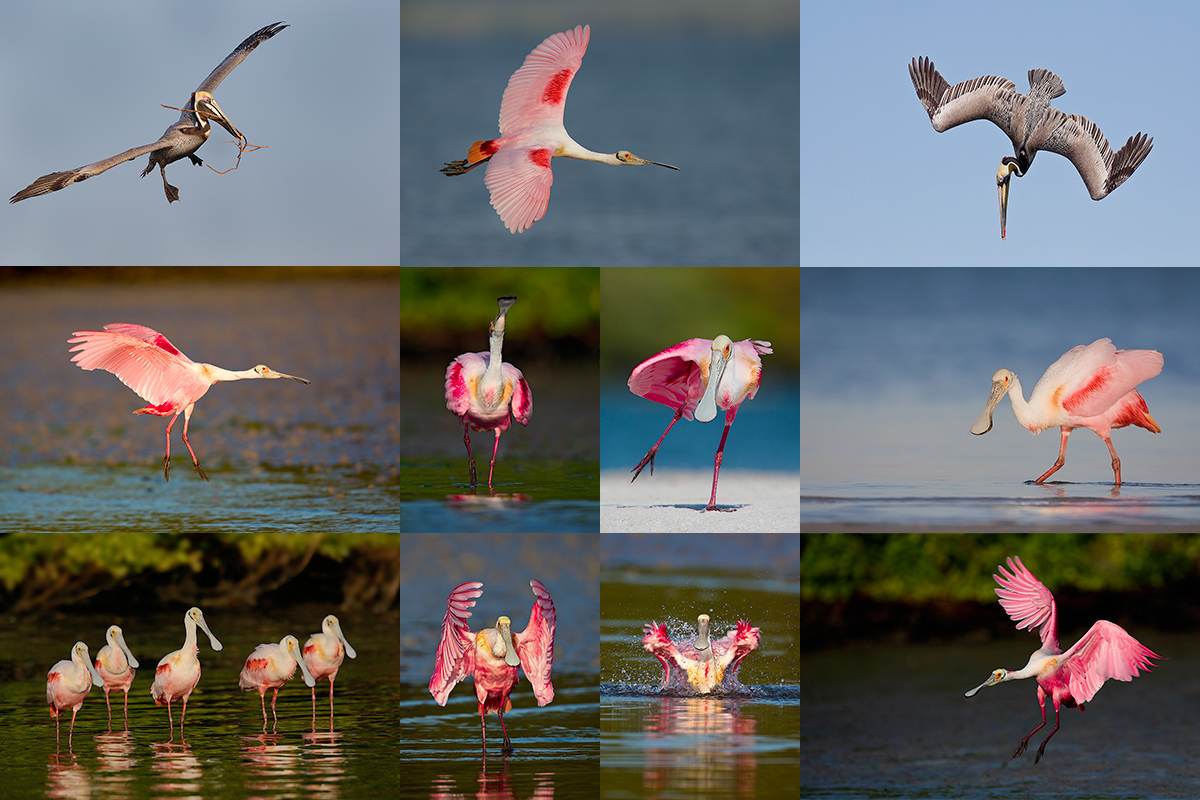 All of the images here were created at Alafia Banks early in the season. Images copyright Arthur Morris/BIRDS AS ART. Card creation and design by Arthur Morris/BIRDS AS ART.
Hooptie Mini-IPT Registration Info
Payment in full for this short notice trip is of course due upon registration. Call the office at 863-692-0906 to arrange to send us a check for payment in full (preferred) or to put the whole thing on a credit card. If by check, it should be made out to "Arthur Morris" and be mailed to BIRDS AS ART, PO Box 7245, Indian Lake Estates, FL 33855. If you cancel and the trip fills, we will be glad to apply a credit applicable to a future IPT for the full amount less a $100 processing fee.
However you arrange for payment, please print, complete, and sign the form that is linked to here and shoot it to us along with the paperwork. If you have any questions, please feel free to contact me via e-mail.
Facebook
Be sure to like and follow BAA on Facebook by clicking on the logo link upper right. Tanks a stack!
Support the BAA Blog. Support the BAA Bulletins: Shop B&H here!
We want and need to keep providing you with the latest free information, photography and Photoshop lessons, and all manner of related information. Show your appreciation by making your purchases immediately after clicking on any of our B&H or Amazon Affiliate links in this blog post. Remember, B&H ain't just photography!
…..
Amazon.com
Those who prefer to support BAA by shopping with Amazon may use this link:
Amazon Canada
Many kind folks from north of the border, eh, have e-mailed stating that they would love to help us out by using one of our affiliate links but that living in Canada and doing so presents numerous problems. Now, they can help us out by using our Amazon Canada affiliate link by starting their searches by clicking here. Many thanks to those who have written.
Typos
In all blog posts and Bulletins, feel free to e-mail or to leave a comment regarding any typos or errors. Just be right :).