Stuff
I spent more than a few hours yesterday following up on a 90-minute phone interview the previous day with a Features Editor at Audubon magazine on a subject near and dear to my heart: the ethics of nature photography. At some point, you will almost surely be hearing lots on that topic from me here. I enjoyed a swim and an ice bath, did my core exercises, and just scratched the surface on catching up with old e-mails….
This blog post took about 2 1/2 hours to prepare and was published from my home at Indian Lake Estates at 6:09am.
I fly to Morro Bay on Friday for a week-long busman's holiday and then the Canon Destination Workshop. Yesterday, Dwayne Marrot called and signed up for both my Friday Morro Bay In-the-field sessions and the Canon Live Learning Destination Workshop. It is not too late for you to sign up for one or both and I would love to see you there. Scroll down for complete details.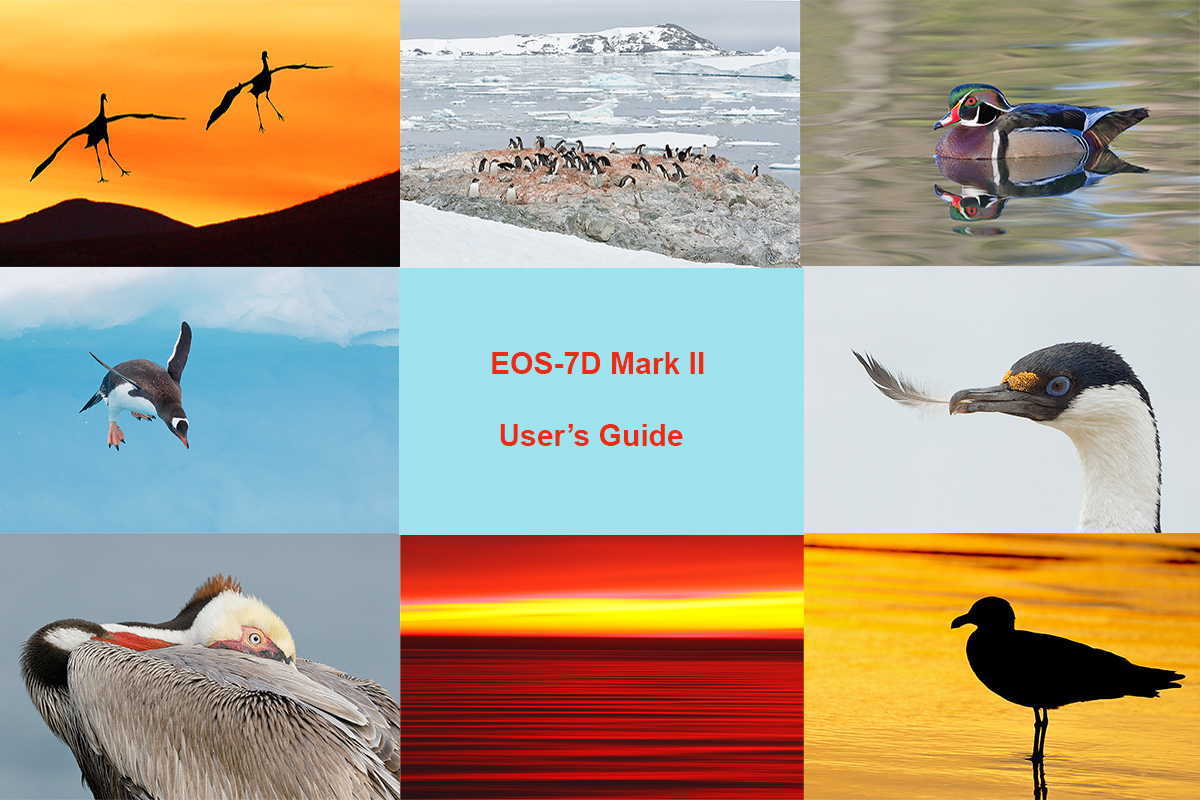 The 7D Mark II User's Guide is now available. You can purchase your copy right now in the BAA Online Store here for $59. Or learn more here. Phone orders OK: 863-692-0906.
7D Mark II User's Guide Update Info
An e-mail conversation with Jim Howell
I believe that this is the Jim Howell who has been on several IPTs with me.
JH: Dear Mr. Morris, This guide is wonderful – so much so that I've only gotten to page 25. There is so much in the camera manual that I could not understand; I greatly appreciate your efforts in making the material so much more understandable. I know it's been said before, but it is so true: they should let you, pay you LOTS, to write the manual.
am: Hey Jim. Thanks a ton for your kind and supportive words.
JH: I did go through the entire manual and checked every spot where further information is indicated (an asset that everyone should follow). On pages 30 and 64 there are references to A Guide to Pleasing Blurs. When I click on it I get "Fractastic"
am: Thanks for pointing that out. The correct link is embedded above. On my PDF, that first error was actually on Page 31 🙂 As so many folks were in a hurry to get their hands on the 7D II User's Guide, I decided not to have this eGuide checked out in advance. As usual, concerned readers have been e-mailing me with regards to typos, unclaritites, and plain and simple errors, grammatical and otherwise. Their efforts are greatly appreciated.
Here is the 7D II User's Guide plan: over the course of the next month I will be making corrections to the master file. They will of course be based on the e-mails like yours that I have received and will likely continue to receive. At that point, I will create a new PDF that will then be sent to all purchasers. Many have sent e-mails detailing additional corrections; I will be getting to those and thanking the senders asap.
JH: On page 5: …folks using the 7D III. On page 8: High-speed – When you press 'THE' shutter button… Low-speed – I see 'KNOW' reason…
am: when I see things like "I see KNOW reason…" it makes me realize how tired I must have been.
JH: On page 11: The no more grid option! I have to learn to do this with the joystick. Thank you so much! And to know that I can switch direction on a moving target by moving the active AF point – I would never have discovered this – I thank you all the more.
Under this option you indicate that to set this function, "Scroll to the last symbol . . ." On my 7DII that symbol is 'AF area Select Lever.'
am: Ah, you caught a good one. I changed that to read as follows:
"Scroll using the Joystick to highlight the camera symbol in yellow. It is the last symbol on the right in the second row from the top. Then press the Set button. Now scroll with the thumb wheel to the next to last symbol in the right hand column, the Joystick (Multi-controller) symbol. Press Set again. The Multi-controller screen pops up. Use the thumb wheel to highlight the right hand symbol, Direct AF point selection. Now press the Set button one last time."
Many thanks for that one. Multiple IPT veteran Joe Barranco also noted that error and was kind enough to e-mail me on it.
JH: On page 25: Under Rear Button Focus, the second sentence begins: Ito… And on page 65: Though I've not read this far, under Firmware Version: SI is likely…
am: Many thanks for your typo- (and more) help. Over the years I have found that with the eGuides that our readership does a far better job of editing the first published version than any professional proofreader could do. And that goes for double when it comes to letting me know about stuff that is either unclear or dead wrong. So thanks not only to you but to the whole gang. And of course, a huge shout out to all who have purchased the guide.
JH: I love the photos throughout and the gallery. The quality of the images though, is not quite up to the standard found in your other guides. I'm sure this is not the email you want to read after so much effort to put this valuable guide together, but you did ask. No wait, an assistant asked so it is their fault. Now I feel better.
am: Jim, there may be several things at play here. First, I opted to do this guide with vertical pages. Previous guides with horizontally oriented pages featured larger images. I must say though, that size considered, the images look pretty good on my mac. Lastly there may be another mac/PC issues here; the PDF was created using a mac version of Adobe Reader. All previous eGuide PDFs were created using a PC version so there may very well be minor quality issues.
A final note: I was the one who asked, not Jim :). You are wrong about one thing, your helpful e-mail is very much the e-mail I wanted to read after so much effort. Many thanks for taking the time to write and for your helpful suggestions and corrections.
JH: Sincerely, Jim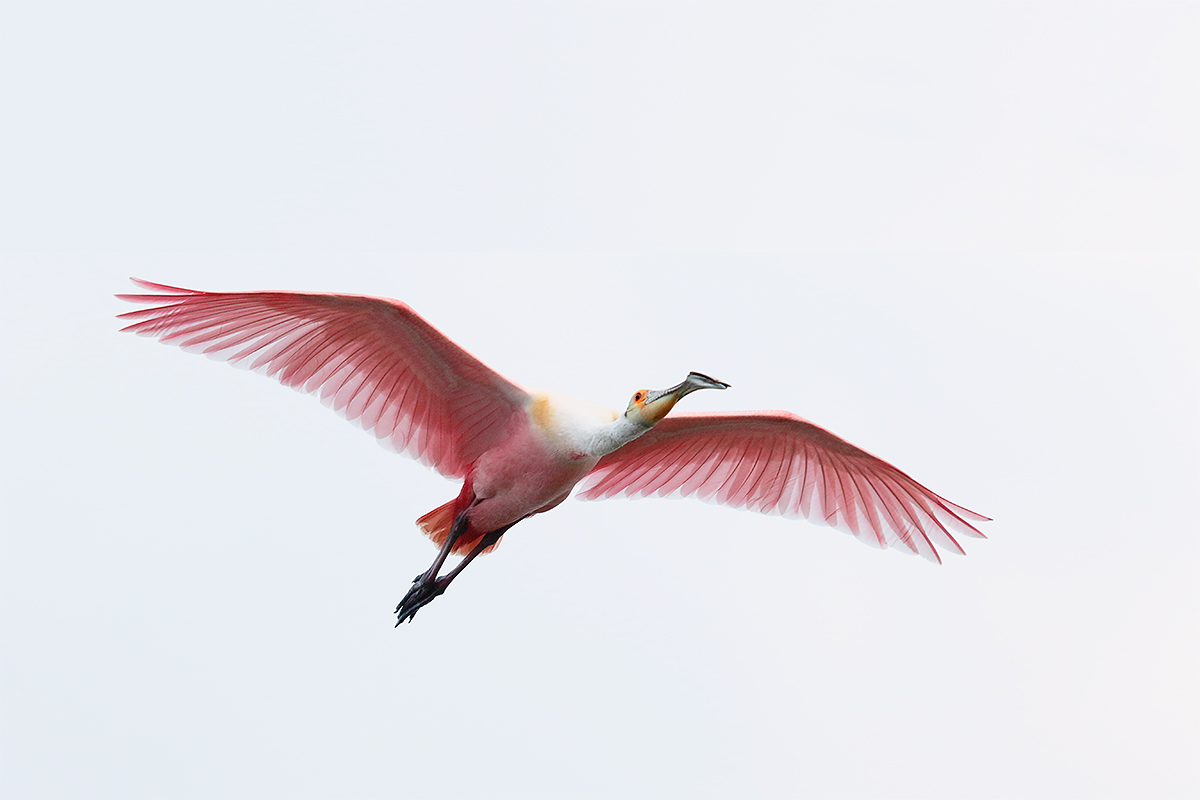 This image was created at 7:07am on March 8, 2015 at Alafia Banks with the tripod-mounted Canon EF 600mm f/4L IS II USM lens and the Canon EOS 7D Mark II. ISO 1600. Evaluative metering +2 2/3 stops off the grey sky: 1/1000 sec. at f/4 in Manual mode. AWB.
Center AF point/AI Servo Expand Shutter Button AF as originally framed–be sure to see the DPP 4 screen capture below–was active at the moment of exposure. Click on the image to see a larger version.
Your browser does not support iFrame.
ISO 1600 Early Morning Flight
From Sunday morning. I could have gone with ISO 800 and 1/500 sec. (at f/4) but I wanted to continue experimenting with the 7D II at ISO 1600 as many on the blog have requested that. I have a nice ISO 1600 Yellow-crowned Night-Heron that I will share with y'all here soon. And others. Be sure to see the DPP 4 screen capture below to see the original framing…. The color and contrast here look quite nice to me.
ISO 1600 Noise
This is a tight crop of the 300% view. What do you think of the noise? Remember that the price of controlling high ISO noise is somewhat of a loss of fine detail. Before you go shouting, "Garbage," please be sure to take a look at some of your ISO 1600 images at 300%.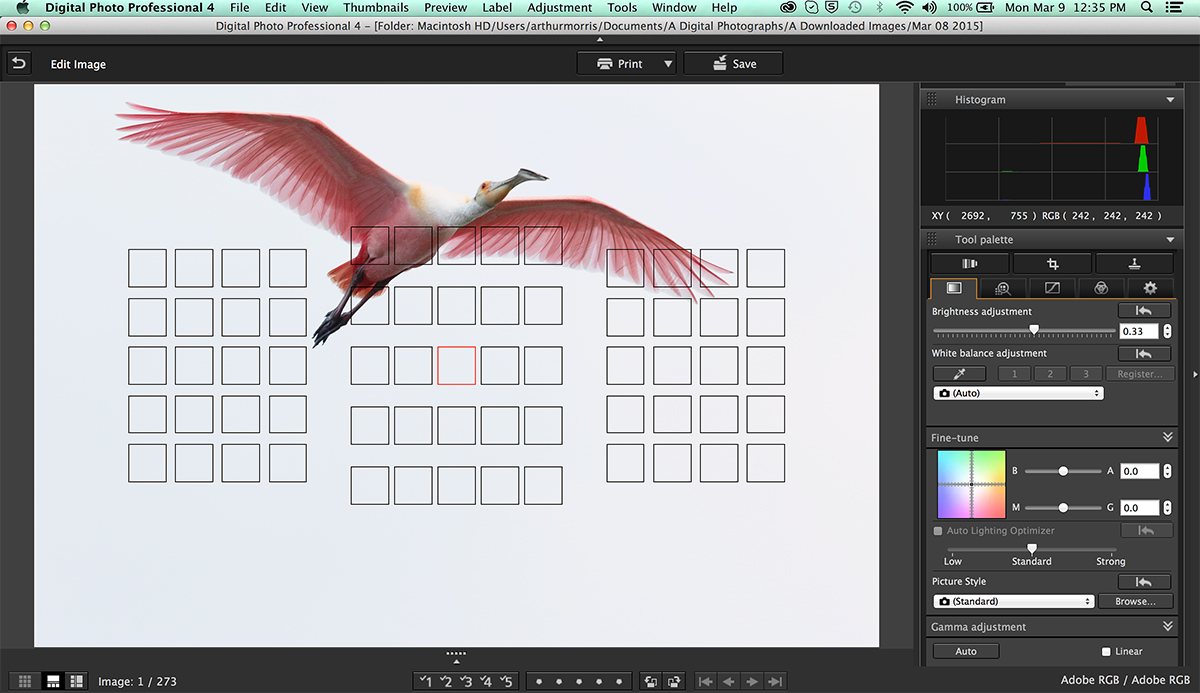 This is a DPP 4 screen capture for today's image.
DPP 4 Screen Capture
Many folks love to blame the camera when they review an image that had the sensor right on the bird's face but the resulting image is not at all sharp. When that happens to me I simply look in the mirror. Instead, I spend my time marveling at images like this one where none of the active AF points were anywhere near the bird yet the image is very sharp on the eye. That due in part to the detail-less sky background and in part to my AF Custom Case settings.
The Image Optimization
During the RAW conversion in DPP 4 I extrapolated Arash Hazeghi's luminance and chrominance Noise Reduction values and brightened the image a bit. The Peripheral illumination settings under the Perform image lens correction tab ensured an evenly toned background by eliminating vignetting.
The image optimization was straightforward. I moved the bird down in the frame using a variation of one of the APTATS II tutorials. I did some Digital Eye Doctor work, ran my NIK 50-50 preset on the bird only and refined that with a Regular Layer Mask, and applied a Layer of Filter/Blur/Surface Blur to the whole image. I finished the image off with a Curves adjustment that increased contrast just a bit.
Digital Basics
Everything that I did to optimize today's image is covered in detail in my Digital Basics File–written in my easy-to-follow, easy-to-understand style. Are you tired of making your images look worse in Photoshop? Digital Basics File is an instructional PDF that is sent via e-mail. It includes my complete digital workflow, dozens of great Photoshop tips, details on using all of my image clean-up tools, the use of Contrast Masks, several different ways of expanding and filling in canvas, all of my time-saving Keyboard Shortcuts, Quick Masking, Layer Masking, and NIK Color Efex Pro basics, Contrast Masks, Digital Eye Doctor techniques, using Gaussian Blurs, Tim Grey Dodge and Burn, a variety of ways to make selections, how to create time-saving actions, the Surface Blur (background noise reduction) settings, and tons more.
APTATS I & II
Learn the details of advanced Quick Masking techniques in APTATS I. Learn Advanced Layer Masking Techniques in APTATS II. Mention this blog post and apply a $5 discount to either with phone orders only. Buy both APTATS I and APTATS II and we will be glad to apply at $15 discount either with phone orders or here in the BAA Online Store. For phone orders, call Jim or Jennifer at 863-692-0906 weekdays.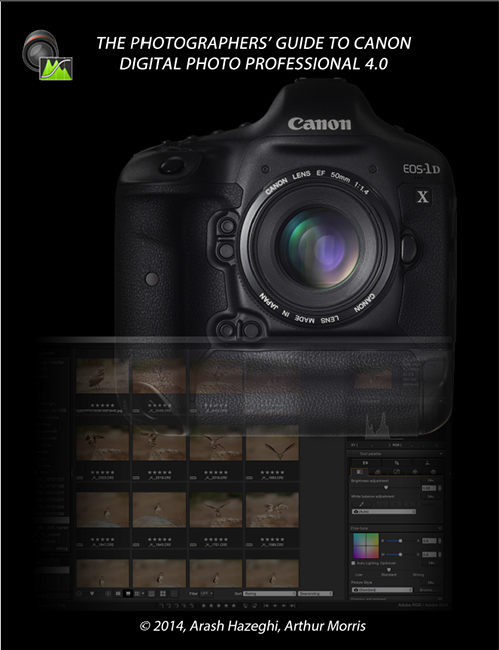 You can order your copy of "The Photographers' Guide to Canon Digital Photo Professional 4.0" (aka the DPP 4 Raw Conversion eGuide) by Arash Hazeghi and Arthur Morris by clicking here.
The DPP 4 eGuide (PDF)
The Ideal Companion to the 7D Mark II User's Guide
Learn how and why I and many other discerning photographers choose and use only DPP 4 to convert their Canon RAW files in the DPP 4 RAW Conversion Guide by Arash Hazeghi and yours truly. The latest version supports all of the newer Canon camera bodies and several older models including the EOS-7D and the EOS-1D Mark IV. A free update that will cover most of the newly added cameras will be sent some time next week. See upcoming blog posts for exact details.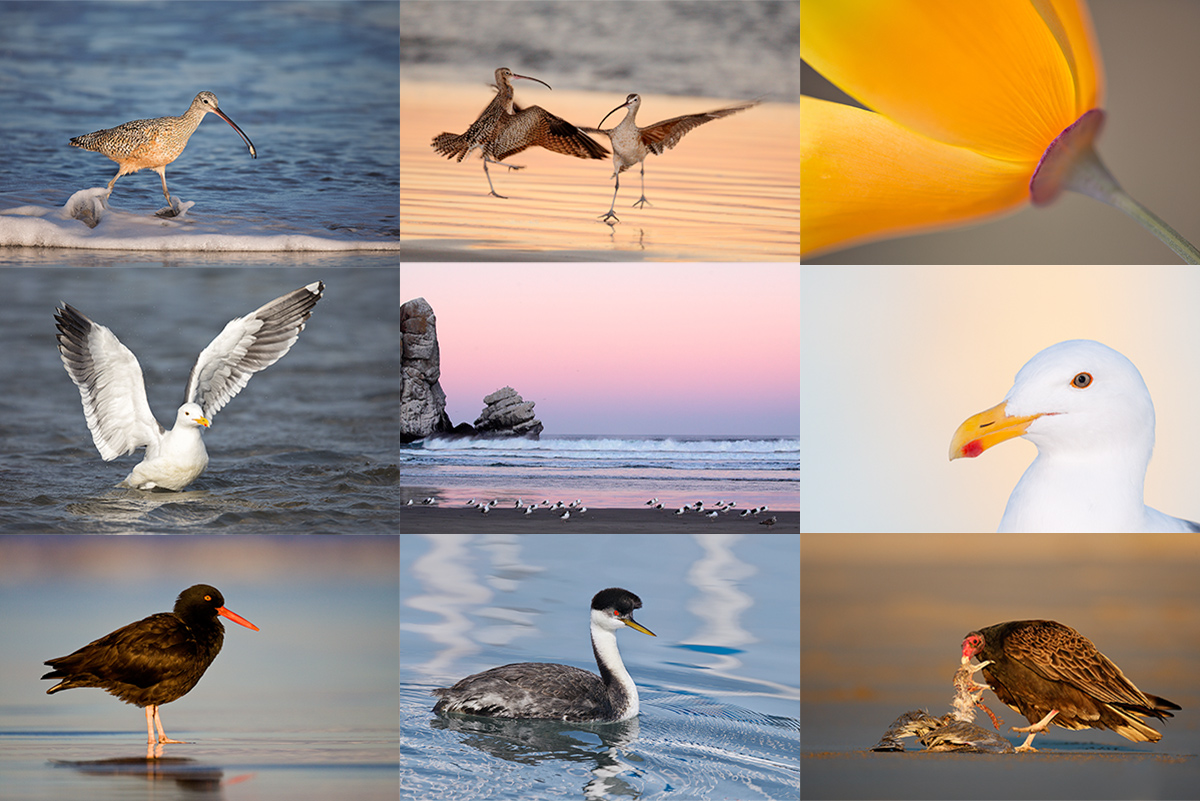 Morro Bay offers a wealth of very attractive natural history subjects in a variety of attractive settings. Do consider joining me there on the March 20-22, 2015 Canon Destination Workshop. Complete info and register here
Morro Bay Pre-Canon Destination Workshop In-the-field Day
The Morro Bay Canon Destination Workshop March 20-22, 2015 now has only four slots open. To encourage folks to sign up I have planned the following:
Morro Bay Pre-Canon Destination Workshop In-the-field Day. Friday March 20: $399.
This in-the-field workshop includes a 4-hour morning photo-session that begins in the pre-dawn, a 2 hour afternoon photo session (3-5pm or so), and a working lunch with image review and some Photoshop. We will finish up in time to attend the Friday evening program that opens the Destination Workshop. At present only two folks are signed up for the day so you will surely receive all of the one on one guidance that you can handle.
Though you not need to be registered for the Canon event to join me on Friday, doing so would make a lot of sense to me. The Friday evening program is of course open only to those who are signed up for the Destination Workshop. See immediately below for details on that.
BIRDS AS ART Morro Bay, CA Canon Live Learning EOS Destination Workshop
March 20-22, 2015: $1050
Borrow great Canon gear. Head home with a print or two. Learn from the best.
Click here for complete info or to register.
Click here to see the course agenda.
Join me in one of the most beautiful and scenic places on the planet to photograph a large variety of birds of the sea and shore. The star of the show will be the spectacular Long-billed Curlew. There will be lots of Marbled Godwits and Willets as well as lots of the smaller shorebird species. Black Oystercatcher is likely and we should get to photograph large flocks of Western Sandpipers in flight over the bay; with any luck we should enjoy some great sunrise and sunset photography. There are lots of gulls including Western, California, and Mew. There is one good location where we should get to photograph Western, Clarke's, Eared, and Pied-billed Grebe, Lesser Scaup, and Common Loon–you will be able to borrow a long lens from Canon along with various camera bodies. We may get to photograph some passerines including Anna's Hummingbird, Brewer's Blackbird, and White-crowned Sparrow. And we have a chance for several species of raptors. Yikes, I almost forgot California Poppy. And California Ground Squirrel. Sea Otters are also possible.
Folks who register after seeing this notice are asked to shoot me a copy of their BIRDS AS ART Morro Bay Registration Confirmation via e-mail.
See lots more Morro Bay images here.
Facebook
Be sure to like and follow BAA on Facebook by clicking on the logo link upper right. Tanks a stack!
Support the BAA Blog. Support the BAA Bulletins: Shop B&H here!
We want and need to keep providing you with the latest free information, photography and Photoshop lessons, and all manner of related information. Show your appreciation by making your purchases immediately after clicking on any of our B&H or Amazon Affiliate links in this blog post. Remember, B&H ain't just photography!
…..
Amazon.com
Those who prefer to support BAA by shopping with Amazon may use this link:
Amazon Canada
Many kind folks from north of the border, eh, have e-mailed stating that they would love to help us out by using one of our affiliate links but that living in Canada and doing so presents numerous problems. Now, they can help us out by using our Amazon Canada affiliate link by starting their searches by clicking here. Many thanks to those who have written.
Typos
In all blog posts and Bulletins, feel free to e-mail or to leave a comment regarding any typos or errors. Just be right :).