What's Up?
I accomplished a ton on Tuesday. Lots more work on the ethics of nature photography business. A nice long swim, my core exercises, and an ice bath.
This blog post took about 1 1/2 hours to prepare and was published at 6:43am from my home in central Florida.
I fly to Morro Bay on Friday for a week-long busman's holiday followed by the Canon Destination Workshop. On Monday,Bosque In-the-Field workshop participant Dwayne Marrot called and signed up for my Friday Morro Bay In-the-field sessions and then registered for the Canon Morro Bay Live Learning Destination Workshop. Togehter they make for a neat and relatively inexpensive package. It is not too late for you to sign up for one or both and I would love to see you there. Scroll down for complete details.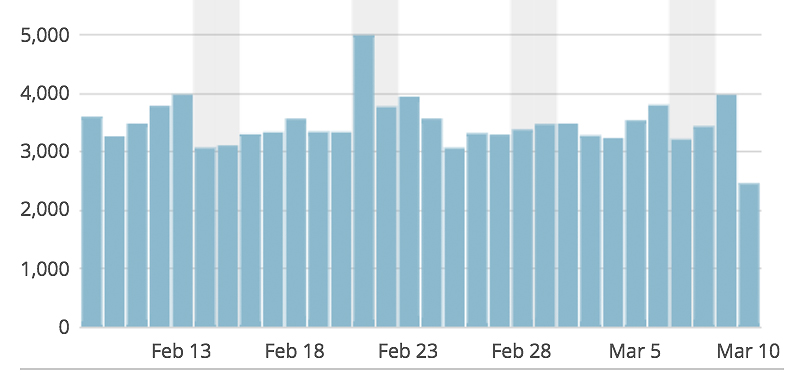 BAA Blog web stats for the past month
Great BAA Blog News
Congrats to all. And to me. For the first time ever, the blog enjoyed 3,000 or more hits every day for a month, from Monday February 9, 2015 through at least Monday March 9, 2015. Thanks for visiting. Please remember to use our B&H and other links for all of your purchases major and minor.
A New Streak
Today's blog post is the 63rd straight day with a new educational blog post. This streak began on January 7, 2015. No days off since :). No worries, I am not planning on trying to eclipse last years ridiculous streak of 366 straight days with a new blog post.
E-mail Apologies
At no time in my career have I been so far behind in answering e-mails. If you sent one to me that has gone unanswered, please re-send it here and I will do my best to get to it as quickly as possible.
Please Remember to use our Affiliate Links 🙂
To show your appreciation for my continuing efforts here, we ask, as always, that you use our the B&H and Amazon affiliate links on the right side of the blog for all of your purchases. B&H is recommended for you major photography gear purchases, Amazon for your household, entertainment, and general purpose stuff. Please remember: no phone orders; web orders only!
Please check the availability of all photographic accessories in the BIRDS AS ART Online Store, especially the Mongoose M3.6 tripod heads, Gitzo tripods, Wimberley heads and plates, LensCoats and accessories, and the like. We sell only what I have used, have tested, and can depend on. We will not sell you junk. We know what you need to make creating great images easy and fun. And we are always glad to answer your gear questions via e-mail.
I would of course appreciate your using our B&H affiliate links for all of your major gear, video, and electronic purchases. For the photographic stuff mentioned in the paragraph above we, meaning BAA, would of course greatly appreciate your business. Here is a huge thank you to the many who have been using our links on a regular basis and visiting the BAA Online store as well.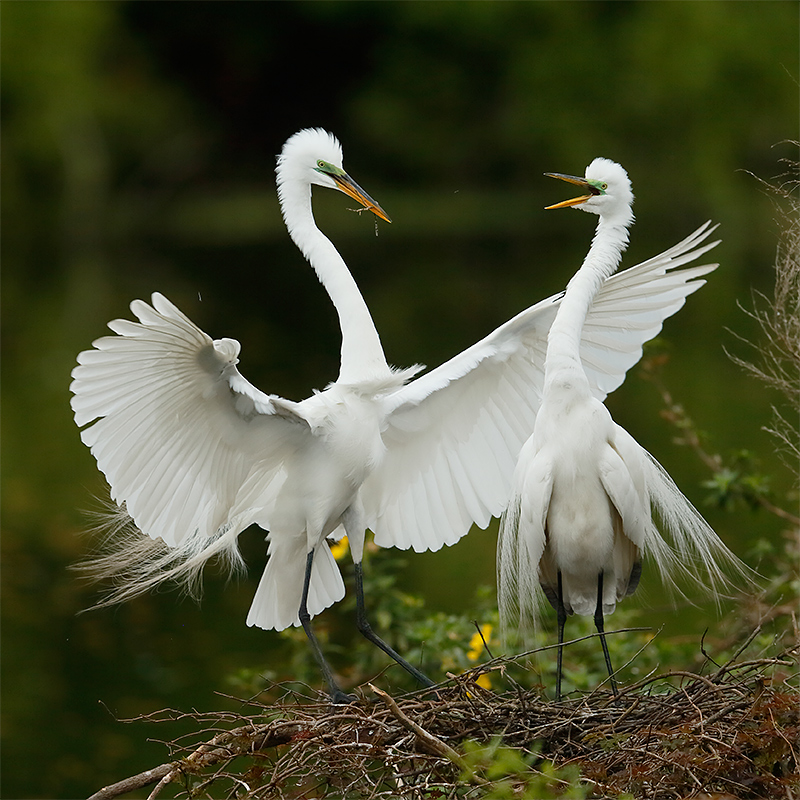 This image was created in cloudy conditions at 5:03pm on Friday past at Brandon, FL with the tripod-mounted Canon EF 600mm f/4L IS II USM lens, a Canon Extender EF 1.4X III, and the Canon EOS-1D X. ISO 800. Evaluative metering +2 2/3 stops off the grey sky: 1/1600 sec. at f/6.3.
Three AF points to the right and one row down from the center AF point/AI Servo Expand Shutter Button AF was active at the moment of exposure. The active AF point was on the female's body; she is the one on our right. Click on the image to see a larger version.
Your browser does not support iFrame.
Was It Real? Or was it a Photoshop Phony?
In the March 8, 2015 blog post here, I asked, "Do you see any evidence of a major Photoshop changes? Did I add a head or an eye? Did I repair a wingtip? If so, please state your case clearly and let us know what the telltale signs were."
Lots of folks saw signs that I had monkeyed's around:"cloned the female's eye," "I suspect the female's head has been traded for one from another shot. The clue is that the feather pattern around the her head looks slightly clipped. It is very hard to select feathery patterns well for moving," "To my eye, the male's head/neck doesn't belong to it's body: the whites are different, the position doesn't look natural, and I'm not sure you could have gotten the male's neck/head in focus with the focus point on the female's neck," "Now that you mention it, the male's neck doesn't seem to connect with his body," and "Love the shot but either the tips of the primary flight feathers and tail feathers of the female are very dirty or they are from another species of bird. The upper legs on the female have a slightly different tonality (black and more matte) than the lower, which may be caused by the bird's shadow."
Kudos to Jon who commented "Wonderful image Artie, I don't see any signs of cloning/patching etc on this image," and to Janet Heintz who left this: "Beautiful capture, I really can't notice anything in the image that would make me think it was altered."
"I'm not sure you could have gotten the male's neck/head in focus with the focus point on the female's neck…"
Actually, the active AF point was on the female's body not on her neck. The neck is too, too skinny; if I tried that it would have been very likely that I would have lost AF at just the wrong moment. When I envisioned creating this image and others in the series I realized that getting both heads and eyes razor sharp would somewhat be a matter of luck. Remember that I held the shutter button down as soon as I saw the female get excited by the sight of her returning mate. Not all of the images in the series featured the bird's head on the exact same plane. This one did, along with the wonderful, embracing pose.
The Truth
The truth is that this is the first image I have ever posted without changing a single pixel. I converted the RAW file in DPP, brought it into Photoshop, and executed a square crop utilizing only a few pixels less than the full height of the original image. No NIK. No selective sharpening. No Clone Stamp Tool. No Patch Tool. No Spot Healing Brush.
When I started asking questions like this more than a year ago, my original premise was that if you told folks in advance what repairs you had done, they could always spot the "telltale signs", but if you did not tell them what had been done (if anything), many folks would wind up inventing or imagining the telltale signs. I like being right :).
New Used Gear Listing
Used Canon EF 500mm f/4L IS (Image Stabilizer) USM Lens
Richard Rhudy is offering a used Canon EF 500mm f/4L IS (Image Stabilizer) USM lens in excellent condition for a very low $4299. The sale includes the the front leather hood, the rear dust cap, the lens trunk, an AquaTech SoftHood Collapsing Hood for the 500mm f/4 (a $150 value), and insured shipping by UPS Ground to US addresses only. Your item will not ship until your check clears unless other arrangements are made.
Please contact Richard via e-mail or by phone at 650-855-2421 (Pacific time zone).
The old five was at one time the world's most popular telephoto lens. It still makes great images with both TCs. artie
Used Photography Gear for Sale
You can see all of the currently listed items by clicking here or at any time by clicking on the Used Photography Gear for Sale tab, the last item on the lower row of yellow-gold tab bars near the top of each blog page.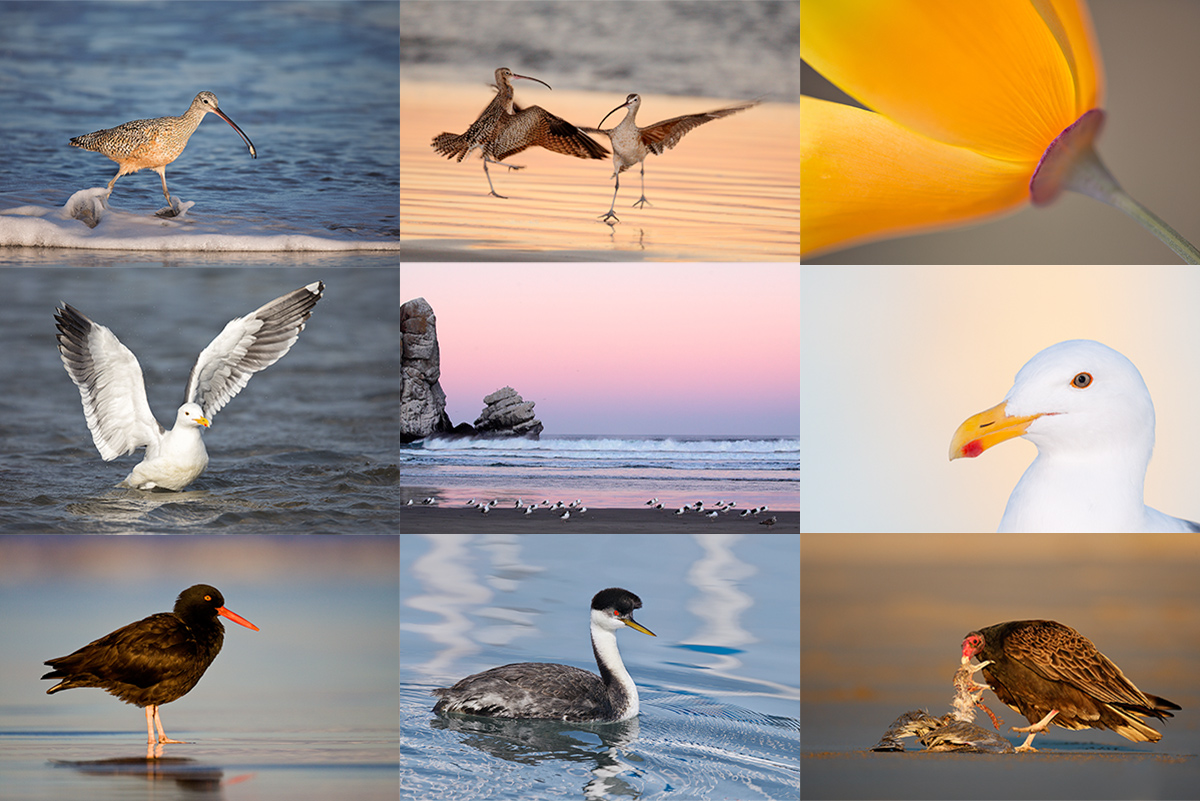 Morro Bay offers a wealth of very attractive natural history subjects in a variety of attractive settings. Do consider joining me there on the March 20-22, 2015 Canon Destination Workshop. Complete info and register here
Morro Bay Pre-Canon Destination Workshop In-the-field Day
The Morro Bay Canon Destination Workshop March 20-22, 2015 now has only four slots open. To encourage folks to sign up I have planned the following:
Morro Bay Pre-Canon Destination Workshop In-the-field Day. Friday March 20: $399.
This in-the-field workshop includes a 4-hour morning photo-session that begins in the pre-dawn, a 2 hour afternoon photo session (3-5pm or so), and a working lunch with image review and some Photoshop. We will finish up in time to attend the Friday evening program that opens the Destination Workshop. At present only two folks are signed up for the day so you will surely receive all of the one on one guidance that you can handle.
Though you not need to be registered for the Canon event to join me on Friday, doing so would make a lot of sense to me. The Friday evening program is of course open only to those who are signed up for the Destination Workshop. See immediately below for details on that.
BIRDS AS ART Morro Bay, CA Canon Live Learning EOS Destination Workshop
March 20-22, 2015: $1050
Borrow great Canon gear. Head home with a print or two. Learn from the best.
Click here for complete info or to register.
Click here to see the course agenda.
Join me in one of the most beautiful and scenic places on the planet to photograph a large variety of birds of the sea and shore. The star of the show will be the spectacular Long-billed Curlew. There will be lots of Marbled Godwits and Willets as well as lots of the smaller shorebird species. Black Oystercatcher is likely and we should get to photograph large flocks of Western Sandpipers in flight over the bay; with any luck we should enjoy some great sunrise and sunset photography. There are lots of gulls including Western, California, and Mew. There is one good location where we should get to photograph Western, Clarke's, Eared, and Pied-billed Grebe, Lesser Scaup, and Common Loon–you will be able to borrow a long lens from Canon along with various camera bodies. We may get to photograph some passerines including Anna's Hummingbird, Brewer's Blackbird, and White-crowned Sparrow. And we have a chance for several species of raptors. Yikes, I almost forgot California Poppy. And California Ground Squirrel. Sea Otters are also possible.
Folks who register after seeing this notice are asked to shoot me a copy of their BIRDS AS ART Morro Bay Registration Confirmation via e-mail.
See lots more Morro Bay images here.
Facebook
Be sure to like and follow BAA on Facebook by clicking on the logo link upper right. Tanks a stack!
Support the BAA Blog. Support the BAA Bulletins: Shop B&H here!
We want and need to keep providing you with the latest free information, photography and Photoshop lessons, and all manner of related information. Show your appreciation by making your purchases immediately after clicking on any of our B&H or Amazon Affiliate links in this blog post. Remember, B&H ain't just photography!
…..
Amazon.com
Those who prefer to support BAA by shopping with Amazon may use this link:
Amazon Canada
Many kind folks from north of the border, eh, have e-mailed stating that they would love to help us out by using one of our affiliate links but that living in Canada and doing so presents numerous problems. Now, they can help us out by using our Amazon Canada affiliate link by starting their searches by clicking here. Many thanks to those who have written.
Typos
In all blog posts and Bulletins, feel free to e-mail or to leave a comment regarding any typos or errors. Just be right :).