Stuff
My flights home yesterday were blessedly uneventful. Online with GoGo In Flight, I answered many dozens of e-mails on the plane> to MCO. This blog post took 2+ hours to prepare and was published from my home at ILE, FL at 5:59am. Today marks 76 straight days with a brand new educational blog post.
Please Remember to use our Affiliate Links 🙂
To show your appreciation for my continuing efforts here, we ask, as always, that you use our the B&H and Amazon affiliate links on the right side of the blog for all of your purchases. B&H is recommended for you major photography gear purchases, Amazon for your household, entertainment, and general purpose stuff. Please remember: no phone orders: web orders only!
Please check the availability of all photographic accessories in the BIRDS AS ART Online Store, especially the Mongoose M3.6 tripod heads, Gitzo tripods, Wimberley heads and plates, LensCoats and accessories, and the like. We sell only what I have used, have tested, and can depend on. We will not sell you junk. We know what you need to make creating great images easy and fun. And we are always glad to answer your gear questions via e-mail.
I would of course appreciate your using our B&H affiliate links for all of your major gear, video, and electronic purchases. For the photographic stuff mentioned in the paragraph above we, meaning BAA, would of course greatly appreciate your business. Here is a huge thank you to the many who have been using our links on a regular basis and visiting the BAA Online store as well.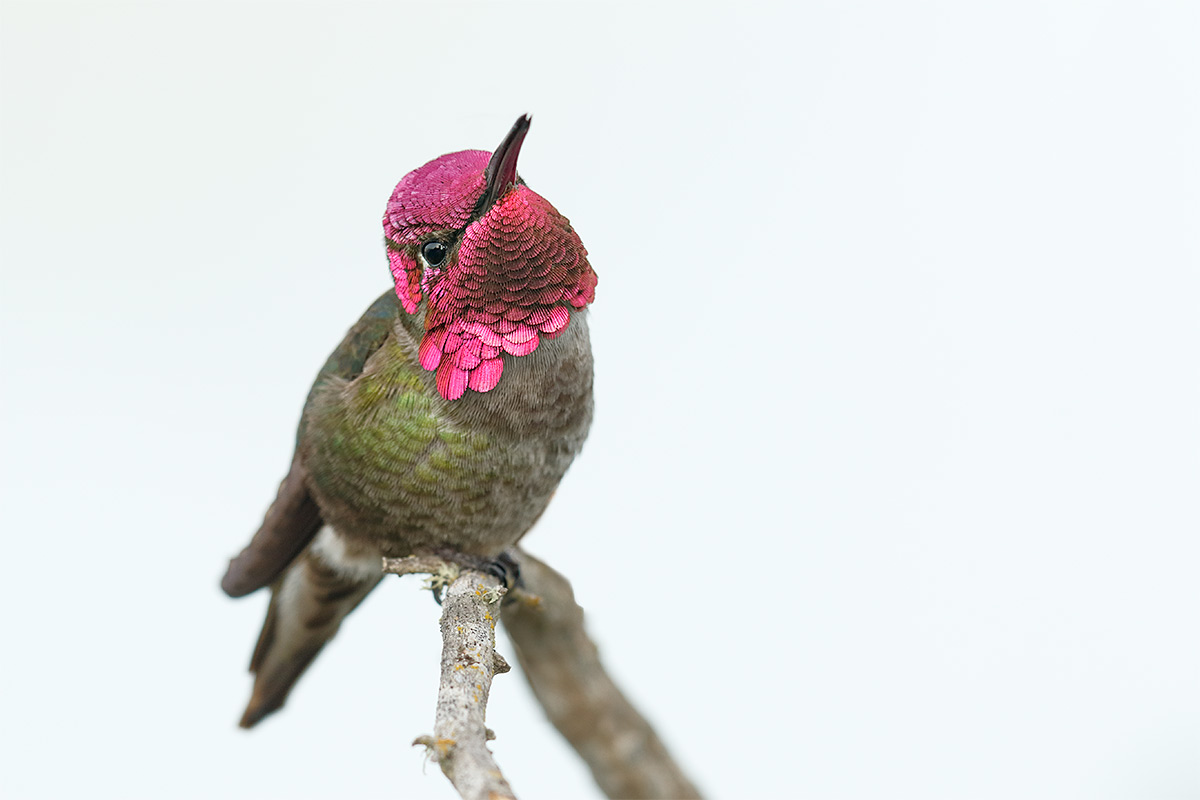 This image was created at Morro Bay, CA with the the tripod-mounted Canon EF 500mm f/4L IS II USM lens, the Canon Extender EF 1.4X III, and the Canon EOS 7D Mark II. ISO 400. Evaluative metering +1/3 stop: 1/250 sec. at f/9 in Manual mode. On camera fill flash with the 580 EZ (now replaced by the Canon Speedlite 600EX-RT at -1 stop.
Single AF point (Manual selection) one AF point up from the center AF point/AI Servo/Rear Focus AF as originally framed was active at the moment of exposure (as is always best when hand holding). The selected AF point fell right on the base of the bird's gorget directly below the bird's bill. Click here to see the latest version of the Rear Focus Tutorial. Click on the image to see a larger version.
Anna's Hummingbird displaying male
Your browser does not support iFrame.
500II/1.4XIII/7DII Close Focus Gem
Co-instructor Aidan Briggs spotted this little guy from the main drag along the waterfront practically in downtown Morro Bay on the Canon Live Learning Destination Workshop. The bird was amazingly cooperative; he sat for portraits for well more than an hour while displaying almost constantly. Many of the participants working much wider than I with hand held 100-400 II lenses got some amazing wing stretches and flutters. I was too tight for those but love the fine detail on the feathers of the gorget.
gorget
noun: gȯr-jət\
1: a piece of armor protecting the throat
2: a : an ornamental collar
b : a part of a wimple covering the throat and shoulders
c : a specially colored patch on the throat
I'll go with 2c here.
wimple
noun: wimpəl
1-a cloth wound around the head, framing the face, and drawn into folds beneath the chin, worn by women in medieval times and as part of the habit of certain orders of nuns.
Wimple is a new one on me. All of the above from the Free Dictionary.
This JPEG represents the original RAW capture as it came out of the camera.
The Image Optimization
The RAW conversion in DPP4 with the Shadow slider playing a starring role improved this and several other of the participant's hummingbird images by leaps and bounds. Noe the improvement of the darker tones of the gorget in the optimized image that opened this blog post. That due also to the use of my NIK 50/50 recipe. One of the group, Sudha, had a great image of the hummer with its wings extended but it was sidelit. First I used the Shadow slider at 5 during the DPP re-conversion and followed that up with a rare 100% layer of NIK Detail Extractor. 'Wow" was all the everyone could say. In addition, the settings under the Perform image lens correction tab including and especially Peripheral illumination eliminate any vignetting so that moving the bird in the frame with APTATS II techniques is a snap.
After bringing today's featured image into Photoshop the first thing that I did was to execute the obvious crop to eliminate the broken end of the perch branch that protruded toward us. I moved the bird back and down in the frame using the previously-mentioned techniques from APTATS II. Then the NIK 50-50 recipe and a bit of perch carving and improvement using both the Clone Stamp Tool and a Quick Mask refined with a Regular Layer Mask. Then a Contrast Mask applied only to the head and the gorget selected with the Quick Selection Tool.
Digital Basics
Everything that I did to optimize today's image is covered in detail in my Digital Basics File–written in my easy-to-follow, easy-to-understand style. Are you tired of making your images look worse in Photoshop? Digital Basics File is an instructional PDF that is sent via e-mail. It includes my complete digital workflow, dozens of great Photoshop tips, details on using all of my image clean-up tools, the use of Contrast Masks, several different ways of expanding and filling in canvas, all of my time-saving Keyboard Shortcuts, Quick Masking, Layer Masking, and NIK Color Efex Pro basics, Contrast Masks, Digital Eye Doctor techniques, using Gaussian Blurs, Tim Grey Dodge and Burn, a variety of ways to make selections, how to create time-saving actions, the Surface Blur (background noise reduction) settings, and tons more.
APTATS I & II
Learn the details of advanced Quick Masking techniques in APTATS I. Learn Advanced Layer Masking Techniques in APTATS II. Mention this blog post and apply a $5 discount to either with phone orders only. Buy both APTATS I and APTATS II and we will be glad to apply at $15 discount either with phone orders or here in the BAA Online Store. For phone orders, call Jim or Jennifer at 863-692-0906 weekdays.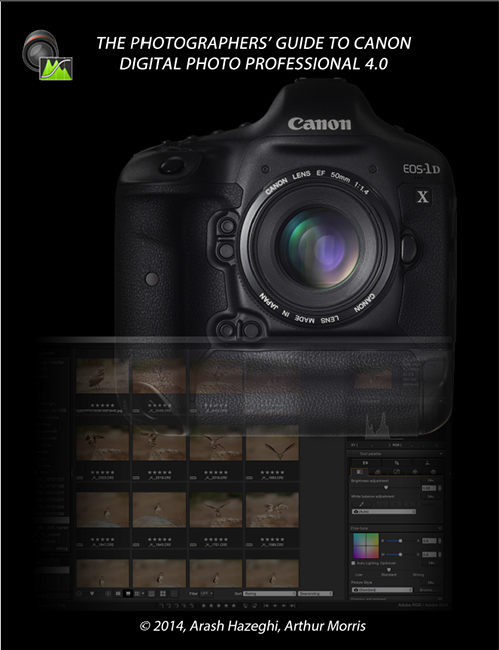 You can order your copy of "The Photographers' Guide to Canon Digital Photo Professional 4.0" (aka the DPP 4 Raw Conversion eGuide) by Arash Hazeghi and Arthur Morris by clicking here.
The DPP 4 eGuide (PDF)
The Ideal Companion to the 7D Mark II User's Guide
Learn how and why I and many other discerning photographers choose and use only DPP 4 to convert their Canon RAW files in the DPP 4 RAW Conversion Guide by Arash Hazeghi and yours truly. The latest version supports all of the newer Canon camera bodies and several older models including the EOS-7D and the EOS-1D Mark IV. A free update that will cover most of the newly added cameras will be sent some time next week. See upcoming blog posts for exact details.
Used Photography Gear for Sale/New Listing
Canon EOS-1D Mark IV Professional Digital Camera Body
IPT veteran Dennis Behn is offering a used Canon EOS-1D Mark IV body in excellent condition for the record low price of $1350. The sale includes one battery, the battery charger, all instruction manuals and the Canon Solution disc, and the shoulder strap. The rear LCD is protected with the Schott glass SP8300 cover by Giottos. All are in the original box with the original packing materials. Insured shipping via UPS Ground. Your item will not ship until your check clears unless other arrangements are made. Please contact Dennis by e-mail or by phone at 303-378-5556, Mountain time.
Several 1D Mark IVs served as my workhorse bodies for more than 3 years. They are rugged and dependable and produce high quality image files with very good control of high ISO noise. And the powerful pro body batteries drive AF with TCs far better than a 7D II or a 5D III.
Used Photography Gear for Sale
You can see all of the current listings by clicking here.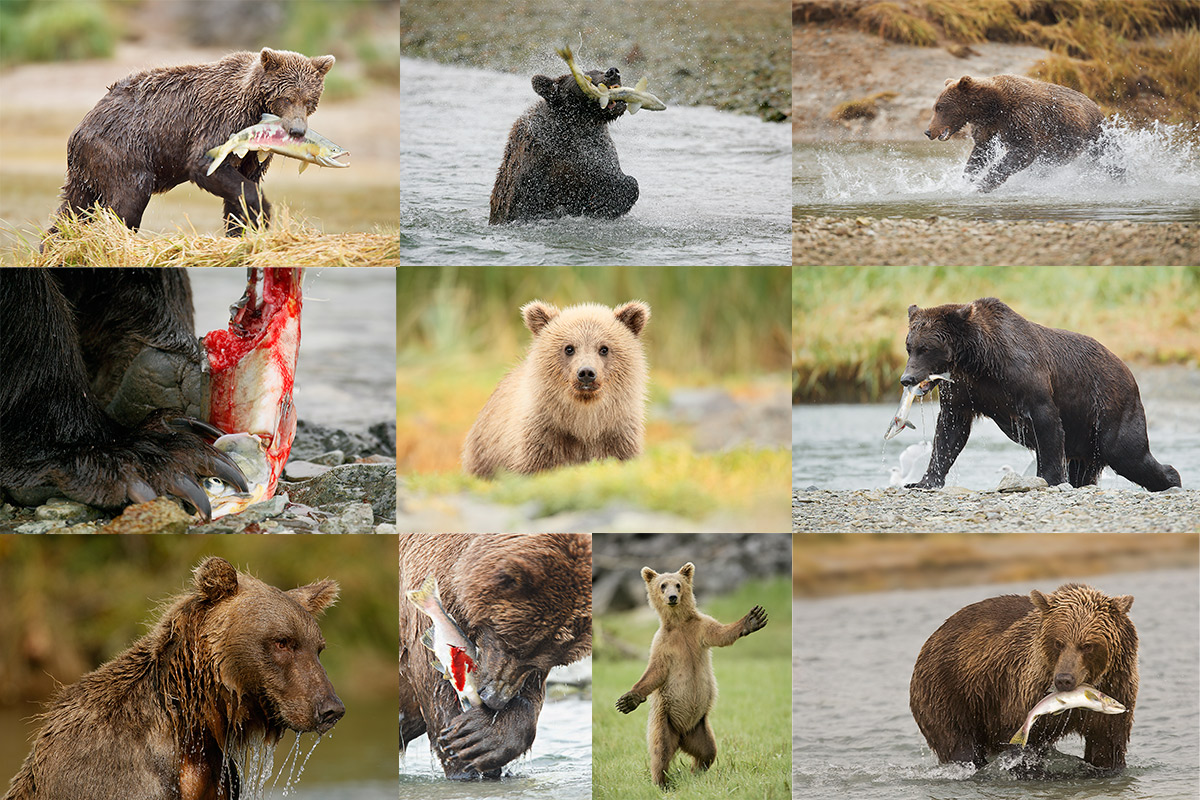 All of the images in the bear boat card above were created in Katmai National Park during the month of September.
Bear Boat/Bears Catching Salmon IPT: September 1-8, 2015 from Kodiak, AK/6 FULL & 2 1/2 DAYS: $6699. Happy campers only! Maximum 8/Openings: 4. Plus the leader: Arthur Morris.
This trip is a go.
Join me in Katmai National Park, AK for seven days of photographing Coastal Brown Bears (grizzlies) catching salmon, fattening up for the long winter. Other subjects will include Mew and Glaucous-winged Gulls in flight and dip-feeding on salmon roe. Did I mention that we live on a boat and that the food is great? Most of our photography will be done in a variety of famed locations: Geographic Harbor, Kinak Bay, and Kukak Bay. We once had 39 bears fishing the creek at Kukak….
It is mandatory that you be in Kodiak no later than the late afternoon of August 31, 2015 September to avoid missing the float planes to the boat on the morning of September 1. With air travel in AK being what it is, with the chance of fog or other bad weather–being on Kodiak on August 30 is an even better plan). I will be on Kodiak on August 30 to avoid any potential disaster. That said in my nearly a dozen bear boat trips I was delayed only once but since I was day early as noted above there was no harm, no foul.
We will take one or more float planes to the boat mid-morning on September 1. We will photograph bears fishing that afternoon and every day for the next six days (weather permitting of course). We should have bears catching salmon every day. In addition, we will get some nice stuff on Mew Gull and Glaucous-winged Gulls dining on roe and the remains of predated salmon. We may–depending on where the concentrations of bears are–get to photograph Harbor seals and some hauled out Steller's Sea Lions (an endangered species). Halibut fishing (license required) is optional. On September 8, our last morning on the boat, those who would like to enjoy one last photo session will do so. The group returns to Kodiak via float plane midday. Most folks will fly to Anchorage and then continue on red-eye flights to their home cities.
The eight days will consist of six full days (Sept 2, 3, 4, 5, 6, & 7) of photography featuring lots of Coastal Brown Bears catching salmon as above plus a variety of other natural history subjects plus some nice scenic photography that I forgot to mention above. Plus the first afternoon and the last morning.
What's included? 8 DAYS/7 NIGHTS on the boat as above. All meals on the boat. (The food is quite excellent.) National Park fees. One night's double occupancy lodging on Kodiak; arrive: Sept 1/depart: Sept 2. The thank-you-in-advance dinner on Sept 1. In-the-field photo tips, instruction, and guidance. An insight into the mind of a top professional; I will constantly let you know what I am thinking, what I am doing, and why I am doing it. Small group image review, image sharing, and Photoshop instruction on the boat.
What's not included: Your round trip airfare to and from Kodiak, AK (almost surely through Anchorage). All necessary lodging other than the cost of your double occupancy room on the night of August 31 should you opt to arrive early–we can arrange that in advance for you. We will let you know the cost of a single supplement for the one night if so desired. The cost of the round-trip float plane to the boat on September 2 and back to Kodiak on September 9. The cost of a round trip this year was $500. The suggested crew tip of $210.
Is this an expensive trip? Yes, of course. But with 6 full and two half days, a wealth of great subjects, and the fact that you will be walking with the bears just yards away (or less….) it will be one of the great natural history experiences of your life. Most folks who take part in a Bear Boat IPT wind up coming back for more.
A $2,000 per person non-refundable deposit by check only made out to "Arthur Morris" is required to hold your spot. Please click here to read our cancellation policy. Then please print, read, and sign the necessary paperwork here and send it to us.
Your deposit is due immediately. That will leave a balance of $4699. The next payment of $2699 will be due on February 15, 2015. The final payment of $2000 is due on May 1, 2015.
I hope that you can join us for this wondrously exciting trip.
By e-mail from Bill Keown, veteran of three bear boat trips!
Hi Artie, What a great trip! With the exception of the one bright sunny day it was just great. Very different from my first trip in June where we only had the bears clamming; the fishing bears were amazing! As always I learned a lot and enjoyed the group immensely. All the Best, Bill
Facebook
Be sure to like and follow BAA on Facebook by clicking on the logo link upper right. Tanks a stack!
Support the BAA Blog. Support the BAA Bulletins: Shop B&H here!
We want and need to keep providing you with the latest free information, photography and Photoshop lessons, and all manner of related information. Show your appreciation by making your purchases immediately after clicking on any of our B&H or Amazon Affiliate links in this blog post. Remember, B&H ain't just photography!
…..
Amazon.com
Those who prefer to support BAA by shopping with Amazon may use this link:
Amazon Canada
Many kind folks from north of the border, eh, have e-mailed stating that they would love to help us out by using one of our affiliate links but that living in Canada and doing so presents numerous problems. Now, they can help us out by using our Amazon Canada affiliate link by starting their searches by clicking here. Many thanks to those who have written.
Typos
In all blog posts and Bulletins, feel free to e-mail or to leave a comment regarding any typos or errors. Just be right :).