What's Up?
Another nice swim, my core exercises, and an ice bath today. And lots more healthy eating (for a change). Amazingly, I slept nine hours on Tuesday night with just one pit stop. This blog post took about 3 hours to prepare and was published from my home at ILE, FL early on Thursday morning. Today marks 78 straight days with a new educational blog post.
Please Remember to use our Affiliate Links 🙂
To show your appreciation for my continuing efforts here, we ask, as always, that you use our the B&H and Amazon affiliate links on the right side of the blog for all of your purchases. B&H is recommended for you major photography gear purchases, Amazon for your household, entertainment, and general purpose stuff. Please remember: no phone orders: web orders only!
Please check the availability of all photographic accessories in the BIRDS AS ART Online Store, especially the Mongoose M3.6 tripod heads, Gitzo tripods, Wimberley heads and plates, LensCoats and accessories, and the like. We sell only what I have used, have tested, and can depend on. We will not sell you junk. We know what you need to make creating great images easy and fun. And we are always glad to answer your gear questions via e-mail.
I would of course appreciate your using our B&H affiliate links for all of your major gear, video, and electronic purchases. For the photographic stuff mentioned in the paragraph above we, meaning BAA, would of course greatly appreciate your business. Here is a huge thank you to the many who have been using our links on a regular basis and visiting the BAA Online store as well.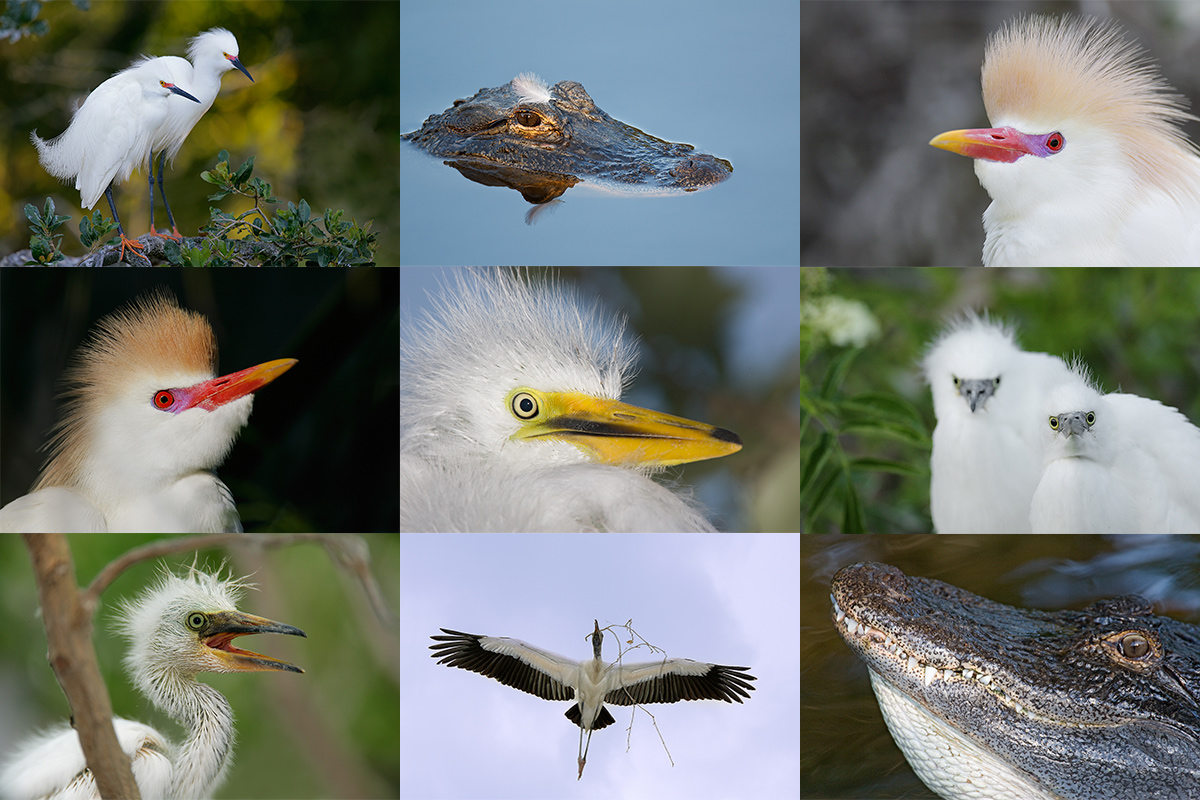 Clockwise from upper left to center: Snowy Egrets/breeding plumage pair, American Alligator with egret feather on head, Cattle Egret in breeding plumage (with fill flash), large Snowy Egret chicks, displaying gator, Wood Stork in flight carrying nesting material (fill flash), begging Snowy Egret chick, another Cattle Egret in breeding plumage (with fill flash), and Great Egret chick.
St. Augustine Alligator Farm Short-Notice Spoonbill and Wading Bird Chicks IPT: May 1-4, 2015. TWO FULL and TWO 1/2 DAYS: $1099. Limit 8/Openings 6.
St. Augustine in early May is a bird photographer's paradise. With any luck we should have chicks of all sizes in the nests ranging from newly hatched Snowy Egrets and Tricolored Herons to nearly fledged Great Egrets. More than a few pairs of Roseate Spoonbills have nested at the Alligator Farm for the past several years. Photographing the spoonbill chicks in the nest is a huge challenge…. With any luck we will encounter a few Snowy and Cattle Egrets in stunning breeding plumage. We should have lots of flight photography ops especially late in the day. We will enjoy early entry. Folks who will need a photographer's pass ($89.95 includes full season early entry and late stay and submission fees for up to 5 photos in their annual contest; this works out to cheaper than four separate entry tickets). We will have those ready for pick-up on the first afternoon. All will need to bring a $5 bill for the staff tip for each of our 3 extra-late stays.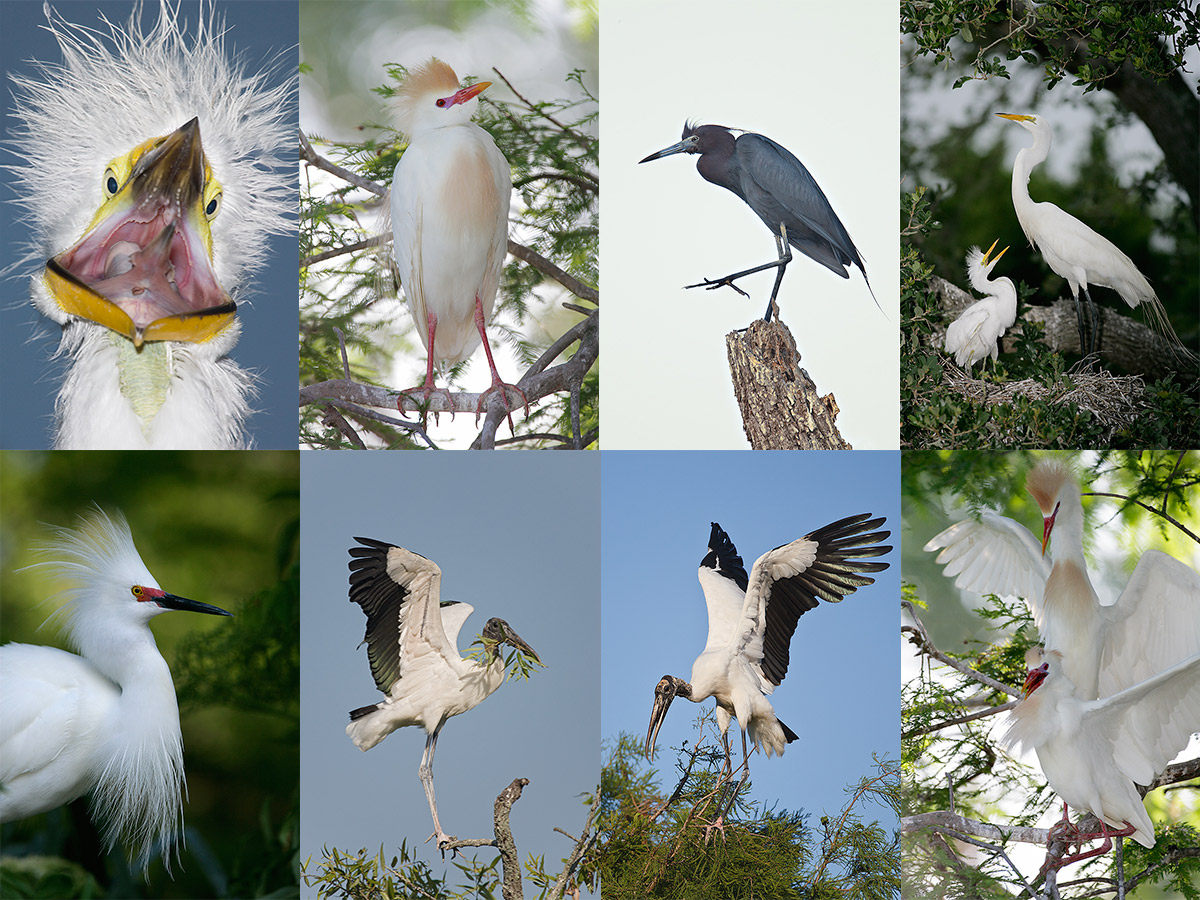 Clockwise from upper left: flash-as-main light Great Egret chick begging, breeding plumage Cattle Egret w/fill flash, Little Blue Heron, Great Egret chick in nest begging, Cattle Egrets copulating, Wood Stork with nesting material, another Wood Stork with nesting material, and breeding plumage Snowy Egret displaying.
What You Will Learn
On this IPT you will the learn the basics and fine points of digital exposure and how to get the right exposure every time after making a single test exposure. You will learn to understand and predict bird behavior and to see and understand the light. You will learn to design pleasing images by mastering your camera's AF system and how and why to work in Manual mode (even if you're scared of it). Most importantly, you will learn to spot the good situations, to choose the best perspective. Rookeries are crowded, cluttered, white-washed places. Most folks who visit have no clue as to the difference of an image with tons of distractions and one with a clean line of sight and the best possible distant background. Join me and I will teach you to see like a pro.
I will be bringing my flash to the Alligator Farm (gasp!) I have not used flash for at least a year. I will be teaching you how to use flash as fill and how to use flash as main light. In addition, I will be reviewing the flash flight techniques that I developed at St. Augustine more than a few years ago.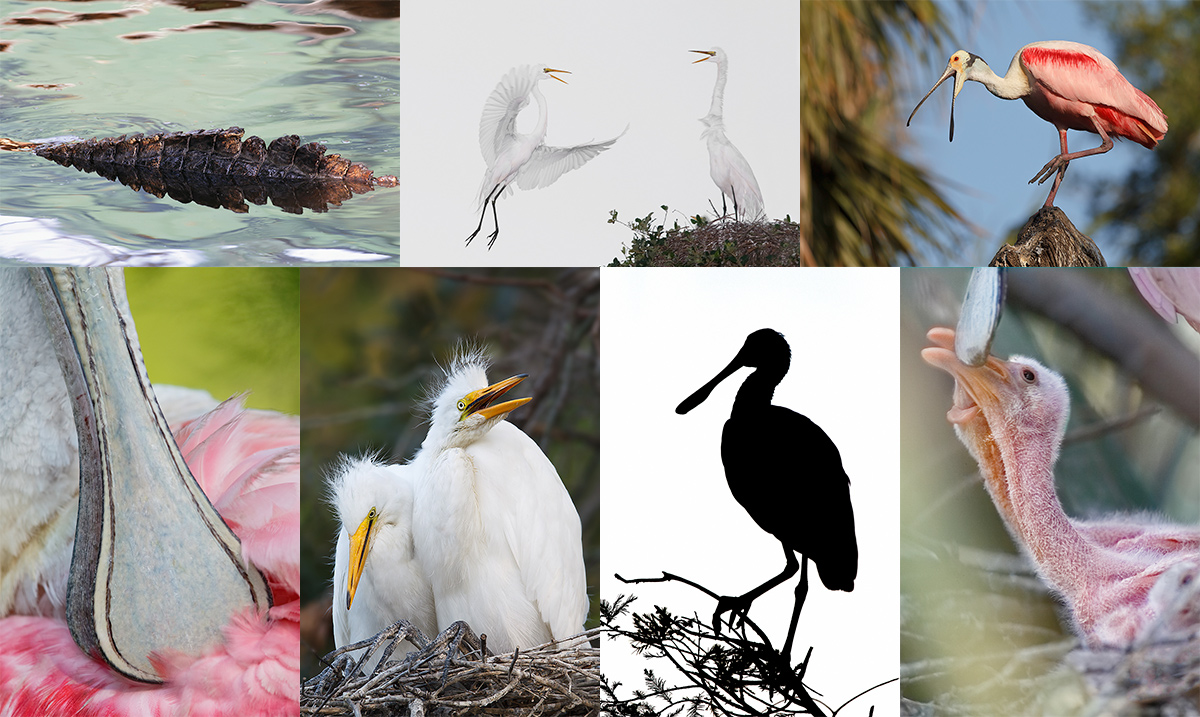 Clockwise from upper left: gator back, Great Egret returning to mate (with fill flash), Roseate Spoonbill with bill open, Roseate Spoonbill chick begging, Roseate Spoonbill 11am silhouette, large Great Egret chicks in nest, and bill of Roseate Spoonbill.
Whats the Rest of the Deal?
At lunch (included) we will review my images; folks learn a ton watching me edit–why keep this one and delete that one. If you opt to bring your laptop, we can take a look at five of your best images from the morning session. We will process a few of my images in Photoshop after converting them in DPP. That followed by Instructor Nap Time.
A $499 non-refundable deposit is required to hold your spot. Your balance of $600, payable only by check, is due immediately. Please include a separate check for $89.95 so that we can purchase your pass in advance. Please click here to read our cancellation policy before committing. Then please print, read, and sign the necessary paperwork linked to here and get it to us. You can register by calling Jim or Jen at the office at 863-692-0906 and arranging for your deposit of $499. Balances are payable only by check. I hope to see you there.
Answers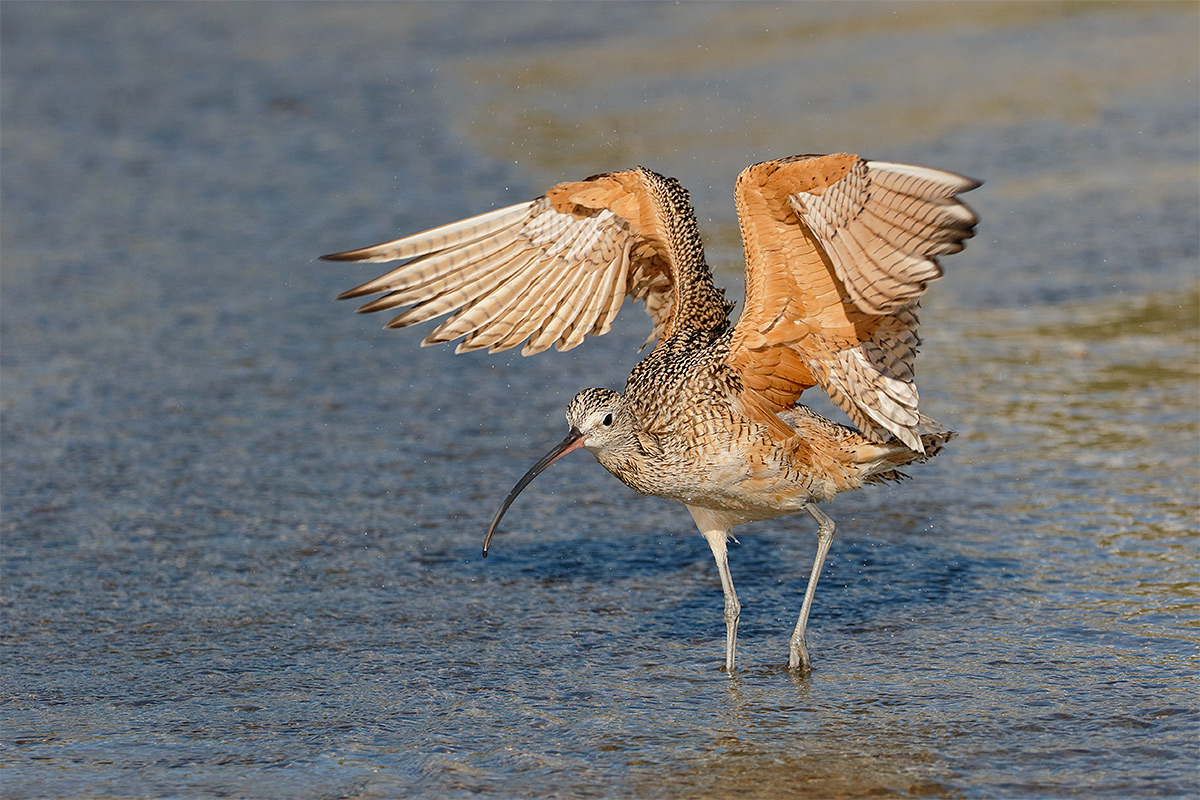 This image was created on the afternoon of March 18, 2015 just north of Morro Bay with the hand held Canon EF 100-400mm f/4.5-5.6L IS II USM lens (at 278 mm) and the amazing Canon EOS 7D Mark II. ISO 400. Evaluative metering -1/3 stops: 1/3200 sec. at f/5.6. Color temperature: AWB.
Center AF point/AI Servo Expand/Shutter Button AF as originally framed was active at the moment of exposure (as is always best when hand holding). This image is a small crop from below and behind. Click on the image to see a larger version.
Image #2: Long-billed Curlew flapping after bath
Your browser does not support iFrame.
Bathing Bird Exposure Question
In the "Go Take a Bath with the 7D II/100-400 II" blog post here, I asked, "Why only 1/3 stop difference in the two exposures here?" With the Western Gull have a bright white breast and the Marbled Godwit seemingly a middle tone you should expect close to a one stop difference in the correct exposures. I went with only a 1/3 stop difference because I knew that the whitish edges of most of the underwing feathers would have been over-exposed if I went any lighter. Tim Harding was the only one who answered and though he was on the right track he never got there.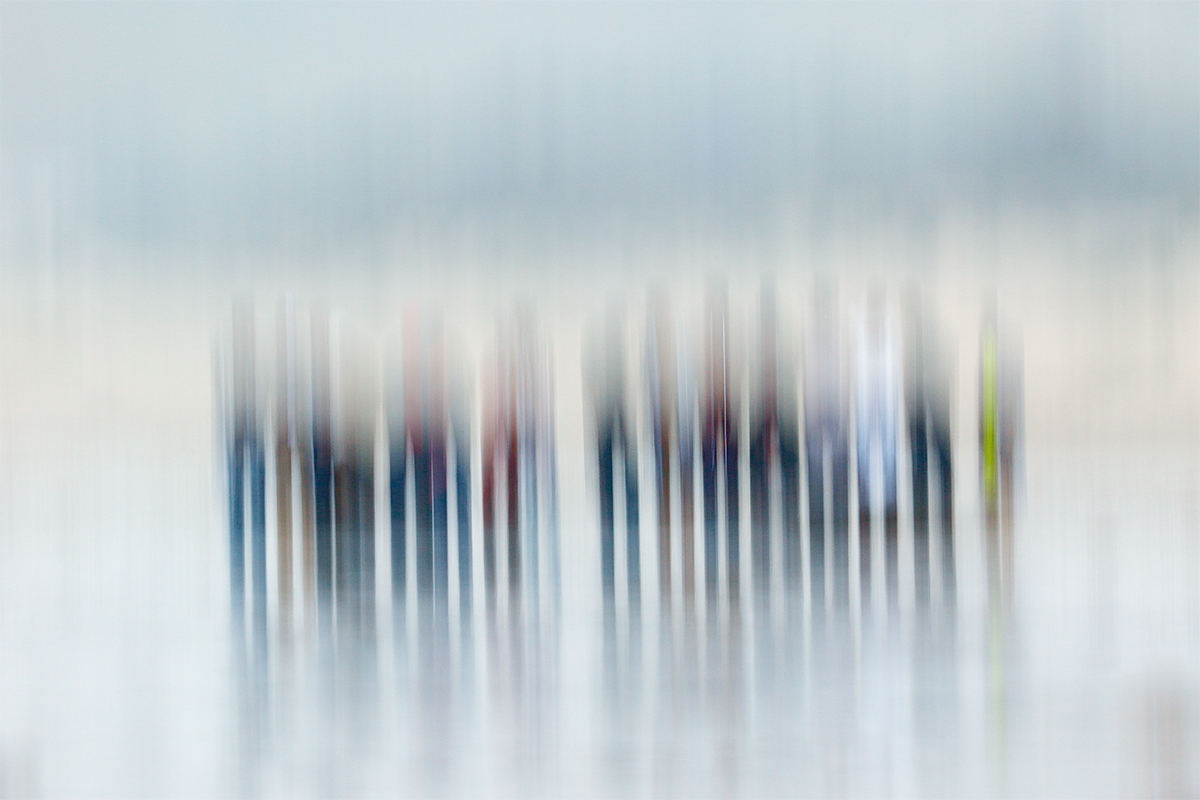 This image was created at Morro Bay with the hand held Canon EF 100-400mm f/4.5-5.6L IS II USM lens (at 360mm) and the amazing Canon EOS 7D Mark II. ISO 250. Evaluative metering +1 stop: 1/8 sec. at f/5.6 in Tv mode.
Center AF point/AI Servo Expand/Rear Focus AF and pan upwards. Click here to see the latest version of the Rear Focus Tutorial. Click on the image to see a larger version.
Your browser does not support iFrame.
Say What You Want Answer
In the "Say What You Want" blog post here, I wrote, "I really like this one. What is it? What was going on?"
Several folks thought that it was my Canon Morro Bay Destination workshop group. It was some sort of group, but not mine. They were a good ways down the beach. It was some sort of meditative or spiritual gathering with the leader arranging the folks who, though it is not evident in the image, had their arms around one another. I thought of it as some sort of beach seance.
There were lots of interesting comments along with some provocative ones. My very favorite was Eve Turek's. She wrote, "I think our brains (well, ok, my brain!) likes to "make sense" of things. Isn't that an interesting phrase: make sense? Because this IS sense, to me, meaning, sensory. I "see" these colorful tuning forks playing a rhythmic, pleasing melody line. So I look at this image and I "see" music, prompted by the tuning fork association. What did it start out as? Hmmm…sand fence painted in rainbow colors?"
Kudos to Eve.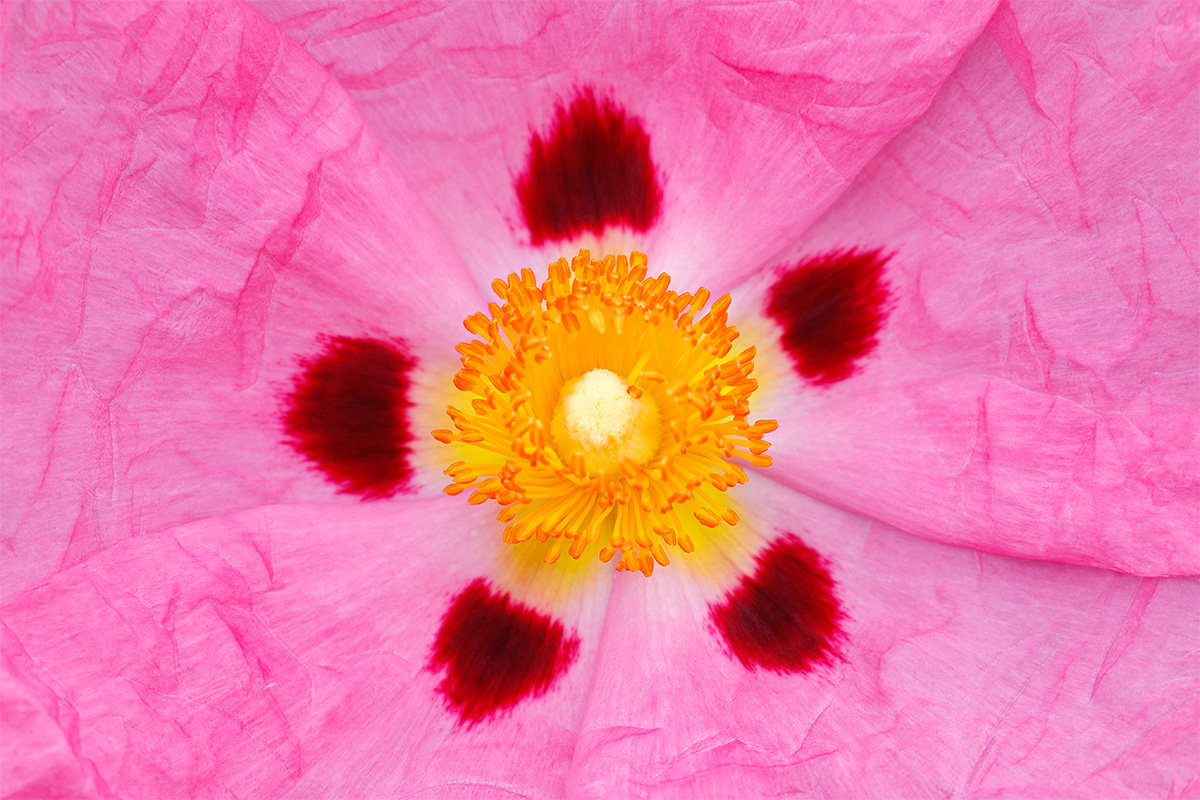 Image #1: Rock Rose 3X2
Rock Rose Lens
In the Rock Rose Lens Quiz post here, I used the 100-400 II, the 1.4X III, and the 7D II. Only Kathy Graff nailed the right rig question. Way to go Kathy.
With what we have learned here about focus breathing it would have been interesting to see if I could have gotten the same framing with the 100-400II and the 7D II alone.
Just for the record books, I preferred the 3×2 version above to the square version by a large margin (as did most but not all of the folks who commented). Who was right about which image was best? Everybody.
Facebook
Be sure to like and follow BAA on Facebook by clicking on the logo link upper right. Tanks a stack!
Support the BAA Blog. Support the BAA Bulletins: Shop B&H here!
We want and need to keep providing you with the latest free information, photography and Photoshop lessons, and all manner of related information. Show your appreciation by making your purchases immediately after clicking on any of our B&H or Amazon Affiliate links in this blog post. Remember, B&H ain't just photography!
…..
Amazon.com
Those who prefer to support BAA by shopping with Amazon may use this link:
Amazon Canada
Many kind folks from north of the border, eh, have e-mailed stating that they would love to help us out by using one of our affiliate links but that living in Canada and doing so presents numerous problems. Now, they can help us out by using our Amazon Canada affiliate link by starting their searches by clicking here. Many thanks to those who have written.
Typos
In all blog posts and Bulletins, feel free to e-mail or to leave a comment regarding any typos or errors. Just be right :).