What's Up?
Just so you know, I sent 79 e-mails today…. Plus swim, core exercises, and a trip to town for grocery shopping. At 7:00pm I enjoyed a very cold ice bath; the water temp was only 58.6 when I got out. I am shivering hard as I type. In all, this blog post, the 83rd in a row without missing a day, took about 3 hours to prepare and was published from my home at ILE at 12:01am on Monday. While I slept. Got nine hours last night.
After a great first half by the Dayton Flyers–it seemed that they could not miss–the juggernaut Lady Huskies of the University of Connecticut, who trailed by one after the first 20 minutes, romped in style. I do not think that they will be beaten…

Azizen Pesach to all of our good friends at B&H
Order Soon to Avoid Lengthy Passover Delays/Please Of Course Use Our B&H Affiliate Link(s)
If you are in a hurry to get some new photo gear, please note that you must place your order before noon on Thursday, April 2. Orders received before then will shipped before the holiday closing. Be sure of course to use our generic B&H link here in the right hand column of the blog or to click on one of our product-specific links. Many thanks for that.
Orders placed after the deadline will not ship until Monday, April 13.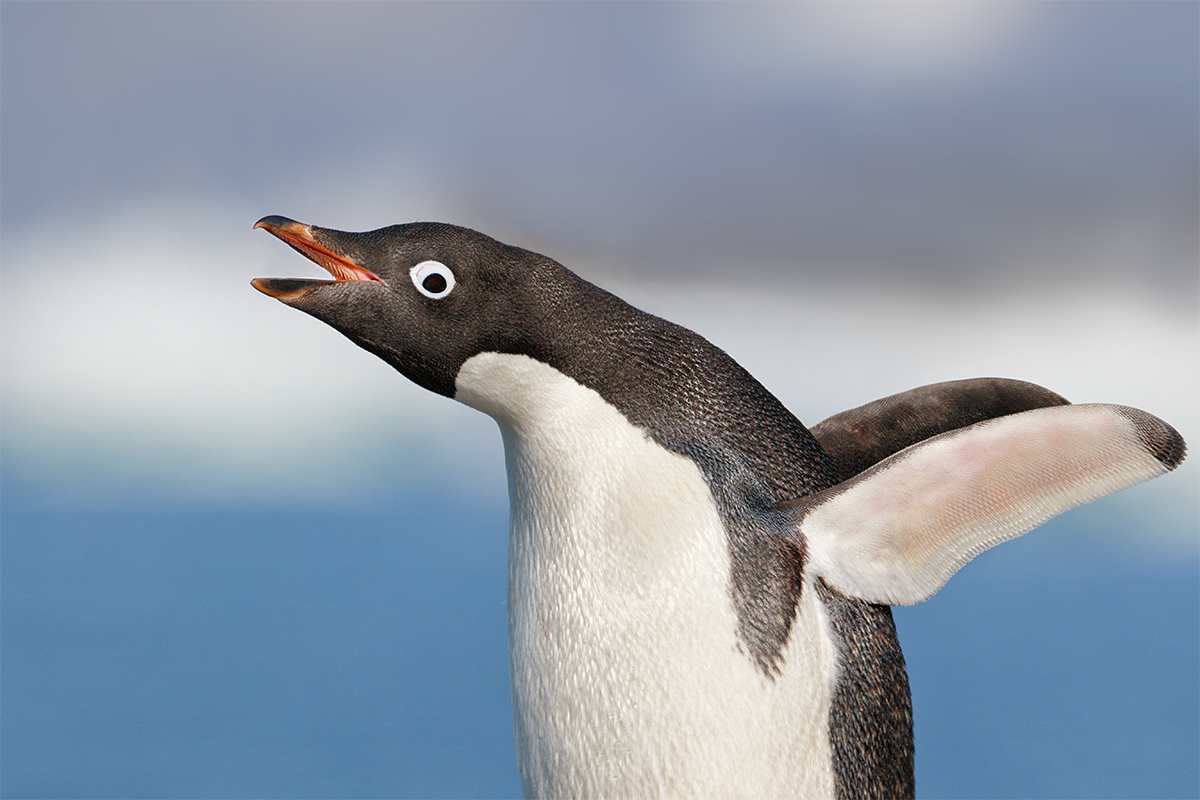 This image was created on the Cheesemans' Southern Ocean 2014/2015 Expedition. Note the perfect framing and the perfect head angle, one to two degrees toward us. Just like I taught him 🙂
Image courtesy of and copyright 2015: Michael Hercules Viljoen

Image #1: Adelie Penguin flapping in place
Meeting and Working with Micheal
I first met Michael Viljoen (say FILL-yoon) on a BAA Katmai Bear Boat IPT about 8 years ago. Even going back that far I remember him sitting next to me aboard the Coastal Explorer soaking up Photoshop, watching me choose my keepers, sharing his best bear images with me, and asking dozens of questions. Not much has changed since then. On our last of many trips together, the Cheesemans' Southern Ocean 2014/2015 Expedition, Michael hung with me even more than the eager beginner, Sally Sue South.
Michael, who has lived his whole life in South Africa, was a good photographer when we first met in Alaska. Over the years he has developed into a superb, world class photographer. If you think that I am exaggerating, check out his portfolios here and let me know what you think. With my rather slow connection, each portfolio took a while to load and view, but each was well worth my while. Michael is great technically and has the eye of an artist. His stuff from Africa is among the best in the world.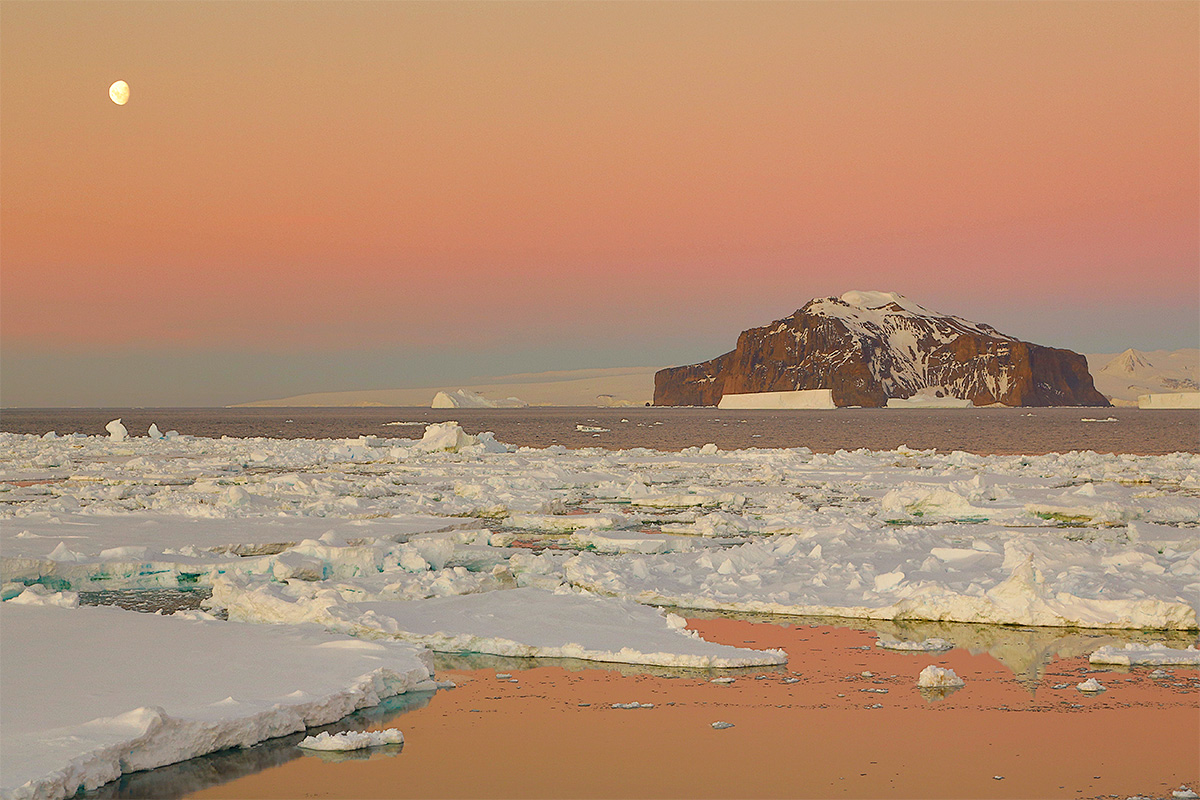 This image was also created on the Cheesemans' Southern Ocean 2014/2015 Expedition. I was exhausted and simply did not have the strength to stay up for the New Year's celebration. I missed nature's celebration….
Image courtesy of and copyright 2015: Michael Hercules Viljoen

Image #2: Icebergs, sea ice, and moon at midnight.
Michael's BAA Group Comments
I have been privileged to have been on two great Cheesemans' Southern Oceans trips and did my booking both times through BIRDS AS ART. So what are the advantages of signing up to be part of the BAA group?
It does not cost you a penny more and there are many benefits. Artie has a lot of experience in the Southern Ocean and an uncanny ability to remember the different landing sites and where the best photo opportunities are at those landings. Prior to each landing he does do a full briefing with his group, advising them on what equipment they need to take for the landing and where they need to be for the best photo opps. He normally does a slide show for the group to highlight what can be expected at the different landings. This is crucial because the time at landings whizzes by, especially at South Georgia where one can be overwhelmed by the numbers and magnitude of the wildlife and easily walk around aimlessly for hours. There is just too much to take in.
Everyone visiting South Georgia wants to optimize the time on the landings rather than wasting time trying to figure out where to be or struggling either because of not having the right lens at hand or having brought too much equipment along. On the landings, artie is always glad to share and to teach. On the last trip, few in the group took advantage of artie on the landings. Folks would see something great and get lost in their own worlds.
Another plus is that artie always keeps an eye on the stern. Whenever there were seabirds following the ship, artie would find the individual group members and alert them. In addition, he is a pretty smart guy. After extensive delays due to high winds we were very late getting to Right Whale Bay. Artie who was late getting to the Zodiacs said to me, "It is getting dark. By the time we land it will be time to head back to the ship." We grabbed our tripods and 70-200 f/2.8s and photographed very successfully for 90 minutes from the decks of the Ortelius….
Between landings and on navigations Artie normally stakes out spot or a corner where he can be found with at his computer, editing or processing images. Anyone who knows artie knows that he cannot help himself–he has to teach. He is always glad to explain his Photoshop workflow and answer any photo-related questions that one might have. And he is always glad to have a look at your keepers and to comment on the goods and the bads.
You can spend as little or as much time sitting next to him as you wish. The more time you spend with him the more massive your learning experience will be. If you have plans to go to South Georgia, book through BAA – there will be a lot of great photography and learning and laughter.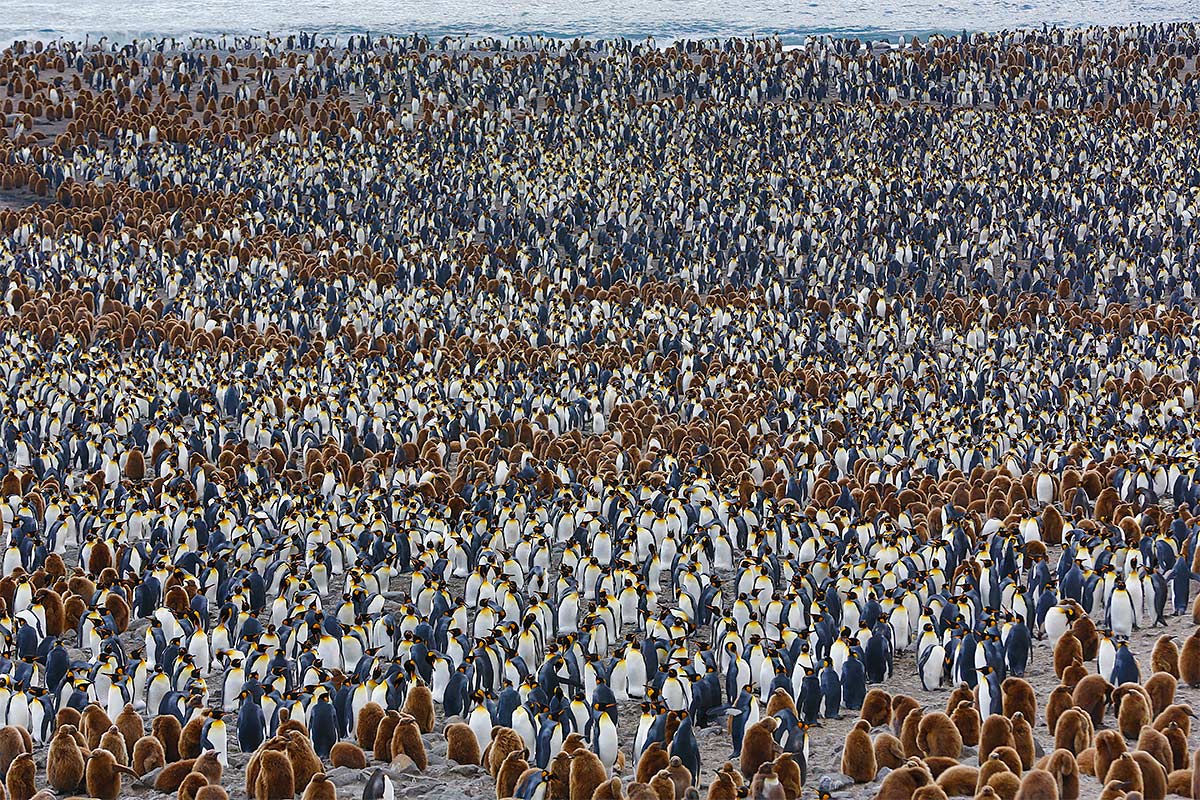 This image was also created on the Cheesemans' Southern Ocean 2014/2015 Expedition.
Image courtesy of and copyright 2015: Michael Hercules Viljoen

Image #3: King Penguin rookery, Salisbury Plain, South Georgia.
South Georgia October 2015
Do consider joining me in South Georgia next October for the trip of a lifetime. If you would like 20+ hours of free Photoshop tutoring and image review click here.
If you are thinking of joining me on the next Cheesemans' South Georgia expedition, be sure to check out Michael's penguin portfolio here.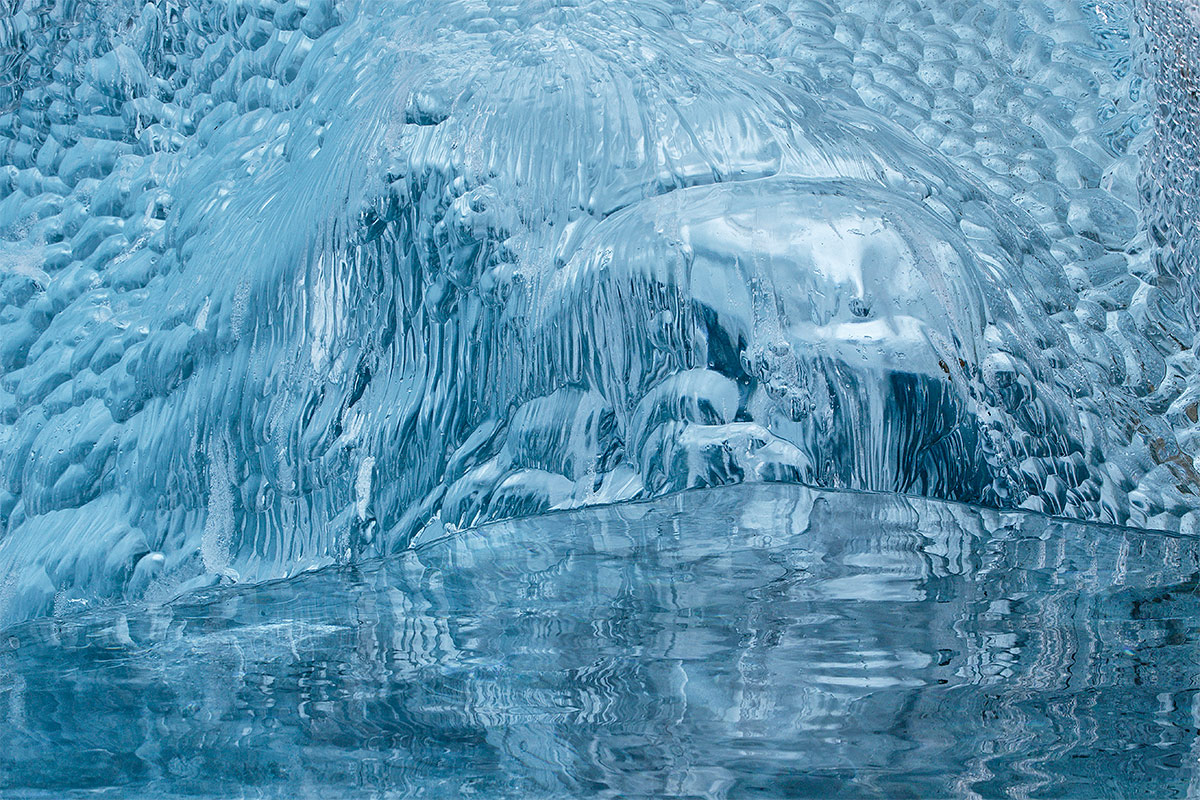 This image was created on the Cheesemans' Southern Ocean 2014/2015 Expedition.
Image courtesy of and copyright 2015: Michael Hercules Viljoen

Image #4: small blue iceberg
About Michael Viljoen
Michael Viljoen, wildlife photographer, was born and bred in South Africa, is truly African at heart, and has a deep-seated love for the last remaining true wilderness areas and it's animals. He uses his photography to express this passion while at the same time trying to create awareness of the urgency of conservation efforts and the need to protect both wildlife and wild habitat.
Michael's passion often takes him to places far removed from the normal pathways, to remote and less travelled destinations, in order to capture animals in their natural environment. This regularly puts him in a situation where he is up close and personal with wild animals and that is why his photos often arouse feelings of intimacy. His images strive to portray another world, one of drama and poignancy where the very souls of the animals seem to be revealed…. with the aim not to only exhibit their beauty but also to highlight their fragility in a world where they are struggling against powerful forces. The human population has an insatiable hunger for land, water and food and is competing with wild animals for these finite resources, often putting whole ecological systems under threat. In Africa especially, poaching is rampant, not only for bush meat but also for ivory and Rhino horn. We are at a crossroads and the sad truth is that if more is not done to save our environment, many of the animals depicted in Michael's photographs will not be there for our children to see and experience.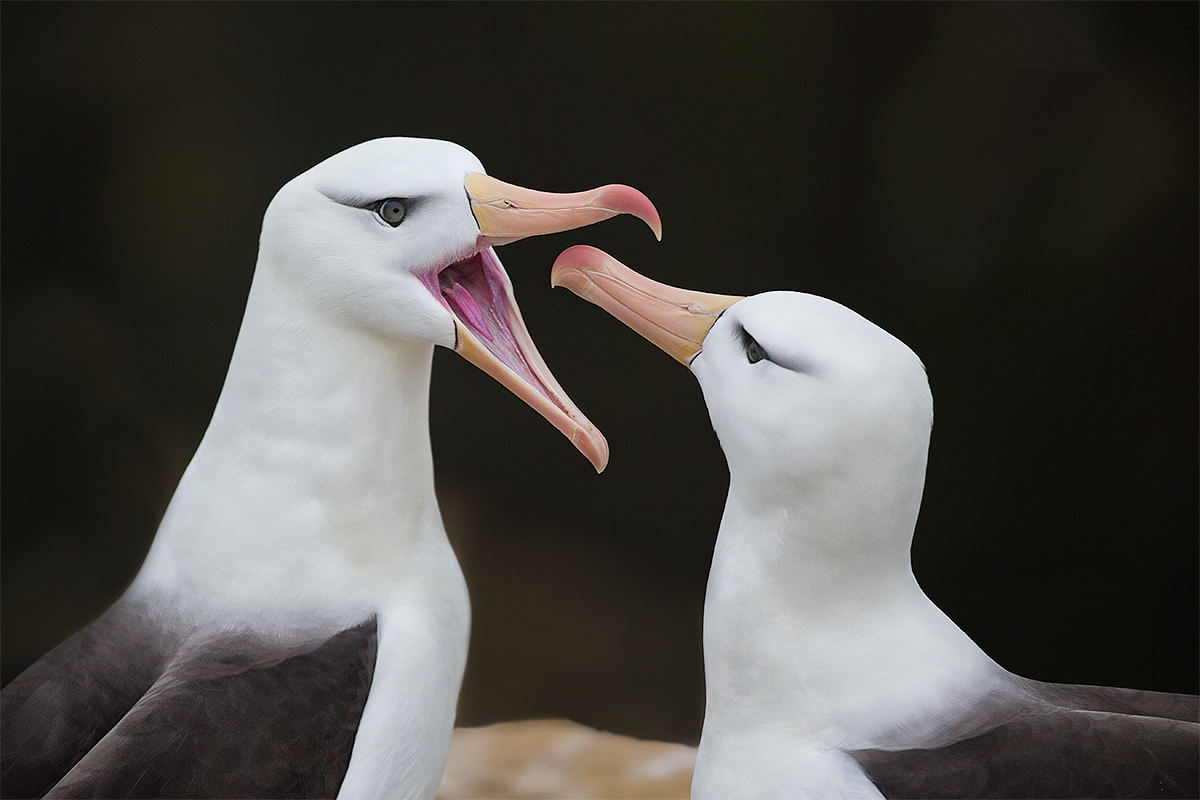 This image was created on the Cheesemans' Southern Ocean 2014/2015 Expedition.
Image courtesy of and copyright 2015: Michael Hercules Viljoen

Image #5: Black-browed Albatross: courting pair
About Michael Viljoen continued…
From an early age Michael was exposed to wildlife and hunting and has spent lots of time in the bush. He has always been a conservationist at heart and transformed from hunter to photographer years ago. His photography is self-taught and he will be the first to tell you that it is a continual learning experience. It is his means to interact with nature and wildlife and his knowledge and understanding of animal behavior gained over many years, give him an edge in capturing photographs with a different and fresh approach. The patience required for wildlife photography is legendary but the allure of capturing a moment of beauty and observing unusual behavior is more than enough motivation for the many hundreds of hours waiting in the bush for the right light or the right moment!
Michael has done work for African Parks, a non-profit organization that is currently managing seven parks totaling 4.1 million hectares in six countries in Africa, with plans to expand to more countries. Working with African Parks, his photographs have been exhibited at prestigious venues in order to raise awareness and also to help with fundraising for conservation projects.
Additionally he has photographed for The Peace Parks Foundation that has played a big role in the creation of various Trans-Frontier Parks in Southern Africa. Currently they are using some of his rhino photographs in the fight against Rhino poaching. Action is needed to preserve our natural world and Michael's hope is that his photographs will inspire people everywhere to join the cause and to help stop the senseless destruction of life and beauty before it is too late.
This image was created on the Cheesemans' Southern Ocean 2014/2015 Expedition.
Image courtesy of and copyright 2015: Michael Hercules Viljoen

Image #6: Weddell's Seal in heaven look
Michael's Southern Ocean Gear Bag
Canon EF 200-400mm f/4L IS USM lens with Internal 1.4x Extender Michael was kind to loan me his 2-4 on occasion.
Canon EF 300mm f/2.8L IS II USM lens Great for flight from the ship.
Canon EF 70-200mm f/2.8L IS II USM lens. Both Michael and I used this lens extensively on the trip with the 7D II often with either the 1.4X III or the 2X II TC.
Canon EF 24-105mm f/4L IS USM zoom lens We often mixed and matched our short zooms as I had both the Canon EF 16-35mm f/4L IS and the Canon EF 24-70mm f/2.8L II along.
Canon 1.4x EF Extender III (Teleconverter) and the Canon 2x EF Extender III (teleconverter). At one point one of Michael's 1.4X III TCs failed so I loaned him one of my three for the duration of the trip.
Like me, Michael used his 7D II almost exclusively for birds and wildlife and his 5D III for scenics. And like me he rarely used his 1D X on the trip.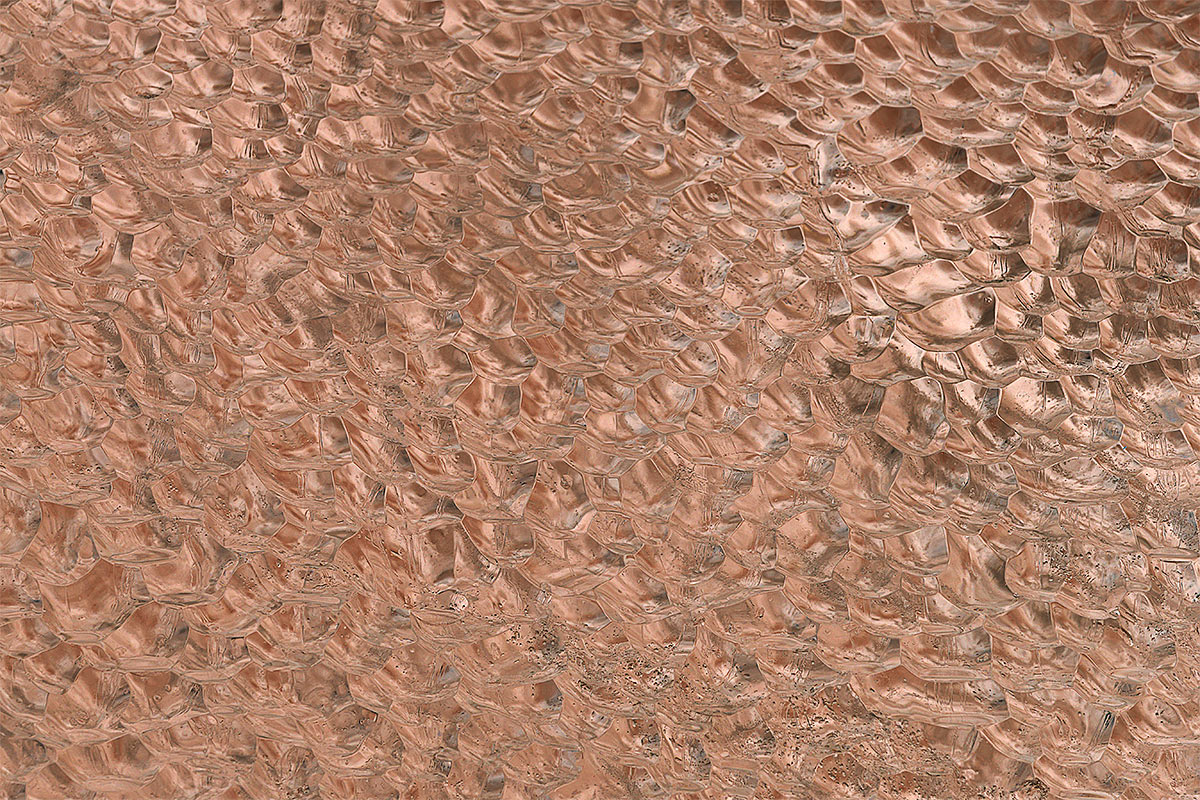 This image was created on the Cheesemans' Southern Ocean 2014/2015 Expedition. I like Michael's creativity here. He inverted the image in Photoshop to turn the BLUEs to Penguin Poop Krill Pink.
Image courtesy of and copyright 2015: Michael Hercules Viljoen

Image #7: Ice patterns, color inverted from blue in Photoshop
Best of All…
Best of all, Michael Viljoen is a really sweetie, a died in the wool happy camper. The only thing more persistent than his cough was his warm, friendly smile. I am trying to convince him to re-up for the 2015 voyage and to bring his son along as well 🙂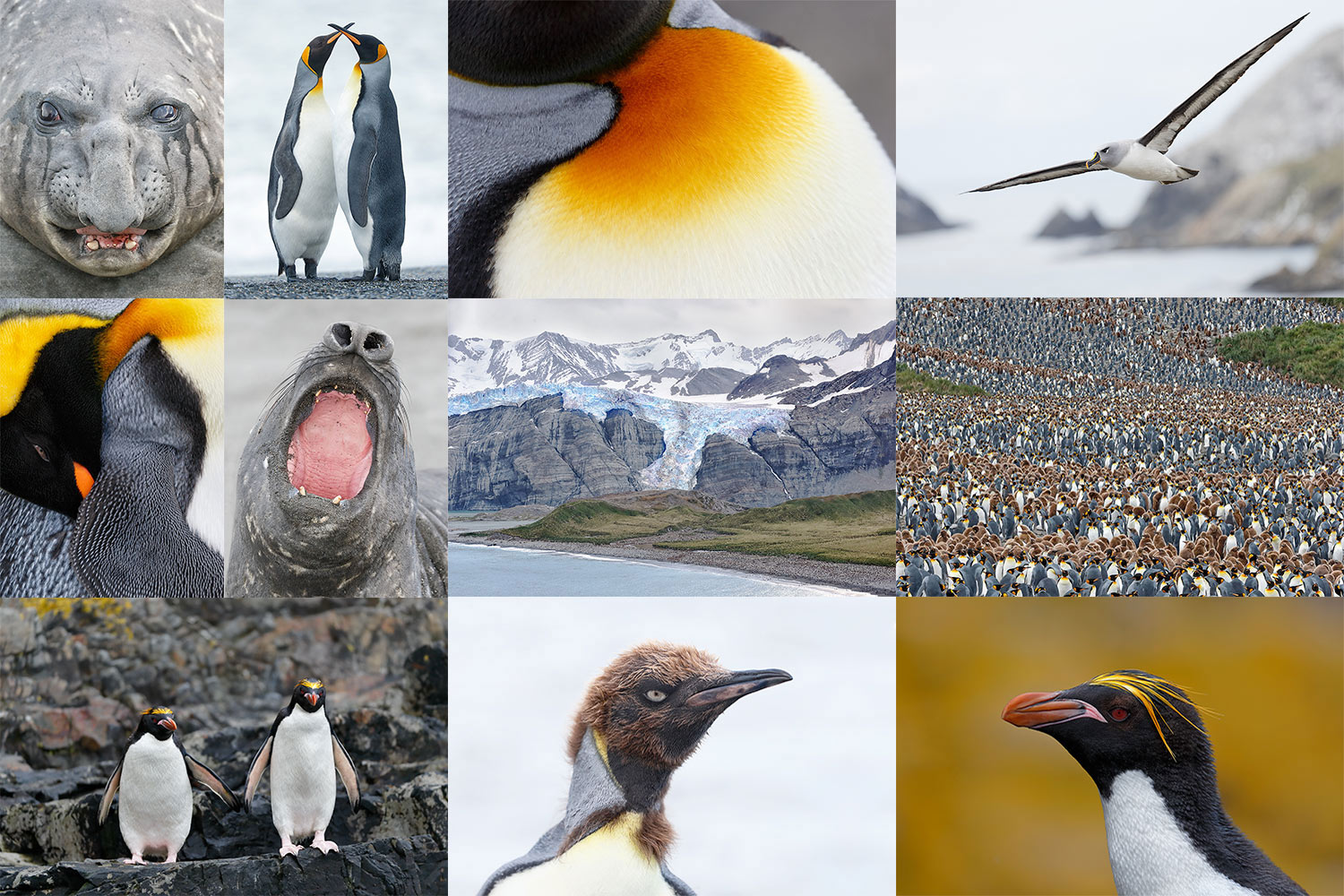 All of the images on the card were made on South Georgia. This remote wilderness island offers both spectacular scenery and hordes of tame wildlife and birds. From top left clockwise to the center: Southern Elephant Seal, courting King Penguin pair, King Penguin abstract, Grey-headed Albatross, King Penguin rookery on Salisbury Plain, Macaroni Penguin head portrait, King Penguin molting Okum Boy, Macaroni Penguin pair, King Penguin preening, Southern Elephant Seal yawning, the view of Gold Harbour from a Light-mantled Sooty Albatross nest.
Click on the image to see an extra large version.
The Southern Ocean
South Georgia Expedition Voyage
I've been blessed. I've now made four trips to the Southern Ocean, three expeditions that visited the Falklands, South Georgia, and the Antarctic Peninsula, and one to the Falklands and South Georgia. Each was a truly amazing experience. South Georgia has been the star of the show each time: rugged snow covered peaks, tame and abundant wildlife including Southern Elephant Seal and Southern Fur Seal, and penguins: more King Penguins than you could ever have dreamed of. Gentoos. And my favorite, the golden-yellow spaghetti-topped Macaronis. With four trips to South Georgi under my belt, I have a pretty good idea about how to make great images at each of the iconic landings. In addition, we should have some pretty good flight photography sessions from the stern of the ship. I would love the chance to share my knowledge with you.
Going Light
On my recent trip, I found myself going with shorter lenses and lighter gear than on any previous Southern Ocean Expedition. In part that was due to the crop factor of the 7D Mark II, in part because going light makes life (and landings!) much easier. I made many landings with just the 7D II and the 70-200mm f/2.8L IS. I refined the way that I got my gear safely from ship to shore. Lots more on that here soon.
Cheesemans' Well Deserved Kudos
I know from personal experience that if you are a photographer who is going to invest in Southern Ocean voyage, you will want to put your money on Cheesemans'. No other tour company goes as far out of their way to ensure making every possible safe landing. And no other tour company will have you spending more time on land. Michael Viljeon from South Africa was aboard the Ortelius on a Southern Oceans voyage that preceded the Cheesemans' trip that we were both on. As we headed back to Ushuaia, he said, "The folks that ran that first trip were pathetic. Too rough. No landing today. Surf too high today. No landing. Wind wrong direction. No landing. Cheesemans' routinely and safely gets folks on land in conditions where the leaders of other tour companies do not even bother getting out of their bunks."
Here, from the" Way to Go CES! (Cheeseman's Ecology Safaris)" blog post here, is one of my favorite Cheesemans' stories:
The landing at Bailey Head, Antarctica, was especially rewarding to me as I had been sitting in a zodiac 100 yards off shore on my 2007 trip when the zodiac in front of mine swamped and the captain of the ship called off the landing…. Early that day it looked as if my weather Karma might not be working. Ted's "Good morning shipmates" was followed by the news that we would not be able to land at Bailey Head that morning as the swell was too big. The beach there is sloped tremendously and the sea strives to pull the zodiacs back into the ocean before folks have gotten off with their gear. Tom Murphy had said to me several days before, "We will get you on the beach at Bailey Head." Ted concluded his morning greetings by saying, "We are sending out a scout team to see if landing is possible."
After breakfast I was thrilled to hear Ted's voice again on the PA, "We will be landing at 8am." Afterwards folks noted that it was the calmest landing ever at this amazingly beautiful spot. My good weather Karma (courtesy of late-wife Elaine) had come through one last time. Along with St. Andrews Bay, it was one of my two favorite super-great once-in-a-lifetime days of the trip. And we even got to enjoy three additional hours at Hannah Point, Antarctica before calling it a wrap and heading for the feared Drake Passage. All thanks to Cheesemans' Ecology Safaris.
Important Notes
#1: If you register directly with CES you MUST remember to let them know that you would like to be part of the BIRDS AS ART group.
#2: Joining the BIRDS AS ART group as above will not cost you one penny.
The Cheesemans' Ecology Safaris South Georgia Expedition Voyage
An in-depth Adventure aboard the Ortelius: October 29 to November 17, 2015
From the CES website:
We are very excited to be able to bring this special in-depth expedition to you. This is a product of years of experience leading voyages to South Georgia and a passion for everything found here. Our itinerary is specifically designed to take advantage of the vibrant early season on South Georgia when snow blankets the mountains and early summer brings special wildlife treats seldom experienced. We will explore vast colonies of King Penguins, elephant seals in their peak of breeding activity, and colonies of Wandering, Gray-headed, Light-mantled, and Black-browed albatross. This cruise allows us many days to explore this truly unique island, the crown jewel of the Antarctic. The landscape filled with expanses of glaciers pouring into the sea provides rare beauty and photogenic impressiveness that words cannot convey. We will enjoy about nine days in the midst of the most beautiful and wildlife-rich island on the planet! Exceptional leadership expertise will enrich your experience throughout the voyage. Our priority on this special expedition is to give you the maximum time possible in the field so you can explore at your own pace during a special time on South Georgia. Come explore South Georgia with us!

I can personally attest to the accuracy of everything above. 🙂
More CES Kudos
From multiple IPT veteran Alan Lillich who (along with wife Pat) was in the BAA group on a 2012 CES voyage with me:
Start with some of the world's best alpine landscapes, add an overwhelming abundance of tolerant wildlife, and finish with tour operators who put you there and give you the freedom to explore. It doesn't get any better.
Questions?
I'd be glad to answer all of your Southern Ocean/Falklands/South Georgia/Antarctica questions. Please leave a comment if you'd like to learn more.
Facebook
Be sure to like and follow BAA on Facebook by clicking on the logo link upper right. Tanks a stack!
Support the BAA Blog. Support the BAA Bulletins: Shop B&H here!
We want and need to keep providing you with the latest free information, photography and Photoshop lessons, and all manner of related information. Show your appreciation by making your purchases immediately after clicking on any of our B&H or Amazon Affiliate links in this blog post. Remember, B&H ain't just photography!
…..
Amazon.com
Those who prefer to support BAA by shopping with Amazon may use this link:
Amazon Canada
Many kind folks from north of the border, eh, have e-mailed stating that they would love to help us out by using one of our affiliate links but that living in Canada and doing so presents numerous problems. Now, they can help us out by using our Amazon Canada affiliate link by starting their searches by clicking here. Many thanks to those who have written.
Typos
In all blog posts and Bulletins, feel free to e-mail or to leave a comment regarding any typos or errors. Just be right :).