Stuff
I went out to Lake Blue Cypress with Clemens van der Werf and his lovely wife Adri. With a west wind and mostly sunny skies it was a tough morning but we worked hard and did find a few good situations. Then it was back to my house for a great lunch of low carb eggplant & haddock parmigiana (made with Romano cheese). That along with a big salad with coconut oil dressing. We ate well and everyone enjoyed it tremendously. Especially the chef. 🙂
Then it was a nap and Masters golf on TV, an afternoon and evening of r & r. This educational blog post, the 94th in a row, took 1 1/2 hours to prepare and was published at one minute after midnight on Sunday.
St. Augustine Short Notice IPT
With just three folks signed up, this trip represents a great opportunity to learn a ton in a great setting. See here for complete details.
South Georgia
Like penguins? Please click here to learn about joining the BIRDS AS ART group on the great Cheesemans' South Georgia Expedition next October.
New Used Gear Listing
Canon EF 24-70 f2.8L II USM Lens
Dave Bourgaize is offering a used Canon EF 24-70 f2.8L II USM lens in excellent condition for $1499.00. The sale includes front lens cover and rear lens cap, EW-88C lens hood, original Canon bag, and insured shipping via UPS Ground to US addresses. Your item will not ship until your check clears unless other arrangements are made. Please contact Dave by e-mail or by phone at (310) 748-9547 (pacific time zone).
I own and use the 24-70II. It is much sharper edge to edge than the lighter, more versatile Canon EF 24-105mm f/4L IS USM lens. I consider the 24-70II a must for serious landscape photographers. As it sells new for $1899 Dave's price is lower than any I have seen for this lens in excellent condition. It should sell immediately.
Used Photography Gear
You can see all the current listings here.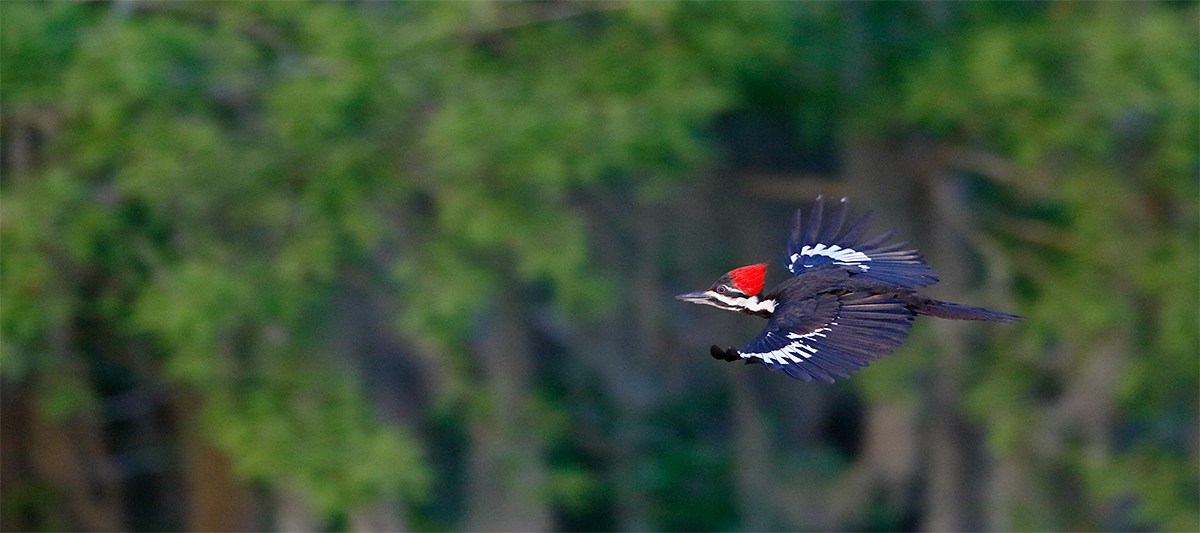 This image was created at Lake Blue Cypress with the hand held Canon EF 200-400mm f/4L IS USM lens with Internal 1.4x Extender (at 400mm) and the Canon EOS 7D Mark II. ISO 1250. Evaluative metering -1 stop off the green BKGR: 1/800 sec. at f/4 Manual mode. AWB.
Center AF point/AI Servo Expand/Shutter Button AF as framed originally (see below) was active at the moment of exposure (as is always best when hand holding). The active AF point was nowhere near the subject. Click on the image to see a larger version.
Pileated Woodpecker flight pano
Your browser does not support iFrame.
Honest Opinions Sought…
Considering that the active AF point was active but was nowhere near the bird this image is actually pretty sharp. At ISO 1250 image quality is suspect at best. Not to mention a relatively large crop. And the fact that the bird is angling slightly away…. All that said I sort of like it.
What do you think?
If you do not like the image, just say so, but please remember there is no need to be nasty. More coming soon on civility on the blog. 🙂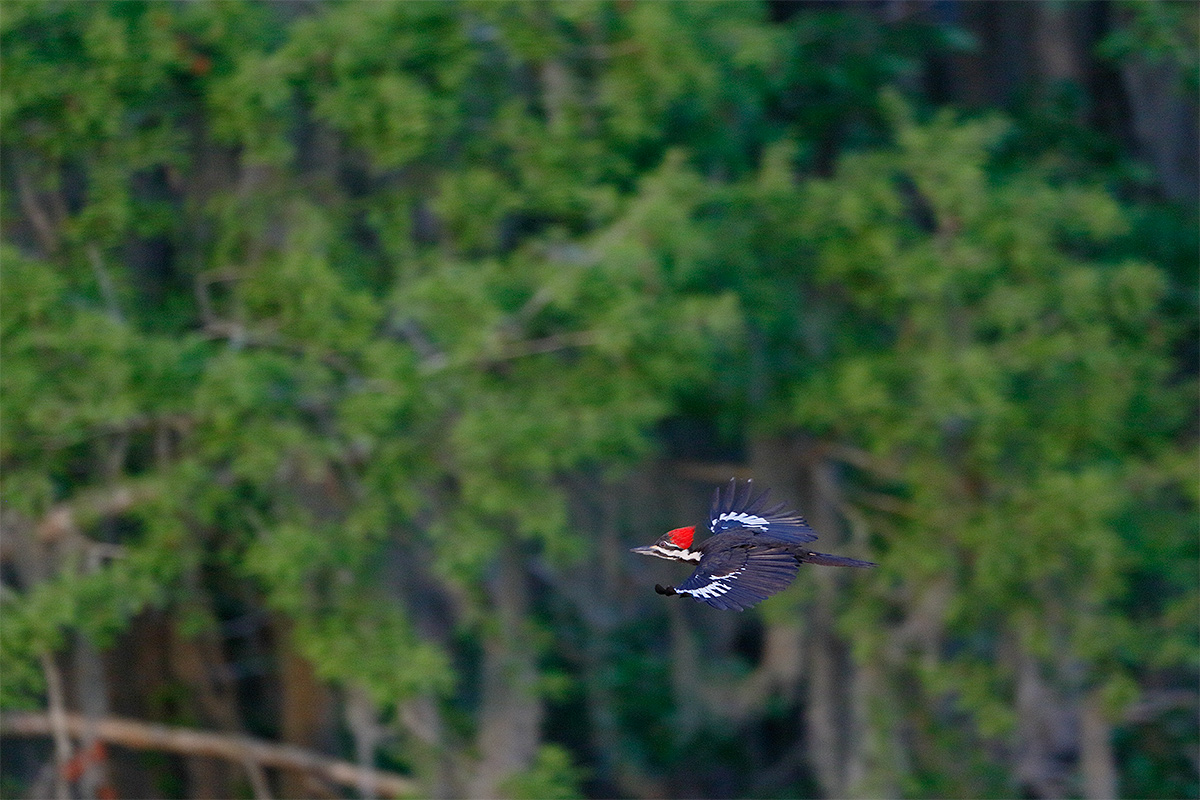 This is the original frame. Note that the center AF point was both active at the moment of exposure and was nowhere near the subject at the moment of exposure.
The Image Optimization
As the dark tones were a mess, I used lots of both luminance and chrominance noise reduction during the RAW conversion in DPP and followed that up with a good dose of Filter > Blur > Surface Blur that I painted away at 50% on the bird using a Regular Layer Mask. Then a bit of Eye Doctor Work, a Contrast Mask to selectively sharpen the whole bird (after selecting it with the Quick Selection Tool), and the pano crop.
All as detailed in the DPP 4 Raw Conversion Guide, Digital Basics, APTATS I, and APTATS II.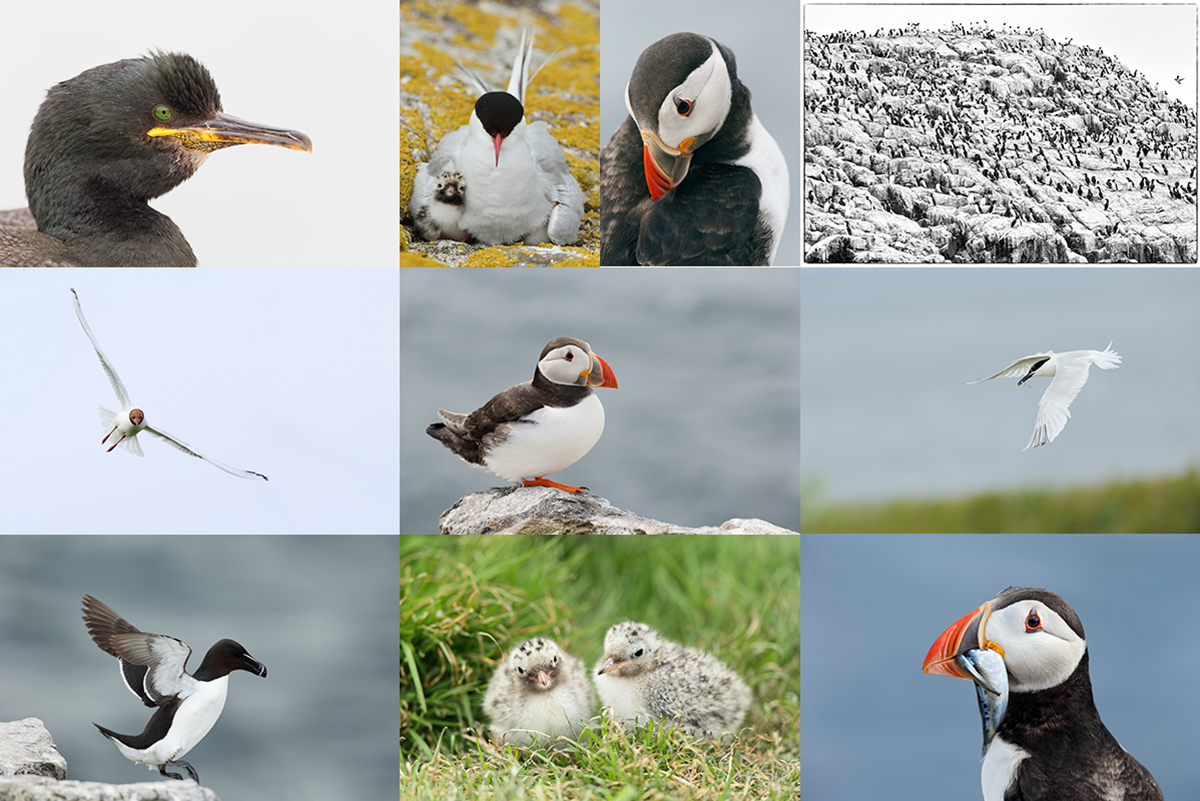 Images and card design copyright 2014: Arthur Morris/BIRDS AS ART. Click on the card to enjoy a spectacular larger version.
Just One Slot Left!
The 2015 UK Puffins and Gannets IPT
June 29 through July 5, 2015: $5499: Limit 10 photographers/One opening due to a recent cancellation. Two great leaders: Denise Ippolito and Arthur Morris.
Here are the plans: take a red eye from the east coast of the US on 28 June arriving in Edinburgh, Scotland on the morning of Monday 29 June (or simply meet us then either at the Edinburgh Airport (EDI) or later in the day at our cottages if you are driving your own vehicle either from the UK or from somewhere in Europe. Stay 7 nights in two gorgeous modern country cottages.
There are 5 days of planned puffin/seabird trips—weather permitting, and 1 full day of gannet photography with 2 sessions on the boat.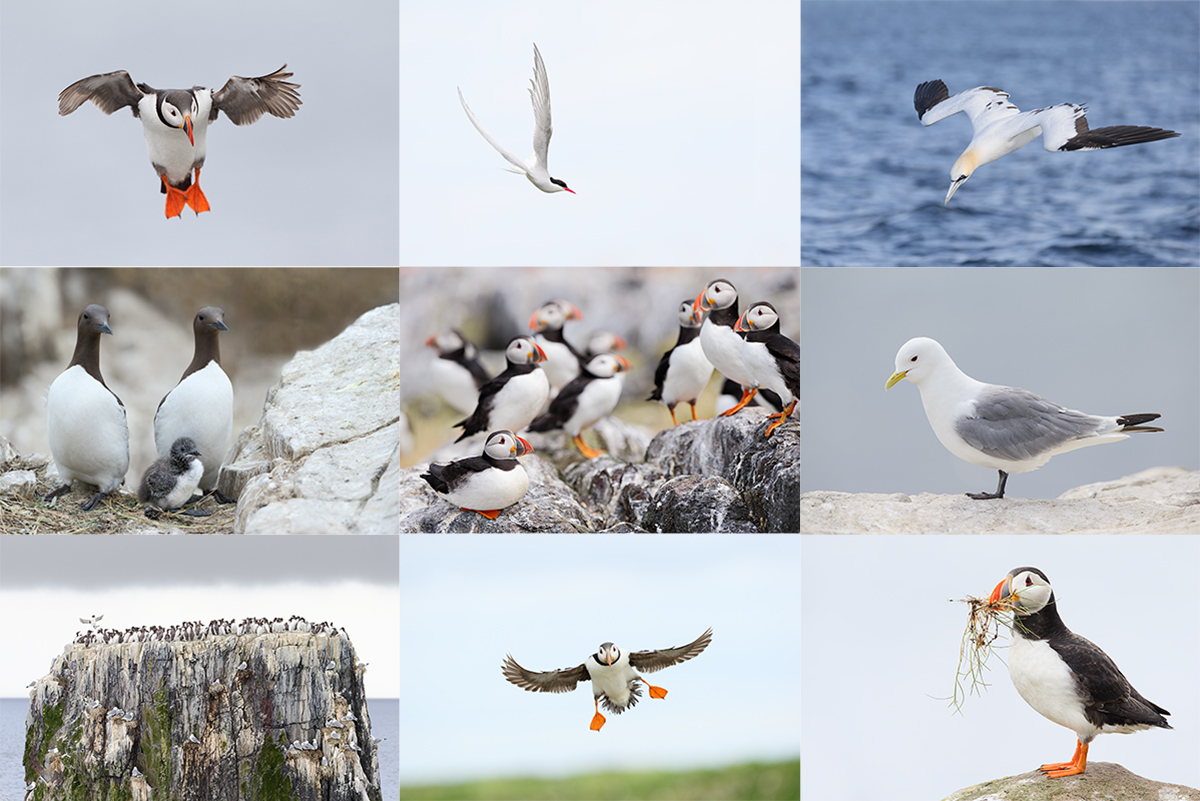 Images and card design copyright 2014: Arthur Morris/BIRDS AS ART. Click on the card to enjoy a spectacular larger version.
The Details
We will be staying in upscale country-side cottages that are beyond lovely with large living areas and lots of open space for image sharing and Photoshop lessons. The shared rooms are decent-sized, each with two roomy single beds and a private bathroom. See the single supplement info below.
All breakfasts, lunches and dinners are included. All 5 puffins boat lunches will need to be prepared in advance, taken with, and consumed at your leisure. I usually eat mine on the short boat trip from one island to the other. Also included is a restaurant lunch on the gannet boat day and a farewell fine dining thank you dinner. The cost of your National Heritage Trust is also included; that covers the twice a day landing fees.
Plan to fly home on the early morning of Monday 6 July or to continue your stay or travels.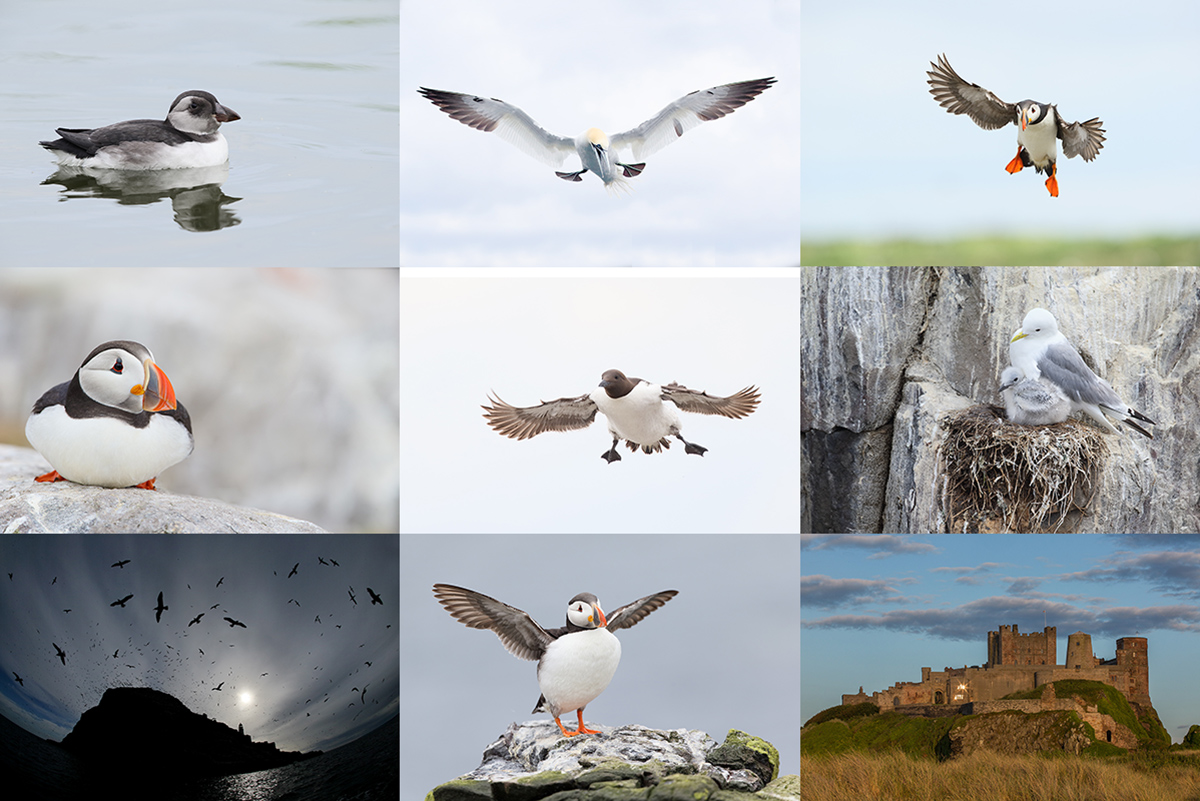 Images and card design copyright 2014: Arthur Morris/BIRDS AS ART. Click on the card to enjoy a spectacular larger version. Scroll down to join us in the UK in 2015.
Single Supplement Info
The single supplement is $1475. As we will be renting a third cottage the $1475 is due with your deposit and is also non-refundable.
If you are good to go please send your $2,000 deposit check now to save a spot. The balance will be due on March 29, 2015. Please make your check out to "Arthur Morris" and send it to Arthur Morris/BIRDS AS ART, PO Box 7245, Indian Lake Estates, FL, 33855. If you cancel and the trip fills, we will be glad to apply a credit applicable to a future IPT for the full amount less a $100 processing fee. If we do not receive your check for the balance on or before the due date we will try to fill your spot from the waiting list. Whether or not your spot is filled, you will lose your deposit. If not, you can secure your spot by paying your balance.
We do hope that you can join us.
Facebook
Be sure to like and follow BAA on Facebook by clicking on the logo link upper right. Tanks a stack!
Support the BAA Blog. Support the BAA Bulletins: Shop B&H here!
We want and need to keep providing you with the latest free information, photography and Photoshop lessons, and all manner of related information. Show your appreciation by making your purchases immediately after clicking on any of our B&H or Amazon Affiliate links in this blog post. Remember, B&H ain't just photography!
…..
Amazon.com
Those who prefer to support BAA by shopping with Amazon may use this link:
Amazon Canada
Many kind folks from north of the border, eh, have e-mailed stating that they would love to help us out by using one of our affiliate links but that living in Canada and doing so presents numerous problems. Now, they can help us out by using our Amazon Canada affiliate link by starting their searches by clicking here. Many thanks to those who have written.
Typos
In all blog posts and Bulletins, feel free to e-mail or to leave a comment regarding any typos or errors. Just be right :).