Stuff
I went down to the lake this morning and photographed from my SUV for a while. Not bad, not great. Then a nice swim and my core exercises. Then another afternoon of Masters golf on TV; congrats to the young champ, Jordan Spieth on a great performance.
This educational blog post, the 95th in a row, took 2 hours to prepare and was published at one minute after midnight on Monday.
St. Augustine Short Notice IPT
With just three folks signed up, this trip represents a great opportunity to learn a ton in a great setting. See here for complete details.
South Georgia
Like penguins? Please click here to learn about joining the BIRDS AS ART group on the great Cheesemans' South Georgia Expedition next October.
New Used Gear Listing
Canon EF 24-70 f2.8L II USM Lens
Dave Bourgaize is offering a used Canon EF 24-70 f2.8L II USM lens in excellent condition for $1499.00. The sale includes front lens cover and rear lens cap, EW-88C lens hood, original Canon bag, and insured shipping via UPS Ground to US addresses. Your item will not ship until your check clears unless other arrangements are made. Please contact Dave by e-mail or by phone at (310) 748-9547 (pacific time zone).
I own and use the 24-70II. It is much sharper edge to edge than the lighter, more versatile Canon EF 24-105mm f/4L IS USM lens. I consider the 24-70II a must for serious landscape photographers. As it sells new for $1899 Dave's price is lower than any I have seen for this lens in excellent condition. It should sell immediately.
Used Photography Gear
You can see all the current listings here.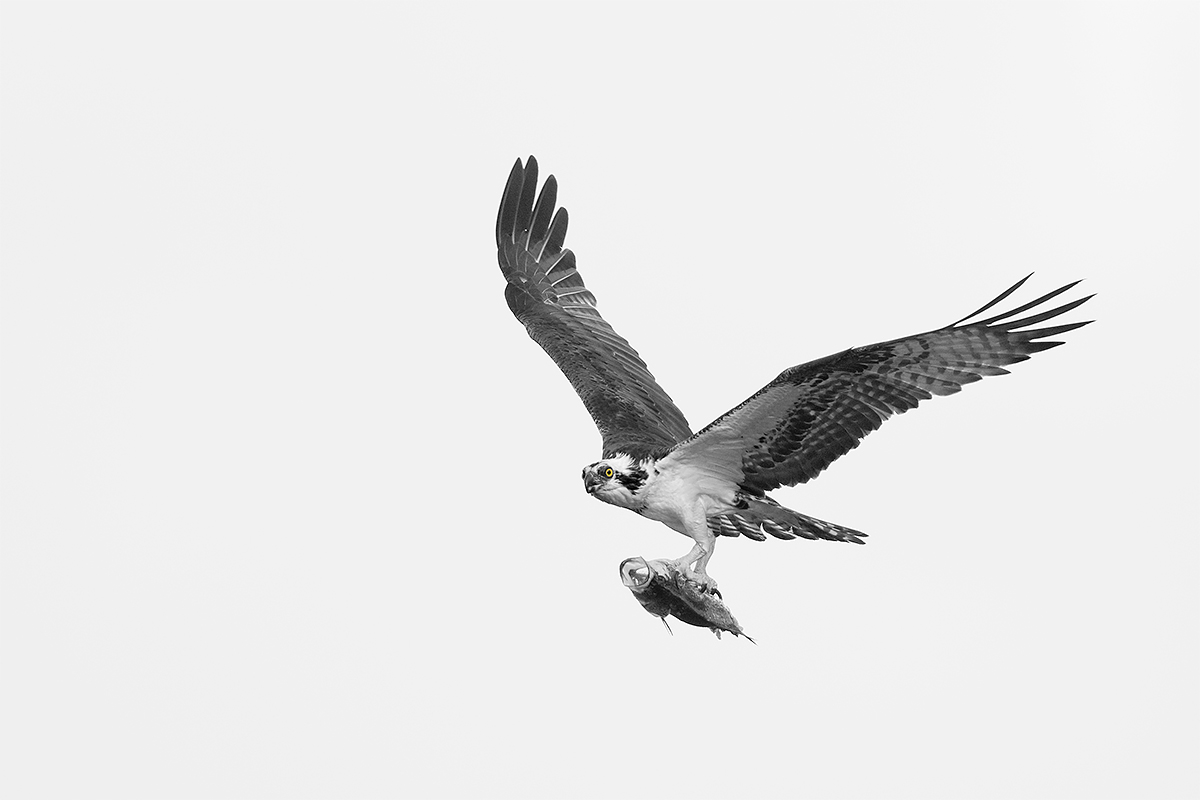 This image was created Lake Blue Cypress with the hand held Canon EF 300mm f/2.8L IS II USM lens and the Canon EOS 7D Mark II. ISO 400. Evaluative metering +2 2/3 stops off the white sky: 1/2000 sec. at f/2.8.
Center AF point/AI Servo Expand/Shutter Button AF as originally framed was active at the moment of exposure (as is always best for flight photography). The active sensor was on the left side of the bird's face. Click on the image to see a larger version.
Image #1: Osprey black & white NIK Silver EFEX Pro Neutral
Your browser does not support iFrame.
Why Wide Open for Flight?
Most of the time when doing flight photography I will work wide open or close to it. Here, I went wide open to the max at f/2.8. To my eye, the depth-of-field is more than sufficient to cover the whole bird from wingtip to wingtip.
Here are the reasons in no particular order that I work wide open or close to it when doing flight photography:
1: The wider the aperture at a given ISO the faster the shutter speed. Fast shutter speeds are ideal for flight photography. My good friend Ned Harris, a skilled and oft-published hawks in flight photographer, once said to me, "If I could work at 1/8000 sec. all the time for flight photography I would do just that."
2: Working at the widest aperture will always let you used the lowest ISO for a given shutter speed (always assuming that you are exposing to the right–as I did here in an extreme low-light situation–in order to come up with a good exposure).
3-In most flight photography situations the birds are far enough away to ensure sufficient depth-of-field to cover the entire bird. Remember that as camera to subject distance increases, depth-of-field increases. For me, the myth of stopping down either one full stop or always working at f/8 is pretty much bad advice. A secondary factor here that bolsters my argument is that though you would typically want more depth-of-field when working close to a lens's minimum focusing distance, depth of field at close range is minimized…. In other words, stopping down in these situations will not help you much anyway….
Here is an example. With a 7D II and the 300 II the total depth-of-field at 60 feet at f/2.8 is 1.29 feet. Stopping down one full stop brings that to 1.82 feet. Stopping down two full stops costs brings you to 2.58 feet. In today's example you would need to increase from ISO 400 to ISO 1600 to maintain the same shutter speed…. Values approximate from Depth of Field Master.com.
Why Go Black and White with this Image?
With this particular image, I was not able to get the dark tones just right no matter how hard I tried to balance the color. The BLACKs were too RED…. So B&W was a fairly obvious choice. But what is an Osprey without those staring yellow eyes?
The Staring Yellow Eye
This color of this Osprey's staring yellow eye was restored by applying Silver EFEX Pro on a separate layer, adding a Regular Layer Mask, and then painting the eye color back in: BDX with B = Brush, D = Default, and X = Switch Background and Foreground Colors. BDX is a mnemonic device that I created that helped me understand layer masking. To restore with a Regular Layer Mask hit BDX. After a while you will come to understand that you are painting with black on a white mask to reveal the stuff below. To restore with an Inverse (Black, or Hide-All Mask), hit BD…. Do check out "Layer Masking for Dummies" in my Digital Basics File.
All of the above plus the Eye Doctor, Selective Color, and Contrast Mask work that I did during the optimization is covered in detail in my Digital Basics File. Advanced Quick Masking and Layer Masking techniques are detailed in APTATS I and APTATS II respectively. Buy both here and save $15!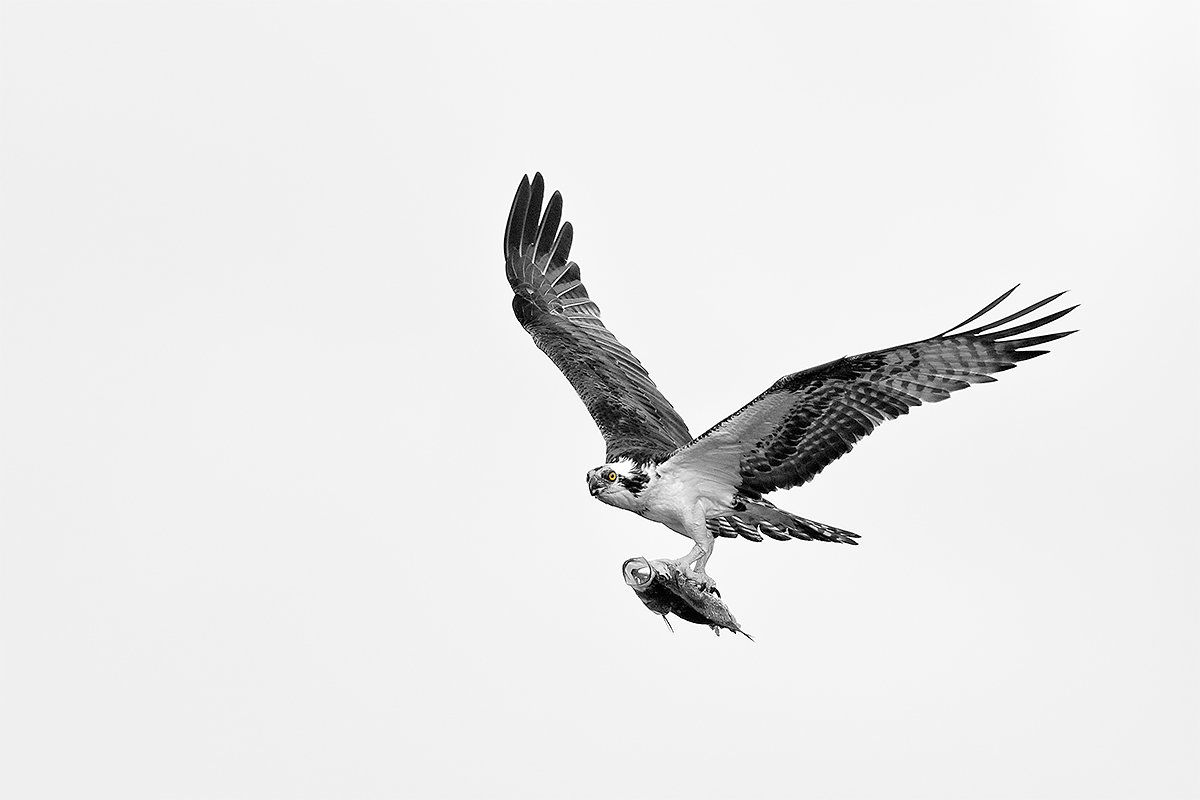 Image #2: Osprey black & white NIK Silver EFEX Pro High Structure
Your browser does not support iFrame.
NIK Silver EFEX Pro
NIK Silver EFEX Pro 2 offers a choice of 38 pre-sets. I often use Neutral (for Image #1), High Structure (for Image #2), and Wet Rocks. Which version do you prefer with today's image?
Wing Position Question
Which wing position is far less than ideal, the near wing or the far wing? What would have been better?
Osprey Meal Note
Osprey's normally eat the head of the fish first. This is the first one ever that I saw that ate the tail first. I'd encourage all Ospreys to do the same as the resulting images are far more appealing.
I believe that the fish here is a Largemouth Bass. Corrections or confirmations welcome.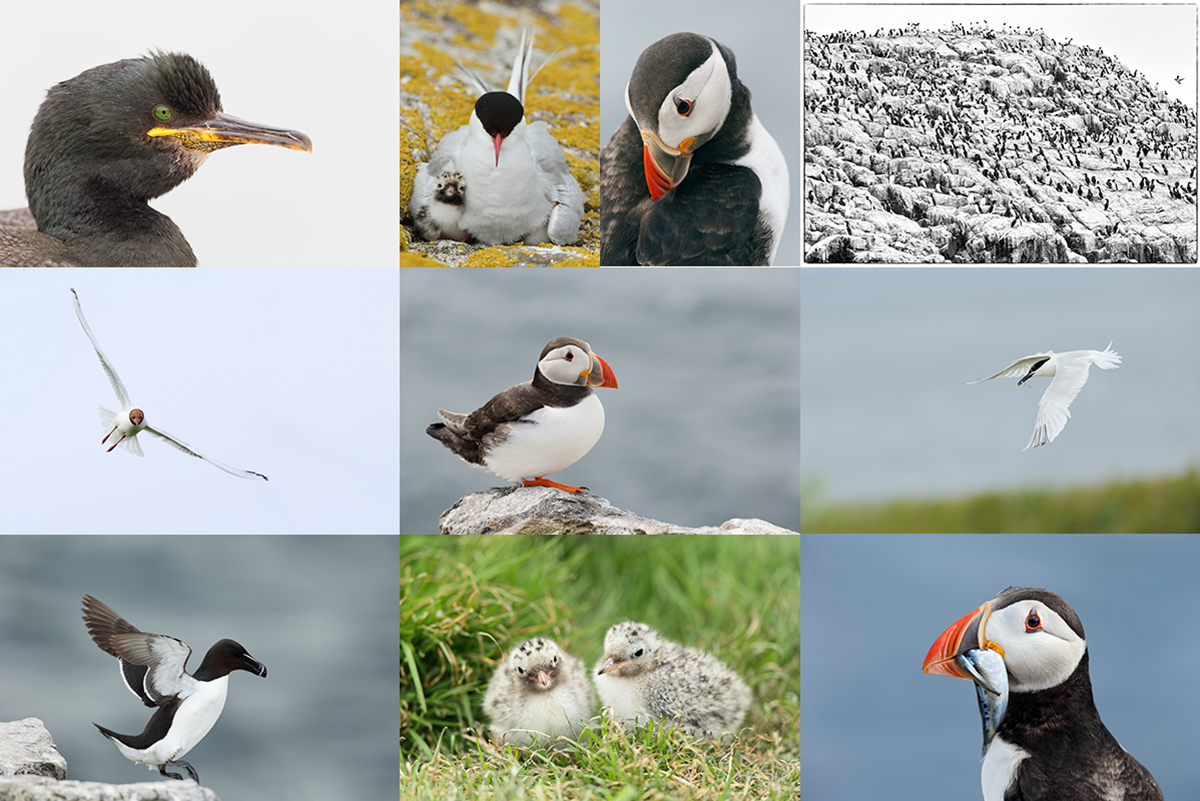 Images and card design copyright 2014: Arthur Morris/BIRDS AS ART. Click on the card to enjoy a spectacular larger version.
Just One Slot Left!
The 2015 UK Puffins and Gannets IPT
June 29 through July 5, 2015: $5499: Limit 10 photographers/One opening due to a recent cancellation. Two great leaders: Denise Ippolito and Arthur Morris.
Here are the plans: take a red eye from the east coast of the US on 28 June arriving in Edinburgh, Scotland on the morning of Monday 29 June (or simply meet us then either at the Edinburgh Airport (EDI) or later in the day at our cottages if you are driving your own vehicle either from the UK or from somewhere in Europe. Stay 7 nights in two gorgeous modern country cottages.
There are 5 days of planned puffin/seabird trips—weather permitting, and 1 full day of gannet photography with 2 sessions on the boat.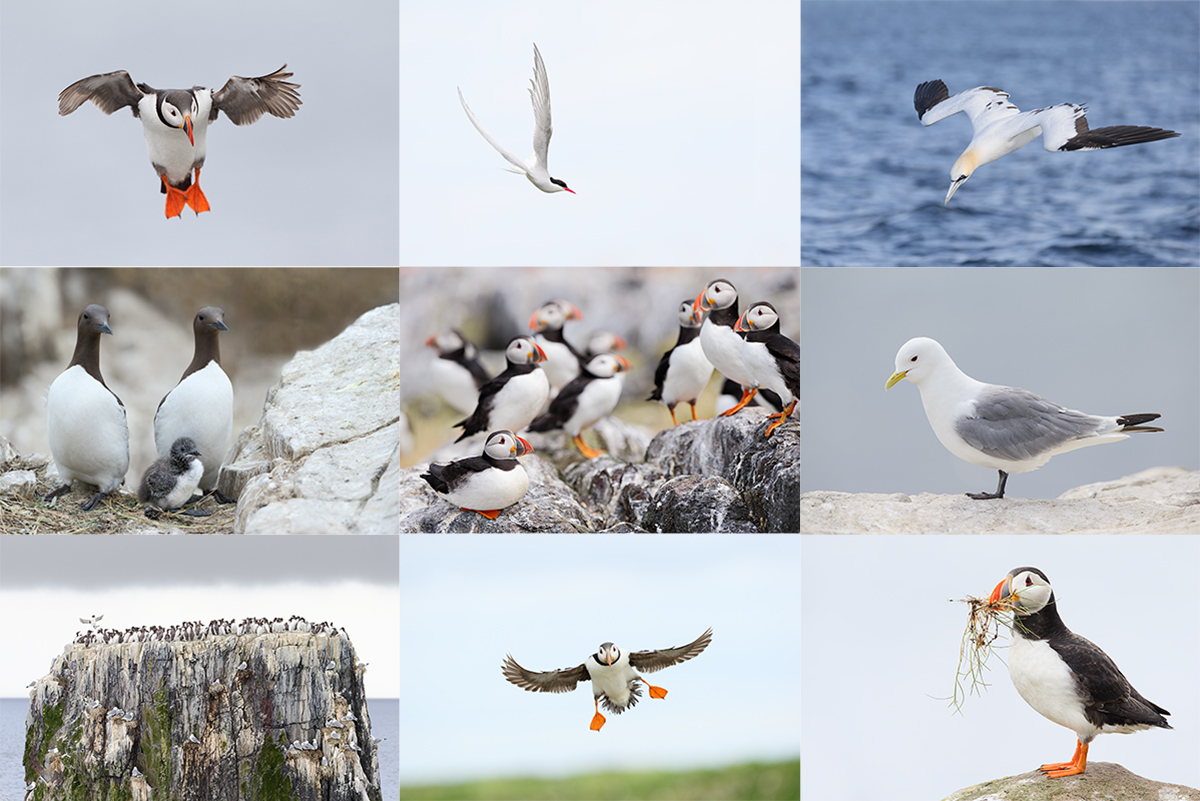 Images and card design copyright 2014: Arthur Morris/BIRDS AS ART. Click on the card to enjoy a spectacular larger version.
The Details
We will be staying in upscale country-side cottages that are beyond lovely with large living areas and lots of open space for image sharing and Photoshop lessons. The shared rooms are decent-sized, each with two roomy single beds and a private bathroom. See the single supplement info below.
All breakfasts, lunches and dinners are included. All 5 puffins boat lunches will need to be prepared in advance, taken with, and consumed at your leisure. I usually eat mine on the short boat trip from one island to the other. Also included is a restaurant lunch on the gannet boat day and a farewell fine dining thank you dinner. The cost of your National Heritage Trust is also included; that covers the twice a day landing fees.
Plan to fly home on the early morning of Monday 6 July or to continue your stay or travels.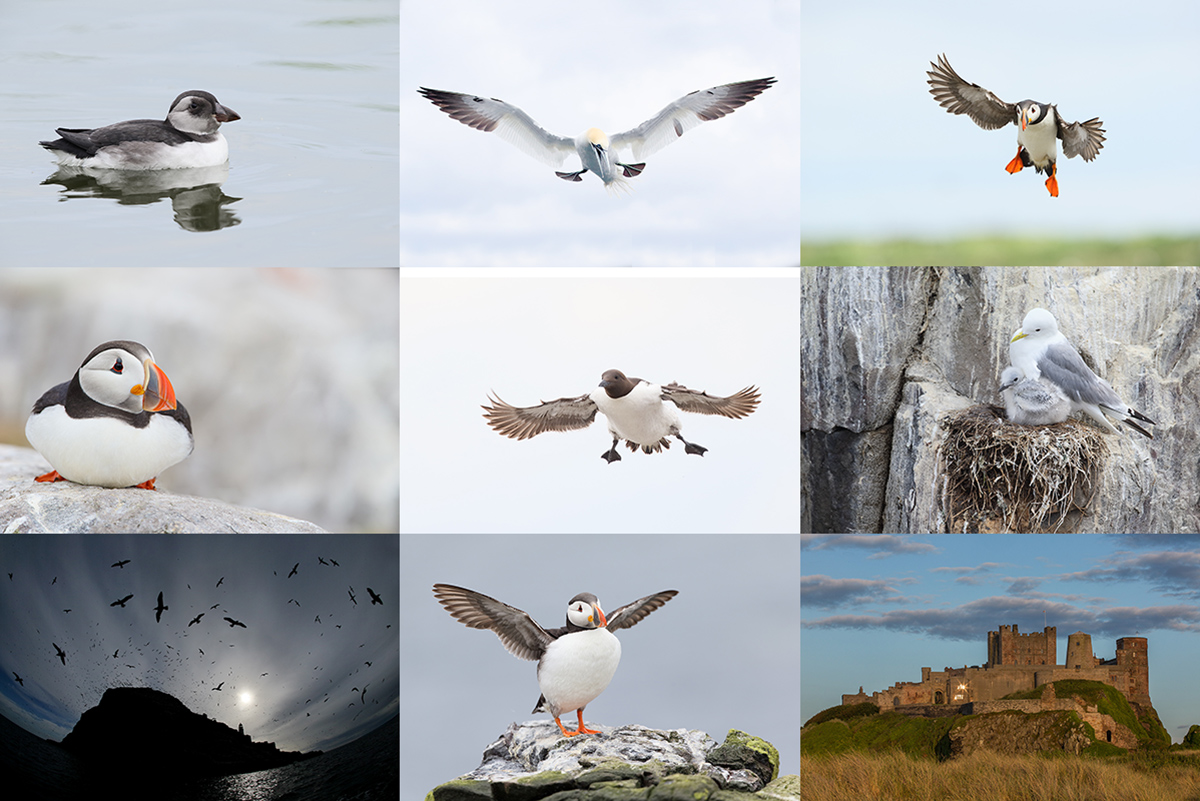 Images and card design copyright 2014: Arthur Morris/BIRDS AS ART. Click on the card to enjoy a spectacular larger version. Scroll down to join us in the UK in 2015.
Single Supplement Info
The single supplement is $1475. As we will be renting a third cottage the $1475 is due with your deposit and is also non-refundable.
If you are good to go please send your $2,000 deposit check now to save a spot. The balance will be due on March 29, 2015. Please make your check out to "Arthur Morris" and send it to Arthur Morris/BIRDS AS ART, PO Box 7245, Indian Lake Estates, FL, 33855. If you cancel and the trip fills, we will be glad to apply a credit applicable to a future IPT for the full amount less a $100 processing fee. If we do not receive your check for the balance on or before the due date we will try to fill your spot from the waiting list. Whether or not your spot is filled, you will lose your deposit. If not, you can secure your spot by paying your balance.
We do hope that you can join us.
Facebook
Be sure to like and follow BAA on Facebook by clicking on the logo link upper right. Tanks a stack!
Support the BAA Blog. Support the BAA Bulletins: Shop B&H here!
We want and need to keep providing you with the latest free information, photography and Photoshop lessons, and all manner of related information. Show your appreciation by making your purchases immediately after clicking on any of our B&H or Amazon Affiliate links in this blog post. Remember, B&H ain't just photography!
…..
Amazon.com
Those who prefer to support BAA by shopping with Amazon may use this link:
Amazon Canada
Many kind folks from north of the border, eh, have e-mailed stating that they would love to help us out by using one of our affiliate links but that living in Canada and doing so presents numerous problems. Now, they can help us out by using our Amazon Canada affiliate link by starting their searches by clicking here. Many thanks to those who have written.
Typos
In all blog posts and Bulletins, feel free to e-mail or to leave a comment regarding any typos or errors. Just be right :).