Stuff
Slept well again. Acupuncture, swim, core exercises, and ice bath. And it is looking like early to bed.
This blog post, the 98th in a row, took about 1 1/2 hours to prepare and was published at one minute after midnight on Thursday.
Passover is Over
B&H is now accepting and shipping orders.
Please Remember to use our Affiliate Links 🙂
To show your appreciation for my continuing efforts here, we ask, as always, that you use our the B&H and Amazon affiliate links on the right side of the blog for all of your purchases. B&H is recommended for you major photography gear purchases, Amazon for your household, entertainment, and general purpose stuff. Please check the availability of all photographic accessories in the BIRDS AS ART Online Store, especially the Mongoose M3.6 tripod heads, Gitzo tripods, Wimberley heads and plates, LensCoats and accessories, and the like. We sell only what I have used, have tested, and can depend on. We will not sell you junk. We know what you need to make creating great images easy and fun. And we are always glad to answer your gear questions via e-mail. I just learned that my account was suspended during my absence; it should be up and running by Monday at the latest.
I would of course appreciate your using our B&H affiliate links for all of your major gear, video, and electronic purchases. For the photographic stuff mentioned in the paragraph above we, meaning BAA, would of course greatly appreciate your business. Here is a huge thank you to the many who have been using our links on a regular basis and visiting the BAA Online store as well.
Civility and Freedom of Speech on the BIRDS AS ART BLOG
As most would surmise, I am pretty proud of the work that I do here on the blog. I enjoy teaching and I enjoy sharing. Though some think not, I am fine if you do not like an image. In fact, there have been a few that I posted recently that I did not think much of. If you don't like an image, just say so. There is however, no reason to go out of your way to be nasty or to try to be insulting. Those who opt for the latter are in truth only insulting themselves.
It is imperative that folks who opt to leave a comment be civil. Folks who visit and comment regularly would be given a bit of slack, but I cannot even recall a situation where that was necessary. Nasty comments almost always come from folks who are commenting for the first time. It's good to know that some folks have such miserable lives that they feel the need to take time out of their busy days to be nasty, or as Denise Ippolito calls it, "snarky."
Folks who comment for the first time have their comments sent to a Moderation page where they might be approved, replied to, trashed, or spammed. The vast majority are approved or replied to. If you are spammed, you will likely be unable to post a comment. Not too long ago a first time poster wrote something to the effect that I should stick to photography, that nobody wanted to read about my grandkids or my health. I thought, it's my blog. I will write about what I want to write about. I had no qualms about spamming him instantly. If you choose to visit my home, please play nice.
Freedom of speech on the blog? There is none.
A Negative but Civil Comment
A first time poster left this comment at BAA Bulletin #473 here:
In my opinion the photo is not worth optimizing. Sea lions are cute animals, this image, although a great pose, makes them look slimy and not endearing to the viewer. The optimized image, although better, still is not good enough to represent what I think of as an elegant animal.
Though I disagreed in part as I feel that sometimes by trying you can either learn something or surprise yourself by working on a very poor image, I was fine with the fact that the poster did not like the optimized image. Heck, I did not think much of it either.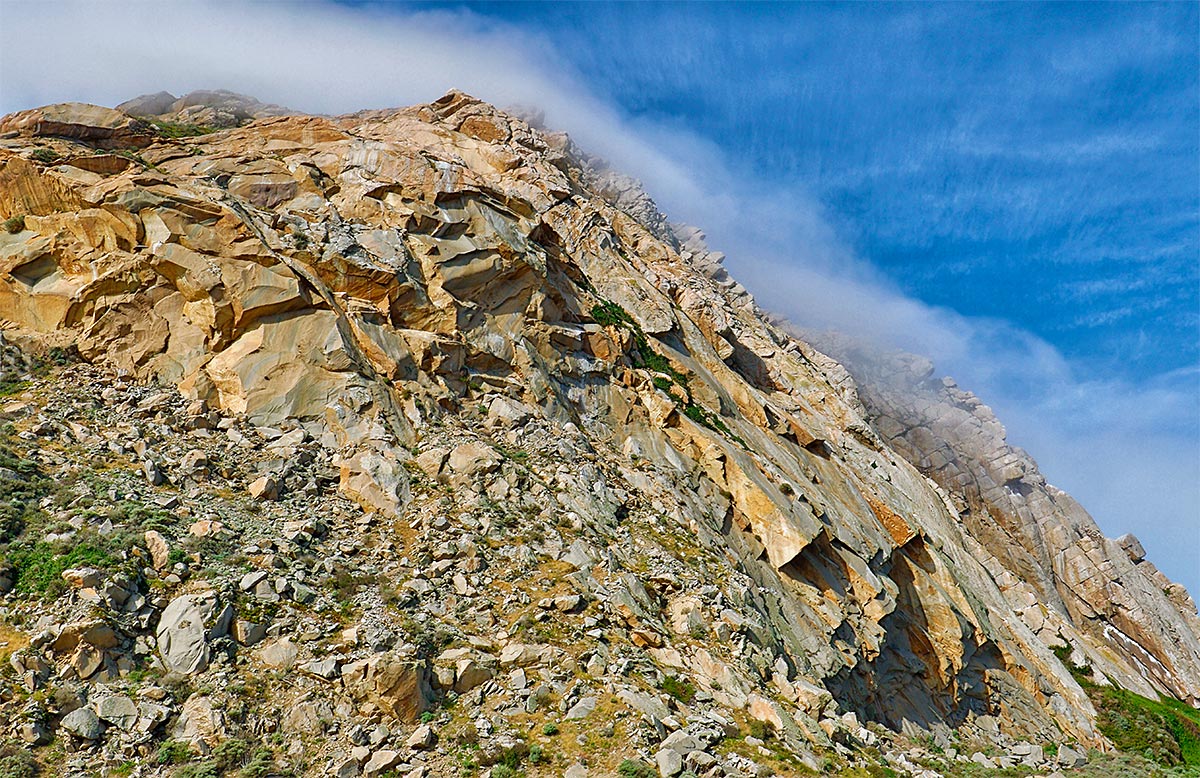 This in-camera HDR image was created at Morro Bay with the hand held Canon EF 16-35mm f/4L IS USM lens (at 16mm) and the amazing Canon EOS 7D Mark II. ISO 400. Evaluative metering +2/3 stop yielded a base exposure of: 1/100 sec. at f/22 in Av mode. AWB. With the 77mm Singh-Ray warming circular polarizer set to dark.
Center AF point/AI Servo Expand/Rear Focus AF one-third of the way up the rock on the right side and re-compose. Click here to see the latest version of the Rear Focus Tutorial. Click on the image to see a larger version.
Image: Morro Rock with fog.
Your browser does not support iFrame.
A Not-too-good Image of Morro Rock
In the blog post here, which featured the in-camera HDR image of Morro Rock, someone who had never commented before left this comment:
"I'd stick to birds if I were you. That is just not a very good shot and just a terrible way to go about it. You clearly know how to use Photoshop so why on earth would you use crappy in-camera HDR. Also even the 7D Mark II APS-C sensor has enough dynamic range to get that shot in one exposure."
I spammed him for being unnecessarily nasty. Was I being too sensitive?
A comment like this would have worked well for me:
That is just not a very good shot. It would have been better if you had created an HDR from three separate images.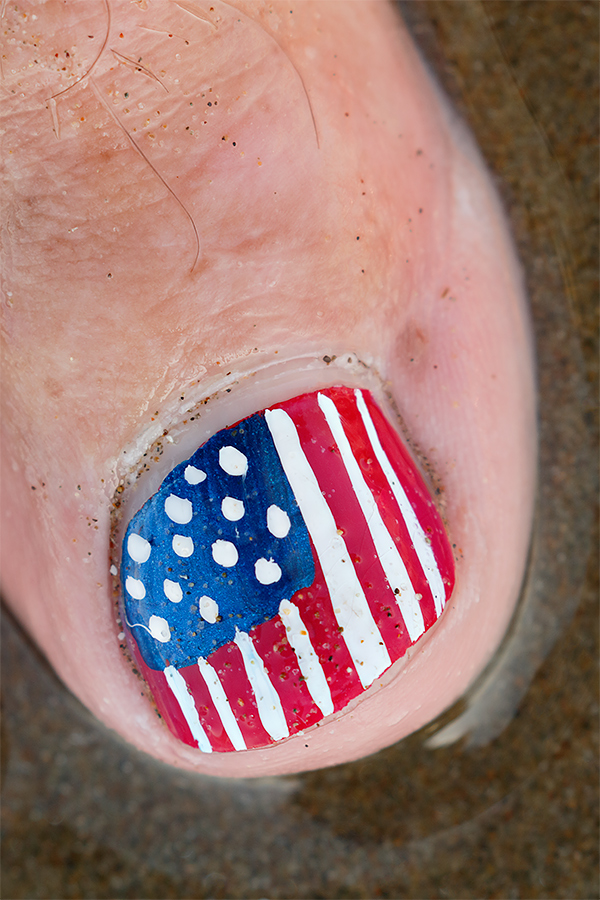 Pretty Bad Morro Rock Image…
This image was created at Morro Bay (while standing) with the hand held Canon EF 100-400mm f/4.5-5.6L IS II USM lens, the Canon Extender EF 1.4X III (at 560mm), and the amazing Canon EOS 7D Mark II. ISO 400: Evaluative metering at zero: 1/100 sec. at f/11 in Av mode. Auto WB. (Should have been Shade or at least Cloudy).
Center AF point (by necessity)/AI Servo Expand/Shutter Button AF as framed was active at the moment of exposure (as is always best when hand holding). The center AF point fell on a spot at the upper right center right near the edge of the painted nail. Click on the image to see a larger version.
Image #2: Painted toenail in shade.
Your browser does not support iFrame.
Flag-painted Toenail Lessons
In the blog post http://www.birdsasart-blog.com/2015/04/05/canon-100-400ii1-4xiii7dii-part-ii-patriotic-toe-photography-related-exposure-and-white-balance-lessons/, which featured images of the flag-painted toes US Air Force retired med-evac technician Chris Billman, another first time poster wrote:
"Really? This is now the Toes as Art blog? Ugh."
To me it is clear that the poster went out of his way to be nasty. In addition, there was a great sun out/sun in exposure lesson there in addition to the two images. I spammed him too. His comment was OK up till the "Ugh." Was I being too sensitive?
Several questions from that same blog post:
A: How is your exposure math?
Q: Same toe. Same lens. Same day. Same beach. How many stops difference in the two exposures, the one in the sun and the one in the shade?
A: The exposure for the sunlit image was 1/640 sec. at f/11. The exposure for the shaded image was 1/100 sec. at f/11. Since the aperture was the same all that you needed to do was to determine how many stops between 1/100 sec. and 1/640 sec. The sequence would look like this: 1/100 sec., 1/200 sec (one full stop), 1/400 sec (2 full stops), and 1/800 sec (three full stops). Since we never quite made it to to 1/800 sec (almost), the correct answer is that the difference in stops between 1/100 sec at f/11 and 1/640 sec at f/11 is 2 2/3 stops. Many folks answered this one correctly.
The unspoken lesson here is that the same toe in the shade needs a heck of a lot more light to be properly exposed in the shade than when in the sun, 2 2/3 stops more to be exact.
B: Easy Question
Q: If the recorded focal length (560mm) is the same for both images above, why is the toe considerably larger in the shaded version?
A: I moved the lens closer to the subject. Let of folks got that one right.
C: Another Easy Question
Q: Why was it vitally important that AF be active at the moment of exposure for both images?
A: It would be pretty much impossible to avoid moving while pointing the lens down to photograph your or someone else's toe; just your breathing alone would be more than enough to throw off accurate focus. Solve problems like this by using AI Servo AF (C for Continuous with Nikon) and having it active at the moment of exposure. It is common knowledge that we must use AI Servo AF to track moving subjects like flying birds; what folks need to realize is that then they are hand holding they are almost always moving, at least a bit.
Your Thoughts?
Feel free to chime in on any of the topics covered here today. Or not. Just be nice 🙂
Facebook
Be sure to like and follow BAA on Facebook by clicking on the logo link upper right. Tanks a stack!
Support the BAA Blog. Support the BAA Bulletins: Shop B&H here!
We want and need to keep providing you with the latest free information, photography and Photoshop lessons, and all manner of related information. Show your appreciation by making your purchases immediately after clicking on any of our B&H or Amazon Affiliate links in this blog post. Remember, B&H ain't just photography!
…..
Amazon.com
Those who prefer to support BAA by shopping with Amazon may use this link:
Amazon Canada
Many kind folks from north of the border, eh, have e-mailed stating that they would love to help us out by using one of our affiliate links but that living in Canada and doing so presents numerous problems. Now, they can help us out by using our Amazon Canada affiliate link by starting their searches by clicking here. Many thanks to those who have written.
Typos
In all blog posts and Bulletins, feel free to e-mail or to leave a comment regarding any typos or errors. Just be right :).