Stuff
Tuesday was a relaxing day. I had to head into town for some errands in the afternoon but did have time for an ice bath before dinner. This blog post, the 111th in a row, took about 2 hours to prepare. It was published just before 6am on Wednesday morning.
St. Augustine Alligator Farm Short-Notice Spoonbill and Wading Bird Chicks IPT: May 4-6, 2015. TWO FULL and TWO 1/2 DAYS: $1099. Limit 8/Openings 5.
Enjoy practically private instruction. Please call the office at 863-692-0906 for St. Augustine IPT Late Registration Discount info. For complete details see the blog post here and scroll down.
Canon's Huge Megapixel Bodies
Many of you have read about the two new Canon 50+ megapixel bodies, the Canon EOS 5DS DSLR and the Canon EOS 5DS R DSLR. The two cameras look, sound, and pretty much are quite similar. I have withheld commenting until now because I did not have a good–heck, I did not have any–understanding of the single difference between the two bodies, that being the Low-Pass Filter Effect Cancellation.
If you missed the hugely popular "Canon's Two New 50+ Megapixel Camera Bodies/You Must Read This Before You Buy," you can click here to catch up and learn a ton to boot.
Please Remember to use our Affiliate Links 🙂
To show your appreciation for my continuing efforts here, we ask, as always, that you use our the B&H and Amazon affiliate links on the right side of the blog for all of your purchases. B&H is recommended for you major photography gear purchases, Amazon for your household, entertainment, and general purpose stuff. Please check the availability of all photographic accessories in the BIRDS AS ART Online Store, especially the Mongoose M3.6 tripod heads, Gitzo tripods, Wimberley heads and plates, LensCoats and accessories, and the like. We sell only what I have used, have tested, and can depend on. We will not sell you junk. We know what you need to make creating great images easy and fun. And we are always glad to answer your gear questions via e-mail. I just learned that my account was suspended during my absence; it should be up and running by Monday at the latest.
I would of course appreciate your using our B&H affiliate links for all of your major gear, video, and electronic purchases. For the photographic stuff mentioned in the paragraph above we, meaning BAA, would of course greatly appreciate your business. Here is a huge thank you to the many who have been using our links on a regular basis and visiting the BAA Online store as well.
Featured Listing
Canon EF 24-70 f2.8L II USM Lens
Dave Bourgaize is offering a used Canon EF 24-70 f2.8L II USM lens in excellent condition for $1499.00. The sale includes front lens cover and rear lens cap, EW-88C lens hood, original Canon bag, and insured shipping via UPS Ground to US addresses. Your item will not ship until your check clears unless other arrangements are made. Please contact Dave by e-mail or by phone at (310) 748-9547 (pacific time zone).
I own and use the 24-70II. It is much sharper edge to edge than the lighter, more versatile Canon EF 24-105mm f/4L IS USM lens. I consider the 24-70II a must for serious landscape photographers. As it sells new for $1899 Dave's price is lower than any I have seen for this lens in excellent condition. It should sell quickly.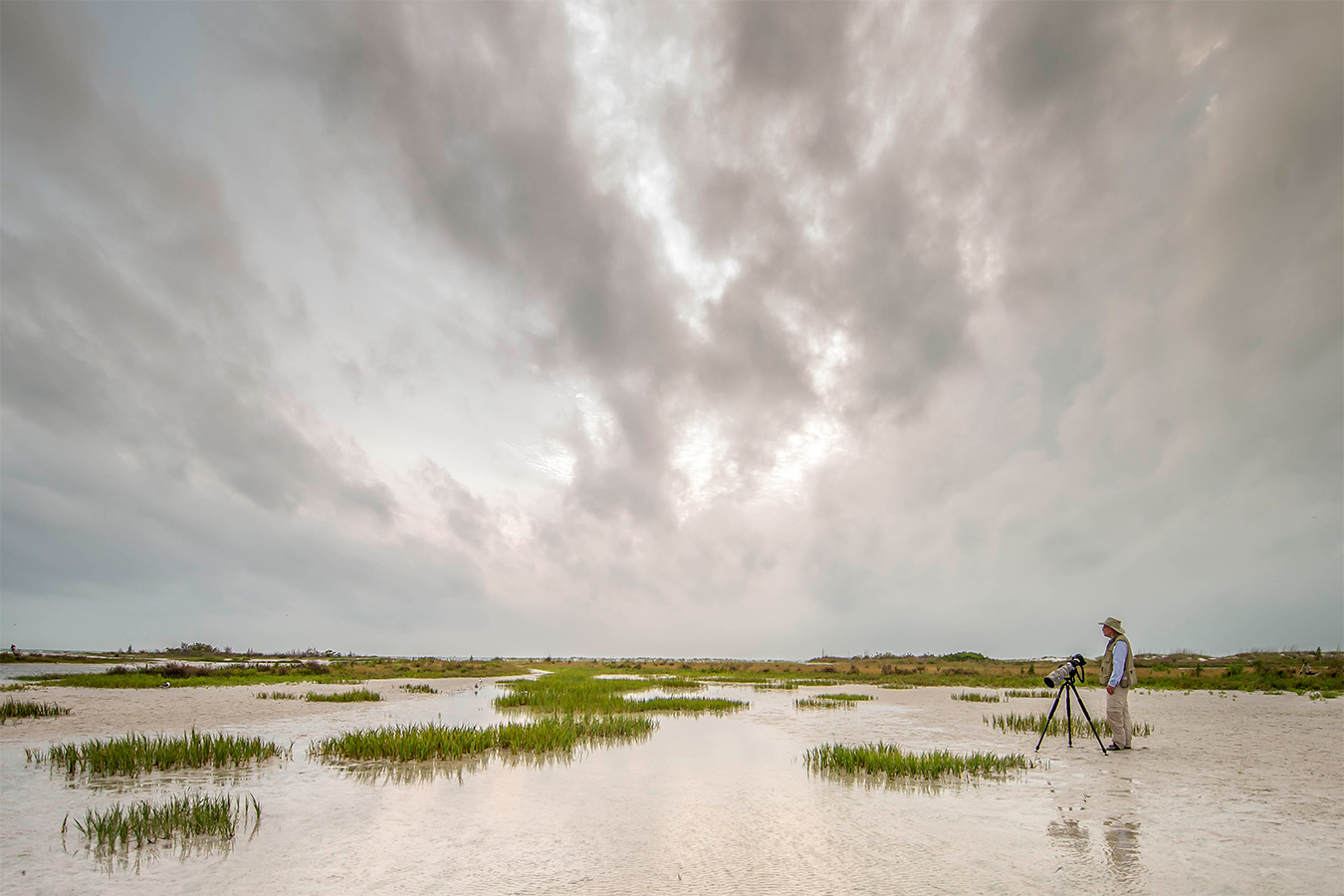 This image was created on the recently concluded Fort DeSoto IPT by Phil Frigon with the Canon EF 11-24mm f/4L USM lens (hand held at 11mm) and the Canon EOS-1D X. ISO 400. Evaluative metering +2 stops: 1/250 sec. at f/4.0.
Center AF point/AI Servo Expand/Rear Focus AF on the grass just in front of and to the left of the photographer. Rear Focus is where it is at for landscape images. Click here to see the latest version of the Rear Focus Tutorial. Click on the image to see a larger version.
Image #1: Fort DeSoto photographer-scape. Image courtesy of and copyright 2015: Phil Frigon.
Your browser does not support iFrame.
Stormy Skies/Low Light
In the Spoonbill Aperture Quiz here, I wrote, "You get the picture. Conditions were borderline crappy. There was not much light. And it was late in the day." When I saw Phil's wonderful image, I thought, that explains the conditions perfectly. Thanks to Phil for graciously allowing me to share his skillfully seen and beautifully designed image with you here. See more on the spoonbill aperture below.
The photographer pictured in the photo above is IPT participant Warren Robb, an easy-going gentleman from Texas. It is high tide and the view is toward the Gulf.
The Canon EF 11-24mm f/4L USM Lens
I was never even aware of this lens until I saw it in Phil's hands on the IPT. He used it quite effectively above. Heck, I am more of a super-telephoto guy. I wouldn't mind having one in my bag at Bosque or in the Palouse….
The 11-15 is a truly versatile wide-angle zoom lens featuring an advanced optical design and constant f/4 maximum aperture, the Canon EF 11-24mm f/4L USM Lens is a member of the esteemed L-series of lenses designed for full-frame EOS DSLRs. One Super UD element and one UD element offer a significant reduction in chromatic aberrations while four aspherical elements help to minimize distortions throughout the zoom range and provide consistent edge-to-edge sharpness and illumination. Both SWC and ASC coatings have been applied to the elements in order to reduce lens flare and ghosting for increased contrast and color accuracy. Ideally suited for landscape and architectural photography, this lens covers ultra-wide to wide-angle perspectives and backs up its versatile zoom range with sophisticated optical components and intuitive handling.
In regard to focusing performance, a ring-type Ultrasonic Motor offers fast, smooth, and near-silent autofocus, which is further benefitted by full-time manual focus operation and an internal focusing design. The lens is both water and dust-resistant, and fluorine coatings have also been applied to the front and rear elements to protect against fingerprints and smudges from affecting image quality. It is compatible with full-frame EOS DSLRs, as well as with APS-C-sized sensors (like the EOS 7D Mark II) where it will provide a 17.6-38.4mm equivalent focal length range.
Constant f/4 maximum aperture offers consistent performance and light transmission throughout the zoom range.
One Super UD (Ultra Low Dispersion) and one UD element help to significantly reduce chromatic aberrations for improved clarity and color accuracy.
Four aspherical elements help to minimize distortions throughout the zoom range in order to maintain edge-to-edge sharpness and illumination.
Both a Subwavelength Coating (SWC) and an Air Sphere Coating (ASC) have been applied to lens elements to reduce backlit flaring and ghosting for maintained light transmission and high contrast in strong lighting conditions.
A ring-type Ultrasonic Motor (USM), along with an internal focusing system, high-speed CPU, and optimized AF algorithms, are employed to deliver fast, precise, and near-silent autofocus performance.
Full-time manual focus operation is available for fine-tuning of your focus position when working in the AF mode.
A weather-resistant design protects the lens from dust and moisture to enable its use in inclement conditions. Additionally, fluorine coatings have also been applied to the front and rear lens elements for further protection against fingerprints and smudging.
Nine rounded diaphragm blades contribute to a pleasing out of focus quality that benefits the use of shallow depth of field and selective focus techniques.
The lens is designed to accept rear insert-type gelatin filters, which are cut-to-size and inserted behind the rear lens element.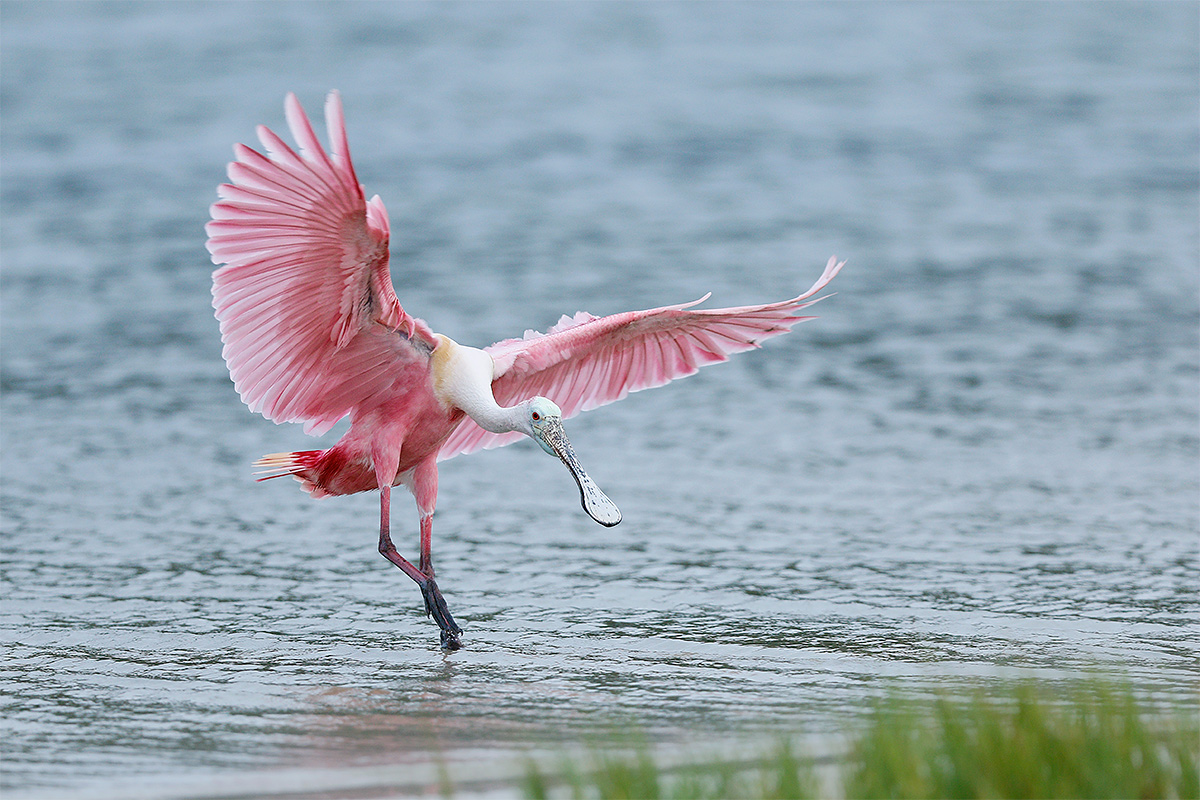 This image was created on the last afternoon of the Fort DeSoto IPT with the hand held Canon EF 300mm f/2.8L IS II USM lens and the Canon EOS 7D Mark II. ISO 640. Evaluative metering +2 stops as framed: 1/1000 sec. at f/2.8 in Manual mode. AWB. Click on the image to see a larger version.
Center AF point/AI Servo-Surround/Shutter Button AF (right on the bird's eye) as originally framed was active at the moment of exposure. Click on the image to see a larger version.
Roseate Spoonbill landing
Your browser does not support iFrame.
The Spoonbill Aperture: f/2.8
It was pretty dark. There was very little light. I was fighting for shutter speed. I wanted to avoid raising the ISO. There was only one choice as far as the aperture: f/2.8. And I never worry about depth-of-field when doing flight photography…. In the blog post here, "Wide Open for Flight," I explained why I often go "wide open for flight." As it seems that that lesson needs to be repeated, that is what I will do here 🙂
Why Wide Open for Flight?
Most of the time when doing flight photography I will work wide open or close to it. Here, I went wide open to the max at f/2.8. To my eye, the depth-of-field is more than sufficient to cover the whole bird from wingtip to wingtip.
Here are the reasons in no particular order that I work wide open or close to it when doing flight photography:
1: The wider the aperture at a given ISO the faster the shutter speed. Fast shutter speeds are ideal for flight photography. My good friend Ned Harris, a skilled and oft-published hawks in flight photographer, once said to me, "If I could work at 1/8000 sec. all the time for flight photography I would do just that."
2: Working at the widest aperture will always let you use the lowest ISO for a given shutter speed (always assuming that you are exposing to the right–as I did here in an extreme low-light situation–in order to come up with a good exposure).
3-In most flight photography situations the birds are far enough away to ensure sufficient depth-of-field to cover the entire bird. Remember that as camera to subject distance increases, depth-of-field increases. For me, the myth of stopping down either one full stop or always working at f/8 is pretty much bad advice. A secondary factor here that bolsters my argument is that though you would typically want more depth-of-field when working close to a lens's minimum focusing distance, depth of field at close range is minimized…. In other words, stopping down in these situations will not help you much anyway….
Simply Put
With most bird photography, the wide apertures are usually fine. They pay off with high shutter speeds and lower ISOs. With birds in flight, you almost always have enough depth-of-field to cover the bird from wingtip to wingtip, even when working at the wide open aperture. And if you do stop down, you do not gain much. You should stop down when photographing birds at extremely close range, close to the minimum focusing distance of your lens. In those case be to sure focus on the eye or at least on the same plane as the bird's eye.
Facebook
Be sure to like and follow BAA on Facebook by clicking on the logo link upper right. Tanks a stack!
Support the BAA Blog. Support the BAA Bulletins: Shop B&H here!
We want and need to keep providing you with the latest free information, photography and Photoshop lessons, and all manner of related information. Show your appreciation by making your purchases immediately after clicking on any of our B&H or Amazon Affiliate links in this blog post. Remember, B&H ain't just photography!
…..
Amazon.com
Those who prefer to support BAA by shopping with Amazon may use this link:
Amazon Canada
Many kind folks from north of the border, eh, have e-mailed stating that they would love to help us out by using one of our affiliate links but that living in Canada and doing so presents numerous problems. Now, they can help us out by using our Amazon Canada affiliate link by starting their searches by clicking here. Many thanks to those who have written.
Typos
In all blog posts and Bulletins, feel free to e-mail or to leave a comment regarding any typos or errors. Just be right :).