Stuff
Friday was another typically busy day of work doing what I love. I had a great swim, did my core exercises, and enjoyed a 59 degree ice bath. Watched lots of NHL and NBA playoffs on Tivo. Answered another ton of e-mails and Saturday morning I will really get started on my Nature Photographer magazine San Diego article. And, I will start packing up my photo gear for the upcoming St. Augustine trip.
This blog post, the 114th in a row, took about 2 hours to prepare. It is scheduled to be published automatically at 1am on Saturday morning.
St. Augustine Alligator Farm Short-Notice Spoonbill and Wading Bird Chicks IPT: May 4-6, 2015. TWO FULL and TWO 1/2 DAYS: $1099. Limit 8/Openings 5.
Enjoy practically private instruction. Please call me on Friday, Saturday, or Sunday at 863-692-0906 for St. Augustine IPT Late Registration Discount info. For complete details see the blog post here and scroll down.
Canon's Huge Megapixel Bodies
Many of you have read about the two new Canon 50+ megapixel bodies, the Canon EOS 5DS DSLR and the Canon EOS 5DS R DSLR. The two cameras look, sound, and pretty much are quite similar. I have withheld commenting until now because I did not have a good–heck, I did not have any–understanding of the single difference between the two bodies, that being the Low-Pass Filter Effect Cancellation.
If you missed the hugely popular "Canon's Two New 50+ Megapixel Camera Bodies/You Must Read This Before You Buy," you can click here to catch up and learn a ton to boot.
Please Remember to use our Affiliate Links 🙂
To show your appreciation for my continuing efforts here, we ask, as always, that you use our the B&H and Amazon affiliate links on the right side of the blog for all of your purchases. B&H is recommended for you major photography gear purchases, Amazon for your household, entertainment, and general purpose stuff. Please check the availability of all photographic accessories in the BIRDS AS ART Online Store, especially the Mongoose M3.6 tripod heads, Gitzo tripods, Wimberley heads and plates, LensCoats and accessories, and the like. We sell only what I have used, have tested, and can depend on. We will not sell you junk. We know what you need to make creating great images easy and fun. And we are always glad to answer your gear questions via e-mail. I just learned that my account was suspended during my absence; it should be up and running by Monday at the latest.
I would of course appreciate your using our B&H affiliate links for all of your major gear, video, and electronic purchases. For the photographic stuff mentioned in the paragraph above we, meaning BAA, would of course greatly appreciate your business. Here is a huge thank you to the many who have been using our links on a regular basis and visiting the BAA Online store as well.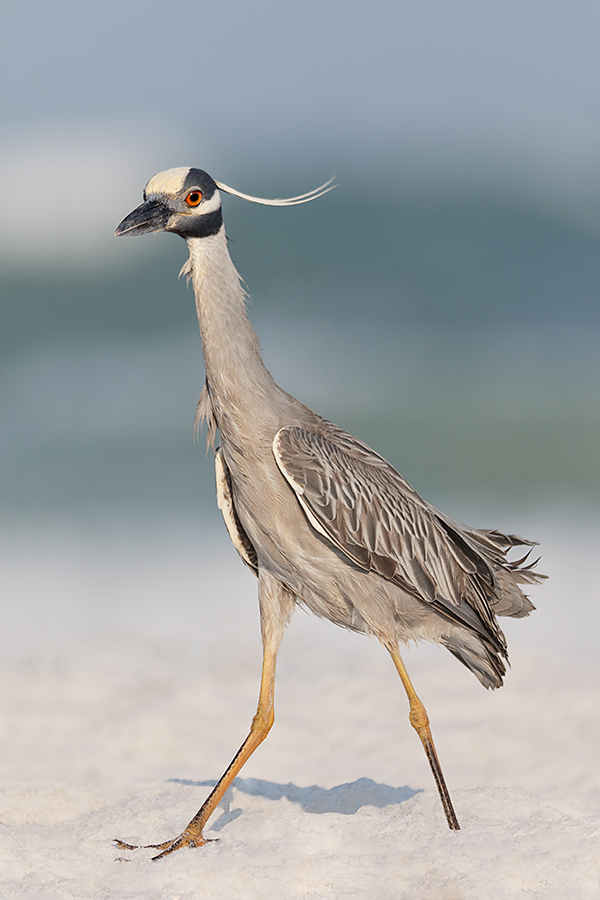 This image was created on the last (very brutal) morning of the DeSoto IPT with the hand held Canon EF 200-400mm f/4L IS USM lens with Internal 1.4x Extender (with the internal TC engaged at 560mm) and the Canon EOS 7D Mark II. ISO 400. Evaluative metering +2/3 stop: 1/1600 sec. at f/5.6 in Av mode.
AI Servo Zone/Shutter Button AF as framed was active at the moment of exposure (as is always best when hand holding). The system activated three AF points on the bird's folded wing, slightly beyond the plane of the bird's eye leaving the eye a bit soft. A bit of Eye Doctor work and a Contrast Mask on the face rectified that problem spectacularly.
Yellow-crowned Night-Heron striding
Your browser does not support iFrame.
Tough Conditions
Dealing with wind against sun…
The wind was blowing in our faces, sand scouring our eyes. The light was behind us. Most every bird was facing directly away from us into the wind and away from the light. Like butt shots? It would have been a perfect morning for you.
What to do? My first choice is always to look for birds in the shade but the tide was too high for that. I instructed the group to get low, get ahead of the feeding shorebirds, wait for them to approach sun angle, and then make an image when they angled slightly towards us on the light. Foraging birds do not always feed facing directly into the wind. We were doing as well as could be expected, which was not very good when someone called out, "Yellow-crowned Night-Heron." We followed the same strategy outlined above.
Like all the Willets, dowitchers, and turnstones, this bird was headed from our right to our left, roughly to the south. The wind was roaring from the west. On occasion, the night-heron would ignore the wind and turn slightly toward us. To get low I wound up almost on my back crunched up a bit while making a very few images. Craig Wesson's image of me that led off yesterday blog post here was made just moments after I created today's featured image. It is not at all easy to create level verticals while lying on your back in a quasi-sit-up position with a stiff wind in your face. Taking a peek at the in-viewfinder level helps only a bit as it is so sensitive but it will get you in the ballpark. I made only two frames. Amazingly, both were level with the subject sharp and nicely framed.
Beach Clean-up & Moving the Bird in the Frame
Click White Balance in DPP 4 worked perfectly during the RAW conversion.
With the onshore wind the beach was a mess with sea grass. About halfway through the clean-up I almost quit because it was taking me so long. But the cleaned up portion looked so good that I decided to keep on going. I went with my usual cast of cleanup tools: Protective Cloning on a Layer using the Clone Stamp Tool, the Patch Tool, the Spot Healing Brush, and a series of small Quick Masks refined with Regular Layer Masks. Once the cleanup was complete, I moved the bird up and back in the frame as you can clearly see by viewing the before and after animated GIF above. Then some Eye Doctor work followed by my NIK 50/50 recipe on the bird alone. Last was a Contrast Mask applied only to the dark and middle-toned feathers of the face.
Digital Basics
Everything that I did to optimize today's image is covered in detail in my Digital Basics File–written in my easy-to-follow, easy-to-understand style. Are you tired of making your images look worse in Photoshop? Digital Basics File is an instructional PDF that is sent via e-mail. It includes my complete digital workflow, dozens of great Photoshop tips, details on using all of my image clean-up tools, the use of Contrast Masks, several different ways of expanding and filling in canvas, all of my time-saving Keyboard Shortcuts, Quick Masking, Layer Masking, and NIK Color Efex Pro basics, Contrast Masks, Digital Eye Doctor techniques, using Gaussian Blurs, Tim Grey Dodge and Burn, a variety of ways to make selections, how to create time-saving actions, the Surface Blur (background noise reduction) settings, and tons more.
APTATS I & II
Learn the details of advanced Quick Masking techniques in APTATS I. Learn Advanced Layer Masking Techniques in APTATS II. Mention this blog post and apply a $5 discount to either with phone orders only. Buy both APTATS I and APTATS II and we will be glad to apply at $15 discount either with phone orders or here in the BAA Online Store. For phone orders, call Jim or Jennifer at 863-692-0906 weekdays.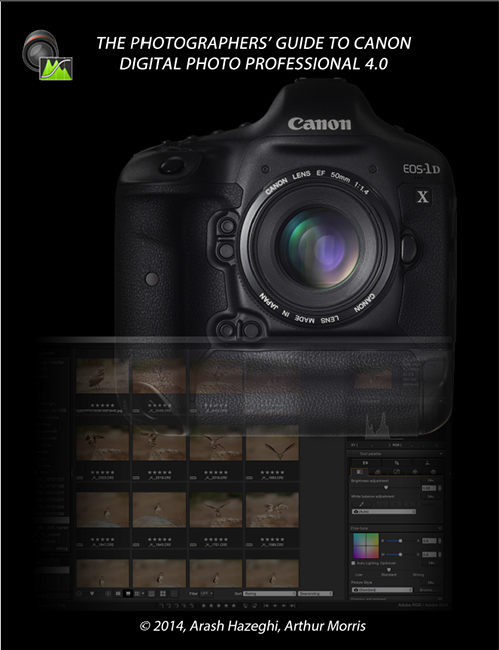 You can order your copy of "The Photographers' Guide to Canon Digital Photo Professional 4.0" (aka the DPP 4 Raw Conversion eGuide) by Arash Hazeghi and Arthur Morris by clicking here.
The DPP 4 eGuide (PDF)
Learn how and why I and many other discerning photographers choose and use only DPP 4 to convert their Canon RAW files in the DPP 4 RAW Conversion Guide by Arash Hazeghi and yours truly. The latest version supports all of the newer Canon camera bodies and several older models including the EOS-7D and the EOS-1D Mark IV. A free update that will cover most of the newly added cameras will be sent as soon as I get it from Arash.
Facebook
Be sure to like and follow BAA on Facebook by clicking on the logo link upper right. Tanks a stack!
Support the BAA Blog. Support the BAA Bulletins: Shop B&H here!
We want and need to keep providing you with the latest free information, photography and Photoshop lessons, and all manner of related information. Show your appreciation by making your purchases immediately after clicking on any of our B&H or Amazon Affiliate links in this blog post. Remember, B&H ain't just photography!
…..
Amazon.com
Those who prefer to support BAA by shopping with Amazon may use this link:
Amazon Canada
Many kind folks from north of the border, eh, have e-mailed stating that they would love to help us out by using one of our affiliate links but that living in Canada and doing so presents numerous problems. Now, they can help us out by using our Amazon Canada affiliate link by starting their searches by clicking here. Many thanks to those who have written.
Typos
In all blog posts and Bulletins, feel free to e-mail or to leave a comment regarding any typos or errors. Just be right :).