Stuff
I spent much of Monday answering e-mails and planning the January 2016 San Diego IPT (dates TBA soon). I enjoyed a nice 60-lengths of the pool swim and an ice bath. I watched Rickie Fowler's incredible 8 under par on the last ten holes playoff victory at the Player's Championship and the NY Rangers amazing, heart-stopping, game-seven-forcing victory over the Washington Capitals, both on Tivo. In the evening I helped Denise Ippolito edit a great Warp Tool tutorial she is posting today on her blog and caught up on some NBA playoff games; right now LeBron James and the Cavaliers are in deep trouble against the Chicago Bulls….
This blog post, the 124th in a row, took about 2 1/2 hours to prepare. It was published automatically at 4:00am on Tuesday morning.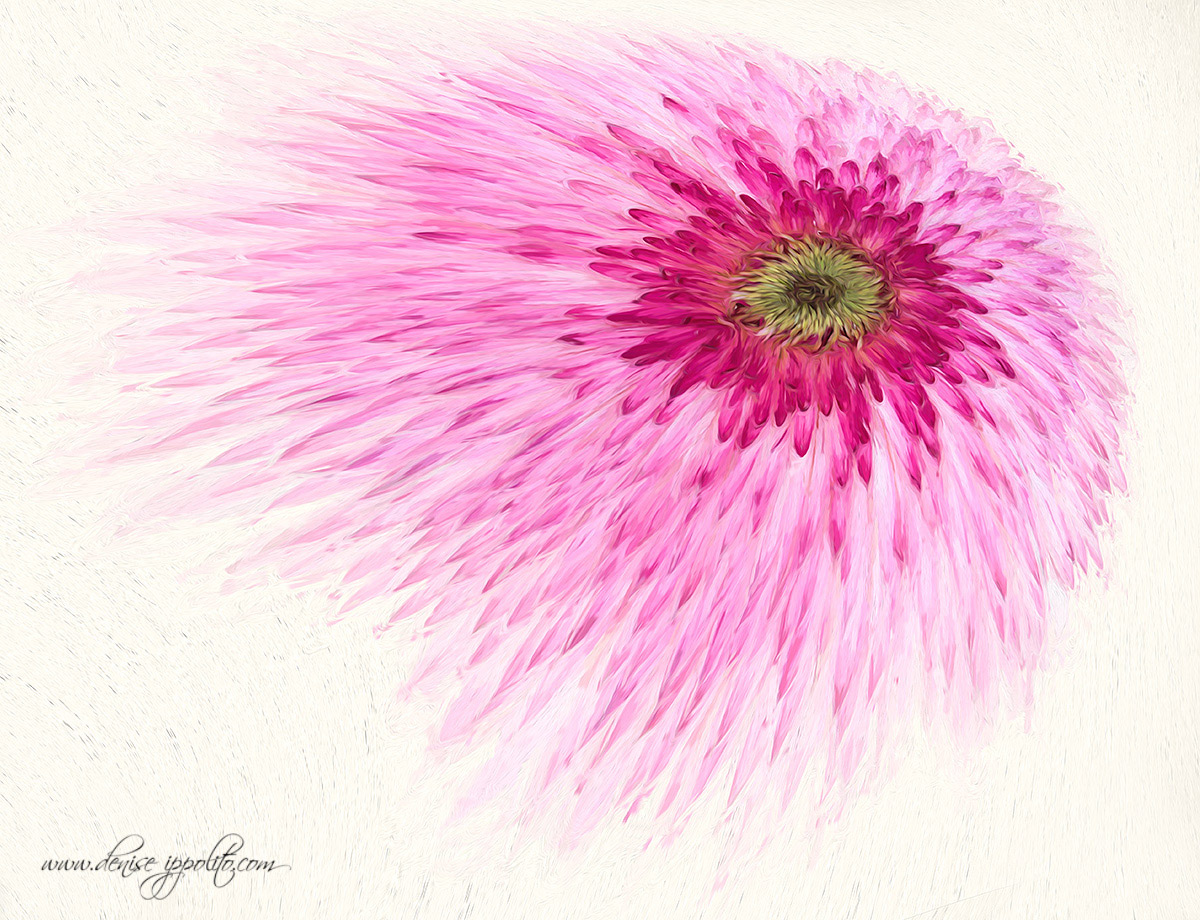 Gerbera Daisy Warp Tool Creation: Image courtesy of and copyright 2015: Denise Ippolito/A Creative Adventure
Warp Tool Tutorial
You can check out denise's Warp Tool tutorial here.
Important Notes
I responded to all the comments on the Extreme Focal Length/High Contrast Chicks blog post here.
In addition, I responded to all the comments in the Flash Not Possible for the Two Chicks in the Nest Image blog post here. In answer to the question about why I chose my perspective so carefully David Peake of New Zealand nailed it when he wrote, It's all about getting the chicks in front of that dark background.
Do understand that reading, studying, and checking back on the comments can heighten your learning experience.
New Used Photo Gear Listing
You can see the complete Used Photography Gear For Sale listings here.
Canon EF 100-400mm f/4.5-5.6L IS USM
Lowest-ever price on this item; this one should sell instantly!
Owen Peller is offering a used Canon EF 100-400mm f/4.5-5.6L IS USM lens excellent plus condition for $799.00. The sale includes the front and rear lenses caps, the tripod collar, the original box, the original case with strap, and insured shipping to US addresses. You can call Owen at at 954-882-1480 (eastern time) or shoot him an e-mail. Your item will not ship until your check clears unless other arrangements are made.
I owned and used this great lens for well more than a decade and created hundreds of published images with it. Denise Ippolito owned and loved hers for years.
Canon's Huge Megapixel Bodies
Many of you have read about the two new Canon 50+ megapixel bodies, the Canon EOS 5DS DSLR and the Canon EOS 5DS R DSLR. The two cameras look, sound, and pretty much are quite similar. I have withheld commenting until now because I did not have a good–heck, I did not have any–understanding of the single difference between the two bodies, that being the Low-Pass Filter Effect Cancellation.
If you missed the hugely popular "Canon's Two New 50+ Megapixel Camera Bodies/You Must Read This Before You Buy," you can click here to catch up and learn a ton to boot.
Please Remember to use our Affiliate Links 🙂
To show your appreciation for my continuing efforts here, we ask, as always, that you use our the B&H and Amazon affiliate links on the right side of the blog for all of your purchases. B&H is recommended for you major photography gear purchases, Amazon for your household, entertainment, and general purpose stuff. Please check the availability of all photographic accessories in the BIRDS AS ART Online Store, especially the Mongoose M3.6 tripod heads, Gitzo tripods, Wimberley heads and plates, LensCoats and accessories, and the like. We sell only what I have used, have tested, and can depend on. We will not sell you junk. We know what you need to make creating great images easy and fun. And we are always glad to answer your gear questions via e-mail. I just learned that my account was suspended during my absence; it should be up and running by Monday at the latest.
I would of course appreciate your using our B&H affiliate links for all of your major gear, video, and electronic purchases. For the photographic stuff mentioned in the paragraph above we, meaning BAA, would of course greatly appreciate your business. Here is a huge thank you to the many who have been using our links on a regular basis and visiting the BAA Online store as well.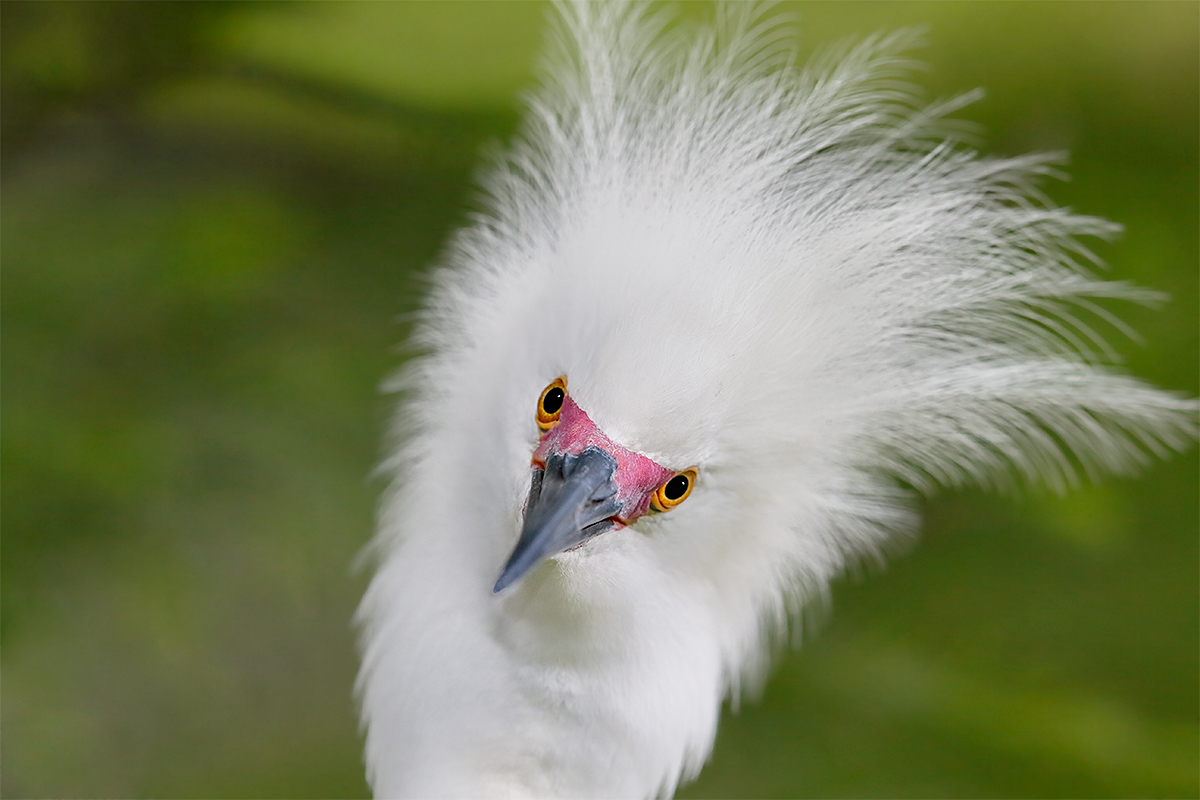 This image was created with the tripod-mounted Canon EF 600mm f/4L IS II USM lens, Canon Extender EF 1.4X III, and the Canon EOS-1D X . ISO 800: 1/160 sec. at f/8 (was more than a one stop underexposure; not sure how that happened….)
Fill flash at -3 stops with a Better Beamer on the Canon Speedlite 600EX-RT.
One AF point to the right of and one row below the center AF point/AI Servo Surround/Rear Focus AF as framed was active at the moment of exposure. The selected AF point was just above the bird's right eye; the AF point just below that one was surely assisting as it fell squarely on the bird's eye. Click here to see the latest version of the Rear Focus Tutorial. Click on the image to see a larger version.
Snowy Egret in full breeding plumage displaying in a shady spot
Your browser does not support iFrame.
My #1 Tip for Photographing Birds in Bright Sun
On the recently concluded IPT there were dozens of folks (not on the IPT) who spent whole mornings photographing 90 degrees off sun angle from 8:30 to 10:30am for two reasons:
#1: They liked being close to lots of birds.
#2: They did not know any better. See my #1 tip for photographing birds in bright sun immediately below.
My #1 tip for photographing birds in bright sun is to point your shadow at the bird. That means that the sun should be coming right over the top of your head. Working no more than 15 degrees off sun angle can be effective if you are careful about how the sunlight hits the bird's face. And that has everything to do with opening your eyes with regards to head angle.
My #2 Tip for Photographing Birds in Bright Sun
My #2 tip when facing the prospect of photographing birds in bright sun is to look for subjects in the shade.
And that is just what we were doing when we found the gorgeous male Snowy Egret that is the subject in today's featured image.
Facebook
Be sure to like and follow BAA on Facebook by clicking on the logo link upper right. Tanks a stack!
Support the BAA Blog. Support the BAA Bulletins: Shop B&H here!
We want and need to keep providing you with the latest free information, photography and Photoshop lessons, and all manner of related information. Show your appreciation by making your purchases immediately after clicking on any of our B&H or Amazon Affiliate links in this blog post. Remember, B&H ain't just photography!
…..
Amazon.com
Those who prefer to support BAA by shopping with Amazon may use this link:
Amazon Canada
Many kind folks from north of the border, eh, have e-mailed stating that they would love to help us out by using one of our affiliate links but that living in Canada and doing so presents numerous problems. Now, they can help us out by using our Amazon Canada affiliate link by starting their searches by clicking here. Many thanks to those who have written.
Typos
In all blog posts and Bulletins, feel free to e-mail or to leave a comment regarding any typos or errors. Just be right :).