Stuff
I sent more than a hundred e-mails in a 24 hour period from Monday into Tuesday. Par for the course. I had a nice swim and enjoyed my ice bath. I had a phone conference with the folks at The Nat, the San Diego Natural History Museum. It is looking very much as if there will be a solo exhibit with 60 of my very favorite images from the past 33 years opening next January and hanging for three months. Nice :).
Jim and I are headed to Fort DeSoto this morning for a short busman's holiday and then driving down to Bradenton for another series of PRP, Stem Cell, and Prolozone injections on my right shoulder and right middle (trigger finger). Two of my three existing trigger fingers were healed completely with the last set of injections and the right middle is 90% better. The shoulder was doing great for about a year until I tweaked it about 2 months ago….
This blog post, the 125th in a row took about 1 1/2 hours to prepare. It was published automatically at 5:00am on Wednesday morning.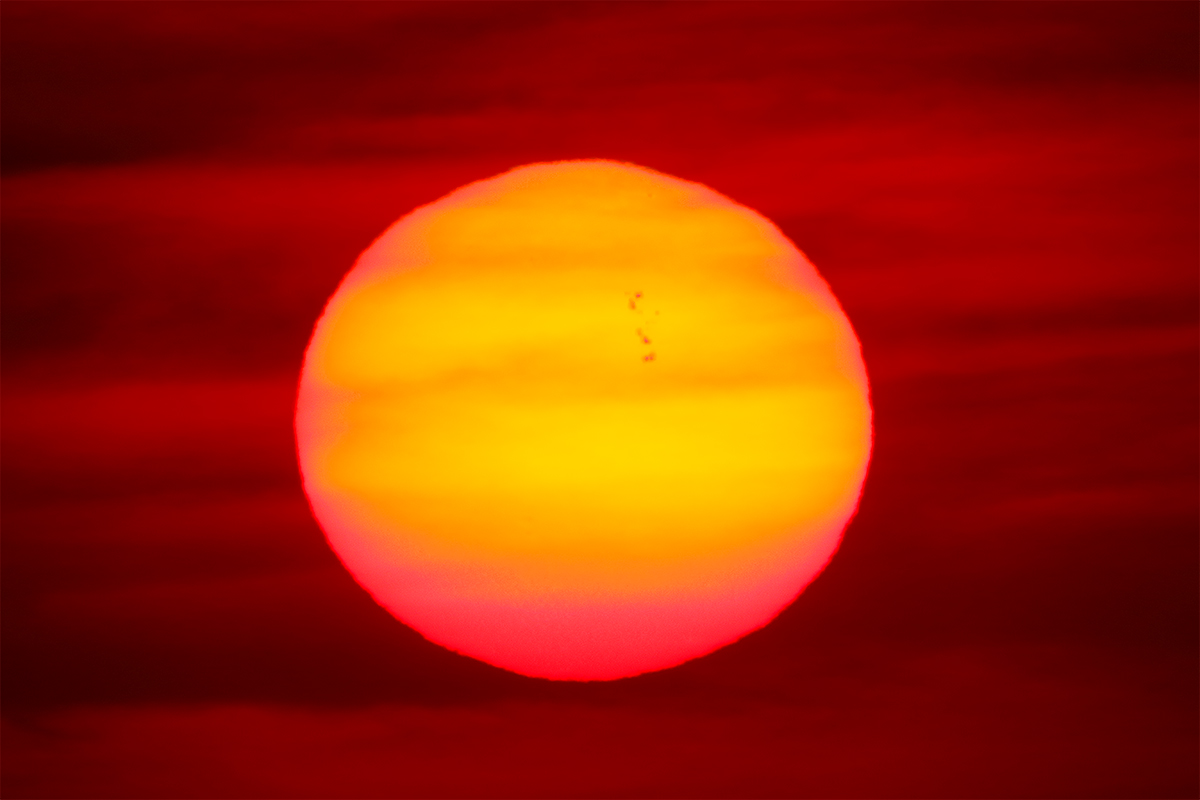 This image was created down by the lake near my home as part of my Sunset Addiction project. I used the tripod-mounted Canon EF 600mm f/4L IS II USM lens, the Canon Extender EF 2X III, and the amazing Canon EOS 7D Mark II. ISO 400. Evaluative metering at zero: 1/1250 sec. at f/11.
Center AF point (by necessity)/AI Servo Expand/Rear Focus AF on the edge of the sun and and re-compose. There are no worries on that when you are on a tripod (as opposed to when you are working from the car on a BLUBB. Click here to see the latest version of the Rear Focus Tutorial. Click on the image to see a larger version.
Sun at 7:57pm on May 9, 2015 at Indian Lake Estates, FL
Your browser does not support iFrame.
Mega-Sun Fun
I like getting up and out very early. And I like staying in the field until well after sunset. Whenever I see a well muted sun I just cannot resist going long and created large-in-the-frame images of the orb that is our celestial light source. Every sunset is slightly different with different color tones and different skies. At times, the patterns of clouds can add drama to such images. And with the 7D II it is no longer necessary to stack extenders; a 600mm lens with a 2X III teleconverter and a 7D Mark II will produce a huge sun straight up. Remember that it is important that the sun be well muted, covered by a thin layer of clouds or fog, lest you risk damaging your retina. On clear mornings or evening the sun can damage our eyes even when it is touching the horizon.
Exposure Notes
If you need to underexpose more than a stop to prevent blinkies on a huge in the frame sun, you probably should not be looking through your lens at it. In this image the sun was so well muted that zero was fine. I could have even gone to +1/3. The big advantage in situations like this is that the sky does not go black.
Worthless or Worthwhile?
Many a stock agent has shown great interest in my huge suns. (I have been creating them for several decades even in the prehistoric days of film.) The truth however, is that I can barely recall ever selling one. Has it been worth it? For me, of course. No sales does not mean no fun: I love creating this type of image and will keep making them until I can no longer lift a big lens.
Sunspots
Are the small dark marks on the face of the sun sunspots? If not, what are they? If yes, can anyone shed some light as to what causes them? (Please pardon the sun pun.)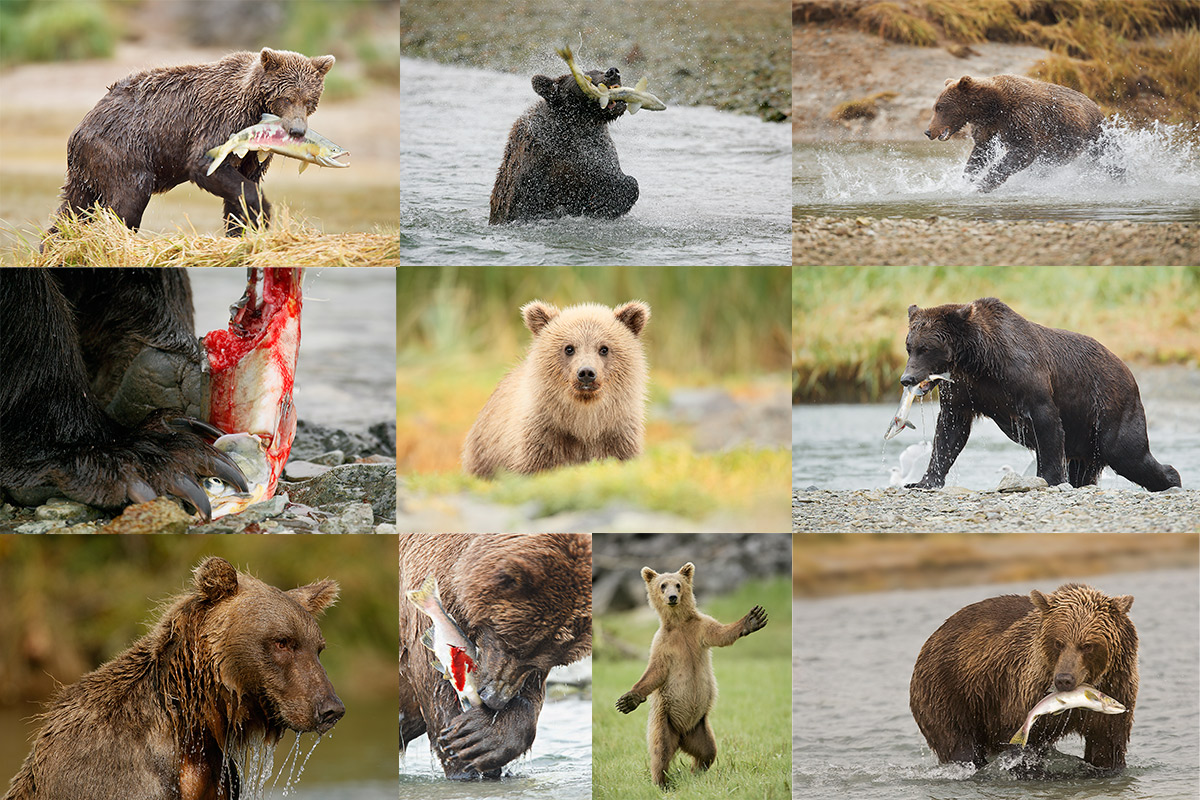 All of the images in the bear boat card above were created in Katmai National Park during the month of September.
Bear Boat/Bears Catching Salmon IPT: September 1-8, 2015 from Kodiak, AK/6 FULL & 2 1/2 DAYS: $6699. Happy campers only! Maximum 8/Openings: 3. Plus the leader: Arthur Morris.
This trip is a go.
Join me in Katmai National Park, AK for seven days of photographing Coastal Brown Bears (grizzlies) catching salmon, fattening up for the long winter. Other subjects will include Mew and Glaucous-winged Gulls in flight and dip-feeding on salmon roe. Did I mention that we live on a boat and that the food is great? Most of our photography will be done in a variety of famed locations: Geographic Harbor, Kinak Bay, and Kukak Bay. We once had 39 bears fishing the creek at Kukak….
It is mandatory that you be in Kodiak no later than the late afternoon of August 31, 2015 September to avoid missing the float planes to the boat on the morning of September 1. With air travel in AK being what it is, with the chance of fog or other bad weather–being on Kodiak on August 30 is an even better plan). I will be on Kodiak on August 30 to avoid any potential disaster. That said in my nearly a dozen bear boat trips I was delayed only once but since I was day early as noted above there was no harm, no foul.
We will take one or more float planes to the boat mid-morning on September 1. We will photograph bears fishing that afternoon and every day for the next six days (weather permitting of course). We should have bears catching salmon every day. In addition, we will get some nice stuff on Mew Gull and Glaucous-winged Gulls dining on roe and the remains of predated salmon. We may–depending on where the concentrations of bears are–get to photograph Harbor seals and some hauled out Steller's Sea Lions (an endangered species). Halibut fishing (license required) is optional. On September 8, our last morning on the boat, those who would like to enjoy one last photo session will do so. The group returns to Kodiak via float plane midday. Most folks will fly to Anchorage and then continue on red-eye flights to their home cities.
The eight days will consist of six full days (Sept 2, 3, 4, 5, 6, & 7) of photography featuring lots of Coastal Brown Bears catching salmon as above plus a variety of other natural history subjects plus some nice scenic photography that I forgot to mention above. Plus the first afternoon and the last morning.
What's included? 8 DAYS/7 NIGHTS on the boat as above. All meals on the boat. (The food is quite excellent.) National Park fees. One night's double occupancy lodging on Kodiak; arrive: Sept 1/depart: Sept 2. The thank-you-in-advance dinner on Sept 1. In-the-field photo tips, instruction, and guidance. An insight into the mind of a top professional; I will constantly let you know what I am thinking, what I am doing, and why I am doing it. Small group image review, image sharing, and Photoshop instruction on the boat.
What's not included: Your round trip airfare to and from Kodiak, AK (almost surely through Anchorage). All necessary lodging other than the cost of your double occupancy room on the night of August 31 should you opt to arrive early–we can arrange that in advance for you. We will let you know the cost of a single supplement for the one night if so desired. The cost of the round-trip float plane to the boat on September 2 and back to Kodiak on September 9. The cost of a round trip this year was $500. The suggested crew tip of $210.
Is this an expensive trip? Yes, of course. But with 6 full and two half days, a wealth of great subjects, and the fact that you will be walking with the bears just yards away (or less….) it will be one of the great natural history experiences of your life. Most folks who take part in a Bear Boat IPT wind up coming back for more.
A $2,000 per person non-refundable deposit by check only made out to "Arthur Morris" is required to hold your spot. Please click here to read our cancellation policy. Then please print, read, and sign the necessary paperwork here and send it to us.
Your deposit is due immediately. That will leave a balance of $4699. The next payment of $2699 will be due on February 15, 2015. The final payment of $2000 is due on May 1, 2015.
I hope that you can join us for this wondrously exciting trip.
By e-mail from Bill Keown, veteran of three bear boat trips!
Hi Artie, What a great trip! With the exception of the one bright sunny day it was just great. Very different from my first trip in June where we only had the bears clamming; the fishing bears were amazing! As always I learned a lot and enjoyed the group immensely. All the Best, Bill
Facebook
Be sure to like and follow BAA on Facebook by clicking on the logo link upper right. Tanks a stack!
Support the BAA Blog. Support the BAA Bulletins: Shop B&H here!
We want and need to keep providing you with the latest free information, photography and Photoshop lessons, and all manner of related information. Show your appreciation by making your purchases immediately after clicking on any of our B&H or Amazon Affiliate links in this blog post. Remember, B&H ain't just photography!
…..
Amazon.com
Those who prefer to support BAA by shopping with Amazon may use this link:
Amazon Canada
Many kind folks from north of the border, eh, have e-mailed stating that they would love to help us out by using one of our affiliate links but that living in Canada and doing so presents numerous problems. Now, they can help us out by using our Amazon Canada affiliate link by starting their searches by clicking here. Many thanks to those who have written.
Typos
In all blog posts and Bulletins, feel free to e-mail or to leave a comment regarding any typos or errors. Just be right :).