What's Up?
Worked hard on planning a new trip or two to be announced here soon. Answered lots of e-mails and wrote this important blog post. My day began watching Steph Curry, the Golden State Warriors baby-faced assassin singlehandedly dismantle the hapless Houston Rockets in the NBA playoffs. Next on Tivo was the Chicago Blackhawks double over time, heart-stopping victory over the Anaheim Ducks who had been leading the series 2-1; it is all tied up now.
This blog post, the 137th in a row, took me a surprising two hours to write. I gave it a lot of thought.
Important to me/Please read…
the whole thing 🙂
I work very hard on the blog. I am not sure why. Last year I had a streak of 366 days in a row with a new, educational blog post. Right now the current streak is at 137. As always, I enjoy being the star of the show. I enjoy the attention. At times, I enjoyed stirring the pot and creating a bit of controversy. And I always strive to teach, often by asking questions and getting folks to think. The many wonderful e-mails that I receive and the many wonderful comments that I read are the icing on the cake. I know that I am doing something great here, but it is always nice when others folks voice their (unsolicited) confirmations.
Photography is, however, my job so let's talk briefly about money. The blog (and the now occasional BAA Bulletin) promote the sales of information in digital form (read PDFs like Digital Basics) and as eBooks and eGuides (such as the DPP 4 RAW Conversion Guide and the 7D Mark II Guide). and the blog of course promotes the sale of photographic accessories such as Delkin flash cards and card readers, tripods, tripod heads, LensClens, LensCoat stuff, and dozens of other products, products that I have used and depending on for decades. Your support and patronage is of course greatly appreciated.
I often spend 10-20 hours or more per week on the blog, and thus, I view it as a part time job. The main remuneration comes from the use of my B&H affiliate links, especially for major purchases. B&H is a reliable, dependable firm that offers pretty much the lowest prices around plus great service and an unequaled return policy. Using my affiliate links is a great way to thank me for my efforts here on the blog and each use, whether for something small or a five figure lens, is greatly appreciated. And the best news it that using my affiliate links will not cost you one penny.
I have been frank about this here before; for my first several years as a B&H affiliate, my cut was 3%. A bit more than a year ago I received a raise to 3 1/2 percent. If you are kind enough to purchase a $2,000 lens or camera body, I get $70 credited to my account. When someone places a $10,000 order I make a very nice commission of $350.
The Challenges
I often receive e-mails like this:
Dear Art,
First let me say that I have subscribed to your blog for three years. I visit the every day right after I get out of bed to see what nuggets you are offering. Your images are killer and the lessons that you provide on a daily basis have helped me become a much better photographer. I just purchased a Canon 600mm f/4L IS II Lens and an EOS-1D X body but am having trouble making sharp images with teleconverters of birds in flight. Please help?
Joe
Dear Joe, Thanks for writing and for you kind words. Before I get too deeply into my answer, I need to ask: where do you live? Did you use my B&H affiliate links to purchase your new gear? Do you have our 1D X AF Guide?
Later and love, artie
Dear Art,
I live in Hartford, Connecticut. I always shop mail order at B&H because they are superb but I forgot to use your link. And no, I do not have a copy of your 1D X AF Guide. By the way, thanks to you and your great blog posts, I just ordered a 7D Mark II from B&H. Sorry, again I forgot to use your affiliate link.
Love ya man, Joe
My commission on Joe's sale would have been $587.93. And it would not have cost him one cent.
How would you respond to Joe's request for help?
Another Typical e-Mail
Dear Artie,
Thanks so much for publishing your Lens Align Mark II tutorials and alerting us to Michael Tapes Focus Tune. You explain things so well and your writing is always easy to understand. And BTW, I subscribe to your blog and value every post.
I just purchased the LensAlign MK II including Fusion (Focus Tune) from B&H and I need some additional help with determining the correct distances for the focal length of the lens with and without teleconverters. Can you share the formulas with me for the lens alone and with a TC added?
Harry
Dear Harry,
I am glad that you enjoy the blog so much. Just so you know, when you purchase something that I teach you about and teach you to use we would appreciate it if you could use the link to the BAA Store right there in the post rather than purchasing it elsewhere. If you use our B&H link to purchase items that are in my store my profit on the item is usually about 90% less than if you had purchased it from the BAA Online Store….
For the lenses alone you use approximately 8.2 feet per 100 meters of focal length; for a 300mm lens you would set the target at 24.6 feet. When you add a TC, you split the difference. For example, if you are micro-adjusting the 300 with a 2X TC (600mm focal length the target should be at 49.2 feet but it is fine to split the difference by placing it halfway between 24.6 feet and 49.2 feet, or 36.9 feet. Or, you can think of it like this 450 X 8.2 feet = 36.9 feet.
In the future, please remember to buy your accessories and miscellaneous items from the BAA Store (if we carry them) and to use our B&H link for your major gear purchases.
later and love, artie
How would you have responded to Harry?
My Biggest Affiliate Frustration Tale
When the Canon Series II super-telephotos were released I got my hands on one of each and posted lots of images created with both the 500 II and the 600 II. Folks were very appreciative. At the time, it was fairly easy to have a BAA B&H affiliate order expedited. With such huge demand for the 100-400 II recently that has become more difficult to do though I have succeeded in more than a few instances. IAC, lots of folks generously used my links to purchase both the big lenses along with a 1D X or two.
An acquaintance/friend from the west coast was the very first to order a 600 II with my link. Several others sent me their B&H 600 II receipts via e-mail and I forwarded them all to my contact at B&H to be expedited. Somehow they screwed up. Numbers 2 and 3 on the list got their lenses right off the bat. Number 1 did not. He was understandably upset. So upset that he cancelled the entire order that he had placed using my B&H link: 1 600 II, one 500 II, and one 1D X body. So because of the screw-up with the expediting I lost my then 3% commission on a $30,000 sale.
Frustrating right?
Now try this on for size: the woman who was #2 on the list sent me her B&H receipt and stated that she had used my link.I had her order expedited and she got her lens right away. I carefully track all of the big sales to make sure that I receive credit. When I inquired as to why that sale never appeared in my account I was informed that the sale was indeed an affiliate sale, one made via CanonRumors.com…. The end result was that I lost my commission on sales of well more than $42,000. Hard to love that.
How local store supporters, overseas folks, those who write with questions, and all who enjoy the blog on a daily basis can do their part to help the support the BAA Blog.
Many times when I ask someone who professes that they love the blog if they used my B&H link, they write back, "I like to support my local camera store." And quite often, it's "I live in the UK or Down Under; using B&H does not make sense as I would get killed on import duties. Good friend and digital photography guru Tim Grey supported the work that he did for years on his DDQ e-mails using a share-ware system. Folks could sign up for free but were given the option of making a donation to keep him writing every day. For years I have stayed away from such a system but now I am ready to adapt a simple version.
All who enjoy and learn from the blog are invited to send a donation (the amount is up to you) using any of the following methods:
a-send a Paypal to us at BIRDSASART@verizon.net. Be sure to mention BAA-Blog Thanks
b-call Jim or Jen with a credit card in hand and let them know that you would like to make a BAA-Thanks payment.
c-On Tuesday, I will have Jim build a page in the store for the thank you donations.
Whatever you send it will be greatly appreciated.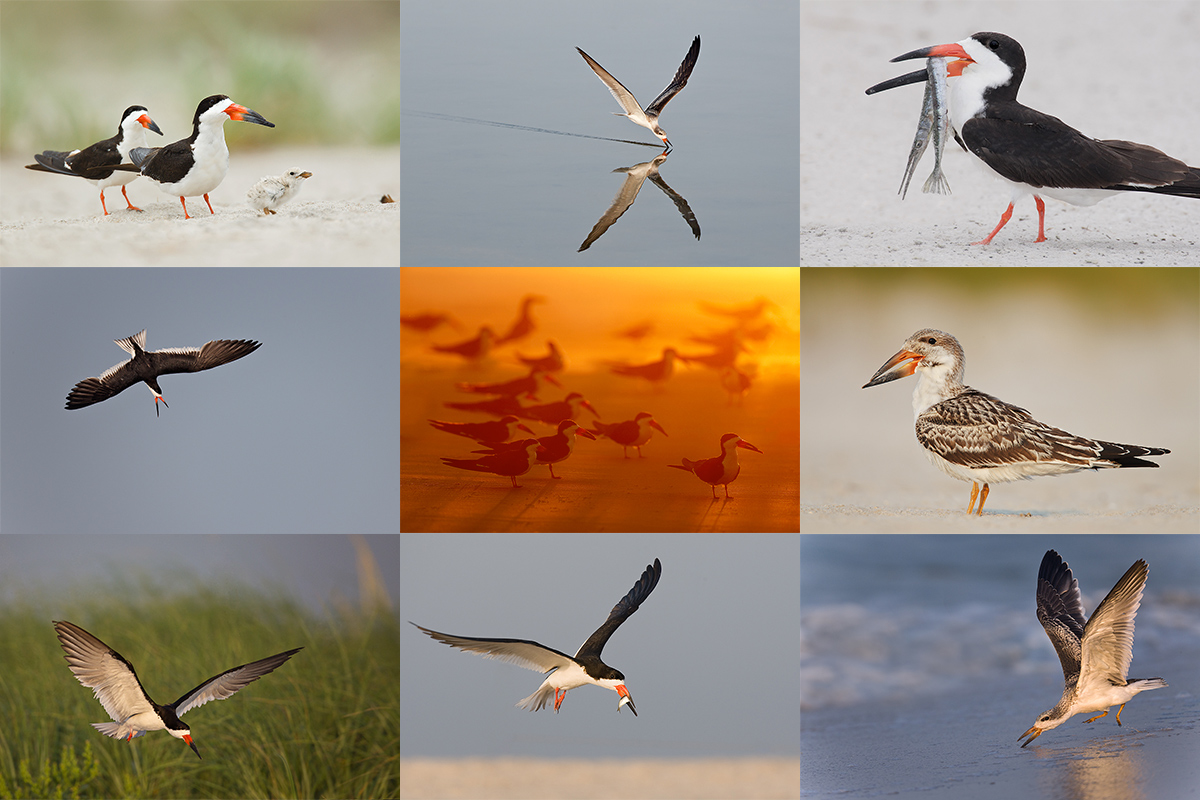 The strange thing is that when I lived in New York, I never knew about this amazing and consistently productive location.
Nickerson Beach/JBWR (possibly…)/Black Skimmer/Oystercatcher/migrant shorebird IPT: August 13-16, 2015. 3 1/2 DAYS: $1399.
Meet and greet on the evening of WED August 12. Limit 10/Openings 5.
Most of our seven photo sessions will be spent at Nickerson beach photographing the nesting Black Skimmers. In flight, sometimes battling. Carrying fish. Chicks of varying sizes from a very few just-hatched to lots of fledglings. It is likely that we will get to see some Great Black-backed Gulls preying on the juvenile skimmers. They swallow them whole. There will be lots of gulls to photograph as well as some Common Terns. Locally breeding shorebird species include American Oystercatcher–pretty much guaranteed, Willet, which is likely, and Piping Plover, which is probable but we need to get lucky with those to get close….
Save a space by calling Jim or Jen at the office and arranging to leave your deposit of $499. I hope to see you there.
JBWR?
If local conditions are ideal we may visit Jamaica Bay Wildlife Refuge to photograph southbound migrant shorebirds on one or possibly two mornings. Even if we do not visit JBWR we should get some good chances with the migrant shorebirds at the beach, especially Sanderling and Semipalmated Plover. Red Knot and others are possible.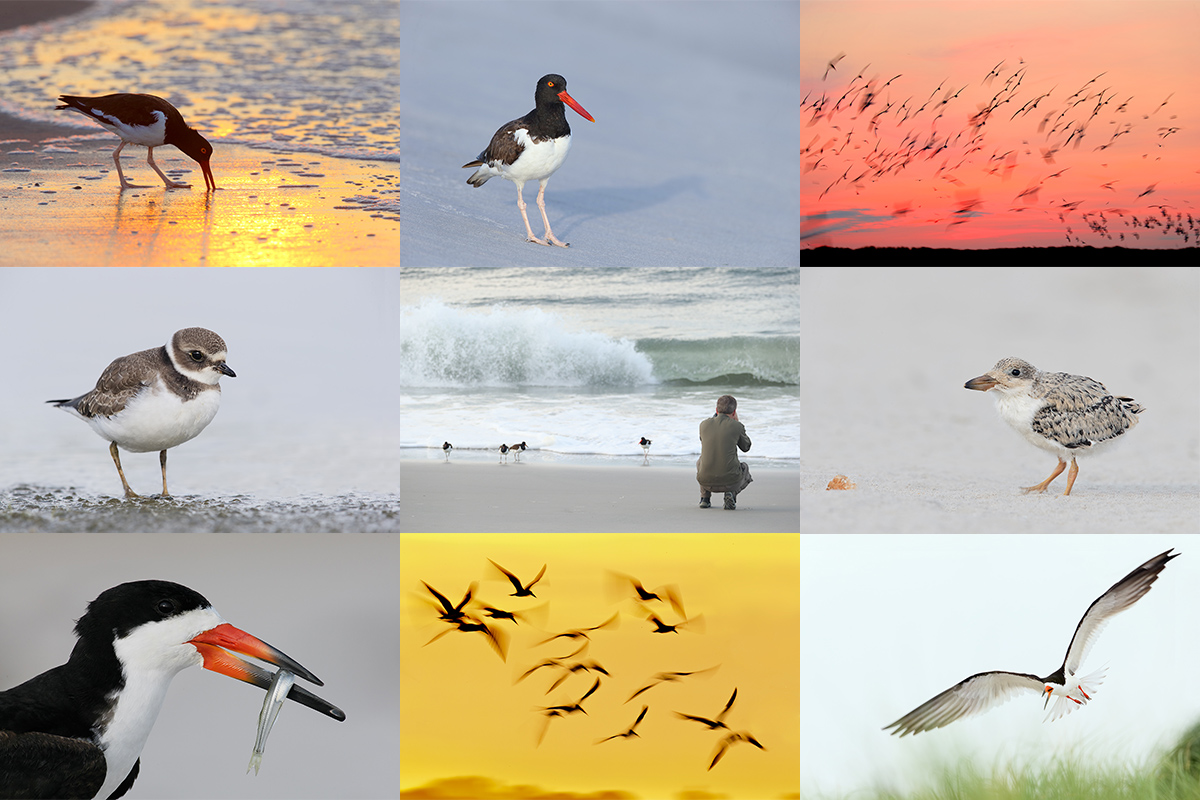 As you can see, the oystercatchers are quite tame at Nickerson. And we will get you up early and we will stay out late.
Jamaica Bay Wildlife Refuge In-the-field Instructional Photo Workshop/Scouting Session. August 12, 2015. Morning only: $250. Cheap!
The tide will be pretty good at the East Pond…. If I learn that conditions there are un-photographable we will do Nickerson Beach as a back-up. This will work either as an add-on for out of town folks coming for the IPT above or as a stand alone session. Either way, you will, as always, learn a ton. And we might even get some good images.
Facebook
Be sure to like and follow BAA on Facebook by clicking on the logo link upper right. Tanks a stack!
Support the BAA Blog. Support the BAA Bulletins: Shop B&H here!
We want and need to keep providing you with the latest free information, photography and Photoshop lessons, and all manner of related information. Show your appreciation by making your purchases immediately after clicking on any of our B&H or Amazon Affiliate links in this blog post. Remember, B&H ain't just photography!
…..
Amazon.com
Those who prefer to support BAA by shopping with Amazon may use this link:
Amazon Canada
Many kind folks from north of the border, eh, have e-mailed stating that they would love to help us out by using one of our affiliate links but that living in Canada and doing so presents numerous problems. Now, they can help us out by using our Amazon Canada affiliate link by starting their searches by clicking here. Many thanks to those who have written.
Typos
In all blog posts and Bulletins, feel free to e-mail or to leave a comment regarding any typos or errors. Just be right :).