What's Up?
One Palouse IPT down. One day off almost done. One more of each to go. This morning's outing to denise's tree wound up being a bit of a painful adventure for me. Read on. We did a bit more scouting in the afternoon and after two pretty boring hours of driving we hit the mother lode…. Image soon. Friday's blog post will announce the 2016 A Creative Adventure/BIRDS AS ART Palouse Instructional Photo-Tours.
This blog post, the 147th in a row, took about two hours to prepare. It was published just after midnight on Wednesday.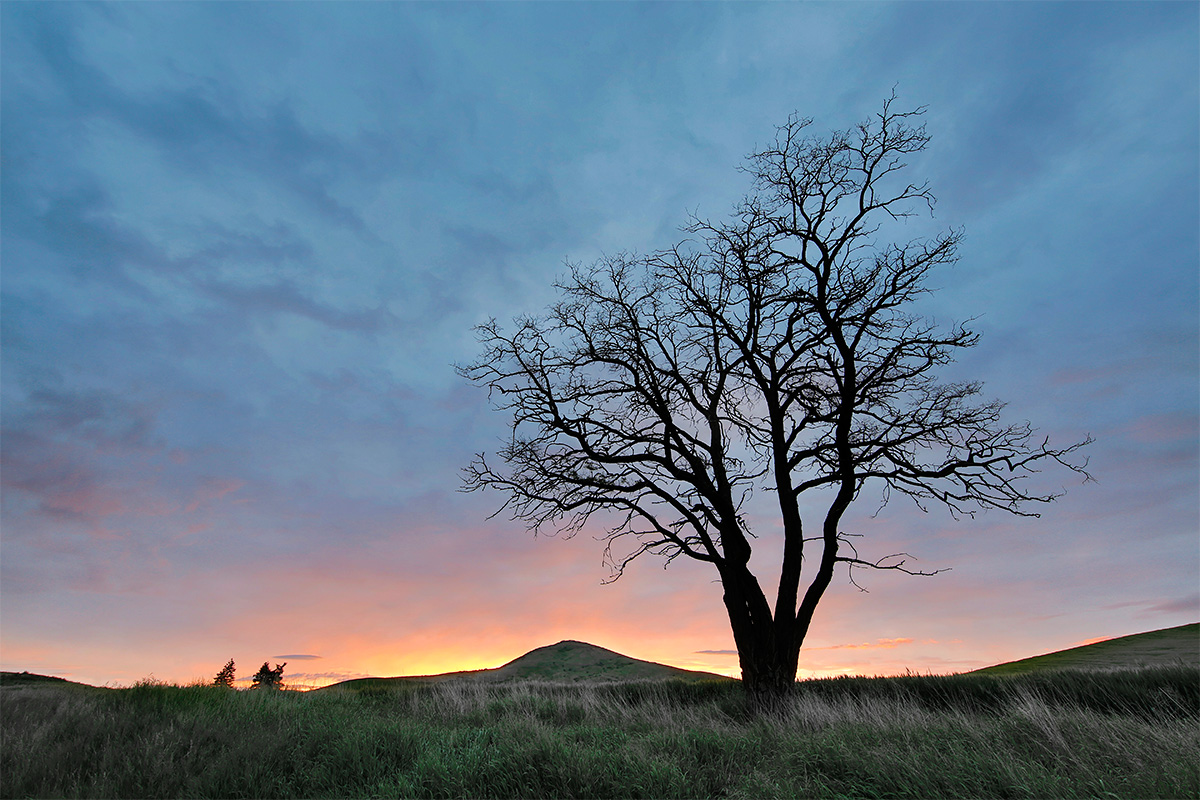 This in-camera HDR Art Vivid image was created in the Palouse at 5:00am on our first day-off morning with the tripod-mounted Canon EF 11-24mm f/4L USM lens (at 17mm) and the Canon EOS 5D Mark III . ISO 400. Evaluative metering +/- 2 stops around a base exposure of +2/3 stop: 1/6 sec. at f/14 in Av mode. WB: 8,000K.
Center AF point (Manual selection) Rear Focus AI Servo AF on the branches on left side of the tree and release. Rear Focus is perfect for landscape photography. Click here to see the latest version of the Rear Focus Tutorial. Click on the image to see a larger version.
denise's tree at sunrise the morning of the hip-wreck. Image copyright 2015: Arthur Morris/BIRDS AS ART
Your browser does not support iFrame.
Hip-Wrecked in the Prairie…
It is about noon on Wednesday and I am lying in bed with a big ice bag on my left hip.
That we left the hotel at 4:05am on the first of our almost two full days off speaks volumes about our dedication, but more so about our love of and passion for photography and the creative process. After I made this image from the road and after denise was happy with her images, I climbed a small rise with the circle lens, the Canon EF 8-15mm f/4L fisheye on the tripod via a Wimberley P-5 camera body plate. After I was happy with my images I made my way down the slope. Denise was waiting on the road with a helping hand.
Realizing the danger, I said, "Boy, I need to be careful not to fall." On the next step my right foot went into about a foot deep hole that was hidden below the matted prairie grasses. I pitched forward face first toward the rock hard gravel road and twisted my body to my right to save my 5D III and the $3,000 B&H affiliate loaner lens (thanks a stack Izzy Flamm). The lens and camera body were fine but having landed full force and squarely on the point of my left hip, I knew immediately that I was not.
It hurt like the dickens and my hip muscles seized up almost immediately. Within the hour the left hip began to swell and soon it felt as if there were a basketball in my jeans, near the left hip of course. I did one round of ice treatment at 11:00am and am looking forward to the next one at 1:30pm. I got some Arnica gel from the local pharmacy and applied it liberally. All in all I am feeling pretty good pain-wise right now (just before 1pm on as I continue typing) and though I am a bit concerned about the swelling, the injury does not at all seem as if it will be a debilitating one.
I spoke at length with good friend Dr. Cliff Oliver of San Diego who stated that without any sharp pain that any type of fracture, even a hairline fracture, is is unlikely. I feel most fortunate….
Important note: in situations like this, beating yourself up does not help anything. Always remember that you were doing your best. Accidents happen and I am pretty sure that this will turn out to be a minor one.
A Funny Tale…
The image immediately above was created by denise ippolito on our 2014 Palouse region scouting trip. Denise fell in love with the tree the moment that she saw it. Having not been to the tree in a year and not even knowing if it would be still standing, we made our way to it. As we approached the general area we saw a gorgeous tree right next to the road just to the east, gently backlit by a well muted sun. The group was thrilled with the new find and everyone made lots of conventional and infrared images with wide angle lenses.
We moved on but did not see denise's tree from last year until we turned the car around. "There's denise's tree!" I cried out happily. We got the group out and photographed the tree in the draw with intermediate telephoto lenses. Next we visited one of our favorite locations that kept everyone busy for more than two hours. On the way home, we passed denise's tree from 2014 and made a left turn. As we did we both realized that denise's tree from last year and our "new" morning silhouette tree were one and the same.
At lunch we learned that everyone but us had realized immediately that it was the very same tree….
Note: the road in the long view that is just beyond the tree is hidden by the gentle slope that I had climbed up…. And fallen down 🙂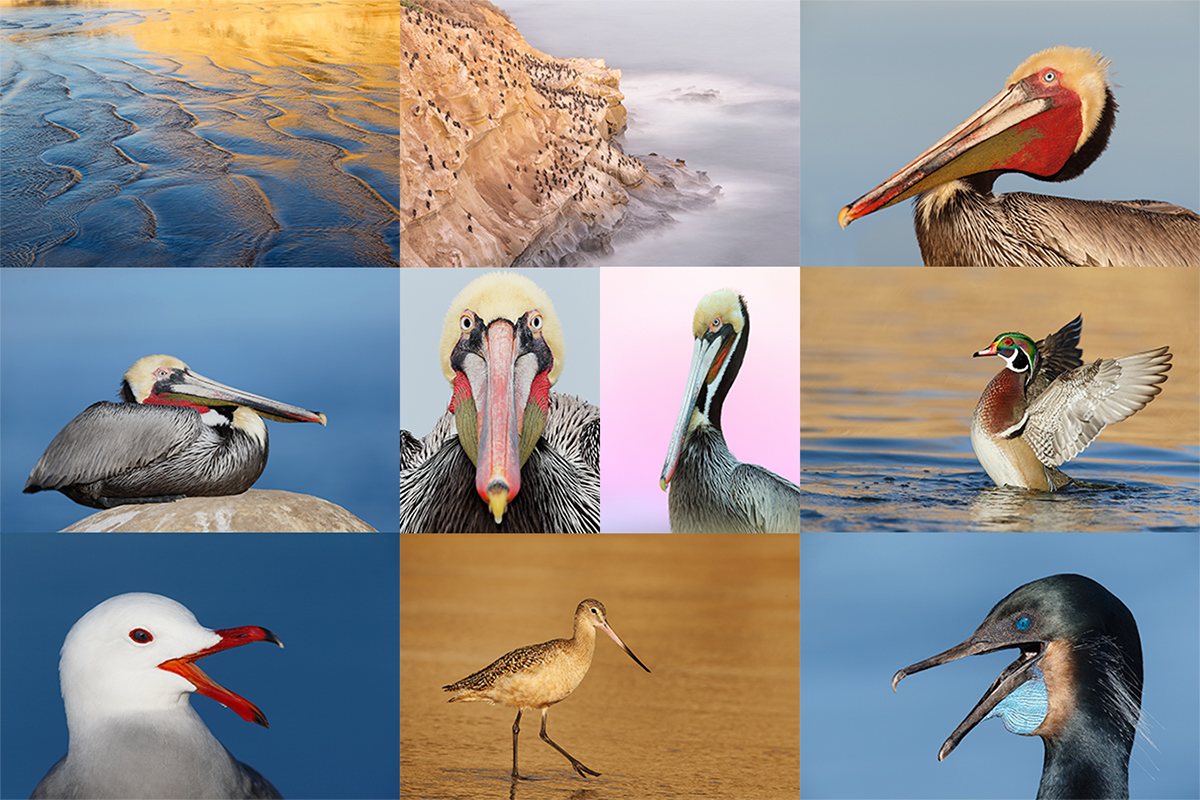 San Diego offers a wealth of very attractive natural history subjects. With annual visits spanning more than three decades I have lot of experience there….
2015 San Diego 4 1/2-DAY BIRDS AS ART Instructional Photo-Tour (IPT) JAN 8 thru the morning of JAN 12, 2016: $1899 (Limit: 10)
Meet and Greet at 7:00pm on the day before the IPT begins
Two great leaders: Arthur Morris and Denise Ippolito
Join us in San Diego to photograph the spectacular breeding plumage Brown Pelicans with their fire-engine red and olive green bill pouches; Brandt's and Double-crested Cormorants in breeding plumage with their amazing crests; breeding plumage Wood and Ring-necked Duck; other species possible including Lesser Scaup, Redhead, and Surf Scoter; a variety of gulls including Western, California, and the gorgeous Heerman's, all in full breeding plumage; shorebirds including Marbled Godwit, Willet, Sanderling and Black-bellied Plover; many others possible including Least, Western, and Spotted Sandpiper, Whimbrel, Black and Ruddy Turnstone, Semipalmated Plover, and Surfbird; Harbor Seals (depending on the current regulations) and California Sea Lions likely; and Bird of Paradise flowers. And as you can see by studying the two IPT cards there are some nice landscape opportunities as well.
Did I mention that there are wealth of great birds and natural history subjects in San Diego in winter?
This IPT will include five 3 1/2 hour morning photo sessions, four 2 1/2 hour afternoon photo sessions, five lunches, after-lunch image review and Photoshop sessions, and a thank you dinner. To ensure early starts, breakfasts will be your responsibility.
A $499 non-refundable deposit is required to hold your slot for this IPT. You can send a check (made out to "Arthur Morris) to us at BIRDS AS ART, PO Box 7245, Indian Lake Estates, FL, 33855. Or call Jim or Jennifer at the office with a credit card at 863-692-0906. Your balance, payable only by check, will be due on 11/1//2015. If we do not receive your check for the balance on or before the due date we will try to fill your spot from the waiting list. Please print, complete, and sign the form that is linked to here and shoot it to us along with your deposit check. If you register by phone, please print, complete and sign the form as noted above and either mail it to us or e-mail the scan. If you have any questions, please feel free to contact me via e-mail.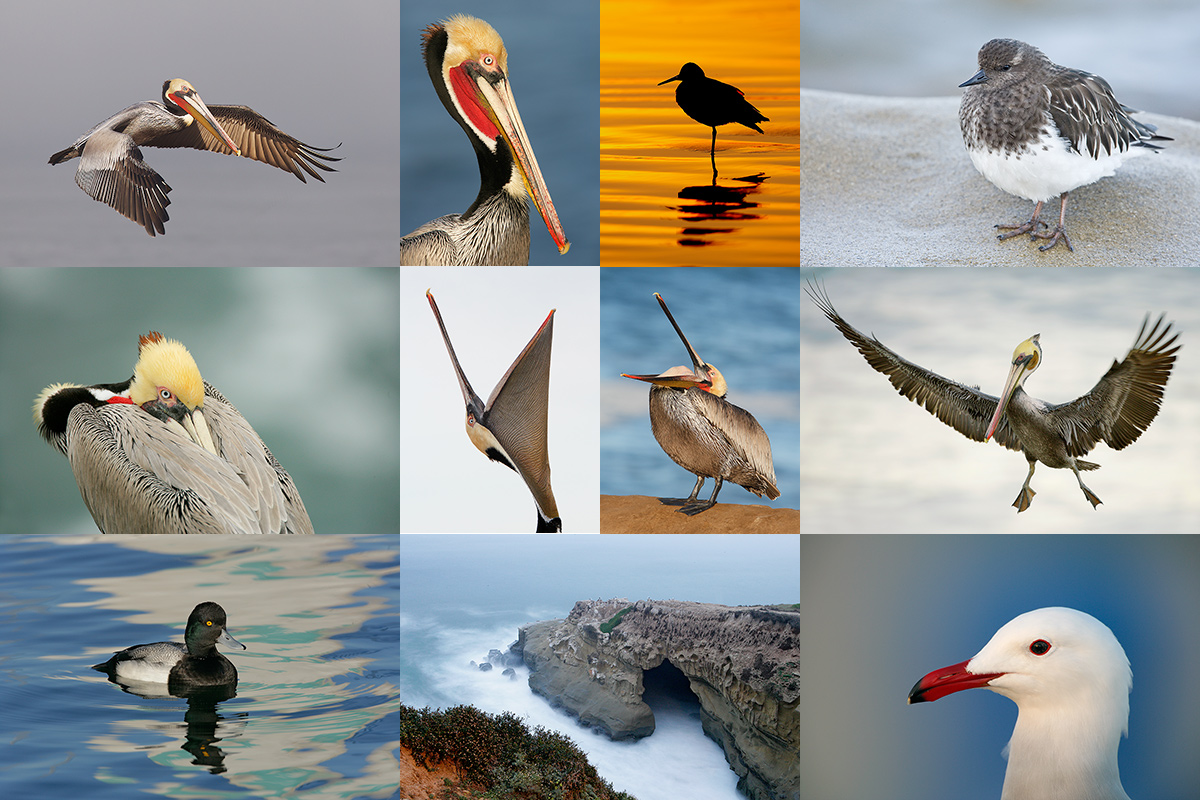 Though the pelicans will be the stars of the show on this IPT there will be many other handsome and captivating subjects in wonderful settings.
Facebook
Be sure to like and follow BAA on Facebook by clicking on the logo link upper right. Tanks a stack!
Support the BAA Blog. Support the BAA Bulletins: Shop B&H here!
We want and need to keep providing you with the latest free information, photography and Photoshop lessons, and all manner of related information. Show your appreciation by making your purchases immediately after clicking on any of our B&H or Amazon Affiliate links in this blog post. Remember, B&H ain't just photography!
…..
Amazon.com
Those who prefer to support BAA by shopping with Amazon may use this link:
Amazon Canada
Many kind folks from north of the border, eh, have e-mailed stating that they would love to help us out by using one of our affiliate links but that living in Canada and doing so presents numerous problems. Now, they can help us out by using our Amazon Canada affiliate link by starting their searches by clicking here. Many thanks to those who have written.
Typos
In all blog posts and Bulletins, feel free to e-mail or to leave a comment regarding any typos or errors. Just be right :).