What's Up?
We had a great morning that began at denise's tree. We followed that up with three great red barns. Then a quick coffee break. We finished the morning up with some mustard fields panos and two more great red barns. Then an indoor picnic-style deli lunch, Photoshop and image critiquing and sharing sessions. Our afternoon consisted of lots of wagon wheels and 100-year old farming implements.
This blog post, the 151st in a row, took about 1 1/2 hours to prepare. It was published just after midnight on Monday, June 8.
Canon EF 180mm f/3.5L USM Macro Lens
Price reduced $200 on 6/7/2015!
Multiple IPT veteran Carl Zanoni is also offering a used Canon EF 180mm f/3.5 USM macro lens in like new condition for a ridiculously low $975. The sale includes the E-72 II 72mm (front) lens cap, the (rear) lens dust cap E, the ET-78 II lens hood, Tripod Mount Ring B (tripod collar), the LZ1324 lens case, the original box, and insured shipping via UPS Ground to US addresses. Your item will not ship until your check clears unless other arrangements are made.
Please contact Carl by e-mail or by phone at 860 306 9651 (eastern time).
I have owned and used the 180 macro for more than 10 years. It is the primo telephoto macro lens. It is sharp with and without a 1.4X TC. It offers a narrow field of view that goes a long way to eliminating back distracting background element. It is great for flowers and all sorts of bugs, butterflies, and dragonflies as well as for frogs and toads.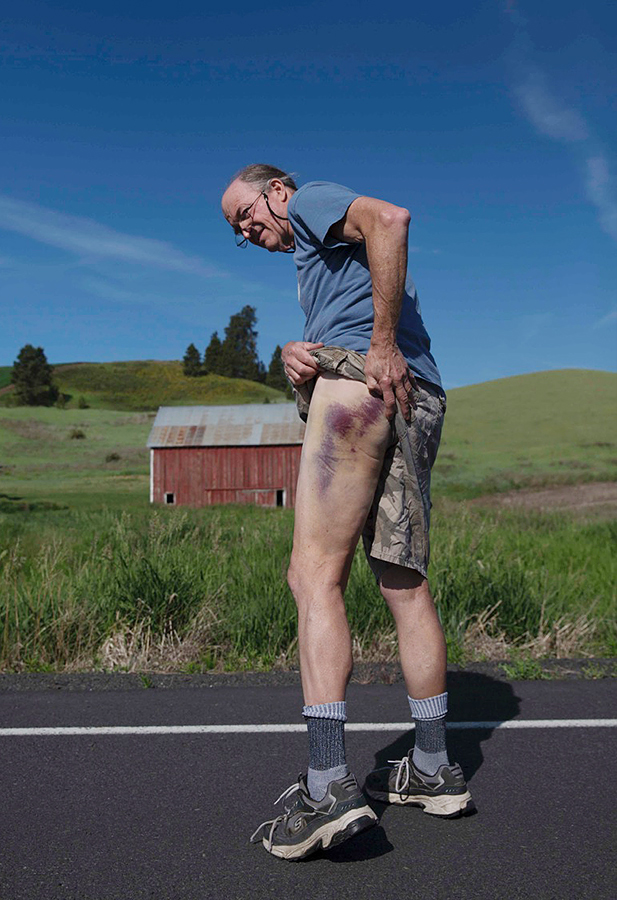 Image courtesy of and copyright 2015: Phil Frigon.
Just in Case You Thought That I Was Exaggerating…
Sometimes you get lucky. I knew when I hit with a huge thud that I might have done some serious damage. As I have said here before, I was most fortunate not to have broken anything. Functionally, I am doing just fine. Though the swelling persists, it has decreased greatly. I am walking well with just minor discomfort. Thanks for the image Phil!
Image Question
How would the image have been improved if Phil had moved about one yard to his left?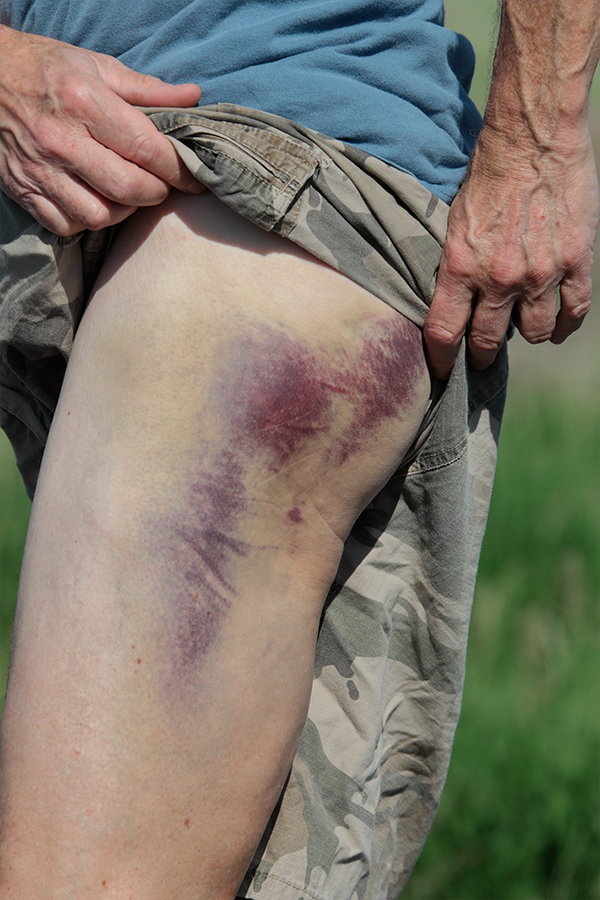 Image courtesy of and copyright 2015: Rick Newman
Rick Newman
Rick Newman is the son of many multiple IPT veteran Lou Newman. He is a super young man; he is happy and smiling and fit. It is hard to believe that he is 51. He is far beyond thrilled that he joined the IPT. He says every day that he cannot believe how much he has learned from denise and from me. He likes to shoot everything and anything and our greatest task has been to help him refine his vision and hone his techniques. In addition, he has learned to see and work with the light, and to avoid the clutter that dominated his images at first. Thanks for the image Rick!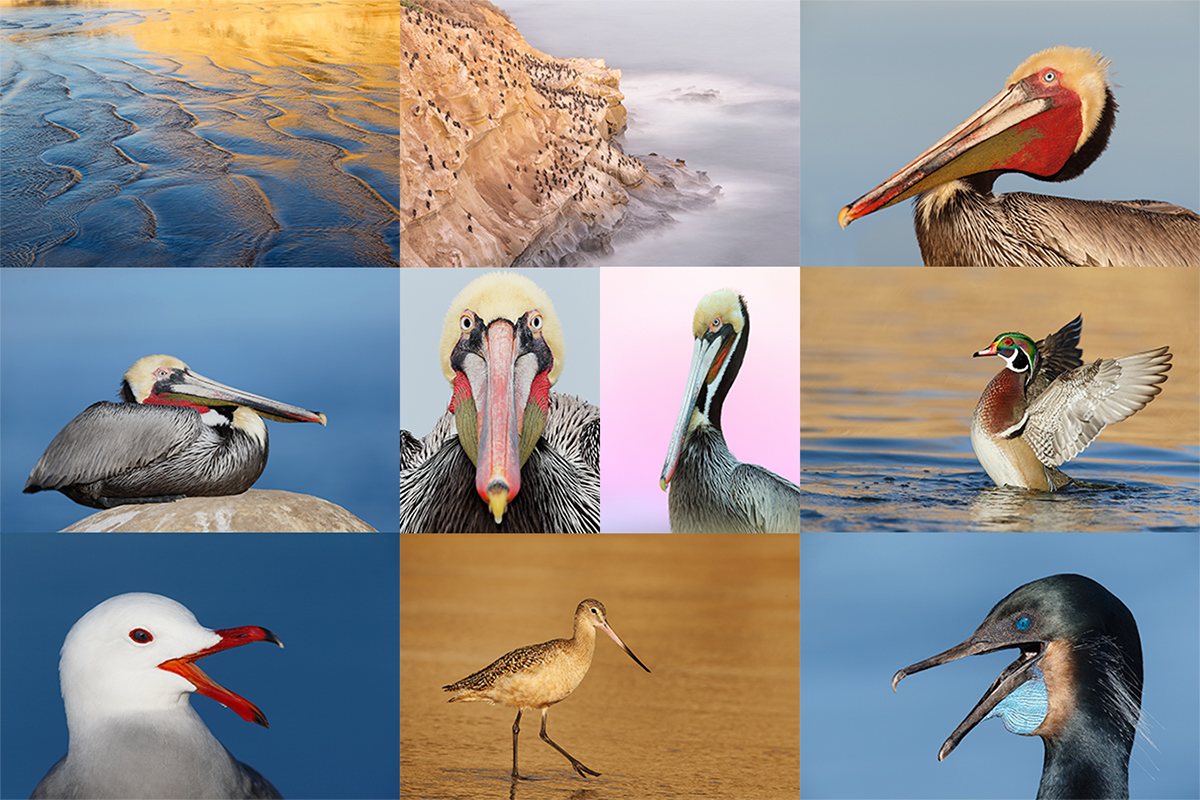 San Diego offers a wealth of very attractive natural history subjects. With annual visits spanning more than three decades I have lot of experience there….
2015 San Diego 4 1/2-DAY BIRDS AS ART Instructional Photo-Tour (IPT) JAN 8 thru the morning of JAN 12, 2016: $1899 (Limit: 10)
Meet and Greet at 7:00pm on the day before the IPT begins
Two great leaders: Arthur Morris and Denise Ippolito
Join us in San Diego to photograph the spectacular breeding plumage Brown Pelicans with their fire-engine red and olive green bill pouches; Brandt's and Double-crested Cormorants in breeding plumage with their amazing crests; breeding plumage Wood and Ring-necked Duck; other species possible including Lesser Scaup, Redhead, and Surf Scoter; a variety of gulls including Western, California, and the gorgeous Heerman's, all in full breeding plumage; shorebirds including Marbled Godwit, Willet, Sanderling and Black-bellied Plover; many others possible including Least, Western, and Spotted Sandpiper, Whimbrel, Black and Ruddy Turnstone, Semipalmated Plover, and Surfbird; Harbor Seals (depending on the current regulations) and California Sea Lions likely; and Bird of Paradise flowers. And as you can see by studying the two IPT cards there are some nice landscape opportunities as well.
Did I mention that there are wealth of great birds and natural history subjects in San Diego in winter?
This IPT will include five 3 1/2 hour morning photo sessions, four 2 1/2 hour afternoon photo sessions, five lunches, after-lunch image review and Photoshop sessions, and a thank you dinner. To ensure early starts, breakfasts will be your responsibility.
A $499 non-refundable deposit is required to hold your slot for this IPT. You can send a check (made out to "Arthur Morris) to us at BIRDS AS ART, PO Box 7245, Indian Lake Estates, FL, 33855. Or call Jim or Jennifer at the office with a credit card at 863-692-0906. Your balance, payable only by check, will be due on 11/1//2015. If we do not receive your check for the balance on or before the due date we will try to fill your spot from the waiting list. Please print, complete, and sign the form that is linked to here and shoot it to us along with your deposit check. If you register by phone, please print, complete and sign the form as noted above and either mail it to us or e-mail the scan. If you have any questions, please feel free to contact me via e-mail.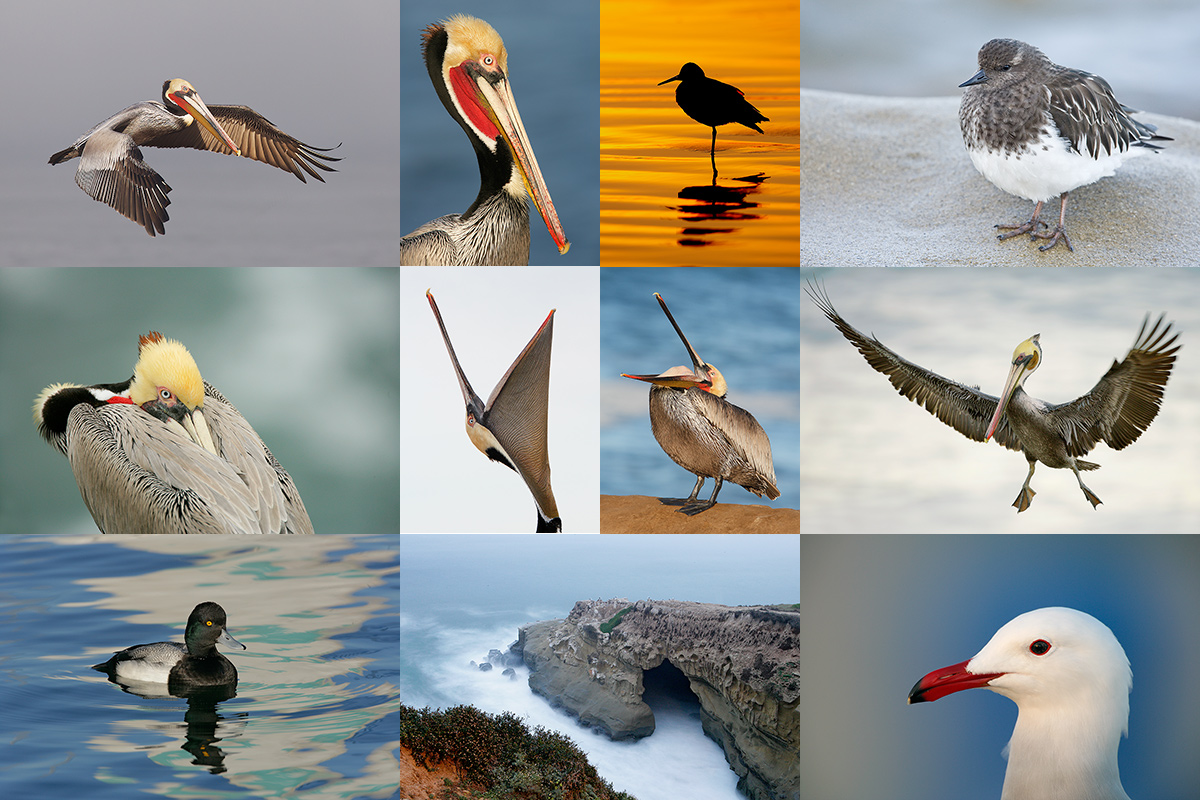 Though the pelicans will be the stars of the show on this IPT there will be many other handsome and captivating subjects in wonderful settings.
Facebook
Be sure to like and follow BAA on Facebook by clicking on the logo link upper right. Tanks a stack!
Support the BAA Blog. Support the BAA Bulletins: Shop B&H here!
We want and need to keep providing you with the latest free information, photography and Photoshop lessons, and all manner of related information. Show your appreciation by making your purchases immediately after clicking on any of our B&H or Amazon Affiliate links in this blog post. Remember, B&H ain't just photography!
…..
Amazon.com
Those who prefer to support BAA by shopping with Amazon may use this link:
Amazon Canada
Many kind folks from north of the border, eh, have e-mailed stating that they would love to help us out by using one of our affiliate links but that living in Canada and doing so presents numerous problems. Now, they can help us out by using our Amazon Canada affiliate link by starting their searches by clicking here. Many thanks to those who have written.
Typos
In all blog posts and Bulletins, feel free to e-mail or to leave a comment regarding any typos or errors. Just be right :).