What's Up?
I leave for the Galapagos Photo Cruise early on Sunday morning. I have spent the last few days answering many dozens of e-mails and am still far behind. Basically, I will not have internet access from this coming Monday until late in the day on July 29 so please refrain from e-mailing me at the traditional samandmayasgrandpa@att.net address until very late July. For mail order or other help please contact Jim by phone M-F at 863-692-0906 or via e-mail at the staffbaa address. To register for an IPT please contact Jennifer by phone during weekday banker's hours at 863-692-0906 or via e-mail to our Verizon address with ATTN: JEN in the subject line. AS a side note, my right hand man Jim Litzenberg can help you with just about anything BIRDSASART.
Today is packing day. I will be trying to get down to one checked bag…. I am not sure how that will do. Many would chuckle to learn that I pretty much live out of a suitcase when I am home. The dirty clothes go into the washer and then the dryer and then back into the suitcase.
Please Help Support My Work on the BAA Blog
Thanks a Stack! June was a Great Month.
The last few weeks have been quite rewarding. Thanks a stack to the many who used our B&H links for purchases large and small. Right now I am working closely with my B&H rep to have four 400 DO and two 100-400 II BAA Affiliate orders expedited. It has been nearly impossible to come by a 400 DO II. I am hoping that my efforts pay dividends fairly soon…. 100-400IIs are now in stock at B&H. The 400 DO II lenses continue to be in very short supply. The sooner you order, the sooner you will get yours; I am working closely with my contact at B&H to have the current orders expedited when a shipment does actually arrive.
To show your appreciation for my efforts here, we ask, as always, that you use our the B&H and Amazon affiliate links on the right side of the blog for all of your purchases. B&H Is recommended for you major photography gear purchases, Amazon for your household, entertainment, and general purpose stuff. Please check the availability of all photographic accessories in the BIRDS AS ART Online Store, especially Gitzo tripods, Wimberley tripod heads, and the like. We sell only what I have used, have tested, and can depend on. We will not sell you junk. We know what you need to make creating great images easy and fun. And we are always glad to answer your gear questions via e-mail.
I would of course appreciate your using our B&H affiliate links for all of your major gear, video, and electronic purchases. For the photographic stuff mentioned in the paragraph above we, meaning BAA, would of course greatly appreciate your business. Here is a huge thank you to the many who have been using our links on a regular basis and visiting the BAA Online store as well.
400 DO II
If what you read below and elsewhere on the BAA Blog motivates you to purchase this lens we would of course appreciate you using my B&H affiliate link. Please shooting me your B&H receipt (mail order only as always!) via e-mail so that I can attempt to help. I am hoping that the logjam of orders will be eased as happened recently with the Canon EF 100-400mm f/4L IS II.
Galapagos Gear Bag
I will be packing my Think Tank Airport Security™ V 2.0 Rolling Camera Bag on Saturday. I was undecided at to whether to borrow a Canon EF 500mm f/4L IS II as my big lens, bring the Canon EF 200-400mm f/4L IS with Internal 1.4x Extender as I did so successfully on my last trip to the archipelago, or tote the lighter Canon EF 300mm f/2.8L IS II that has served me well on several Southern Ocean expeditions….
And then I tried the William T. (Bill) Lloyd's Canon EF 400mm f/4 DO IS II USM lens with the 7D II for flight on the UK Puffins IPT and began to think…. I decided that I would like to bring the 400 DO II as my big lens used often with both TCs and keep either the 100-400 II or the 70-200mm f/2.8L IS (depending on both the sky/ambient light conditions and the particular landing) on my shoulder via a Black Rapid RS-7 strap.
Bookmark This Page
Be sure to bookmark our Lens Chart page here so that you can quickly check the weights and minimum focusing distances for all Canon telephoto lenses.
The 400 DO II Problem…
As everyone here knows, getting your hands on a 400 DO II is no easy chore. Some folks have waited as long as several months. I tried to get one through the Canon Explorers of Light Program early this week but they had none in stock and no idea of an ETA. I tried to secure a loaner through both Canon Professional Services and B&H but none were available. I mentioned all of the above to John Armitage via e-mail who had written to thank me for helping him to get his 400 DO II. I was stunned when he wrote back as follows:
Art — if you are really stuck, you can borrow mine — it has been sent to my daughter in Oregon and I will not be there (from Colorado) for a couple of weeks to start playing with it; having it is not essential for me. My original 400 DO is doing just fine. I am having the new lens insured against all risks so that it can easily and cheaply be sent to you if you wish. What dates would you need it?
Well, needless to say I just about fell off of my chair. And I gladly accepted his amazingly generous offer. The lens, which had been in Portland, OR on Thursday afternoon, made it to ILE at 11:59am on Friday. Fed-Ex Priority cost me $243; if the driver had arrived 2 minutes later that fee would have been refunded as delivery was promised "by noon." Getting your hands on the lens you want at the last second? Priceless!
I will use the 400 DO II mostly on a tripod as my big lens with either TC on most landings. I will use it on the pangas (zodiacs) and for flight photography. All with either a 7D II or with the 1D X. What is the single huge advantage that the 400 DO has over the far more versatile 200-400 with internal extender? The hand hold-ability that comes with its lighter weight: 4.63 pounds versus 7.98 pounds. The 400 DO II is 3.35 pounds lighter than the 200-400. It should and would be a bit more had Canon made the tripod ring (collar) removable as it was on the original version…. In any case, the 400 DO II is actually more than a half pound lighter than the 300 f/2.8L IS II.
It is often dark and sometimes drizzly on Puerto Ayora; I will use the 400 DO II/2X III/1D X on a tripod there. 800mm should be fine for photographing the various Darwin's finches and Galapagos Yellow Warblers that we will see. Why the 1D X? To take advantage of its superior high ISO performance as compared to the 7D II.
The Lens Line-up
In addition to the Canon EF 400mm f/4 DO IS II USM lens I will bring the following lenses:
Canon EF 100-400mm f/4.5-5.6L IS II USM lens. The new 1-4 will be on my shoulder by way of a Black Rapid RS-7 strap on most landings with either the 5D Mark III or the 7D II depending on both the sky conditions that affect the amount of ambient light and the expected subjects on a particular landing.
Canon EF 70-200mm f/2.8L IS II USM lens. This one will be on my shoulder on some landings with either the 5D Mark III or the 7D II again depending on both the sky conditions that affect the amount of ambient light and the expected subjects on a particular landing.
Canon EF 24-105mm f/4L IS USM Lens. This all-purpose B-roll lens will be in my Vested Interest Xtrahand vest on virtually ever landing where it can be grabbed when needed. It meshes beautifully with the 100-400 II.
If I have room I will throw in the old Canon 15mm fish eye lens now replaced by the much more fun but somewhat heavier Canon EF 8-15mm f/4L Fisheye USM lens.
Focal Length Coverage…
The lenses above give me focal length coverage of 15mm and then from 24-800mm if teamed with a full frame body and effective 1280mm with the 7D II; with the 600II/2X III/7D II combination I'd again be sure to pre-focus manually because–as above–initial AF acquisition is always slower with the 7D II than with a 1D X because of its less powerful battery.
Camera Bodies
EOS-1D X. I will use my rugged pro body primarily with the 400 DO II, going with the 7D II on the big lens at times on certain landings. The more powerful 1D X battery makes it great for driving the AF system when a TC is added. As above, I will most likely go to the 1D X for the finches so that I can take advantage of its superior high ISO performance; it is often dreary on Puerto Ayora.
5D Mark III with the Canon BG-E11 Battery Grip. Depending on the situation, I will use either the 5D III or the 7D II on the 100-400 II or the 70-200 II. Using the full frame 5D III with either of those combos will effectively give me a wider focal length range with my intermediate telephoto lens that will mesh better with 400 DO with TCs…. Questions on this are welcome.
EOS-7D Mark II. I will go to the 7D II for hand held flight with the 400 DO II and in various other situations when I know that I will need the extra reach. If I have room I will bring a backup 7D II without the Canon BG-E16 Battery Grip. I use the battery grip on both my 7D II and my 5D III to give the bodies a pro body feel.
I will have a 5D Mark II that was converted to infrared by Kolari Vision with me just because infrared is great fun. See here for IR details. I am sure that I will do some IR on the big piles of Marine Iguanas that we will encounter. Thanks to the many who have used Kolari vision to convert a camera body to IR.
TCs
I almost always travel with three Canon 1.4X III TCs and two 2X III TCs, To save weight, and because I will not be using the 2X III TC much, I am bringing only two 1.4X TCs and one 2X TC to the Galapagos in part to save weight. I will be extra cautious.
Why do I bring extras? For my style of photography I cannot afford to be without both TCs in case of accident or malfunction. Most common in the latter category would be that the locking pin might stick occasionally. When that happens, there is a risk of having your camera body hit the ground….
Think Tank Rolling Bags
I will be using the larger of my two Think Tank rolling bags, the Airport Security™ V 2.0 Rolling Camera Bag. I usually use the slightly smaller of the two, the Airport International™ LE Classic for my Southern Ocean trips. Everything above fits easily into my Airport Security™ V 2.0 Rolling Camera Bag.
Think Tank Glass Limo
The Think Tank Glass Limo, which served me so well on my last Southern Ocean trip, will again be instrumental in helping me get the 400 DO around while preserving my shoulder health. It travels in a checked bag.
Think Tank Urban Disguise Laptop Shoulder Bag
Both denise and I use and love this amazing bag as it has tons of room and enables us to bring tons of extra stuff.
Please click on my Think Tank affiliate link here to earn a free gift when you purchase a Think Tank Rolling Bag.
Think Tank
Please use the Think Tank logo link on the right side of each page to order any of the great products mentioned above and earn a free gift.
Delkin Flash Cards
As always, I will have a 64gb Delkin e-Film Pro Flash Card in each camera body so that I never have to change cards in the field thus reducing the risk of losing a card…. Please note the new lower prices here. I do have a few extra 32 and 64gb cards in a Delkin CF Memory Card Tote, mostly to protect against operator error in the form or card loss….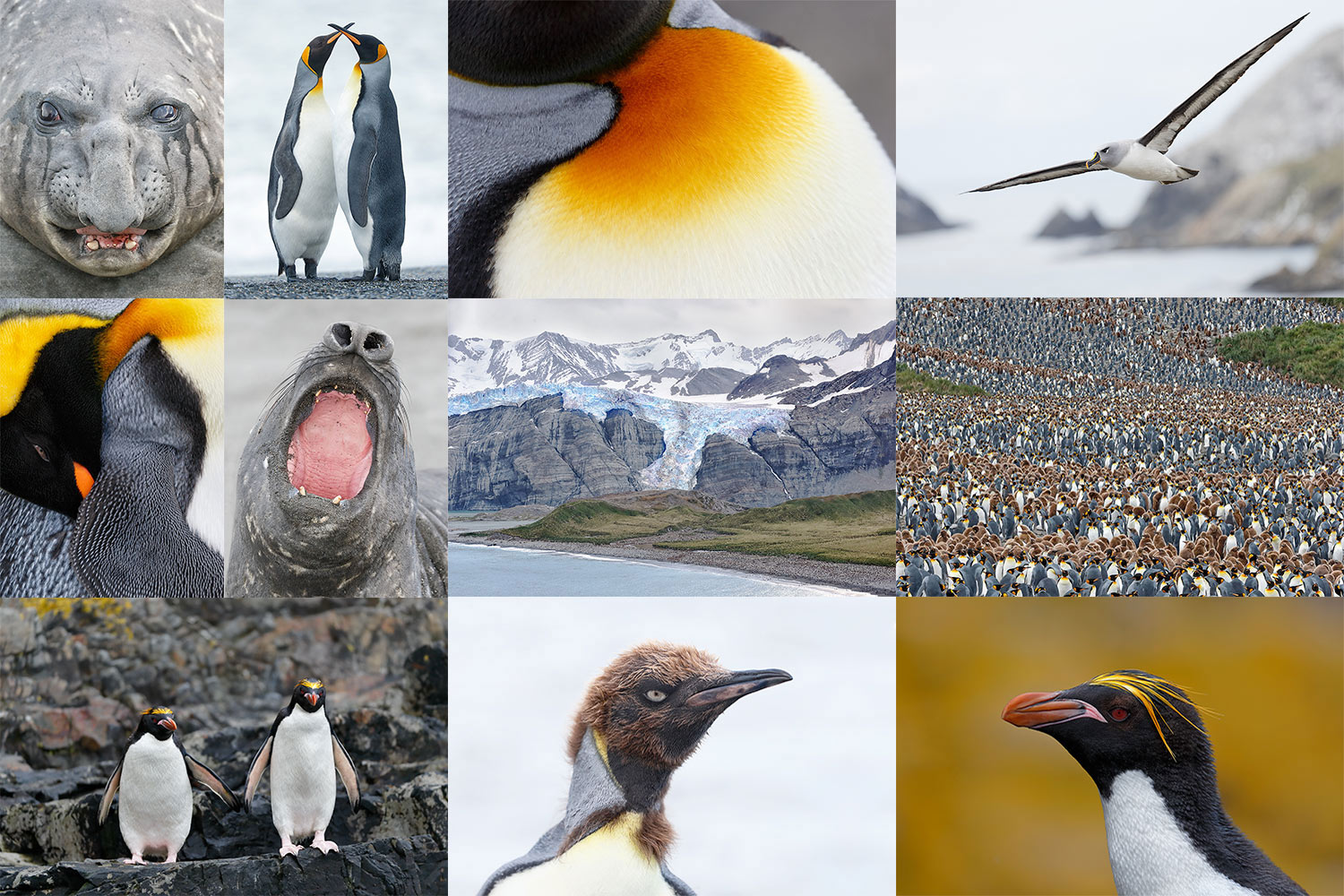 All of the images on the card were made on South Georgia. This remote wilderness island offers both spectacular scenery and hordes of tame wildlife and birds. From top left clockwise to the center: Southern Elephant Seal, courting King Penguin pair, King Penguin abstract, Grey-headed Albatross, King Penguin rookery on Salisbury Plain, Macaroni Penguin head portrait, King Penguin molting Okum Boy, Macaroni Penguin pair, King Penguin preening, Southern Elephant Seal yawning, the view of Gold Harbour from a Light-mantled Sooty Albatross nest.
Click on the image to see an extra large version.
The Southern Ocean
South Georgia Expedition Voyage
I've been blessed. I've now made four trips to the Southern Ocean, three expeditions that visited the Falklands, South Georgia, and the Antarctic Peninsula, and one to the Falklands and South Georgia. Each was a truly amazing experience. South Georgia has been the star of the show each time: rugged snow covered peaks, tame and abundant wildlife including Southern Elephant Seal and Southern Fur Seal, and penguins: more King Penguins than you could ever have dreamed of. Gentoos. And my favorite, the golden-yellow spaghetti-topped Macaronis. With four trips to South Georgi under my belt, I have a pretty good idea about how to make great images at each of the iconic landings. In addition, we should have some pretty good flight photography sessions from the stern of the ship. I would love the chance to share my knowledge with you.
Going Light
On my recent trip, I found myself going with shorter lenses and lighter gear than on any previous Southern Ocean Expedition. In part that was due to the crop factor of the 7D Mark II, in part because going light makes life (and landings!) much easier. I made many landings with just the 7D II and the 70-200mm f/2.8L IS. I refined the way that I got my gear safely from ship to shore. Lots more on that here soon.
Cheesemans' Well Deserved Kudos
I know from personal experience that if you are a photographer who is going to invest in Southern Ocean voyage, you will want to put your money on Cheesemans'. No other tour company goes as far out of their way to ensure making every possible safe landing. And no other tour company will have you spending more time on land. Michael Viljeon from South Africa was aboard the Ortelius on a Southern Oceans voyage that preceded the Cheesemans' trip that we were both on. As we headed back to Ushuaia, he said, "The folks that ran that first trip were pathetic. Too rough. No landing today. Surf too high today. No landing. Wind wrong direction. No landing. Cheesemans' routinely and safely gets folks on land in conditions where the leaders of other tour companies do not even bother getting out of their bunks."
Here, from the" Way to Go CES! (Cheeseman's Ecology Safaris)" blog post here, is one of my favorite Cheesemans' stories:
The landing at Bailey Head, Antarctica, was especially rewarding to me as I had been sitting in a zodiac 100 yards off shore on my 2007 trip when the zodiac in front of mine swamped and the captain of the ship called off the landing…. Early that day it looked as if my weather Karma might not be working. Ted's "Good morning shipmates" was followed by the news that we would not be able to land at Bailey Head that morning as the swell was too big. The beach there is sloped tremendously and the sea strives to pull the zodiacs back into the ocean before folks have gotten off with their gear. Tom Murphy had said to me several days before, "We will get you on the beach at Bailey Head." Ted concluded his morning greetings by saying, "We are sending out a scout team to see if landing is possible."
After breakfast I was thrilled to hear Ted's voice again on the PA, "We will be landing at 8am." Afterwards folks noted that it was the calmest landing ever at this amazingly beautiful spot. My good weather Karma (courtesy of late-wife Elaine) had come through one last time. Along with St. Andrews Bay, it was one of my two favorite super-great once-in-a-lifetime days of the trip. And we even got to enjoy three additional hours at Hannah Point, Antarctica before calling it a wrap and heading for the feared Drake Passage. All thanks to Cheesemans' Ecology Safaris.
Why Sign Up Through BIRDS AS ART?
If you have been thinking and dreaming of finally visiting South Georgia, this is the trip for you. Quit dreaming and act now. Though I will not be an official leader on this trip, those who have traveled with me know that I cannot help but teach. I will make pre-trip gear recommendations. I will hold informal pre-landing briefings. In the same vein, everyone will receive a free copy of our Antarctica Site Guide once they are paid in full (July 2, 2015). I will be available on the ship to review your images,, answer questions, and conduct informal over-the shoulder Photoshop sessions. And best of all, everyone who signs up under the auspices of BAA are invited to tag along with me on the landings where I will be glad to offer invaluable in-the-field advice. And the same goes for the ship-board birds in flight and marine mammal photography opportunities.
Do join us. To learn how to be part of the BAA group please e-mail me with the words Antarctica/Extended Expedition BAA Info Please cut and pasted into the Subject line.
Important Notes
#1: If you fail to e-mail me as noted directly above, and register directly with CES you MUST let them know that you would like to be part of the BIRDS AS ART group.
#2: Joining the BIRDS AS ART group as above will not cost you one penny.
The Cheesemans' Ecology Safaris South Georgia Expedition Voyage
An in-depth Adventure aboard the Ortelius: October 29 to November 17, 2015
From the CES website:
We are very excited to be able to bring this special in-depth expedition to you. This is a product of years of experience leading voyages to South Georgia and a passion for everything found here. Our itinerary is specifically designed to take advantage of the vibrant early season on South Georgia when snow blankets the mountains and early summer brings special wildlife treats seldom experienced. We will explore vast colonies of King Penguins, elephant seals in their peak of breeding activity, and colonies of Wandering, Gray-headed, Light-mantled, and Black-browed albatross. This cruise allows us many days to explore this truly unique island, the crown jewel of the Antarctic. The landscape filled with expanses of glaciers pouring into the sea provides rare beauty and photogenic impressiveness that words cannot convey. We will enjoy about nine days in the midst of the most beautiful and wildlife-rich island on the planet! Exceptional leadership expertise will enrich your experience throughout the voyage. Our priority on this special expedition is to give you the maximum time possible in the field so you can explore at your own pace during a special time on South Georgia. Come explore South Georgia with us!

I can personally attest to the accuracy of everything above. 🙂
More CES Kudos
From multiple IPT veteran Alan Lillich who (along with wife Pat) was in the BAA group on a 2012 CES voyage with me:
Start with some of the world's best alpine landscapes, add an overwhelming abundance of tolerant wildlife, and finish with tour operators who put you there and give you the freedom to explore. It doesn't get any better.