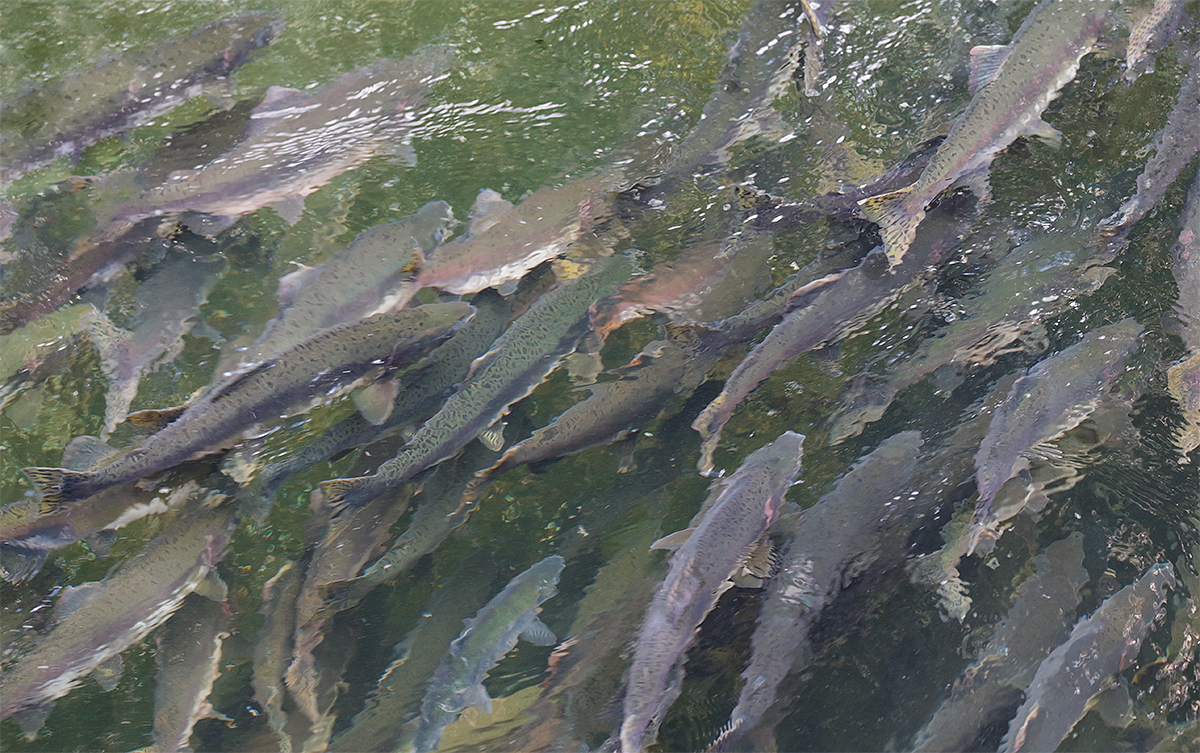 This image was created at Gilbert Bay, Port Snettisham, AK on our Inside Passage cruise. I used the tripod-mounted Canon EF 100-400mm f/4.5-5.6L IS II USM lens (at 263mm) and the Canon EOS-1D X. ISO 1600. Evaluative metering at zero: 1/80 sec. at f/6.3 in Av mode. AWB.
With the Singh-Ray 77mm Warming Circular Polarizer set to dark.
Center AF point/AI Servo Expand/Rear Focus AF as framed was active at the moment of exposure (as is always best when hand holding). Click here to see the latest version of the Rear Focus Tutorial. Click on the image to see a larger version.
Pink Salmon in stream below waterfall
Your browser does not support iFrame.
More 100-400II Versatility: Fish as Art?
The more that I use the 100-400II, the more I am amazed by its versatility. On our Gilbert Bay hike I was able to create head portraits of Coastal Brown Bear, a race of grizzly, photograph large wildflowers, and make some Salmon as Art images as well. I think that the artistic success of today's featured image is due in part to the soft light, the sweet green and brown tones, and the relatively slow shutter speed. Note that the Singh-Ray LB Warming Circular Polarizer set to dark allowed me to better see the fish below the surface by eliminating the bothersome surface reflections to some degree. A polarizer will not, however, completely eliminate bright specular highlights.
The Left Knee
On our first weather-delayed day we walked about a mile to the falls near the Mendenhall Glacier. After the treatment by Dr. Dan Holland a few days before, the knee had felt great, better than it had in months. That evening, despite the even terrain, my left knee ached plenty. I am not sure if it was the Rx Pain Relief Bracelet that I put in place or something else, but despite lots of gnarly up and down climbs over roots and rocks at Gilbert Bay, the problematic knee has felt great ever since. Go figure.
The RAW Conversion
The RAW conversion in DPP 4 was straightforward. DPP 4 is amazingly simple to use, especially after your create and save a recipe file for each ISO for each camera body. Arash's recommended Luminance and Chrominance settings and the correct Sharpness setting are entered and saved in each recipe. After applying the recipe, the only thing that I need do with 98% of my images is to adjust the Highlight and Shadow sliders on the Perform basic image adjustment tab. Fast, simple, and easy with great color and the highest image quality available…. Learn more about DPP 4 in the DPP RAW Conversion Guide here.
Please let me know if creating recipe files is detailed in the DPP 4 guide; if not, I will do a free tutorial here on the blog.
The Image Optimization
The big problem with this image were the specular highlights (reflections) on the surface of the water, especially those in the upper left corner. I used my usual cadre of clean-up tools, the Spot Healing Brush, the Clone Stamp Tool, my beloved Patch Tool, and a series of Quick Masks that were refined by Regular Layer Masks. I even tried Content Aware Fill on one problematic area and it worked like a charm. I applied a layer of my NIK Color Efex Pro 50-50 recipe and reduced the opacity to about 33%. Total time in Photoshop: about 30 minutes.
Everything that I did to optimize today's image is covered in detail in my Digital Basics File–written in my easy-to-follow, easy-to-understand style. Are you tired of making your images look worse in Photoshop? Digital Basics File is an instructional PDF that is sent via e-mail. It includes my complete digital workflow, dozens of great Photoshop tips, details on using all of my image clean-up tools, the use of Contrast Masks, several different ways of expanding and filling in canvas, all of my time-saving Keyboard Shortcuts, Quick Masking, Layer Masking, and NIK Color Efex Pro basics, Contrast Masks, Digital Eye Doctor techniques, using Gaussian Blurs, Tim Grey Dodge and Burn, a variety of ways to make selections, how to create time-saving actions, the Surface Blur (background noise reduction) settings as taught to me by Denise Ippolito, and tons more.
APTATS I & II
Learn the details of advanced Quick Masking techniques in APTATS I. Learn Advanced Layer Masking Techniques in APTATS I. Mention this blog post and apply a $5 discount to either with phone orders only. Buy both APTATS I and APTATS II and we will be glad to apply at $15 discount with phone orders only. Please call Jim or Jennifer weekdays at 863-221-2372 to take advantage of this special offer. I am pretty sure that we have extended that offer to the BAA Online Store as well… No time to check right now. 🙂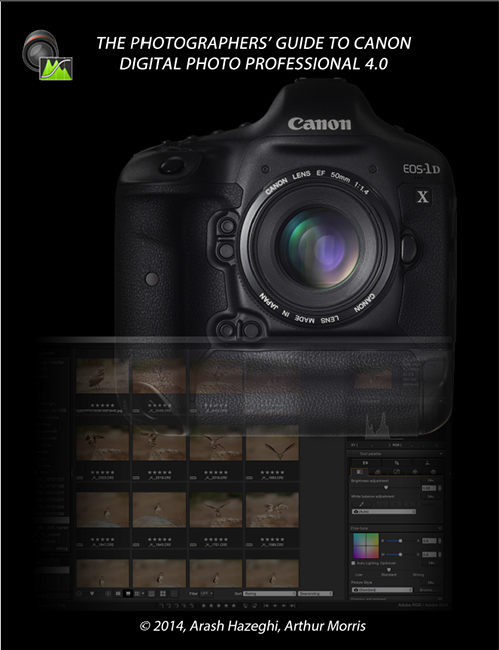 You can order your copy of "The Photographers' Guide to Canon Digital Photo Professional 4.0" (aka the DPP 4 Raw Conversion eGuide) by Arash Hazeghi and Arthur Morris by clicking here.
The DPP 4 eGuide (PDF)
Learn how and why I and many other discerning photographers choose and use only DPP 4 to convert their Canon RAW files in the DPP 4 RAW Conversion Guide by Arash Hazeghi and yours truly. The latest version supports all of the newer Canon camera bodies and several older models including the EOS-7D and the EOS-1D Mark IV. The DPP IV Guide is the ideal companion to the 7D Mark II User's Guide, a runaway best seller.
The DPP 4 eGuide (PDF) Updated for 1D Mark IV and the original 7D
The DPP 4 eGuide was recently updated to include the luminance and chrominance noise reduction values for both the 1D Mark IV and the original 7D. If you purchased your copy from BAA please e-mail Jim and request the DPP 4 1d IV/7D update. Please be sure to cut and paste page 1 into your e-mail as proof of purchase.

Singh-Ray Filters
Singh-Ray filters have been used by the world's top photographers for many decades. As always, I will have my 77mm Singh-Ray Warming Polarizer in my vest in case of rainbows. And I now travel (as above) with various Singh-Ray ND filters so that I can create pleasing blurs even with clear skies and bright sun. See here for a great example.
No other filter manufacturer comes close to matching the quality of Singh-Ray's optical glass, comparable to that used by NASA. And they continue to pioneer the most innovative products on the market like their ColorCombo polarizer, Vari-ND variable and Mor-Slo 15-stop neutral density filters. When you use their filters, you'll create better, more dramatic images and, unlike other filters, with absolutely no sacrifice in image quality. All Singh-Ray filters are handcrafted in the USA.
Best News: 10% Discount/Code at checkout: artie10
To shop for a Singh-Ray 77mm LB (Lighter, Brighter) Warming Circular Polarizer (for example), click on the logo link above, click on "Polarizers/Color Enhancing," then click LB Warming Polarizer, choose the size and model, add to cart, and then checkout. At checkout, type artie10 into the "Have a coupon? Click here to enter your code" box, and a healthy 10% discount will be applied to your total. In addition to enjoying the world's best filter at 10% off you will be supporting my efforts here on the blog. Aside from seeing underwater, this filter is great for enhancing rainbows.
Facebook
Be sure to like and follow BAA on Facebook by clicking on the logo link upper right. Tanks a stack!
Support the BAA Blog. Support the BAA Bulletins: Shop B&H here!
We want and need to keep providing you with the latest free information, photography and Photoshop lessons, and all manner of related information. Show your appreciation by making your purchases immediately after clicking on any of our B&H or Amazon Affiliate links in this blog post. Remember, B&H ain't just photography!
…..
Amazon.com
Those who prefer to support BAA by shopping with Amazon may use this link:
Amazon Canada
Many kind folks from north of the border, eh, have e-mailed stating that they would love to help us out by using one of our affiliate links but that living in Canada and doing so presents numerous problems. Now, they can help us out by using our Amazon Canada affiliate link by starting their searches by clicking here. Many thanks to those who have written.
Typos
In all blog posts and Bulletins, feel free to e-mail or to leave a comment regarding any typos or errors. Just be right :).