Stuff
I am currently leading the 2015 Bear Catching Salmon Bear Boat IPT. I will be back soon.
Galapagos 2017
I would assume that after viewing the variety and quality of the images in recent and past blog posts that most passionate nature photographers would wish to join us on the next Galapagos photo adventure during the second and third weeks of August, 2017. If that includes you, please shoot me an e-mail with the words "Galapagos August 2017 Photo-Cruise" cut and pasted into the Subject Line. The best news is that there will be two great leaders, yours truly and Denise Ippolito.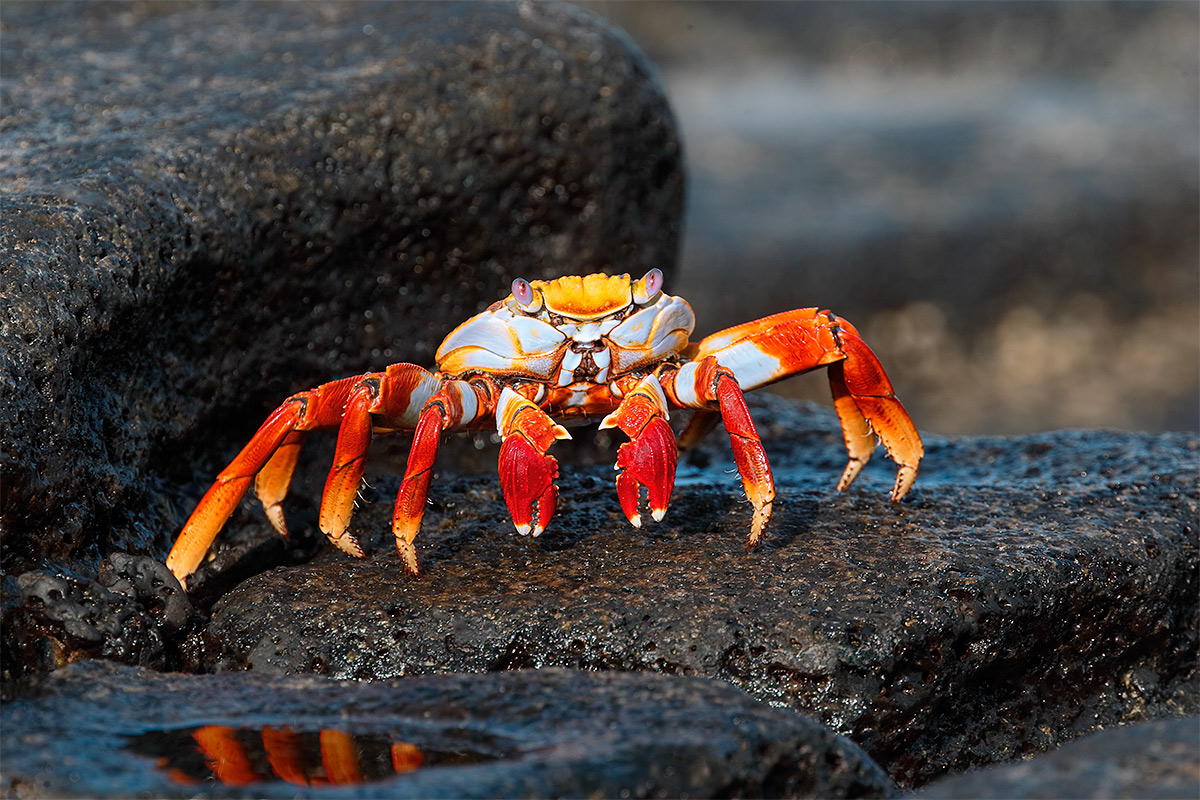 This image was created on the first afternoon of the 2015 Galapagos Photo-Cruise with the tripod-mounted Canon EF 400mm f/4 DO IS II USM lens with the Canon Extender EF 2X III and the Canon EOS-1D X. ISO 400. Evaluative metering -2/3 stop as framed in full late afternoon sun: 1/250 sec. at f/10 in Manual mode. AWB.
Center AF point (by necessity)/AI Servo Expand/Rear Focus AF as framed was active at the moment of exposure (as is always best when hand holding). The selected AF point was just below the crab's right eye. Click here to see the latest version of the Rear Focus Tutorial. Click on the image to see a larger version.
Your browser does not support iFrame.
400 DO II + 2X III TC: Warm-up Sally Lightfoot
The first afternoon landing on the 2015 Galapagos IPT (and on the 2017 IPT as well) is at Bachas. Bachas is Spanish for barges, for the two usually-buried-in-sand-but-sometimes-exposed by-the-tides skeletons of barges that were used to haul fresh water during World War II.
After a wet landing there is a short walk to one of two lagoons but the group was captivated by numbers of Sally Lightfoot Crabs on a small rock pile so we spent some quality time there. Normally these beautiful crabs are fairly easy to approach but as we needed to stay off the rocks I went for my long lens, the 400 DO II with the 2X III TC. My makeshift "800mm" lens paired perfectly with the 100-400 II for the remainder of the trip. The fact is that if had had to choose between the 400 DO II and the 100-400 II for the entire trip I would have gone with the new zoom lens for its incredible versatility, its close focus, and its amazing 4-stop IS system. That in short.
Bachas makes for a great first afternoon, a place with an easy wet landing, a place to make sure that all of your gear is working just fine.
Exposure Question
Why -2/3 stop EC?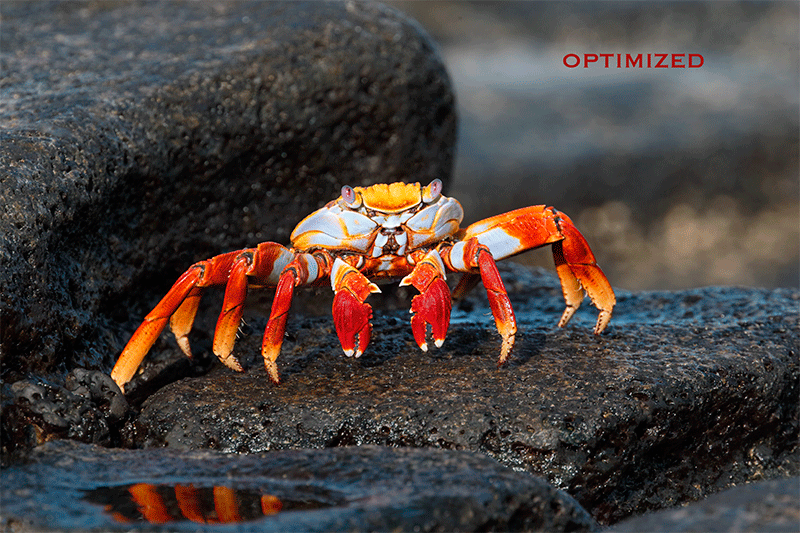 Above is the before and after animated GIF. Note especially the dramatic improvement of the light blues of the crab's shell.
The RAW Conversion
The RAW conversion in DPP 4 was relatively straightforward. DPP 4 is amazingly simple to use, especially after your create and save a recipe file for each ISO for each camera body. Arash's recommended Luminance and Chrominance settings and the correct Sharpness setting are entered and saved in each recipe. After applying the recipe, the only thing that I needed to do here was bring the Highlight down a bit. I did not want to open up the darks at all so I did not touch the Shadow slide. You can find both Highlight and Shadow sliders on the Perform basic image adjustment tab. With this image I did make a few changes on the Saturation and Luminance sliders for the REDs on the Adjust image colors tab.
DPP 4: fast, simple, and easy to use with great color and the highest image quality available…. Learn more about this 100% free software in the DPP RAW Conversion Guide (not free) here.
The Image Optimization
The big problems with this image were the specular highlights and other white specks on the lava rock. I used my usual clean-up tools: the Spot Healing Brush, the Clone Stamp Tool, my beloved Patch Tool, and a series of Quick Masks that were refined by Regular Layer Masks. Here again I tried Content Aware Fill on one problematic area and it failed miserably. I applied a layer of my NIK Color Efex Pro 50-50 recipe to the crab only at an unusually high 85% opacity. That worked wonders by taming the light BLUE highlight areas of the shell, opening up some of the darker areas on the crab, and revealing detail in the REDs. On that layer I did some Selective Color work adding some BLACK to the WHITEs, the NEUTRALs, and the BLACKs. The former helped to further enrich the light BLUEs on the shell, the latter two to darken the lava rock.
Total time in Photoshop: about 25 minutes, most of that on the lava rock cleanup.
Everything that I did to optimize today's image is covered in detail in my Digital Basics File–written in my easy-to-follow, easy-to-understand style. Are you tired of making your images look worse in Photoshop? Digital Basics File is an instructional PDF that is sent via e-mail. It includes my complete digital workflow, dozens of great Photoshop tips, details on using all of my image clean-up tools, the use of Contrast Masks, several different ways of expanding and filling in canvas, all of my time-saving Keyboard Shortcuts, Quick Masking, Layer Masking, and NIK Color Efex Pro basics, Contrast Masks, Digital Eye Doctor techniques, using Gaussian Blurs, Tim Grey Dodge and Burn, a variety of ways to make selections, how to create time-saving actions, the Surface Blur (background noise reduction) settings as taught to me by Denise Ippolito, and tons more.
APTATS I & II
Learn the details of advanced Quick Masking techniques in APTATS I. Learn Advanced Layer Masking Techniques in APTATS I. Mention this blog post and apply a $5 discount to either with phone orders only. Buy both APTATS I and APTATS II and we will be glad to apply at $15 discount with phone orders only. Please call Jim or Jennifer weekdays at 863-221-2372 to take advantage of this special offer. I am pretty sure that we have extended that offer to the BAA Online Store as well… No time to check right now. 🙂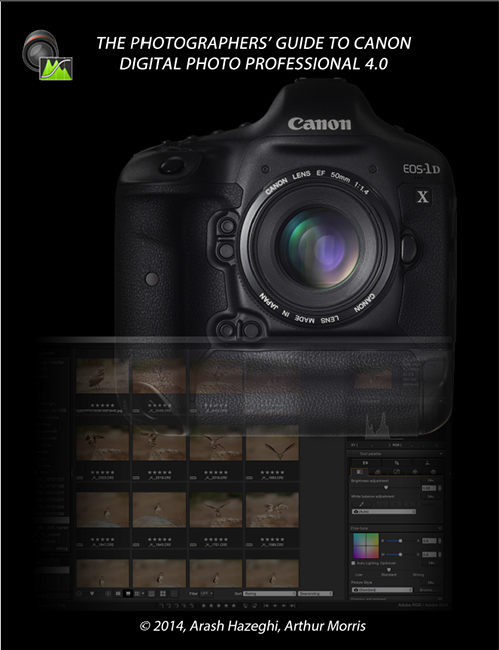 You can order your copy of "The Photographers' Guide to Canon Digital Photo Professional 4.0" (aka the DPP 4 Raw Conversion eGuide) by Arash Hazeghi and Arthur Morris by clicking here.
The DPP 4 eGuide (PDF)
Learn how and why I and many other discerning photographers choose and use only DPP 4 to convert their Canon RAW files in the DPP 4 RAW Conversion Guide by Arash Hazeghi and yours truly. The latest version supports all of the newer Canon camera bodies and several older models including the EOS-7D and the EOS-1D Mark IV. The DPP IV Guide is the ideal companion to the 7D Mark II User's Guide, a runaway best seller.
The DPP 4 eGuide (PDF) Updated for 1D Mark IV and the original 7D
The DPP 4 eGuide was recently updated to include the luminance and chrominance noise reduction values for both the 1D Mark IV and the original 7D. If you purchased your copy from BAA please e-mail Jim and request the DPP 4 1d IV/7D update. Please be sure to cut and paste page 1 into your e-mail as proof of purchase.
Facebook
Be sure to like and follow BAA on Facebook by clicking on the logo link upper right. Tanks a stack!
Support the BAA Blog. Support the BAA Bulletins: Shop B&H here!
We want and need to keep providing you with the latest free information, photography and Photoshop lessons, and all manner of related information. Show your appreciation by making your purchases immediately after clicking on any of our B&H or Amazon Affiliate links in this blog post. Remember, B&H ain't just photography!
…..
Amazon.com
Those who prefer to support BAA by shopping with Amazon may use this link:
Amazon Canada
Many kind folks from north of the border, eh, have e-mailed stating that they would love to help us out by using one of our affiliate links but that living in Canada and doing so presents numerous problems. Now, they can help us out by using our Amazon Canada affiliate link by starting their searches by clicking here. Many thanks to those who have written.
Typos
In all blog posts and Bulletins, feel free to e-mail or to leave a comment regarding any typos or errors. Just be right :).