Stuff
I am currently leading the 2015 Bear Catching Salmon Bear Boat IPT. I will be back soon.
Galapagos 2017
I would assume that after viewing the variety and quality of the images in recent and past blog posts that most passionate nature photographers would wish to join us on the next Galapagos photo adventure during the second and third weeks of August, 2017. If that includes you, please shoot me an e-mail with the words "Galapagos August 2017 Photo-Cruise" cut and pasted into the Subject Line. The best news is that there will be two great leaders, yours truly and Denise Ippolito.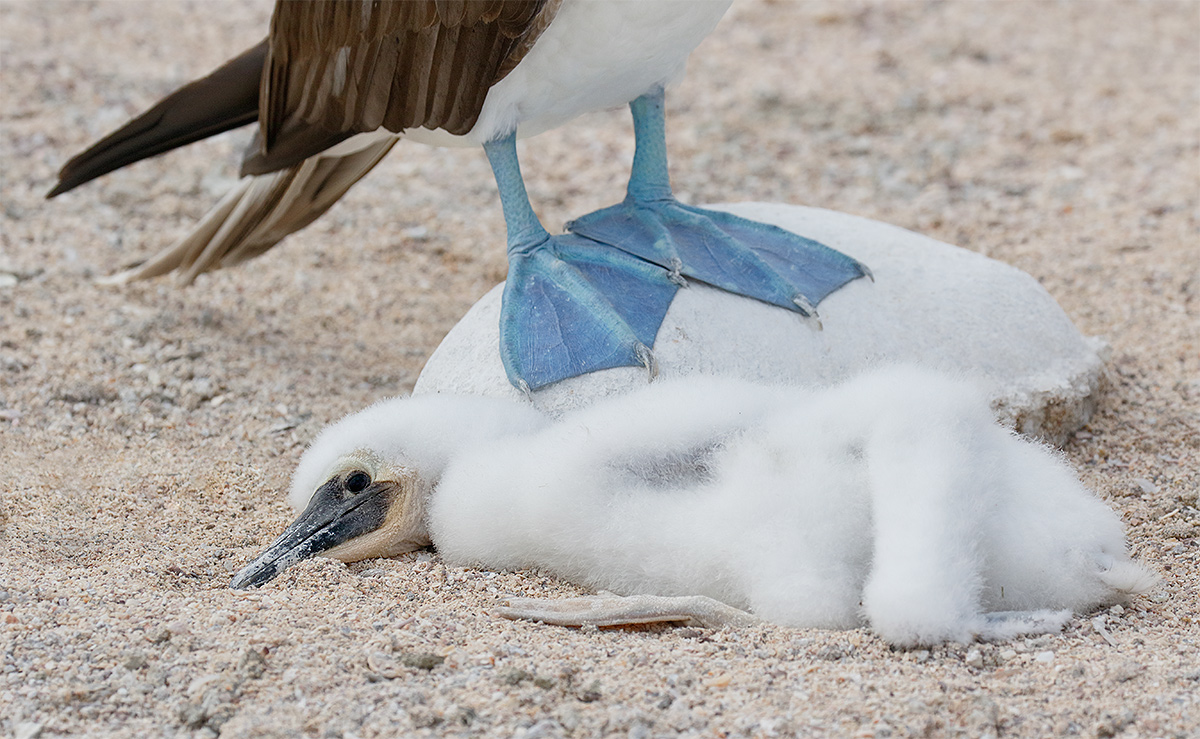 This image was created on the last morning of the 2015 Galapagos Photo-Cruise with the tripod-mounted Canon EF 100-400mm f/4.5-5.6L IS II USM lens (at 271mm) and the Canon EOS 7D Mark 5.6.. ISO 400. Spot Metering (!) +2/3 stop as framed: 1/2500 sec. at f/7.1 in Av mode. This image was about one half stop too dark. AWB.
One row down and three AF points to the left of the center AF point/AI Servo Expand/Rear Focus AF as framed was active at the moment of exposure (as is always best when hand holding). The active AF point was squarely on the large chick's eye. Click on the image to see a larger version.
Large Blue-footed Booby chick with adult's feet on rock
Your browser does not support iFrame.
Baby Booby/Getting Down to the Essence…
Our guide, Juan, had brought a few of the folks in the group back to the landing so that they could get back a bit early to finish packing. I, and a few other diehards, needed more time with the frigatebirds and the Blue-footed Boobies…. So we enjoyed an extra 45 minutes of free play. As the action with the frigatebirds in flight died we figured that we would surprise Juan by heading back towards the landing to meet him.
Instead, several blue-footed nests with large chicks surprised us. 2015 had been a very poor year for this species due to it being a poor season for inshore baitfish. For today's featured image the obvious choice for me was to zoom in on the chick and the adult's feet rather than to zoom out and make an image of the chick and the whole adult. The latter would have included lots of extraneous stuff in the background while zooming in reduced the scene to the two major elements: the resting chick and the blue feet of the adult.
Spot Metering (?)
Again, spot metering had previously been set inadvertently and I did not catch it for a while. Normally, I never use spot metering. As above, this image was about one half stop underexposed. Why? Note: I lightened the image during the RAW conversion in DPP 4 by moving the Brightness Slider to +0.50.
The above as detailed in theDPP 4 RAW Conversion Guide by Arash Hazeghi and yours truly. Learn how and why I and many other discerning photographers choose and use this free program to convert their Canon RAW files here. The latest version of DPP 4 supports all of the newer Canon camera bodies and several older models including the EOS-7D and the EOS-1D Mark IV. The DPP IV Guide is the ideal companion to the 7D Mark II User's Guide, a runaway best seller.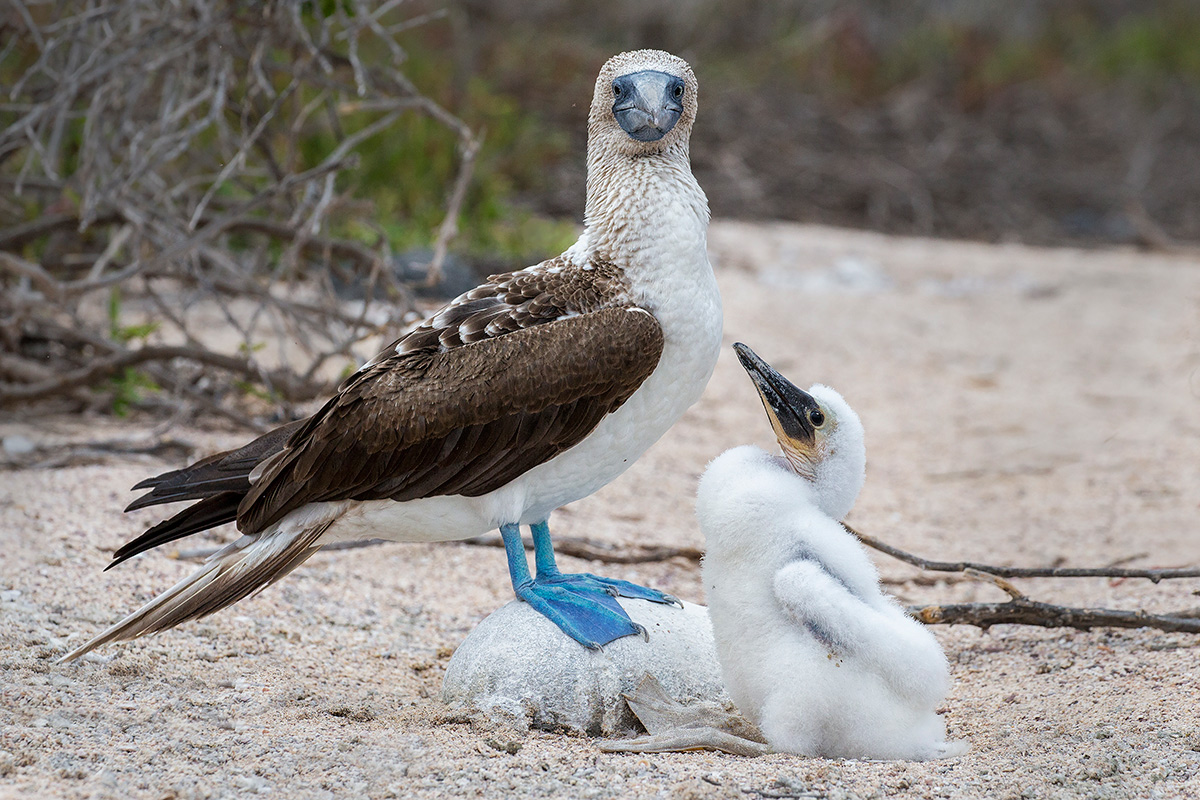 This image of the same two birds was created by multiple IPT veteran Lou Newman on the 2015 Galapagos Photo-Cruise with the hand held Canon EF 100-400mm f/4.5-5.6L IS II USM lens (at 278mm) and the Canon EOS-1D X. ISO 400: 1/1600 sec. at f/8.
Blue-footed Booby chick at the nest with adult. Image courtesy of and copyright 2015 Lou Newman:
Your browser does not support iFrame.
The Wide Shot
Thanks to multiple IPT veteran Lou Newman for allowing me to share the image immediately above with you here. I know that Chris Billman made a similarly-framed image when the chick was sleeping. Comparing my image with Lou's you can imagine that I had gotten closer to the bird. In addition I was a bit to the right of where he had been and had raised my tripod some to eliminate most of the background clutter. In the RAW file I had a small stick in the upper right hand corner of the frame and a tuft of grass intruding in front of the chick's head. Each was covered with a Quick Mask that was refined with a Regular Layer Mask.
Which Do You Prefer?
Which of the two images do you prefer, the wide shot or the tight shot? Be sure to let us know why.
Digital Basics
All of the above as detailed in my Digital Basics File–written in my easy-to-follow, easy-to-understand style. Digital Basics File is an instructional PDF that is sent via e-mail. It includes my complete digital workflow, dozens of great Photoshop tips, details on using all of my image clean-up tools, the use of Contrast Masks, several different ways of expanding and filling in canvas, all of my time-saving Keyboard Shortcuts, Quick Masking, Layer Masking, and NIK Color Efex Pro basics, Contrast Masks, Digital Eye Doctor techniques, using Gaussian Blurs, Tim Grey Dodge and Burn, a variety of ways to make selections, how to create time-saving actions, the Surface Blur (background noise reduction) settings as taught to me by Denise Ippolito, and tons more.
APTATS I & II
Learn the details of advanced Quick Masking techniques in APTATS I. Learn Advanced Layer Masking Techniques in APTATS I. Mention this blog post and apply a $5 discount to either with phone orders only. Buy both APTATS I and APTATS II and we will be glad to apply at $15 discount with phone orders only. Please call Jim or Jennifer weekdays at 863-221-2372 to take advantage of this offer. I am pretty sure that we have extended that offer to the BAA Online Store as well… No time to check right now. 🙂
Facebook
Be sure to like and follow BAA on Facebook by clicking on the logo link upper right. Tanks a stack!
Support the BAA Blog. Support the BAA Bulletins: Shop B&H here!
We want and need to keep providing you with the latest free information, photography and Photoshop lessons, and all manner of related information. Show your appreciation by making your purchases immediately after clicking on any of our B&H or Amazon Affiliate links in this blog post. Remember, B&H ain't just photography!
…..
Amazon.com
Those who prefer to support BAA by shopping with Amazon may use this link:
Amazon Canada
Many kind folks from north of the border, eh, have e-mailed stating that they would love to help us out by using one of our affiliate links but that living in Canada and doing so presents numerous problems. Now, they can help us out by using our Amazon Canada affiliate link by starting their searches by clicking here. Many thanks to those who have written.
Typos
In all blog posts and Bulletins, feel free to e-mail or to leave a comment regarding any typos or errors. Just be right :).