Stuff
My pre-audit meeting with Chip Jackson went extremely well. He said, "I have never gone into an audit with someone as well prepared and documented as you are." We shall see how it goes. As a result of what I have learned getting ready for the 2013 audit, I have decided to re-do my 2015 return from scratch. It needs to be filed by 15 OCT so I am not under as much time pressure as I was.
This blog post took about an hour to prepare. It should be published automatically at 6am on Friday, September 25, 2015. Please remember to use my B&H affiliate links for your major gear purchases; online orders only; no phone orders. Won't cost you a penny! And helps me out tremendously. Many thanks for considering this important request.
Lie Down With Lions by Ken Follet
May be Ken Follett's finest yet…The suspense mounts as swiftly as Afghan villagers running to escape Russian guns—and the pages will turn just as fast. Cosmopolitan
How good was this book? I hit the sack at 8:55pm last night and was asleep well before 9pm. I woke at 12:55am and stayed up reading for more than three hours to finish it. I was way too excited by the book to sleep. I finally shut my eyes at 4:10am and slept until after 7:30am. All in all it was not a bad night's sleep…. But oh, what a book. If anyone out there has read it or other Follet works, please fee free to leave a comment and let us know your thoughts.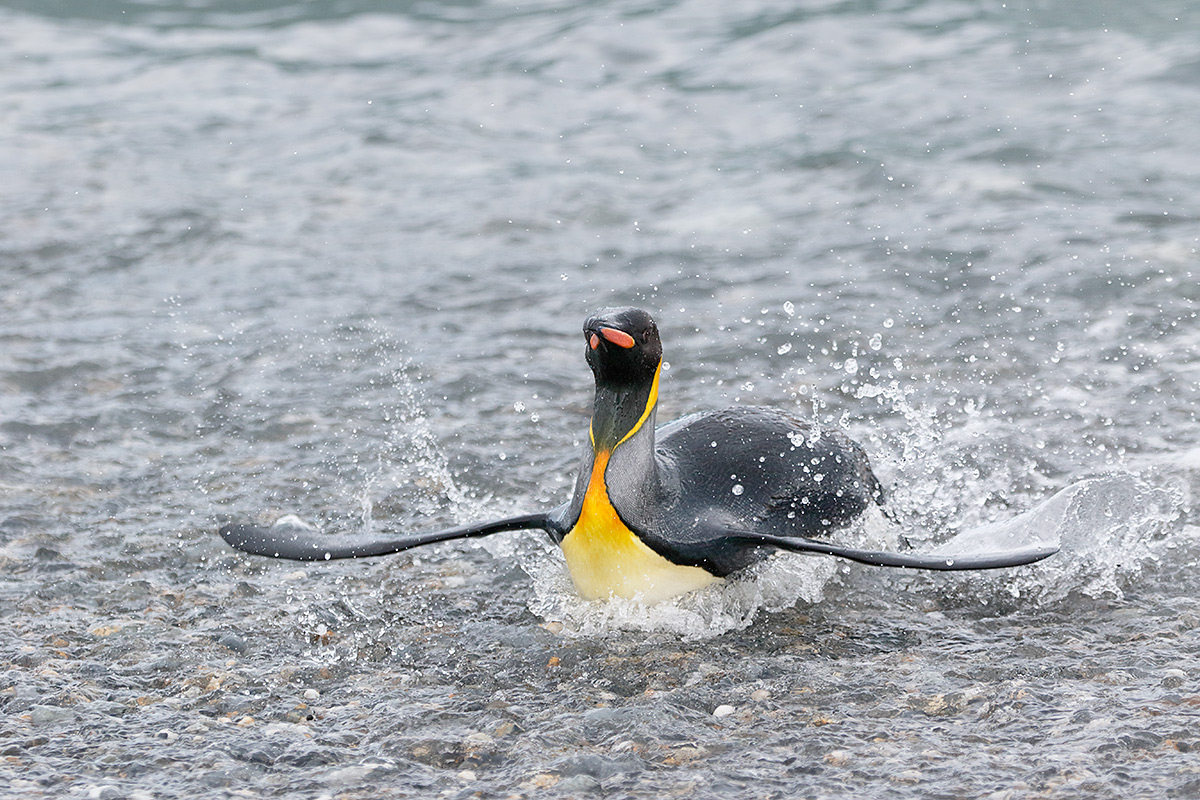 This image was created at Salisbury Plain South Georgia in late December, 2014 with the hand held Canon EF 70-200mm f/2.8L IS II USM lens, the Canon Extender EF 1.4X III (at 205mm), and the amazing Canon EOS 7D Mark II. ISO 400. Evaluative metering +2/3 stop: 1/1250 sec. at f/4.5.
Center AF point/AI Servo Expand/Rear Focus AF as framed was active at the moment of exposure (as is always best when hand holding). Click here to see the latest version of the Rear Focus Tutorial. Click on the image to see a larger version.
King Penguin emerging from surf
Your browser does not support iFrame.
First Time in 20 Years…
For 20 years, Cheesemans' has sold out every Southern Oceans trip that it has offered, trips to South Georgia and Antarctica often with a few stops in the Falklands. Spectacular stuff. Now, for the first time in 20 years, there are still a few spots left on their October 2015 South Georgia/Falklands trip. And for the first time in 20 years, they are offering a 20% discount to late registrants. Both Denise Ippolito and I will be aboard. To learn how to sign up and join the BIRDS AS ART group, please shoot me an e-mail with the words "South Georgia 2015" in the subject line. Remember, you only live once!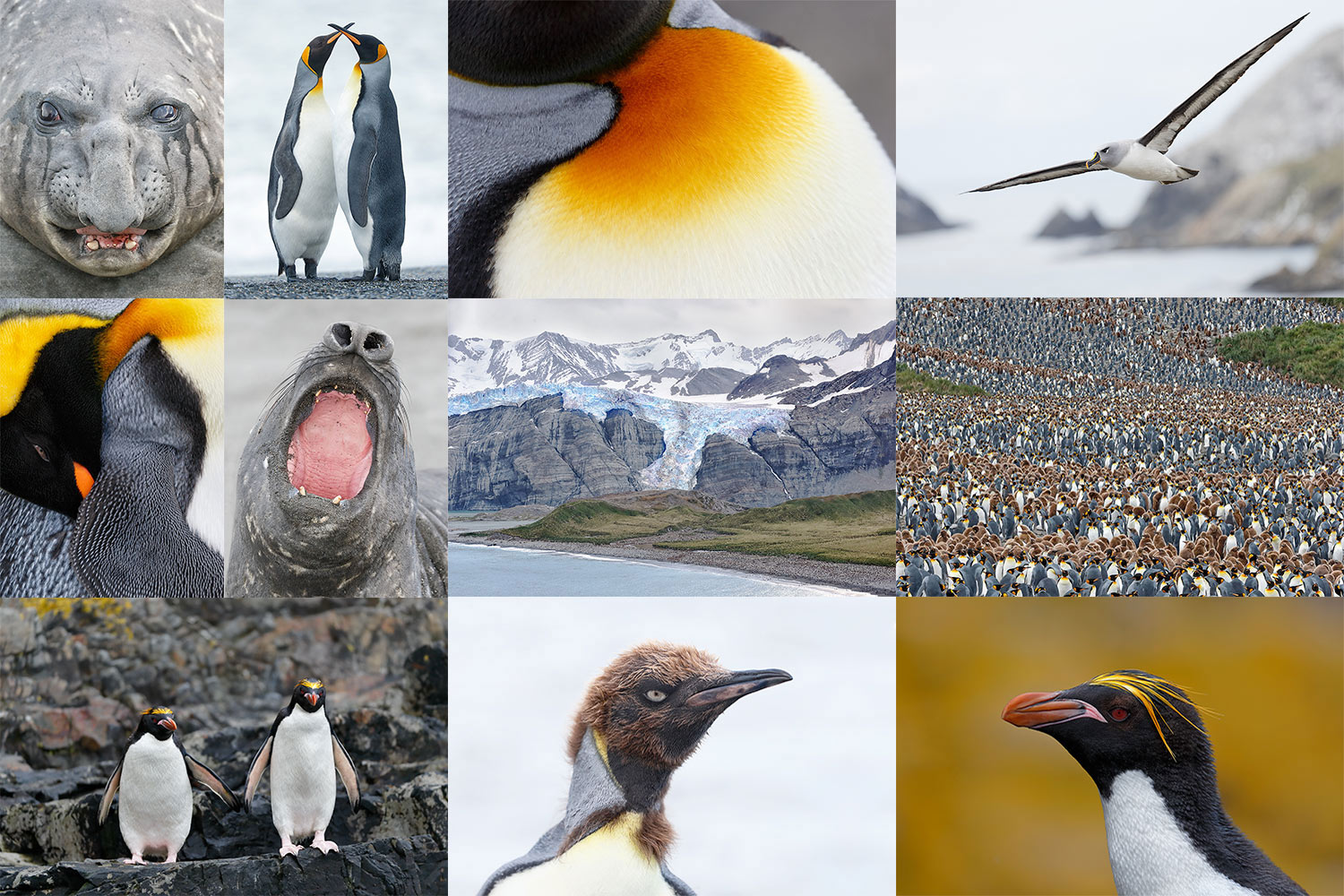 All of the images on the card were made on South Georgia. This remote wilderness island offers both spectacular scenery and hordes of tame wildlife and birds. From top left clockwise to the center: Southern Elephant Seal, courting King Penguin pair, King Penguin abstract, Grey-headed Albatross, King Penguin rookery on Salisbury Plain, Macaroni Penguin head portrait, King Penguin molting Okum Boy, Macaroni Penguin pair, King Penguin preening, Southern Elephant Seal yawning, the view of Gold Harbour from a Light-mantled Sooty Albatross nest.
Click on the image to see an extra large version.
The Southern Ocean
South Georgia Expedition Voyage
I've been blessed. I've now made four trips to the Southern Ocean, three expeditions that visited the Falklands, South Georgia, and the Antarctic Peninsula, and one to the Falklands and South Georgia. Each was a truly amazing experience. South Georgia has been the star of the show each time: rugged snow covered peaks, tame and abundant wildlife including Southern Elephant Seal and Southern Fur Seal, and penguins: more King Penguins than you could ever have dreamed of. Gentoos. And my favorite, the golden-yellow spaghetti-topped Macaronis. With four trips to South Georgi under my belt, I have a pretty good idea about how to make great images at each of the iconic landings. In addition, we should have some pretty good flight photography sessions from the stern of the ship. I would love the chance to share my knowledge with you.
Going Light
On last year's recent trip, I found myself going ashore with shorter lenses and lighter gear than on any previous Southern Ocean Expedition. In part that was due to the crop factor of the 7D Mark II, in part because going light makes life (and landings!) much easier. I made many landings with just the 7D II, the 14X III TC, and the 70-200mm f/2.8L IS.
Cheesemans' Well Deserved Kudos
I know from personal experience that if you are a photographer who is going to invest in Southern Ocean voyage, you will want to put your money on Cheesemans'. No other tour company goes as far out of their way to ensure making every possible safe landing. And no other tour company will have you spending more time on land. Michael Viljeon from South Africa was aboard the Ortelius on a Southern Oceans voyage that preceded the Cheesemans' trip that we were both on. As we headed back to Ushuaia, he said, "The folks that ran that first trip were pathetic. Too rough. No landing today. Surf too high today. No landing. Wind wrong direction. No landing. Cheesemans' routinely and safely gets folks on land in conditions where the leaders of other tour companies do not even bother getting out of their bunks."
Here, from the" Way to Go CES! (Cheesemans' Ecology Safaris)" blog post here, is one of my favorite Cheesemans' stories:
The landing at Bailey Head, Antarctica, was especially rewarding to me as I had been sitting in a zodiac 100 yards off shore on my 2007 trip when the zodiac in front of mine swamped and the captain of the ship called off the landing…. Early that day it looked as if my weather Karma might not be working. Ted's "Good morning shipmates" was followed by the news that we would not be able to land at Bailey Head that morning as the swell was too big. The beach there is sloped tremendously and the sea strives to pull the zodiacs back into the ocean before folks have gotten off with their gear. Tom Murphy had said to me several days before, "We will get you on the beach at Bailey Head." Ted concluded his morning greetings by saying, "We are sending out a scout team to see if landing is possible."
After breakfast I was thrilled to hear Ted's voice again on the PA, "We will be landing at 8am." Afterwards folks noted that it was the calmest landing ever at this amazingly beautiful spot. My good weather Karma (courtesy of late-wife Elaine) had come through one last time. Along with St. Andrews Bay, it was one of my two favorite super-great once-in-a-lifetime days of the trip. And we even got to enjoy three additional hours at Hannah Point, Antarctica before calling it a wrap and heading for the feared Drake Passage. All thanks to Cheesemans' Ecology Safaris.
Why Sign Up Through BIRDS AS ART?
If you have been thinking and dreaming of finally visiting South Georgia, this is the trip for you. Quit dreaming and act now. Though I will not be an official leader on this trip, those who have traveled with me know that I cannot help but teach. I will make pre-trip gear recommendations. I will hold informal pre-landing briefings. In the same vein, everyone will receive a free copy of our Antarctica Site Guide once they are paid in full (July 2, 2015). I will be available on the ship to review your images,, answer questions, and conduct informal over-the shoulder Photoshop sessions. And best of all, everyone who signs up under the auspices of BAA are invited to tag along with me on the landings where I will be glad to offer invaluable in-the-field advice. And the same goes for the ship-board birds in flight and marine mammal photography opportunities.
Do join us. To learn how to be part of the BAA group please e-mail me with the words Antarctica/Extended Expedition BAA Info Please cut and pasted into the Subject line.
Important Notes
#1: If you fail to e-mail me as noted directly above, and register directly with CES you MUST let them know that you would like to be part of the BIRDS AS ART group.
#2: Joining the BIRDS AS ART group as above will not cost you one penny.
The Cheesemans' Ecology Safaris South Georgia Expedition Voyage
An in-depth Adventure aboard the Ortelius: October 29 to November 17, 2015
From the CES website:
We are very excited to be able to bring this special in-depth expedition to you. This is a product of years of experience leading voyages to South Georgia and a passion for everything found here. Our itinerary is specifically designed to take advantage of the vibrant early season on South Georgia when snow blankets the mountains and early summer brings special wildlife treats seldom experienced. We will explore vast colonies of King Penguins, elephant seals in their peak of breeding activity, and colonies of Wandering, Gray-headed, Light-mantled, and Black-browed albatross. This cruise allows us many days to explore this truly unique island, the crown jewel of the Antarctic. The landscape filled with expanses of glaciers pouring into the sea provides rare beauty and photogenic impressiveness that words cannot convey. We will enjoy about nine days in the midst of the most beautiful and wildlife-rich island on the planet! Exceptional leadership expertise will enrich your experience throughout the voyage. Our priority on this special expedition is to give you the maximum time possible in the field so you can explore at your own pace during a special time on South Georgia. Come explore South Georgia with us!

Facebook
Be sure to like and follow BAA on Facebook by clicking on the logo link upper right. Tanks a stack!
Support the BAA Blog. Support the BAA Bulletins: Shop B&H here!
We want and need to keep providing you with the latest free information, photography and Photoshop lessons, and all manner of related information. Show your appreciation by making your purchases immediately after clicking on any of our B&H or Amazon Affiliate links in this blog post. Remember, B&H ain't just photography!
…..
Amazon.com
Those who prefer to support BAA by shopping with Amazon may use this link:
Amazon Canada
Many kind folks from north of the border, eh, have e-mailed stating that they would love to help us out by using one of our affiliate links but that living in Canada and doing so presents numerous problems. Now, they can help us out by using our Amazon Canada affiliate link by starting their searches by clicking here. Many thanks to those who have written.
Typos
In all blog posts and Bulletins, feel free to e-mail or to leave a comment regarding any typos or errors. Just be right :).