What's Up?
I worked very hard on Saturday on picking images for the San Diego exhibit. Denise Ippolito helped me with the final cuts, getting down to six images in each category. Talk about heart-wrenching work…. We still have two to finish. I enjoyed a long swim and several meditation sessions but skipped my ice bath.
Speaking of San Diego, we learned that two of our very favorite client/friends, Joe Barranco and sidekick Tom Wester will be joining us on the San Diego IPT. Both are quite affable. Tom is always helpful and knows a ton about all sorts of photography. Joe always has a big smile on his face. There are just two slots open so if you are thinking about coming please do not hesitate and risk disappointment. Click here for all IPT info.
This blog post took about 1 1/2 hours to prepare and was published at 5:34am on Sunday, October 4, 2015. Enjoy and learn.
Artie's New Tripod
Interest has been huge. It looks as if we will be e-mailing the info to those who requested it on Monday. If that happens, I will likely post it to the blog mid-week to give those who e-mailed first crack at the stock.
Selling Your Used Photo Gear Through BIRDS AS ART
Selling your used (or like-new) photo gear through the BAA Blog or via a BAA Online Bulletin is a great idea. We charge only a 5% commission. One of the more popular used gear for sale sites charges a minimum of 20%. Plus assorted fees! Yikes. The minimum item price here is $500 (or less for a $25 fee). If you are interested please e-mail with the words Items for Sale Info Request cut and pasted into the Subject line :). Stuff that is priced fairly–I offer free pricing advice, usually sells in no time flat. In the past few months, we have sold just about everything in sight. Do know that prices on some items like the EOS-1D Mark IV, the old Canon 500mm, the EOS-7D, and the original 400mm IS DO lens have been dropping steadily.
After a two-week lull, there have been several sales over the past few days:
Canon EF 500mm f/4L IS USM lens (the "old five") was sold by Dane Johnson for $4150 in early October 2015.
Sigma Zoom Super Telephoto 300-800mm f/5.6 lens (Canon mount) was sold by Beth Starr for $4,999 in early October 2015.
Canon EOS-1D X in excellent condition was sold by Patrick Sparkman for $3650 in early October, 2014.
You can see all of the current listings here.
Brand New Listing
Canon EF 24-70mm f/2.8L II USM Lens
Yet another Lowest-ever BAA Price!
Erik Hagstrom is offering a used Canon EF 24-70mm f/2.8L II USM lens in excellent condition for $1525. The sale includes the lens hood (EW-88C), the front and rear Canon lens caps, the original lens case LP1219, the instruction manual, both US & Canada warranty cards, the original box (less the UPC code that was used for a rebate), and insured shipping via FED-EX Ground. Your item will not ship until your check clears unless other arrangements are made.
Please contact Erik by e-mail or by phone at 206-999-1507 (Pacific time).
The new 24-70 is a favorite of all serious landscape photographers. Erik's lens is priced to sell immediately. artie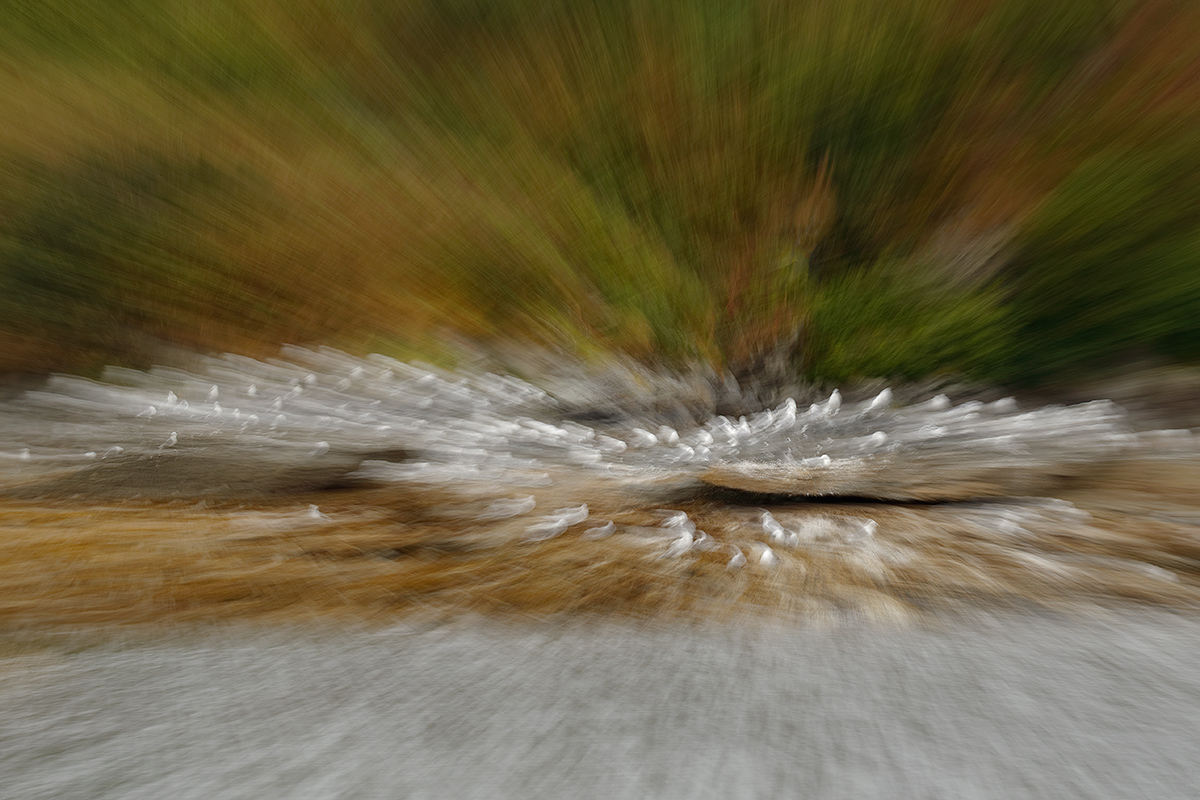 This image was created from the skiff at Kinak Bay, Katmai National Park, AK on the 2015 Bear Boat IPT with the hand held Canon EF 100-400mm f/4.5-5.6L IS II USM lens (starting at 200mm) and the rugged Canon EOS-1D X. ISO 50. Evaluative metering -1/3 stop: 1/4 sec. at f/29. I zoomed from long to short during the exposure.
Two rows down and one AF point to the right of the center AF point/AI Servo Expand/Rear Focus AF as originally framed was active at the moment of exposure. Click here to see the latest version of the Rear Focus Tutorial. Click on the image to see a larger version.
Gull flock on rock zoom blur
Your browser does not support iFrame.
Creating Zoom Blurs
The text below is adapted from "The Art of Bird Photography II" (ABP II: 916 pages, 900+ images, each with a legendary BAA educational caption; on CD only.)
Creating impressionistic zoom blurs is fun, but is a lot more difficult than you might think.
To make zoom blurs, I usually choose a shutter speed of 1/4 or 1/5 second. I always lower the ISO; sometimes this is necessary to get down to slow enough slow speed. Even in really dark conditions it pays to get your lowest ISO to minimize the dust spotting that comes with tiny apertures.
First, zoom out to approximate final focal length. Then zoom in, use One-Shot AF or rear focus (often using the central AF point only). The spot that you focus will become the central point of the zoom blur. Then depress the shutter button as you zoom out fairly quickly to the pre-determined wide focal length. When you first begin attempting zoom blurs in a given situation, it pays to practice the zoom-out a few times before depressing the shutter button. Once you are all set, make lots of images by varying both the shutter speed and the rate of the zoom-out. I usually make several dozen images and if I am lucky, wind up liking one or two.
The Bad News About Using Small Apertures
For this image I wound up at f/29 even though there was not much light and even though I had set my lowest ISO. So what's the bad news about f/29? Working at 100% it took me more than 20 minutes to remove many dozens of dust bunnies. I should have added either my Singh-Ray 3-stop or 5-stop Mor-Slo Neutral Density (ND) filter. Having the former in place would have gotten me to about f/10 while the latter would have gotten me down the f/5 (equivalent to f/7.1 at ISO 100). Either of these wider apertures would have reduced the number of visible dust spots by 80-90%. (Note; diffraction, whatever it is, is not a problem with telephoto lenses.)
Why No ND Filter?
So why did I not simply add one of my 77mm ND filters? As it was a dark and dreary day I decided to head out with just my 100-400 II/1D X rig with a 1.4X III TC in my fanny pack. No tripod. No vest. My ND filters of course were in my vest 🙂
Like It or Hate it?
Do you like today's image? If yes, be sure to let us know why? If you do not like it, please let us know why. If you hate all blurs, let us know that you are an "all blur hater." And do, of course let us know why. Please do not take the phrase "blur hater" personally; it is intended to be somewhat of an affectionate–perhaps sympathetic–term.
My Do Not Forget List!
Whenever I choose to leave one of my Singh-Ray filters at home on a big trip I always come to regret it. Quickly. So I recently added the following items to my "Do Not Forget Items to Bring on all Trips" packing list:
Singh-Ray 77mm Warming Circular Polarizer
Singh-Ray 77mm Mor-Slo 5-stop Glass ND filter
Singh-Ray 77mm Mor-Slo 3-stop Resin ND filter
Singh-Ray 5-stop glass 52mm filter to fit the Canon drop-in Filter Holder
I absolutely love the Singh-Ray 3-stop Resin and 5-stop Glass Neutral Density Filters. I use the 77mm versions of these filters on my 24-105, my 70-200mm f/2.8 L IS, and my new and beloved 100-400mm IS II lens so that I can create blurs on sunny days without having to stop down to f/too-many dust spots…. With a 5-stop glass ND in place I can easily get down to shutter speeds of 1/2 second and slower on clear, bright sunny days.
Important Corrected Ordering Info for Singh-Ray 52mm Drop-In ND Filters

Singh-Ray Filters
Singh-Ray filters have been used by the world's top photographers for many decades. I always have my 77mm Singh-Ray Warming Polarizer in my vest in case of rainbows. And I now travel (as above) with various Singh-Ray ND filters so that I can create pleasing blurs even with clear skies and bright sun. See here for a great example.
No other filter manufacturer comes close to matching the quality of Singh-Ray's optical glass that is comparable to that used by NASA. And they continue to pioneer the most innovative products on the market like their ColorCombo polarizer, Vari-ND variable and Mor-Slo 15-stop neutral density filters. When you use their filters, you'll create better, more dramatic images and, unlike other filters, with absolutely no sacrifice in image quality. All Singh-Ray filters are handcrafted in the USA.
Best News: 10% Discount/Code at checkout: artie10
To shop for a Singh-Ray 77mm 5-Stop Mor-Slo ND filter (for example), click on the logo link above and then click on the "Neutral and color density" tab. Next, under "Solid Neutral Density Filters," click on "Mor-Slo™ 5, 10, 15 and 20-Stop Solid Neutral Density Filters (glass), choose the size and model, add to cart, and then checkout. At checkout, type artie10 into the "Have a coupon? Click here to enter your code" box, and a healthy 10% discount will be applied to your total. In addition to enjoying the world's best filter at 10% off you will be supporting my efforts here on the blog.
A Guide to Pleasing Blurs
If you would like to learn the fine points of creating pleasing pan-blurs and in addition, would like to learn the many other techniques that Denise and I use to create our popular pleasingly blurred images, but can't make an IPT, get yourself a copy of A Guide to Pleasing Blurs by Denise Ippolito and yours truly.
Facebook
Be sure to like and follow BAA on Facebook by clicking on the logo link upper right. Tanks a stack!
Support the BAA Blog. Support the BAA Bulletins: Shop B&H here!
We want and need to keep providing you with the latest free information, photography and Photoshop lessons, and all manner of related information. Show your appreciation by making your purchases immediately after clicking on any of our B&H or Amazon Affiliate links in this blog post. Remember, B&H ain't just photography! Click on the logo link above and check out the specials, or use the search box on the top left of the page for your general shopping pleasure.
B&H orders placed at this time will be processed after they reopen at 9:00 AM on Wednesday, October 7, 2015. They are currently closed for the Succos holiday.
Amazon.com
Those who prefer to support BAA by shopping with Amazon may use this link:
Amazon Canada
Many kind folks from north of the border, eh, have e-mailed stating that they would love to help us out by using one of our affiliate links but that living in Canada and doing so presents numerous problems. Now, they can help us out by using our Amazon Canada affiliate link by starting their searches by clicking here. Many thanks to those who have written.
Typos
In all blog posts and Bulletins, feel free to e-mail or to leave a comment regarding any typos or errors. Just be right :).