What's Up?
About half the group joined denise and me for a morning of photography at a railway museum about an hour from Cartersville. The old trains were in a lot better condition than most of the old wrecks at Old Car City. Again I worked almost exclusively with the tripod-mounted Olympus M.ZUIKO DIGITAL ED 40-150mm f/2.8 PRO lens and the Olympus OM-D E-M1 Mirrorless Micro Four Thirds Digital Camera. The rest of the day was so busy that I have not even downloaded the images as I type at 5:50am.
On the way to ATL we enjoyed another great lunch (seared tuna salads) at Houston's just off of I-75 north of Atlanta. Then return the rental car, ride various inter-airport trains, check in, and get through TSA screening. Our gate was at the far end of a very long terminal hall. We must have looked really tired as a nice lady in an airport golf cart offered us a ride to C-2. We accepted.
This blog post took about 90 minutes to prepare and was published (accidentally) at about 6:14am before it was published. 🙂
Xtrahand Vest Travel Adventure
Jeez, I almost forgot the best part. I am always nervous when having my ticket scanned by the gate agent, dreading the "Sir. Stop. Please come back. You have three carry-ons." The Southwest gate agent kept making announcements about the size and number of carry-ons spicing up his pronouncements with stuff like "If you try to get on with three carry-ons I will stop you. I will call you out. I will embarrass you. Worth a chuckle I guess. But as I began walking down the jet way I heard him say, ""Sir. Stop. Please come back. You have three carry-ons." I had my Think Tank rolling gear bag, my Think Tank Urban Disguise laptop bag, and my Xtrahand vest, empty but for my insulin and two gel packs.
He walks up to me and says loudly, "You will need to gate check one of those," indicating either the roller or the laptop bag. I protested briefly that the only thing in the vest was my insulin and that I had flown Southwest many dozens of times with my vest and two carry-ons. He would not be deterred so I took the insulin out of the vest and told him "You are not checking either of those bags. Check this," and handed him the empty vest while pointing out that it weighed a lot less than a winter parka. "It's not a coat; you are violating TSA regulations." He handed me a green gate check receipt, tagged the vest, and told me that I would need to pick it up at baggage claim as checked luggage.
Can you imagine the intelligence level and bitterness of someone who insists that you gate check an article of clothing? He was out to get someone and I was elected. 🙂 I am glad to say that having to gate check the vest was a first.
IAC, the vest came out along with our and everyone else's checked bags. I fly SW a ton and generally find the employees pleasant and often funny. This fine gentleman did not fit into those categories. When I finish this blog post I will be visiting SW customer service on the web.
Selling Your Used Photo Gear Through BIRDS AS ART
Selling your used (or like-new) photo gear through the BAA Blog or via a BAA Online Bulletin is a great idea. We charge only a 5% commission. One of the more popular used gear for sale sites charges a minimum of 20%. Plus assorted fees! Yikes. The minimum item price here is $500 (or less for a $25 fee). If you are interested please e-mail with the words Items for Sale Info Request cut and pasted into the Subject line :). Stuff that is priced fairly–I offer free pricing advice, usually sells in no time flat. In the past few months, we have sold just about everything in sight. Do know that prices on some items like the EOS-1D Mark IV, the old Canon 500mm, the EOS-7D, and the original 400mm IS DO lens have been dropping steadily.
After a two-week lull, things have really heated up.
Canon EF 500mm f/4L IS USM lens (the "old five") was sold by Dane Johnson for $4150 in early October 2015.
Sigma Zoom Super Telephoto 300-800mm f/5.6 lens (Canon mount) was sold by Beth Starr for $4,999 in early October 2015.
Canon EOS-1D X in excellent condition was sold by Patrick Sparkman for $3650 in early October, 2014.
And two more lenses sold on Wednesday past:
Canon EF 100-400 f 4.5-5.6 L IS USM lens was sold for $699 by Sean Traynor on October 7, 2015.
Canon EF 500mm f/4L IS lens (the "old five") was sold by Alan Walther for $3900 in early October, 2015.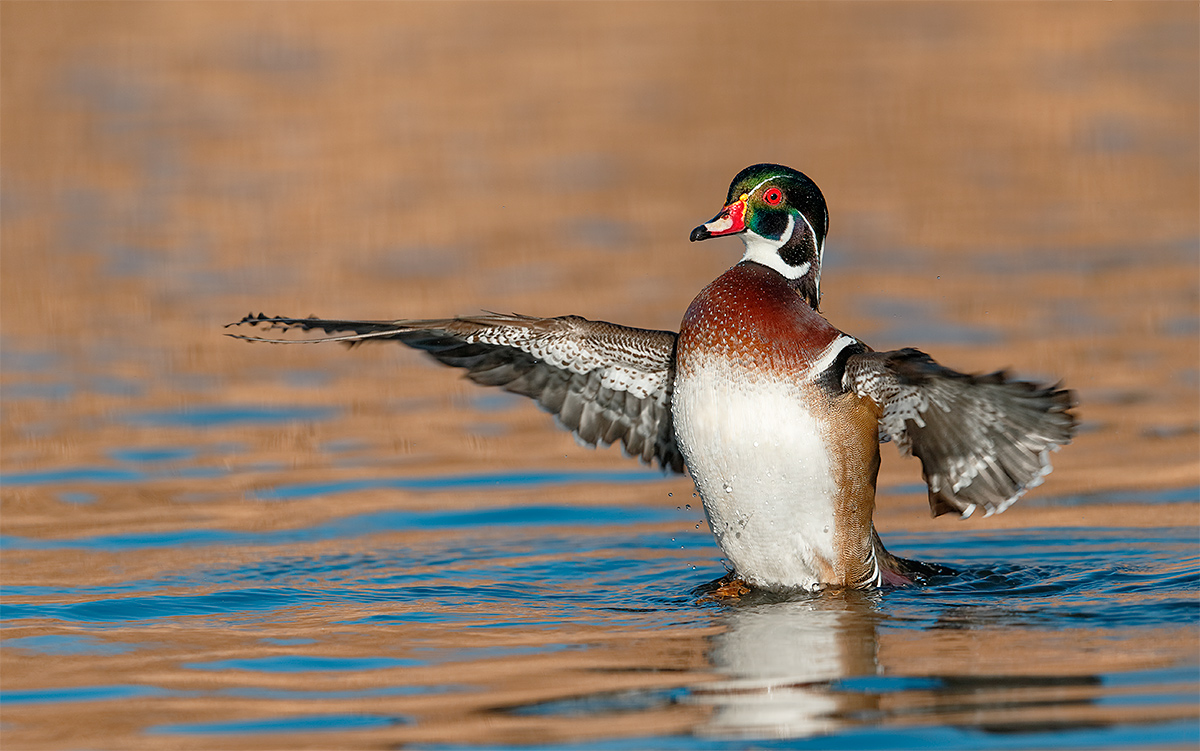 This image was created on a San Diego IPT with the tripod-mounted Canon EF 600mm f/4L IS II USM lens, the Canon Extender EF 1.4X III, and the rugged professional body, the Canon EOS-1D X. ISO 400. Evaluative metering +1/3 stop: 1/2000 sec. at f/6.3 in Av Mode.
Center AF point/AI Servo Surround/Rear Focus AF as framed was active at the moment of exposure; the active AF point was on the middle of the duck's far wing. Though this was less than ideal the image is very sharp on the eye. Click here to see the latest version of the Rear Focus Tutorial. Click on the image to see a larger version.
Wood Duck drake flapping
Your browser does not support iFrame.
San Diego: It Ain't Just Pelicans!
Though birds of the Pacific race of Brown Pelican in their bold and spectacular breeding plumage are the stars of the show in San Diego in winter, there is always a fine lineup of ducks available as photographic subjects. Most years we get to photograph Mallard, American Widgeon, Lesser Scaup, Ruddy Duck, Ring-necked Duck, Gadwall, and of course, both drake and hen Wood Ducks. Redhead is a possibility, as is Surf Scoter.
The Wood Ducks are tame and come readily to the scratch that is for sale in the park's general store. And as you can see, the backgrounds are often quite pleasing. Working with gulls or ducks that respond to being fed presents a multitude of great teaching opportunities. Getting the right exposure on the drake woodies is a challenge with their bright white bill and neck patches and their nearly black heads with the very dark purple cheek patch. Join us on the San Diego IPT to learn a ton.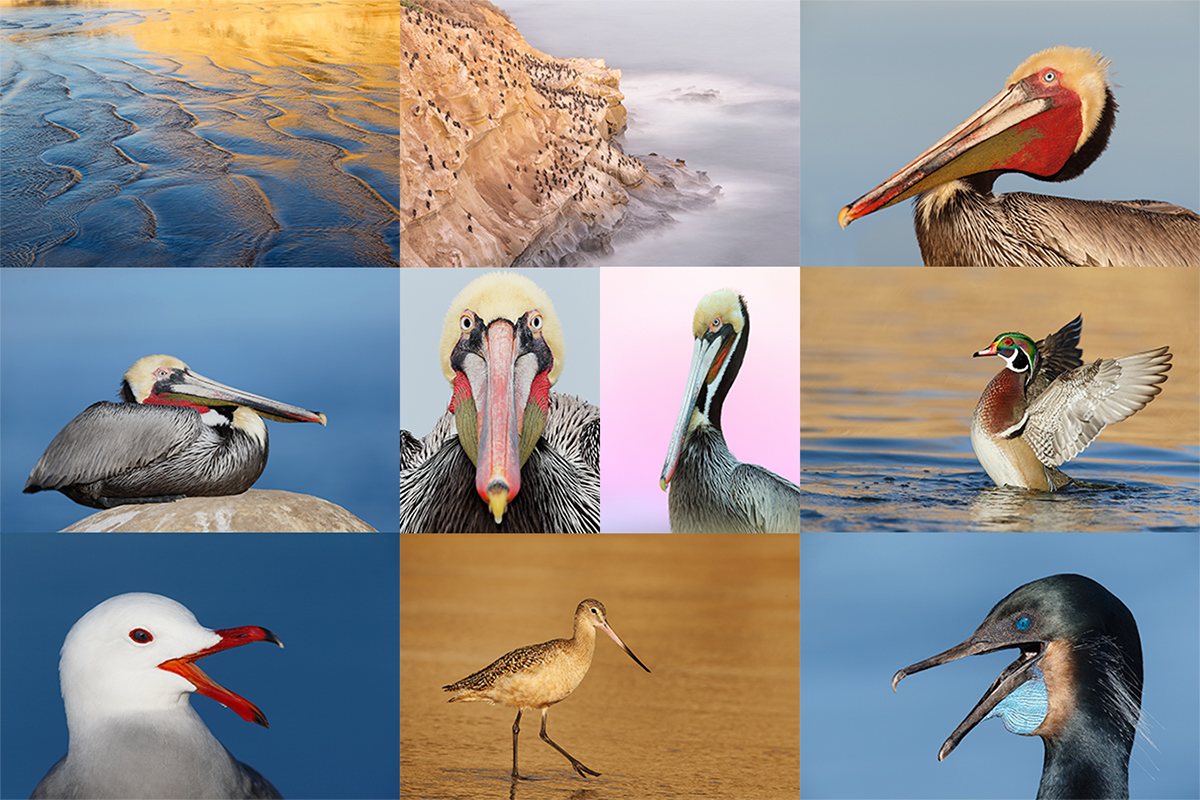 San Diego offers a wealth of very attractive natural history subjects. With annual visits spanning more than three decades I have lot of experience there….
2015 San Diego 4 1/2-DAY BIRDS AS ART Instructional Photo-Tour (IPT) JAN 8 thru the morning of JAN 12, 2016: $1899 (Limit: 10)
Meet and Greet at 7:00pm on the day before the IPT begins
Two great leaders: Arthur Morris and Denise Ippolito
Join us in San Diego to photograph the spectacular breeding plumage Brown Pelicans with their fire-engine red and olive green bill pouches; Brandt's and Double-crested Cormorants in breeding plumage with their amazing crests; breeding plumage Wood and Ring-necked Duck; other species possible including Lesser Scaup, Redhead, and Surf Scoter; a variety of gulls including Western, California, and the gorgeous Heerman's, all in full breeding plumage; shorebirds including Marbled Godwit, Willet, Sanderling and Black-bellied Plover; many others possible including Least, Western, and Spotted Sandpiper, Whimbrel, Black and Ruddy Turnstone, Semipalmated Plover, and Surfbird; Harbor Seals (depending on the current regulations) and California Sea Lions likely; and Bird of Paradise flowers. And as you can see by studying the two IPT cards there are some nice landscape opportunities as well.
Did I mention that there are wealth of great birds and natural history subjects in San Diego in winter?
This IPT will include five 3 1/2 hour morning photo sessions, four 2 1/2 hour afternoon photo sessions, five lunches, after-lunch image review and Photoshop sessions, and a thank you dinner. To ensure early starts, breakfasts will be your responsibility.
A $499 non-refundable deposit is required to hold your slot for this IPT. You can send a check (made out to "Arthur Morris) to us at BIRDS AS ART, PO Box 7245, Indian Lake Estates, FL, 33855. Or call Jim or Jennifer at the office with a credit card at 863-692-0906. Your balance, payable only by check, will be due on 11/1//2015. If we do not receive your check for the balance on or before the due date we will try to fill your spot from the waiting list. Please print, complete, and sign the form that is linked to here and shoot it to us along with your deposit check. If you register by phone, please print, complete and sign the form as noted above and either mail it to us or e-mail the scan. If you have any questions, please feel free to contact me via e-mail.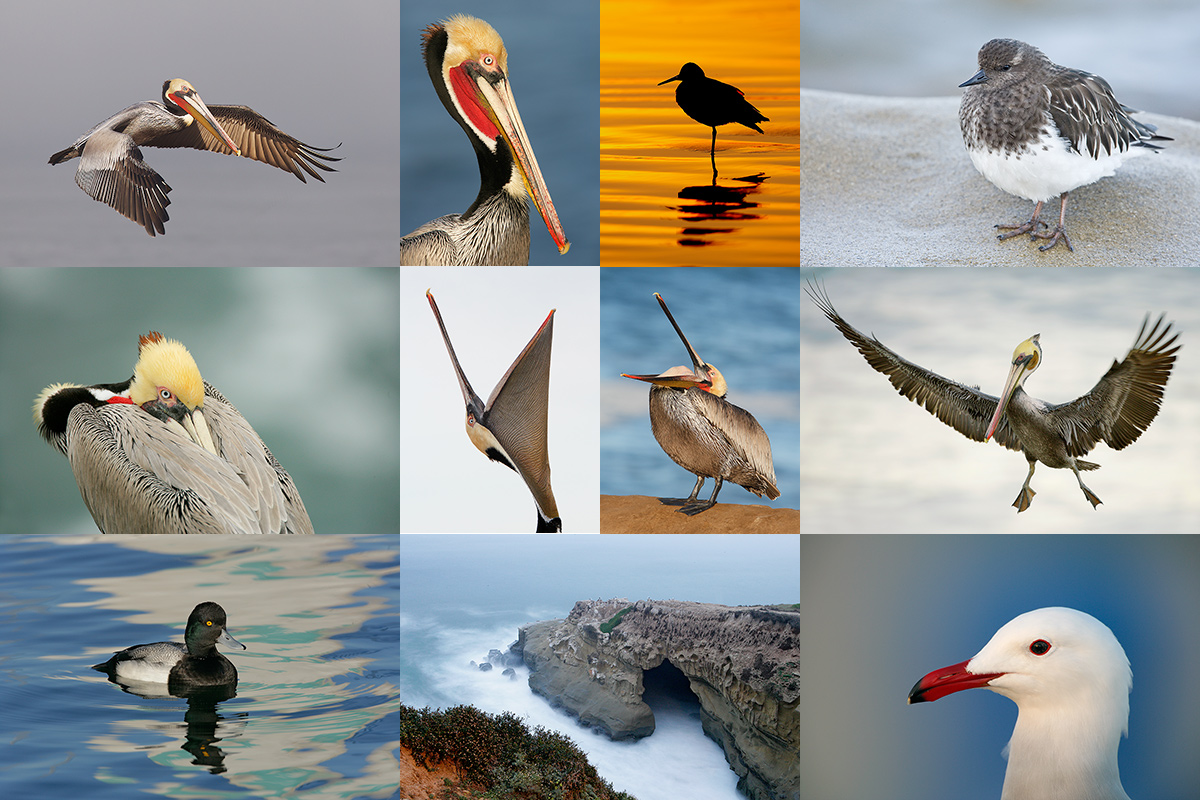 Though the pelicans will be the stars of the show on this IPT there will be many other handsome and captivating subjects in wonderful settings.
Facebook
Be sure to like and follow BAA on Facebook by clicking on the logo link upper right. Tanks a stack!
Support the BAA Blog. Support the BAA Bulletins: Shop B&H here!
We want and need to keep providing you with the latest free information, photography and Photoshop lessons, and all manner of related information. Show your appreciation by making your purchases immediately after clicking on any of our B&H or Amazon Affiliate links in this blog post. Remember, B&H ain't just photography!
Amazon.com
Those who prefer to support BAA by shopping with Amazon may click on the logo-link immediately above.
Amazon Canada
Many kind folks from north of the border, eh, have e-mailed stating that they would love to help us out by using one of our affiliate links but that living in Canada and doing so presents numerous problems. Now, they can help us out by using our Amazon Canada affiliate link by starting their searches by clicking here. Many thanks to those who have written.
Typos
In all blog posts and Bulletins, feel free to e-mail or to leave a comment regarding any typos or errors. Just be right :).