What's Up?
On Thursday morning I photographed and videoed the bar mitzvah rehearsal of my grandnephew, Max Weinstein. I attended the bar mitzvah on Saturday morning but the use of any electronic devices in the temple is forbidden on the Sabbath. But I did grab nearly a thousand canid images of the family and guests at the big party afterwards. I will share some of those with you here at some point.
I fly back home this afternoon to get ready for our red-eye flight to Santiago, Chile on Wednesday. Denise and I are doing a few days with the condors in Santiago, then a week-long land-based Falklands trip, that followed by the great South Georgia adventure with the Cheesemans. Then home for three whole days before heading to Bosque. How is that for slowing down?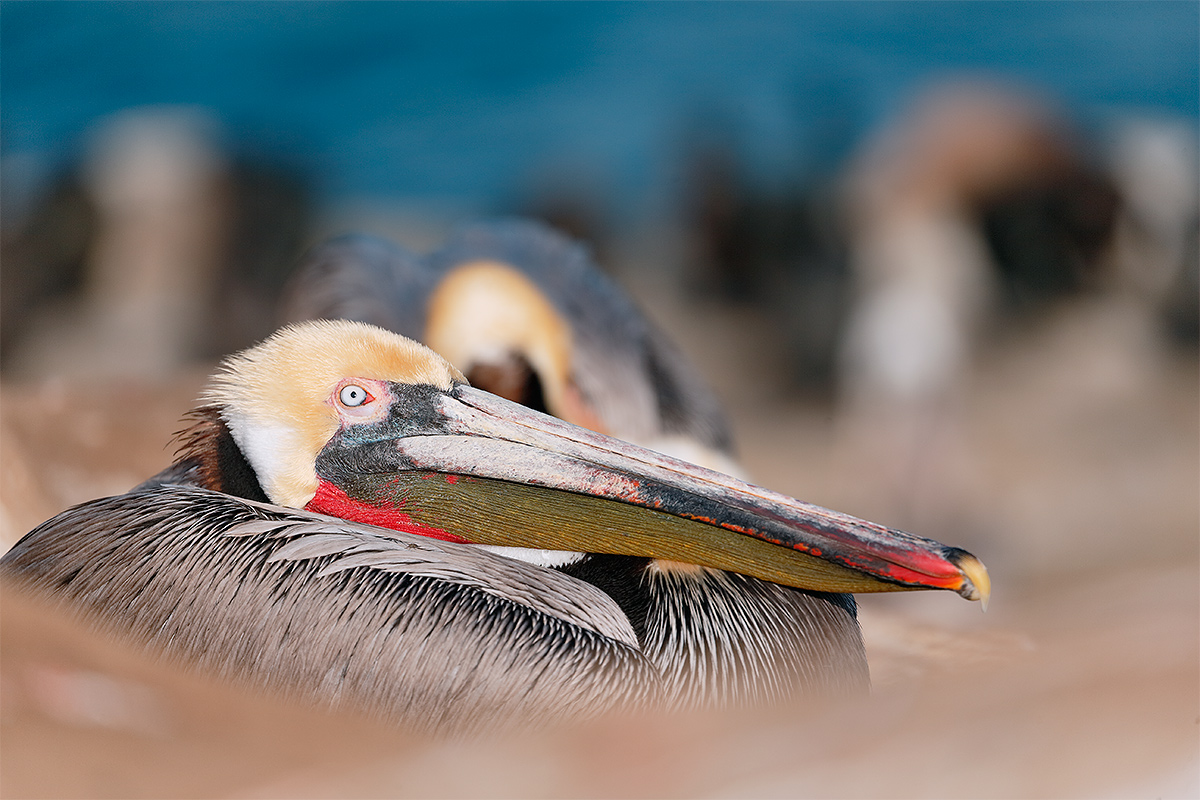 This image was created on last year's San Diego IPT with the hand held Canon EF 100-400mm f/4.5-5.6L IS II USM lens and the rugged Canon EOS-1D X. ISO 400. Evaluative metering -1/3 stop: 1/2500 sec. at f/5.6.
One AF point down and three to the left of the center AF point (Manual selection)/AI Servo Expand/Rear Focus AF as framed was active at the moment of exposure (as is always best when hand holding). The active AF point was just in front of and below the bird's eye. Four to the left of the center AF point would have placed the active AF point squarely on the bird's eye. Nonetheless as you can see below the bird's eye is razor sharp. Click here to see the latest version of the Rear Focus Tutorial. Click on the image to see a larger version.
Brown Pelican and friends in background
Your browser does not support iFrame.
Like it or not? Why?
Is the background too busy? Or does the beauty of the subject carry the image?
Could I have gotten significantly lower here?
The answer is "no." Leave a comment and let us know why not.
What Would You Do?
If you decided to try and improve the background in Photoshop, how would you attempt it?
100-400 II
The pelicans are so tame an hour after sun-up that the Canon EF 100-400mm II is deadly on the cliffs at LaJolla, even when used with a full frame camera body. The birds are, however, quite skittish early on so you must take great care approaching them before 8:30am.
Induro Tripods
To learn about Induro tripods and determine which model is best for you, click here. To order yours, click here or on the logo-link above.
The San Diego Site Guide
Site Guides are the closest thing to joining an IPT that you can experience without actually joining us. And they cost only fifty bucks; a lot less than an IPT! I share everything that I know about the five killer photography spots within 20 minutes of downtown San Diego. Learn where and how and when to photograph the amazing California race of Brown Pelican; Marbled Godwits against bright buff backgrounds; Wood Ducks, Lesser Scaup, and Ring-necked Duck at point blank range; and a variety of stunning gulls (including Heerman's, Western, and California) both perched and in flight. You will learn where to go on what wind and what tides are best for each coastal location. You can get yourself a copy of the San Diego Site Guide by clicking here.
Eye Doctor Work
After converting the RAW file in DPP I brought the image into Photoshop. As you can see in the animated GIF above the eye was a bit funky in the original. The bird was looking up and the lower right part of the pupil was not very well defined. First I repaired the pupil with the Clone Stamp Tool and then a series of small warped Quick Masks that were refined with Regular Layer Masks. Once the pupil was made whole I painted a Quick Mask of the pupil being sure to include lots of the white iris above so that after I placed the pupil on its own layer it was easy to drag it down with the Move Tool (V). The extra iris above the pupil covered the (original) pupil below. Not also the color correction work that eliminated the yellow cast in the bird's white iris.
Digital Basics
All of the above as detailed in my Digital Basics File–written in my easy-to-follow, easy-to-understand style. Digital Basics File is an instructional PDF that is sent via e-mail. It includes my complete digital workflow, dozens of great Photoshop tips, details on using all of my image clean-up tools, the use of Contrast Masks, several different ways of expanding and filling in canvas, all of my time-saving Keyboard Shortcuts, Quick Masking, Layer Masking, and NIK Color Efex Pro basics, Contrast Masks, Digital Eye Doctor techniques, using Gaussian Blurs, Tim Grey Dodge and Burn, a variety of ways to make selections, how to create time-saving actions, the Surface Blur (background noise reduction) settings as taught to me by Denise Ippolito, and tons more.
APTATS I & II
Learn the details of advanced Quick Masking techniques in APTATS I. Learn Advanced Layer Masking Techniques in APTATS I. Mention this blog post and apply a $5 discount to either with phone orders only. Buy both APTATS I and APTATS II and we will be glad to apply at $15 discount with phone orders only. Please call Jim or Jennifer weekdays at 863-221-2372 to take advantage of this offer. I am pretty sure that we have extended that offer to the BAA Online Store as well… No time to check right now. 🙂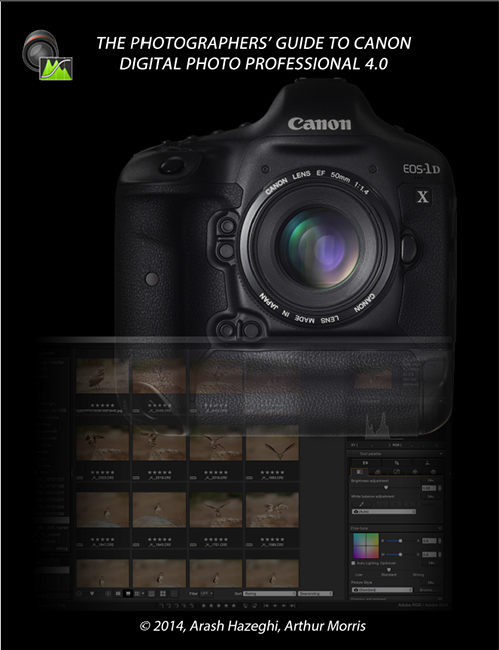 You can order your copy of "The Photographers' Guide to Canon Digital Photo Professional 4.0" (aka the DPP 4 Raw Conversion eGuide) by Arash Hazeghi and Arthur Morris by clicking here.
The DPP 4 eGuide (PDF)
Learn how and why I and many other discerning photographers choose and use only DPP 4 to convert their Canon RAW files in the DPP 4 RAW Conversion Guide by Arash Hazeghi and yours truly. The latest version supports all of the newer Canon camera bodies and several older models including the EOS-7D and the EOS-1D Mark IV. The DPP IV Guide is the ideal companion to the 7D Mark II User's Guide, a runaway best seller.
DPP 4 Kudos
From Richard Gollard via e-mail:
I have been doing tons of studying the books and PDFs that I have purchased from BIRDS AS ART. And I have to say that after reading the DPP 4 conversion guide that you did with Arash Hazeghi I tried DPP 4 and was blown away with the difference from the conversions that I made with Adobe Photoshop and Lightroom. Thanks for the consistently great information.
The DPP 4 eGuide (PDF) Updated for 1D Mark IV and the original 7D
The DPP 4 eGuide was recently updated to include the luminance and chrominance noise reduction values for both the 1D Mark IV and the original 7D. If you purchased your copy from BAA please e-mail Jim and request the DPP 4 1d IV/7D update. Please be sure to cut and paste page 1 into your e-mail as proof of purchase.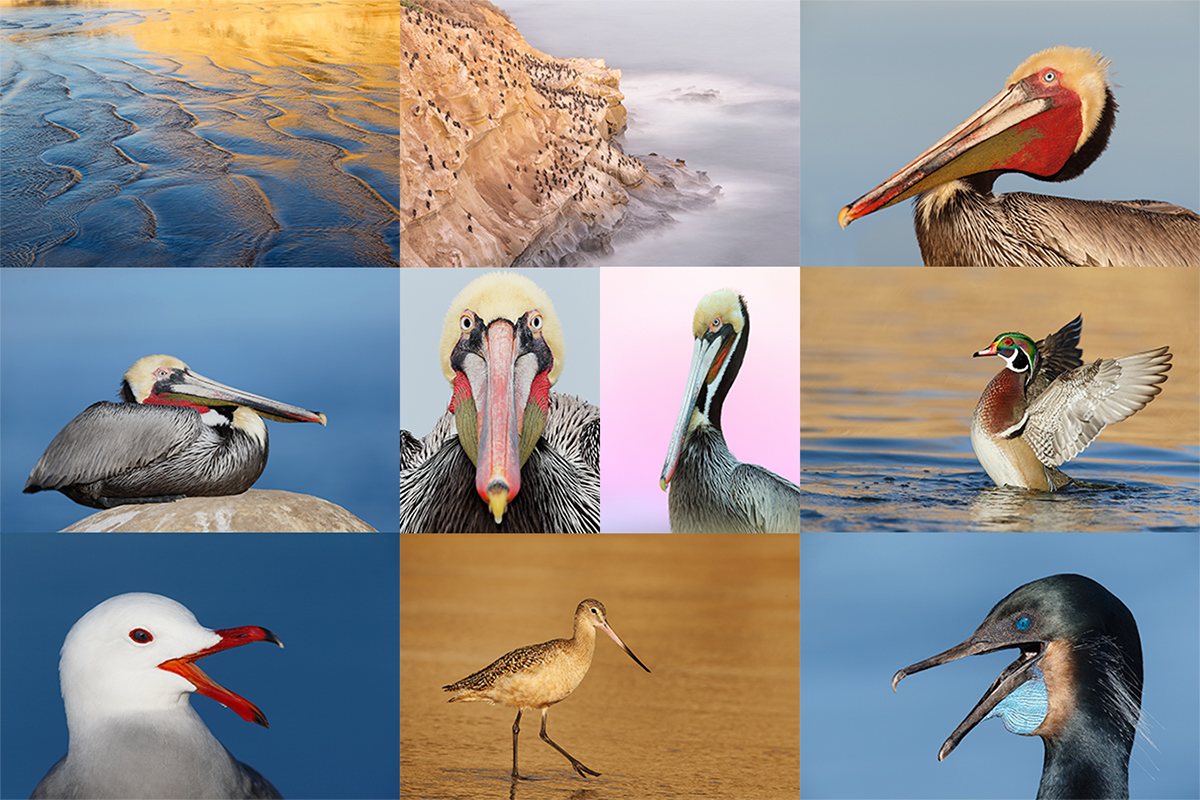 San Diego offers a wealth of very attractive natural history subjects. With annual visits spanning more than three decades I have lot of experience there….
2015 San Diego 4 1/2-DAY BIRDS AS ART Instructional Photo-Tour (IPT) JAN 8 thru the morning of JAN 12, 2016: $1899 (Limit: 10/Openings: 3)
Meet and Greet at 7:00pm on the day before the IPT begins
Two great leaders: Arthur Morris and Denise Ippolito
Join us in San Diego to photograph the spectacular breeding plumage Brown Pelicans with their fire-engine red and olive green bill pouches; Brandt's and Double-crested Cormorants in breeding plumage with their amazing crests; breeding plumage Wood and Ring-necked Duck; other species possible including Lesser Scaup, Redhead, and Surf Scoter; a variety of gulls including Western, California, and the gorgeous Heerman's, all in full breeding plumage; shorebirds including Marbled Godwit, Willet, Sanderling and Black-bellied Plover; many others possible including Least, Western, and Spotted Sandpiper, Whimbrel, Black and Ruddy Turnstone, Semipalmated Plover, and Surfbird; Harbor Seals (depending on the current regulations) and California Sea Lions likely; and Bird of Paradise flowers. And as you can see by studying the two IPT cards there are some nice landscape opportunities as well.
Did I mention that there are wealth of great birds and natural history subjects in San Diego in winter?
This IPT will include five 3 1/2 hour morning photo sessions, four 2 1/2 hour afternoon photo sessions, five lunches, after-lunch image review and Photoshop sessions, and a thank you dinner. To ensure early starts, breakfasts will be your responsibility.
A $499 non-refundable deposit is required to hold your slot for this IPT. You can send a check (made out to "Arthur Morris) to us at BIRDS AS ART, PO Box 7245, Indian Lake Estates, FL, 33855. Or call Jim or Jennifer at the office with a credit card at 863-692-0906. Your balance, payable only by check, will be due on 11/1//2015. If we do not receive your check for the balance on or before the due date we will try to fill your spot from the waiting list. Please print, complete, and sign the form that is linked to here and shoot it to us along with your deposit check. If you register by phone, please print, complete and sign the form as noted above and either mail it to us or e-mail the scan. If you have any questions, please feel free to contact me via e-mail.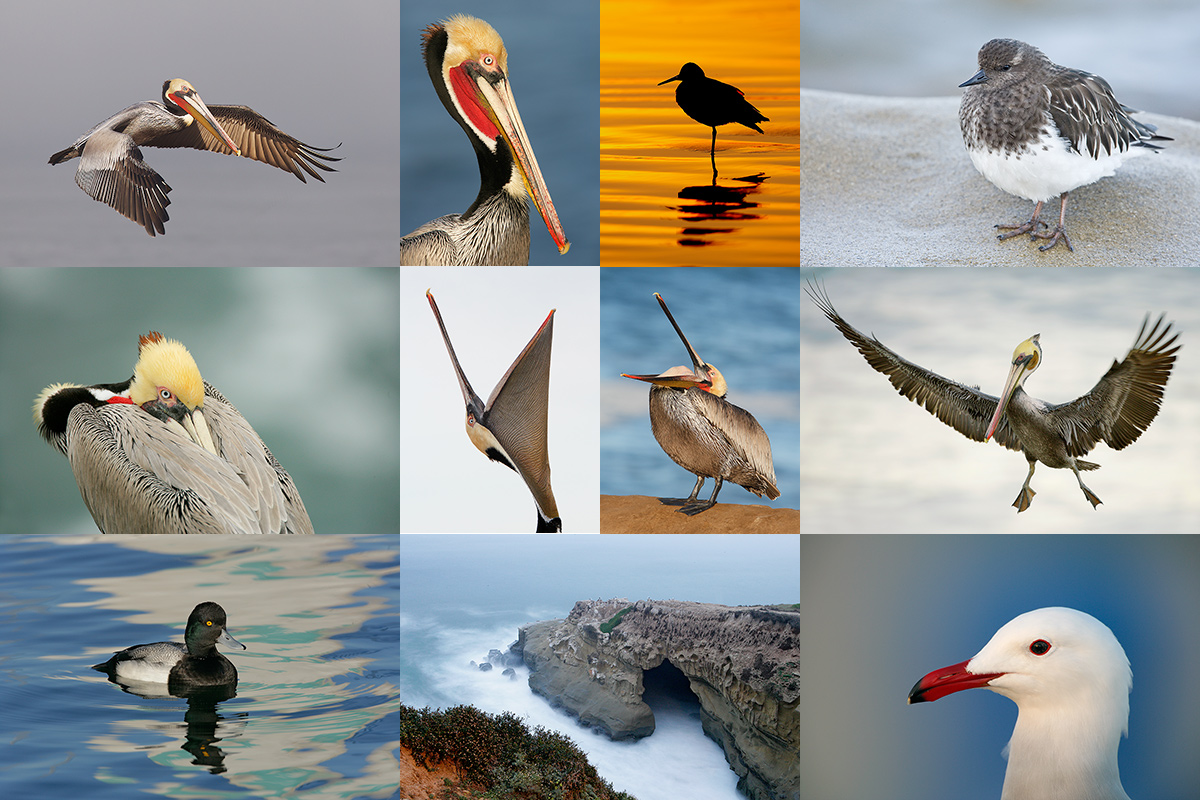 Though the pelicans will be the stars of the show on this IPT there will be many other handsome and captivating subjects in wonderful settings.
Facebook
Be sure to like and follow BAA on Facebook by clicking on the logo link upper right. Tanks a stack!
Support the BAA Blog. Support the BAA Bulletins: Shop B&H here!
We want and need to keep providing you with the latest free information, photography and Photoshop lessons, and all manner of related information. Show your appreciation by making your purchases immediately after clicking on any of our B&H or Amazon Affiliate links in this blog post. Remember, B&H ain't just photography!
Amazon.com
Those who prefer to support BAA by shopping with Amazon may click on the logo-link immediately above.
Amazon Canada
Many kind folks from north of the border, eh, have e-mailed stating that they would love to help us out by using one of our affiliate links but that living in Canada and doing so presents numerous problems. Now, they can help us out by using our Amazon Canada affiliate link by starting their searches by clicking here. Many thanks to those who have written.
Typos
In all blog posts and Bulletins, feel free to e-mail or to leave a comment regarding any typos or errors. Just be right :).