DVT/Deep Vein Thrombosis
Good friend and superb photographer Paul McKenzie recently had a stroke after traveling from his home in Hong Kong to Kansas City on business. He was very fortunate to receive excellent medical care after driving himself to the hospital and finding the ER empty. The clot busting drug did their job. My understanding is that the doctors there were noncommittal as to the cause of the stroke. After learning that Paul was relatively young and in great shape, my good friend in San Diego, the brilliant Dr. Cliff Oliver, was sure that Paul's stroke was caused by DVT.
I asked Cliff to write something up for the blog. And he did.
DVT Prevention by Doctor Cliff Oliver
If you think that you might have a high risk of developing DVT, Deep Vein Thrombosis, be sure see your doctor before you travel. Two major categories of those at risk for suffering DVT are the elderly and, surprisingly, well conditioned athletes. I have had several clients in the past few years who have suffered DVT strokes over the past few years, several in the latter category.
Studies have concluded that airline passengers who wear compression stockings during flights of four hours or more can significantly reduce their risk of DVT as well as leg swelling (edema). The below-the-knee stockings apply gentle pressure to the ankle to help blood flow. They come in a variety of sizes and there are also different levels of compression. Class 1 stockings (exerting a pressure of 14-17 mmHg at the ankle) are generally sufficient. It's vital that compression stockings are measured and worn correctly. Ill-fitting stockings could further increase the risk of DVT. Flight socks are available from pharmacies, airports and many retail outlets. Take advice on size and proper fitting from a pharmacist or other health professional.
While You Travel
If you are planning a long-distance plane, train or car journey, ensure that you:
Wear loose, comfortable clothes.
Wear a properly-fitted pair of flight socks (compression stockings).
Store luggage overhead so you have room to stretch your legs.
Do anti-DVT exercises. Raise your heels, keeping your toes on the floor, then bring them down. Do this 10 times. Raise and lower your toes 10 times. Do it at least every half an hour, more if you are awake.
Get up and walk around whenever you can.
Drink plenty of water.
Don't drink alcohol or take sleeping pills.
A scientific study split a group of more than 600 passengers classed as low-to-medium risk of having a DVT episode during or after flights from from London to Arizona and New York into two groups: Half took no preventative measures against DVT while the other half wore Dr. Scholl's Flight Socks providing a compression level of 14-17mmHg at the ankle. The result? More than 4% of those not wearing Flight Socks suffered from some form of thrombosis during the flight to Phoenix and more than 3% flying to New York. The incidence of thrombosis among those wearing Dr. Scholl's Flight Socks was zero. 

For optimum efficiency, you should wear your compression socks throughout your journey, and not necessarily only during your flight; you may have long distances to travel on one or both sides of your flight and should ideally also wear them then too. Wear them in place of socks or hosiery and always ensure that they are pulled up to just below the knee. Make sure they are free of wrinkles and do not roll them down. 
 
The obvious way to prevent DVT on long flights is to get up and move around frequently.  Few people do; it seems they are reluctant to get up because they are embarrassed or afraid they will inconvenience the person in the next seat.  They just sit there like bumps on a log for hours and hours and hours.  Movement is the key to avoiding DVT.
 
A little sodium or potassium citrate in your drinking water before and during the flight will help prevent flocculation (thickening of the venous blood).  Use "potassium citrate" if you have high blood pressure issues.
The following supplement, Nattokinase (1 three times daily before meals), and Diphasic PM (2 before and after traveling) help keep the blood flowing.
More
You can help support the BAA Blog by purchasing your compression flight socks here
You can order the two supplements above from Dr. Oliver via e-mail. Most of you know that it was Cliff who put me on the path to better health and longer living more than 20 years ago. If you would like to learn the whole story please shoot me an e-mail with the words "Health Basics File" cut and pasted into the Subject Line. Please remember that I will not be back on line until mid-November.
Learn more about Dr. Oliver at the Center for Balance website here or friend him on his Facebook page here.
Those who are 100% serious about improving their health should consider working with Dr. Oliver on Skype. Your first 30 minute consultation is free. Again, you can reach Cliff via e-mail.
A Similar Take on DVT
The information below is from the Dr. Scholl's DVT Socks website page here.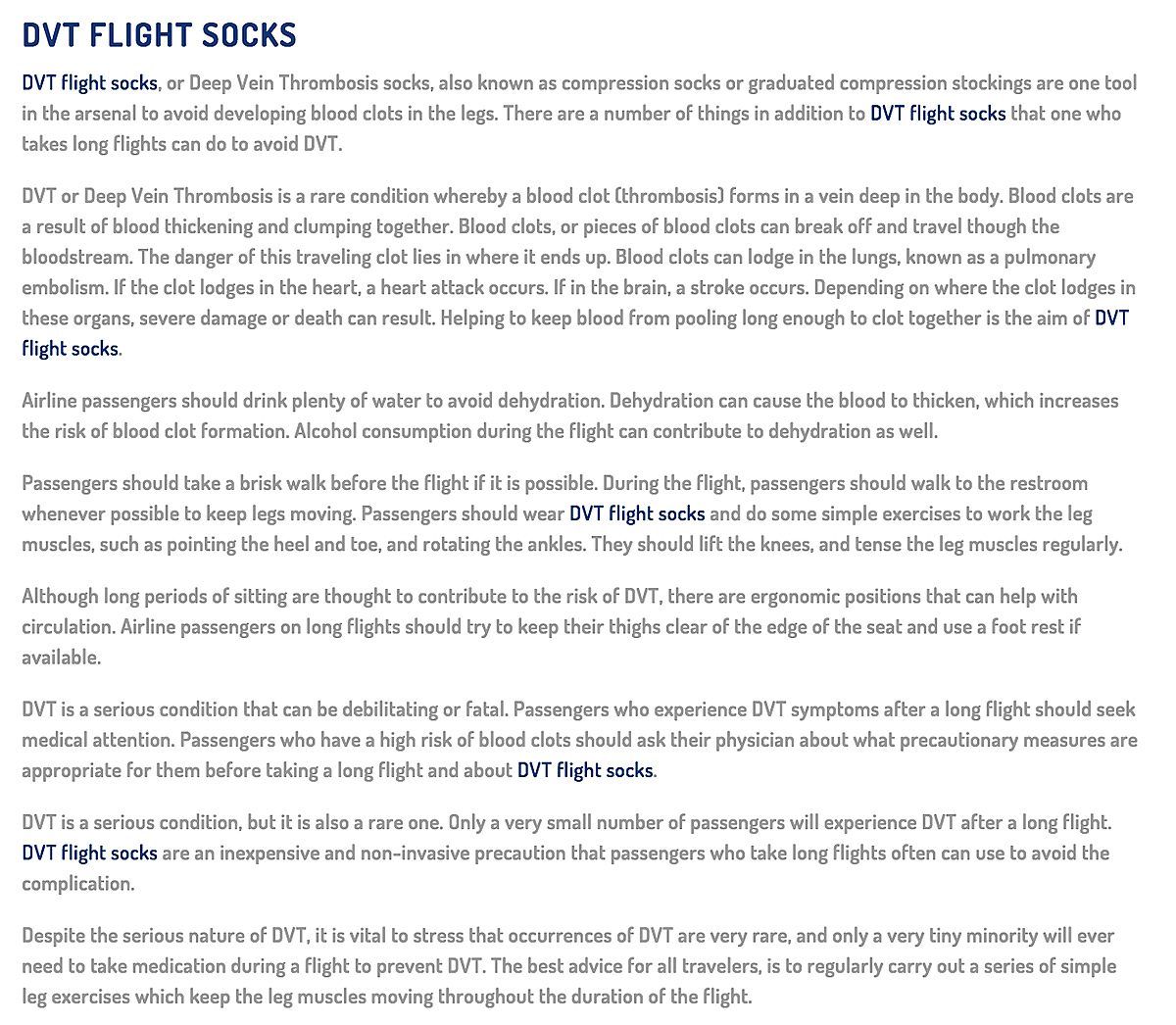 The information above is from the Dr. Scholl's DVT Socks website page here.
Fly Safely!
The risk of DVT is real. Be sure to fly safely.
later and love, artie