What's Up?
Bosque was terrible before we arrived but things are looking much better right now. Again I enjoyed a horrific night's sleep and can finally say that I feel pretty lousy with a stuffed nose, chest congestion, and a dry hacking cough, all of which kept me up most of the night. I gave up on sleep at 3am and went to work on the laptop. Still no sore throat. I am hoping not to wind up in the hospital but till then I will be out there teaching and photographing….
If however, I still feel this lousy by Wednesday, I may take a few days off to rest between IPTs….
Enjoy the Blog?
Do you enjoy reading the blog? Do you learn something on most visits? Are you all set as far as gear goes? If yes to all of those, please consider making a BAA Blog Thank You Donation by clicking here. And if you do need some new gear, please use my affiliate links, most especially, the B&H affiliate logo link just to the right of this text. Simply click and begin your search and shopping spree :). Note: web orders only. Also, there will be no indication that your purchases will be tracked to BAA. The tracking is invisible. That's why we ask folks to send us their B&H receipts for major purchases via e-mail. Please remember: no phone orders…. Many thanks for considering these requests. a
Induro $50 Instant Rebate
The Induro $50 instant rebate will last only until the end of this year. Click on the logo-link above to save $50 on our favorite tripods. On our recent grueling trip to the Southern Ocean Denise loved her new GIT 304 and I love my new GIT 304L. Both performed flawlessly in the mud, snow and ice.
Induro GIT 404L Super Sale!
For a limited time only the Induro GIT 404L is being offered for the ridiculously low price of $370 (including the $50 instant rebate). The Induro GIT 404L is a 4-leg section Grand Series tripod. It is slightly bigger and one pound heavier than the GIT 304L; it is the perfect tripod for those using big glass who would like a bit more stability.
Gura Gear Backpack Blowout
I do not use a backpack. But many of my and denise's clients who do have long raved about the Guru Gear backpacks. As have many professionals. These great photo backpacks are being phased out and will not be replaced in their present form. Take advantage of the huge price reductions on three popular models, the Bataflae 26L, the Bataflae 32L, and the Bataflae 18L, and enjoy a superbly high quality backpack that with its sturdy, high end zippers and durable fabric will serve you well for many years.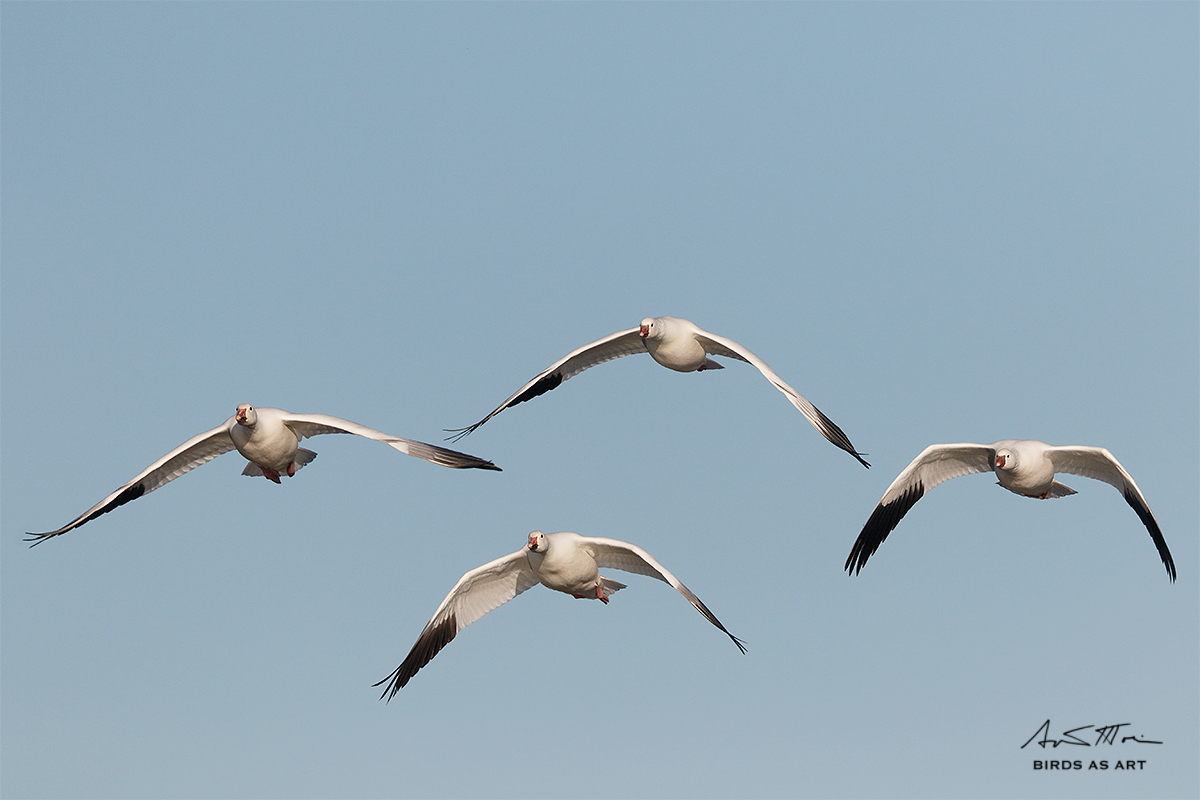 This image was created on the first afternoon of the first Bosque IPT on the morning of Sunday, November 22, 2015 with the hand held Canon EF 400mm f/4 DO IS II USM lens, the Canon Extender EF 1.4X III, and the amazing Canon EOS 7D Mark II. ISO 400. Evaluative metering +1 stop off the light blue sky: 1/3200 sec. at f/7.1.
Center AF point/AI Servo Expand/Shutter Button AF as framed was active at the moment of exposure (as is always best when hand holding). Click on the image to see a larger version.
Four White Geese…
Your browser does not support iFrame.
The Intermediate View
99% of the avian images that I have created over the past 32 years fall into one of these categories: images of a single bird; images of a single bird in flight; images of two birds interacting; tight head portraits or body parts images; bird-scapes featuring a small-in-the-frame subject or a small flocks of birds set in beautiful habitat (many folks call these environmental or habitat images); or large frame-filling images of flocks of birds in flight, often intentionally blurred, and often referred to as pure pattern shots.
What's missing? Images featuring 3-10 avian subjects in the same frame. These intermediate views are very difficult to pull off successfully for a variety of reasons:
1-The subject often overlap creating unpleasant merges.
2-coming up with a pleasing arrangement or grouping without clipping any wingtips or subjects on the edge of the frame is a big challenge. Zoom lenses help here of course.
3-getting 3 or 5 or 8 good head angles in a single frame is nearly impossible.
4-with images of groups of birds in flight, it is nearly impossible to come up with all good wing positions.
Lunch Time Comment Hits Paydirt…
During our first image review session I showed about 25 images of groups of geese with about 6-10 birds in each image. All of the images were deleted for a variety of reasons:
1-the image was poorly framed.
2-one or more (often many) of the birds showed less than ideal wing positions.
I said to the group, "Why take so many images like these when the chances of success are miniscule? "
The answer: "Once in a while you hit bingo!" I advised them to frame the images as well as the could after acquiring focus and then hold the shutter button down for at least a few images. I said to them, "You have many thousands of dollars (if not tens of thousands) worth of gear and you spent a lot of money to get here. What does it cost you to push the shutter button when a situation offers a potential payoff in the form of a good image?"
Then I went out and hit bingo.
ID Challenge
Can you identify each of the four adult birds in today's featured image to species starting with the leftmost bird and going clockwise?
Facebook
Be sure to like and follow BAA on Facebook by clicking on the logo link upper right. Tanks a stack!
Support the BAA Blog. Support the BAA Bulletins: Shop B&H here!
We want and need to keep providing you with the latest free information, photography and Photoshop lessons, and all manner of related information. Show your appreciation by making your purchases immediately after clicking on any of our B&H or Amazon Affiliate links in this blog post. Remember, B&H ain't just photography!
Amazon.com
Those who prefer to support BAA by shopping with Amazon may click on the logo-link immediately above.
Amazon Canada
Many kind folks from north of the border, eh, have e-mailed stating that they would love to help us out by using one of our affiliate links but that living in Canada and doing so presents numerous problems. Now, they can help us out by using our Amazon Canada affiliate link by starting their searches by clicking here. Many thanks to those who have written.
Typos
In all blog posts and Bulletins, feel free to e-mail or to leave a comment regarding any typos or errors. Just be right :).