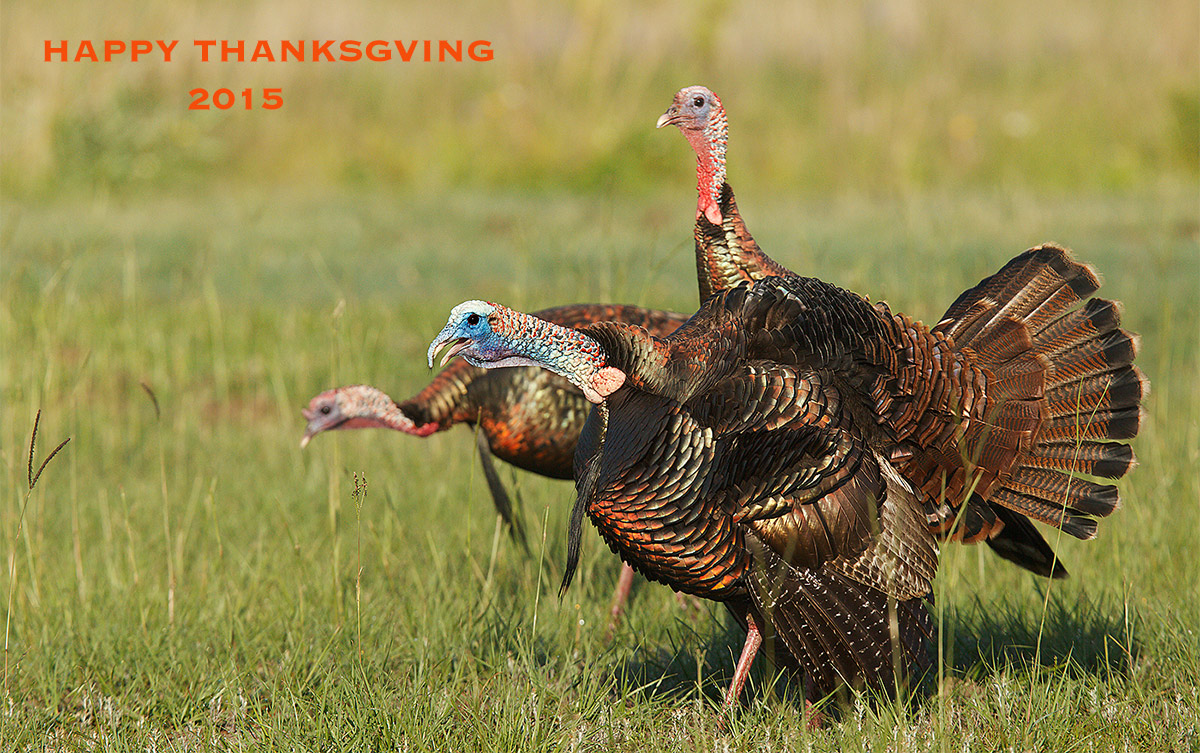 Enjoy the holiday and try not to eat too, too much.
Happy Bird-Day 2015
All here at BAA would like to wish you and yours a happy Thanksgiving. My older daughter Jennifer is on Long Island with her whole family visiting her sister–my younger daughter Alissa and her family–along with my Mom and my younger sister Arna. My right hand man Jim Litzenberg and his wife will be busy serving dinner to the less fortunate over on the east coast of Florida as they have done for the past 5 years.
With everyone away for the holiday BIRDS AS ART will be closed until Monday, November 30. We look forward to meeting your IPT and mail order needs when things get back to normal.
What's Up?
I went to the refuge on Wednesday morning where I enjoyed yet another breathtaking but pretty much bird-less sunrise…. I felt a lot better than I had on Tuesday with the murderous coughing spells greatly reduced. I went to the ER in Socorro for a lung x-ray. Everyone there was very nice. I was in the examining room in minutes and checked in soon thereafter. After my history was taken I saw the doctor. She said that my lungs sounded clear and ordered the desired chest x-rays. They were done quickly but it took about two hours until the x-rays were read. But the news was great: my lungs were clear with no sign of pneumonia.
In he afternoon I noticed some pain in my right mid-back. It always takes me a few minutes to recognize the source. I am passing a small kidney stone. The way Dr. Oliver has taught me to read and understand my body I realized that there was very likely some connection between the cough/cold and the kidney stone. I gave him a buzz and asked him if I was right. "Absolutely–the Thera-Flu that you took has antihistamines in it. They dry you out internally. Bingo.
After my first very painful kidney stone episode at Point Pelee more than a few years ago, I almost always have some D-Mannose on hand. It is a sugar that coats the ureter making it easier to pass small stones. The funny thing is that I looked at the jar of D-Mannose on the counter and thought about bringing it to New Mexico. But did not. When it rains, it pours. And please do not try to get D-Mannose in Socorro, NM….
I will likely head down to the refuge for an hour or two on Thanksgiving morning and then rest up with a day of NFL games on the tube.
Selling Your Used Photo Gear Through BIRDS AS ART
Selling your used (or like-new) photo gear through the BAA Blog or via a BAA Online Bulletin is a great idea. We charge only a 5% commission. One of the more popular used gear for sale sites charges a minimum of 20% plus assorted fees! Yikes. The minimum item price here is $500. If you are interested please e-mail with the words Items for Sale Info Request cut and pasted into the Subject line :). Stuff that is priced fairly–I offer free pricing advise, usually sells in no time flat.
Canon EOS-1D Mark IV professional digital camera body
Friend and multiple IPT veteran Larry Master is offering a Canon EOS-1D Mark IV professional digital camera body in excellent condition for $1399. The sale includes the original box, the camera manual, the front cap, all cables and CDs, and insured shipping by UPS Ground to US addresses only. Personal checks only; your camera will be shipped only after your check clears.
Interested folks may contact Larry on his cell phone at 518-645-1545 or via e-mail.
Two rugged 1D Mark IVs served as my workhorse professional bodies for several years. artie
Facebook
Be sure to like and follow BAA on Facebook by clicking on the logo link upper right. Tanks a stack!
Support the BAA Blog. Support the BAA Bulletins: Shop B&H here!
We want and need to keep providing you with the latest free information, photography and Photoshop lessons, and all manner of related information. Show your appreciation by making your purchases immediately after clicking on any of our B&H or Amazon Affiliate links in this blog post. Remember, B&H ain't just photography!
Amazon.com
Those who prefer to support BAA by shopping with Amazon may click on the logo-link immediately above.
Amazon Canada
Many kind folks from north of the border, eh, have e-mailed stating that they would love to help us out by using one of our affiliate links but that living in Canada and doing so presents numerous problems. Now, they can help us out by using our Amazon Canada affiliate link by starting their searches by clicking here. Many thanks to those who have written.
Typos
In all blog posts and Bulletins, feel free to e-mail or to leave a comment regarding any typos or errors. Just be right :).