What's Up?
I did lots of work on the San Diego exhibit labels and answered lots of e-mails on the Cheeseman's 2016 South Georgia/Falklands Expedition; we have already signed up three or four folks for the BIRDS AS ART group. Do consider joining us for the trip of a lifetime, my last ship-based trip to the Southern Ocean. If you are interested, see yesterday's blog post here or shoot me an e-mail with the words "Cheesemans' Last South Georgia Expedition" cut and pasted into the Subject Line.
Selling Your Used Gear Through BIRDS AS ART
Selling your used (or like-new) photo gear through the BAA Blog or via a BAA Online Bulletin is a great idea. We charge only a 5% commission. One of the more popular used gear for sale sites charges a minimum of 20%. Plus assorted fees! Yikes. The minimum item price here is $500 (or less for a $25 fee). If you are interested please e-mail with the words Items for Sale Info Request cut and pasted into the Subject line :). Stuff that is priced fairly–I offer free pricing advice, usually sells in no time flat. In the past few months, we have sold just about everything in sight. Do know that prices on some items like the EOS-1D Mark IV, the old Canon 500mm, the EOS-7D, and the original 400mm IS DO lens have been dropping steadily. You can see all current listings by clicking here or by clicking on the Used Photo Gear tab on the yellow-orange tab on the right side of the menu bar above.
After a month long lull, there have been more than a few sales over the past few weeks.
David Bell sold his Canon 400mm f/5.6L lens yesterday for the full asking price, $699, on the day it was listed!
Alan and Sara Levine sold several of the many items they listed and the sale of their old 300 f/2.8 is pending.
Two Canon 500mm f/4L IS lenses (two) were sold by Pat & Stokes Fishburne for $3799 each in late November, 2015.
A Canon EOS-1D Mark IV Camera Body was sold by Alice Garland for $1350 in mid-November, 2015.
The sale of Brent Bridges's 600 II is pending.
New Listings
Nikon AF-S NIKKOR 600mm f/4G ED VR Lens
IPT veteran and super-nice guy Bruce Gauger is offering a brand new in the box Nikon AF-S NIKKOR 600mm f/4G ED VR lens (USA),in the factory-sealed box for $7,999. Bruce had a mountain biking accident right after he purchased the lens about 5 years ago….
The sale includes all of the original accessories and paperwork in the unopened box including the USA warranty cards, the front lens lens cover, the LF-4 rear lens cap, the HK-35 lens hood, the CT-607 trunk (hard carrying case), the LN-1 lens Strap, and insured shipping via UPS Ground to continental US addresses only. Your item will not ship until your check clears unless other arrangements are made.
Please contact Bruce by e-mail or by phone at 1-949-892-8590 (Pacific time).
The 600 f/4 lenses are ideal for those who do birds and wildlife. This older version of the Nikon 600 weighs 11.16 lbs. It is still in production and sells new at B&H for $9,394.00. The newer lighter version, the Nikon AF-S NIKKOR 600mm f/4E FL ED VR lens (designated by "E" rather than "G" after the f/4) weighs 8.4 pounds but costs $12,296.95. Thus, Bruce's lens is a great buy for someone young and relatively strong who would like to save either $1,395.00 or $4297.95, depending on how you look at it. artie
Canon 100-400mm L IS Zoom Lens
Stephen Zarate is offering a used Canon 100-400mm L IS Zoom lens (the old 100-400) in excellent condition (the lens hood shows minor signs of wear) for the BAA record-low price of $650. The sale includes the front and rear lens caps, the tough fabric case, the tripod collar, the original box, and insured ground shipping via UPS ground. Your item will not ship until your check clears unless other arrangements are made.
Please contact Stephen by e-mail or by phone at 949-697-8194 (Pacific time).
The old 100-400 was and is superb. I made hundreds of sale-able images with mine including the front cover of Scott Weidensaul's Return to Wild America. Contrary to reports by the internet idiots the lens is–in competent hands–sharp at all focal lengths. It is extremely versatile and would make a great starter lens for those interested in bird, wildlife, and general nature photography. artie
Canon 400mm f/4 IS DO Lens
Stephen Zarate is also offering a used Canon 400mm f/4 IS DO lens (the old 400 do) in very good plus condition the record-low BAA price of $2899.00. The lens is covered by a well-worn "digital camo" LensCoat and the tripod ring shows minor signs of wear.
The sale includes the lens trunk, the front and rear lens caps, the leather front lens cover, the aforementioned LensCoat, and insured ground shipping via UPS ground. Your item will not ship until your check clears unless other arrangements are made.
Please contact Stephen by e-mail or by phone at 949-697-8194 (Pacific time).
I used this lens for several years with great success, especially for birds in flight and while working from various type of water craft. In addition, it would make a great prime super-telephoto lens for folks with a 7D II. Gannets in Love was created with the 400 DO. You can see that one and 13 other killer images that I made with my old 400 DO here. The title of that blog post is "The Canon 400mm f/4 IS DO Lens: Fourteen Images that Prove that the Internet Experts are Idiots." Tom's lens is priced to sell. artie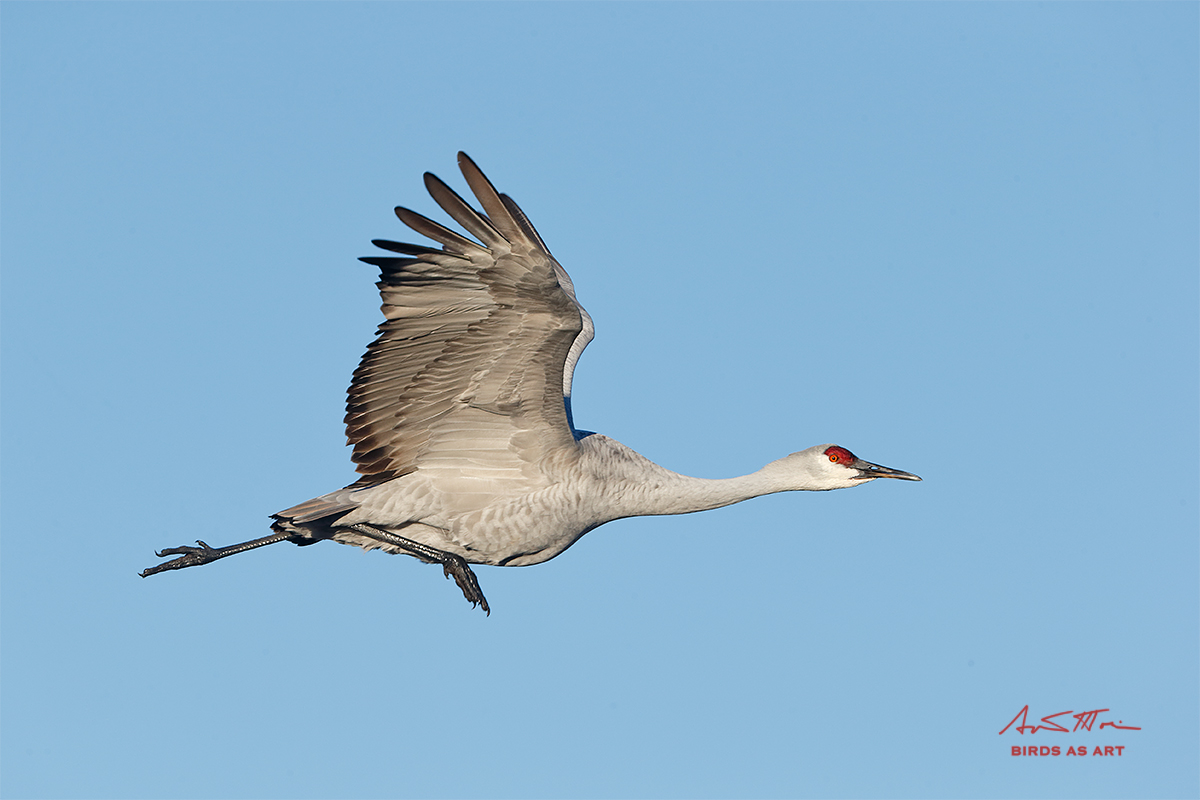 This image was created on the last morning of the second Bosque IPT with the hand held Canon EF 400mm f/4 DO IS II USM lens, the Canon Extender EF 2X III, and the rugged Canon EOS-1D X. ISO 800. Evaluative metering +2/3 stop off the light blue sky: 1/1000 sec. at f/8 in Manual mode.
Center AF point (by necessity) Expand/AI Servo shutter button AF was active at the moment of exposure as is always best when hand holding. The active AF point fell on the bird's upper back just where it meets the raised wings, nicely on the same plane as the eye. Click on the image to enjoy a larger version.
Your browser does not support iFrame.
Going Light for Flight with the 400 DO II, the 2X III TC, and the EOS-1D X
I had packed my 600 II to be shipped back to ILE that night before so I grabbed the 400 DO II, the 2X III TC, and the 1D X. 800mm is a great focal length for the cranes taking off to the north at the standard location. And I actually find hand holding the 400 DO II for flight easier than working with the 600 II off my Induro GIT 304L tripod topped by the Mongoose M3.6. I made lots of sharp images on that last morning.
Do notice the slight look-back-at-me head angle and the fact that I was working almost perfectly on sun-angle….
Running in Place in Flight
I actually saw the bird "running in place" and made two images as I called it out to the group. One had the pancake wing position that I do not like at all but I love the one above with the wings raised a bit. I believe that the bird had both legs tucked into it belly feathers for warmth and decided to let its far leg trail in the normal position, thus the appearance of running in place.
The Bosque Site Guide
If you can't make or afford a Bosque IPT, or if the holidays preclude your joining one, be sure to get yourself a copy of my Bosque Site Guide. All BAA Site Guides are designed so that with a bit of study you can show up at a great place and know exactly where to be at what time on what wind and in what lighting conditions. And on what wind. With a Site Guide on your laptop you will feel like a 22-year veteran on your first visit. Site Guides are the next best thing to being on an IPT. If you plan on visiting Bosque it would be foolish to make the trip without having this guide in hand. Why spend money on gear and travel and then spend days stumbling around in the wrong spot? If you have visited previously, and are still unsure of where you should be at this time of day with that wind, this guide will prove invaluable to you as well. Even folks visiting Bosque for the tenth time will learn a ton as I share my secrets and hold nothing back….
In the next week or so, I will be working on a 2015 Bosque Current Conditions Guide; it will be send for free to all who have previously purchased the Bosque Site Guide and will also be available as a separate, stand-alone purchase.
Bosque Site Guide Kudos
By e-mail from Paul Shilling
After planning my first trip to Bosque earlier this year, I bought your excellent Bosque site guide. Read through it a couple of times. It is well worth the $50. It helped me get a good feel for the refuge before arriving. Many thanks. I was there last week for a morning and an afternoon. After disappointingly finding almost no birds before and just after sunrise at your suggested location, I enjoyed the cranes flying out at the spot you mention in the guide. Then I went straight to the farm fields in the north loop; they did not disappoint. Your guide led me to each of these spots. Without your guide would have had to guess at my next move. Best, Paul
Please Remember to use our Affiliate Links 🙂
To show your appreciation for my continuing efforts here, we ask, as always, that you use our the B&H and Amazon affiliate links on the right side of the blog for all of your purchases. B&H is recommended for you major photography gear purchases, Amazon for your household, entertainment, and general purpose stuff. Please check the availability of all photographic accessories in the BIRDS AS ART Online Store, especially the Mongoose M3.6 tripod heads, Gitzo tripods, Wimberley heads and plates, LensCoats and accessories, and the like. We sell only what I have used, have tested, and can depend on. We will not sell you junk. We know what you need to make creating great images easy and fun. And we are always glad to answer your gear questions via e-mail. I just learned that my account was suspended during my absence; it should be up and running by Monday at the latest.
I would of course appreciate your using our B&H affiliate links for all of your major gear, video, and electronic purchases. For the photographic stuff mentioned in the paragraph above we, meaning BAA, would of course greatly appreciate your business. Here is a huge thank you to the many who have been using our links on a regular basis and visiting the BAA Online store as well.
Facebook
Be sure to like and follow BAA on Facebook by clicking on the logo link upper right. Tanks a stack!
Typos
In all blog posts and Bulletins, feel free to e-mail or to leave a comment regarding any typos or errors. Just be right 🙂