What's Up
By 9:40pm on Friday evening when I was finishing up work on this blog post, I had answered 88 e-mails today. And I got lots of work done on the 2015 Bosque Current Conditions update. It is turning out to be much more involved then any previous update and includes lots of new tips new and information that is not just specific to 2015….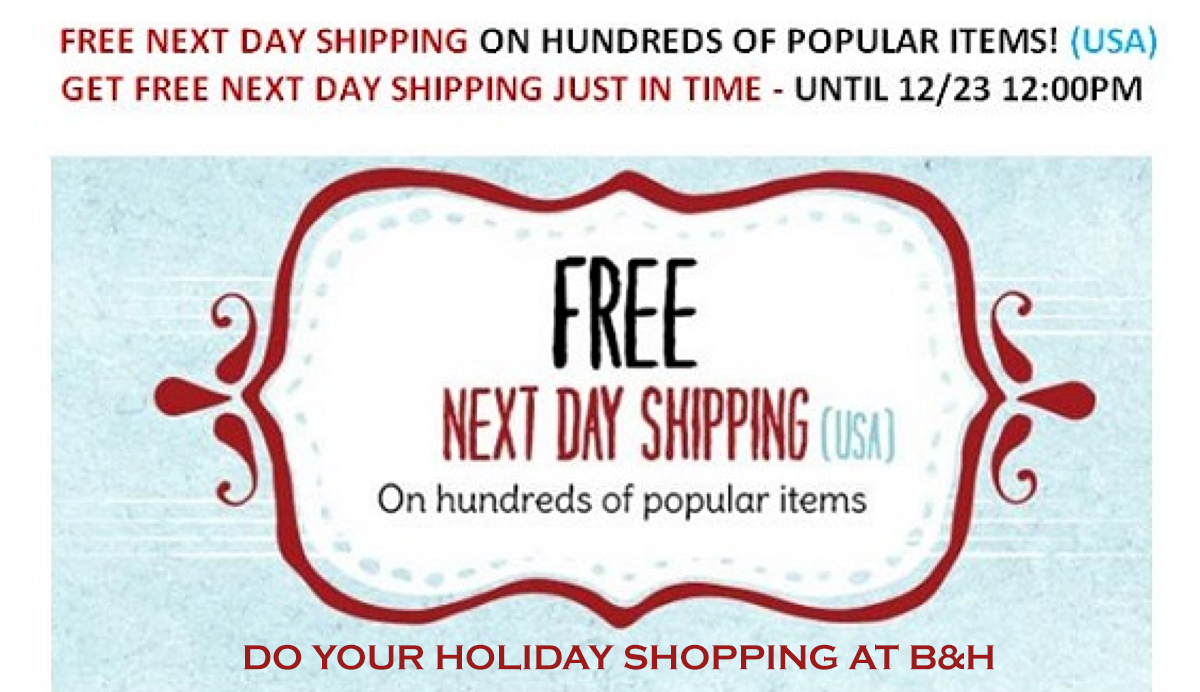 You can check these great holiday offers plus free next day shipping by clicking here.
B&H Free Next Day Holiday Shipping (on Selected Items)
Click here and then either click on a category or a brand of by clicking on the red See All Qualified Items box.
I did and quickly found a 7D Mark II for the insanely low price of $1399. That price already includes the $400 instant rebate. The icing on the cake includes the 2% reward and the free next day shipping. Just what the holidays ordered. From now till December 23rd.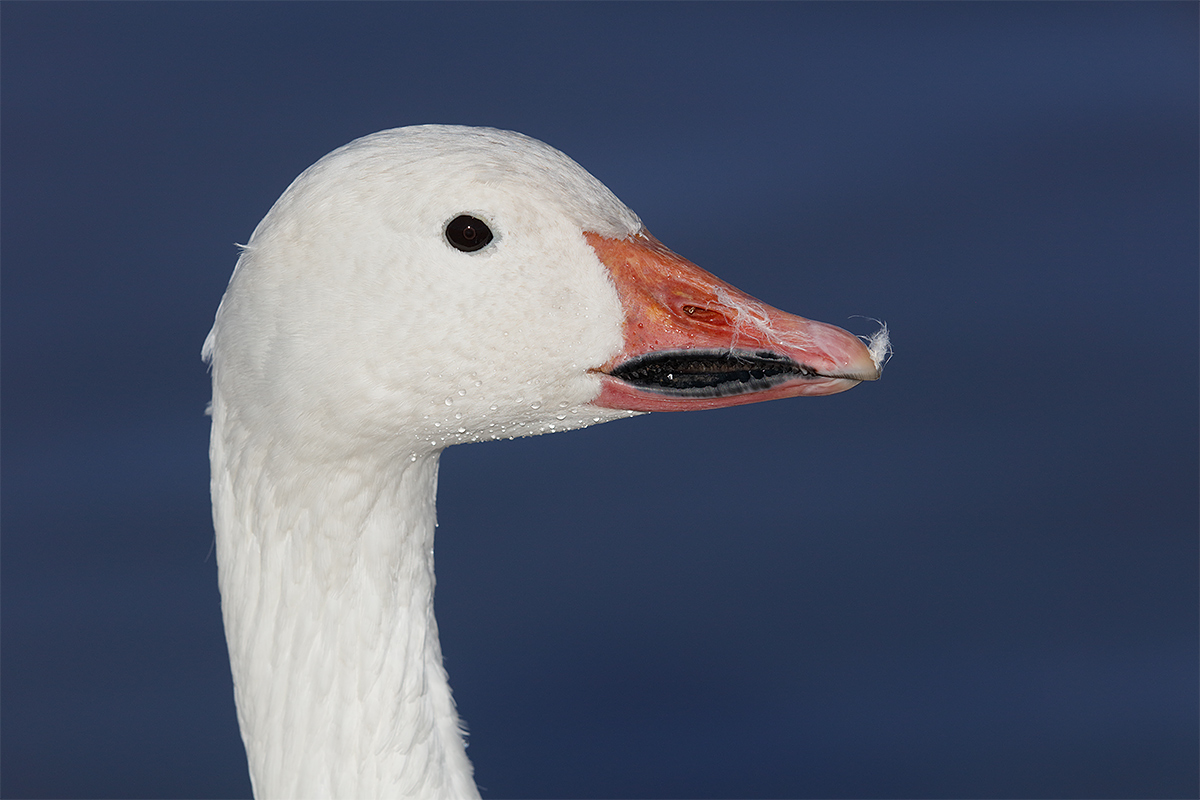 This image was created at Bosque del Apache on the 2nd afternoon of the first 2015 IPT with the Induro GIT 304L tripod/Mongoose M3.6-mounted BLUBB-supported Canon EF 600mm f/4L IS II USM lens, the Canon Extender EF 1.4X III,, and the incredible Canon EOS 5DS R. ISO 400. Evaluative metering -1/3 stop: 1/1600 sec. at f/9 in Manual mode. AWB.
Center AF point/AI Servo Expand/Rear Focus AF just behind and below the base of the bird's lower mandible was active at the moment of exposure. As a result, the active AF point was precisely on the same plane as the bird's eye. Click here to see the latest version of the Rear Focus Tutorial. Click on the image to see a larger version.
Snow Goose, tight head portrait of adult
Your browser does not support iFrame.
The Back-story
While working on the 2015 Bosque Current Conditions Update late on Friday afternoon I was looking for some images to illustrate a portion of the text that lets folks know where they might get tight shots of the geese. I could not find what I knew what I had so I went to my "All Pix 6-30-2015" WD 2TB My Passport Ultra Portable Hard Drive (Black), found the 11/23/15 folder, and wound up keeping an additional six images that I had mistakenly overlooked on my first edit. With my new system, started almost six months ago, I keep every RAW file that I create by copying the complete download to the All Pix HD and to my laptop at the same time using Photo Mechanic's Ingest feature. That way I can never lose a RAW file and I can go back to look for files that I overlooked or possibly some that I might need as source material.
Today's featured image stood out like a sore thumb. "How in the world did I miss giving that one a check mark???"
Note that the exposure values, 1/1600 sec. at f/9 are just a third stop lighter than my recommended ISO 400 Bright White in the Sun exposure of 1/2500 sec. at f/8. Why 1/3 stop lighter? The sun was getting low. And I checked the histogram.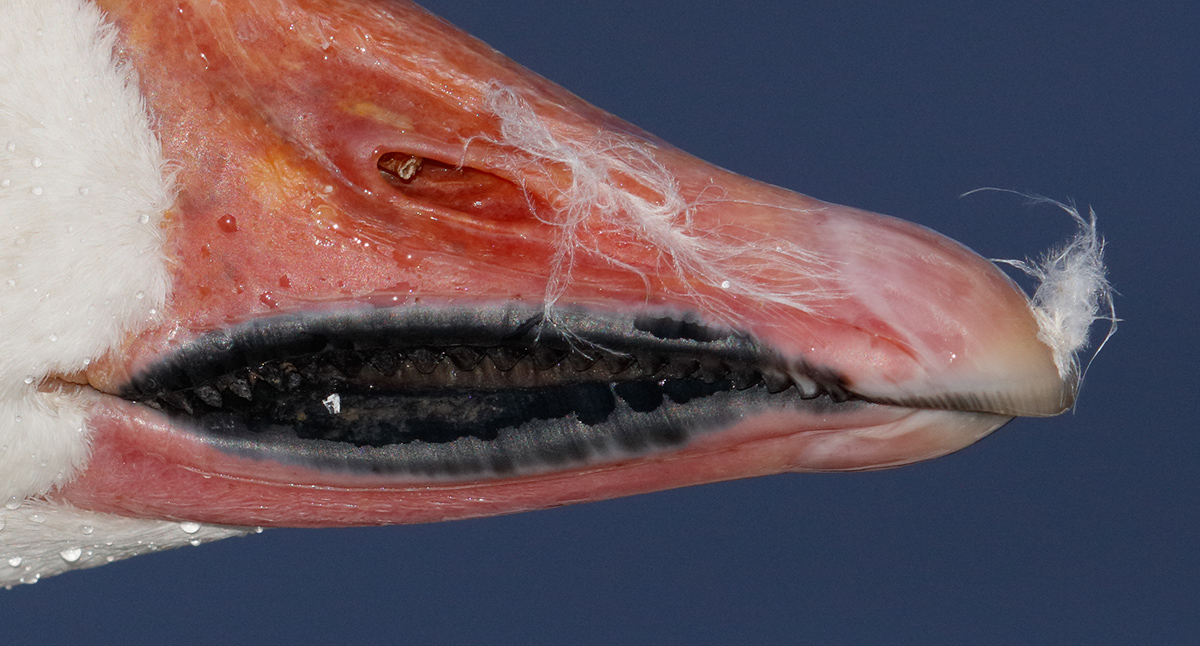 This is an unsharpened 100% crop of today's featured image. It wound up being 1200 pixels wide and is displayed here at 800 pixels wide after being optimized to < 395 kb (from about 475 kb). Click on the image if you dare to see a larger version....
The Sickest-ever Canon EOS 5DS R 100% Crop…
If this one does not leave you slack-jawed….
Coming Soon
Quite soon I will attempt to present a cogent examination of both the facts and my gut feeling that you need to keep your rig steadier when using a 5DS R (or a 5DS and possibly a 7D Mark II) than when using the same lens any other Canon camera bodies. There are lots of complex issues and I am sure that there will be lots of civil disagreements. I do not permit any other type 🙂
My New 5DS R
On Tuesday past I purchased my affiliate loaner Canon EOS 5DS R camera body from B&H. On Wednesday I got an e-mail with a $325 B&H gift card as a result of my purchase. Wow! On Friday evening (Shabbos at B&H) the 10% Reward was still n effect. If you call on Sunday to check remember that you must hang up and place a web order (no matter what the salesman tells you). Many thanks for that. If what you have been learning here inspires you to purchase a 5DS R (or a 5DS), please remember to use the logo-link above; it will not cost you a penny and helps me out tremendously. Many thanks, artie
Facebook
Be sure to like and follow BAA on Facebook by clicking on the logo link upper right. Tanks a stack!
Typos
In all blog posts and Bulletins, feel free to e-mail or to leave a comment regarding any typos or errors. Just be right 🙂