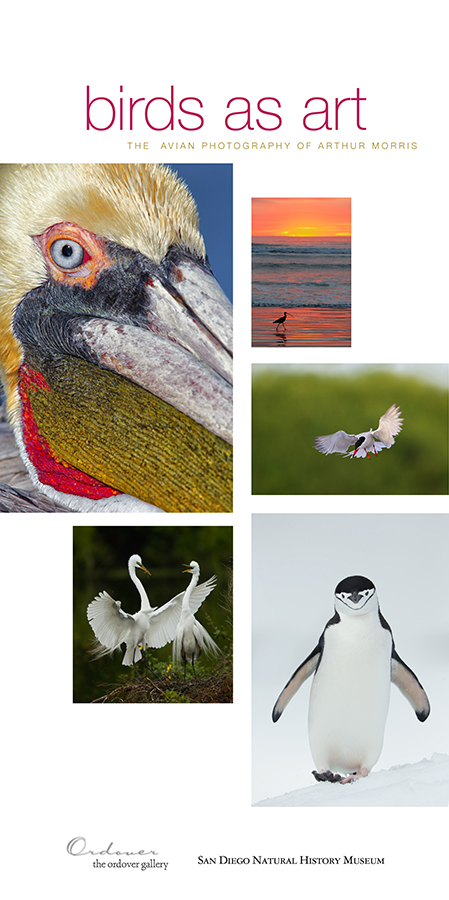 Kiosk art for my solo exhibit at the San Diego Natural History Museum: January 16 through mid-April 2017. Design by Mary Lou Morreal, Art Director, SDNHM.
Help Needed Now
I am looking for three folks who are good with language and have a bit of free time between now and 9pm tonight. I have three things that need to be proof read and corrected. One is short and simple: the San Diego Exhibit Intro Text: 512 words. Next up are the grouping labels, SDNHM text for the eleven grouping labels. Also short and simple: 998 words.
The last document is a bit more complex: 100 image captions, 67 for the exhibit images, and 33 more that will be in the companion CD book that I have been working very hard on (after a late start) 🙂 Exhibit CD book captions is 7,779 words.
I would gladly exchange a free copy of the CD book (once it is complete) for competent help with the proofreading. If you would like to take a crack at it, please shoot me an e-mail now. Do understand that I have carefully reviewed all three of these documents several times each and that they are pretty close to perfect….
Canon 400mm f/4 IS DO Lens
The Already Record Low BAA Price was Reduced $200 MORE on DEC 27, 2015.
Stephen Zarate is offering a used Canon 400mm f/4 IS DO lens (the old 400 DO) in very good plus condition for a new record-low BAA price, an insanely low of $2499.00. The lens is covered by a well-worn "digital camo" LensCoat and the tripod ring shows minor signs of wear. The sale includes the lens trunk, the front and rear lens caps, the leather front lens cover, the aforementioned LensCoat, and insured ground shipping via UPS ground. Your item will not ship until your check clears unless other arrangements are made.
Please contact Stephen by e-mail or by phone at 949-697-8194 (Pacific time).
I used this lens for several years with great success, especially for birds in flight and while working from various type of water craft. In addition, it would make a great prime super-telephoto lens for folks with a 7D II. Gannets in Love was created with the 400 DO. You can see that one and 13 other killer images that I made with my old 400 DO here. The title of that blog post is "The Canon 400mm f/4 IS DO Lens: Fourteen Images that Prove that the Internet Experts are Idiots." Stephen's lens is priced to sell. artie
Typos
In all blog posts and Bulletins, feel free to e-mail or to leave a comment regarding any typos or errors. Just be right 🙂