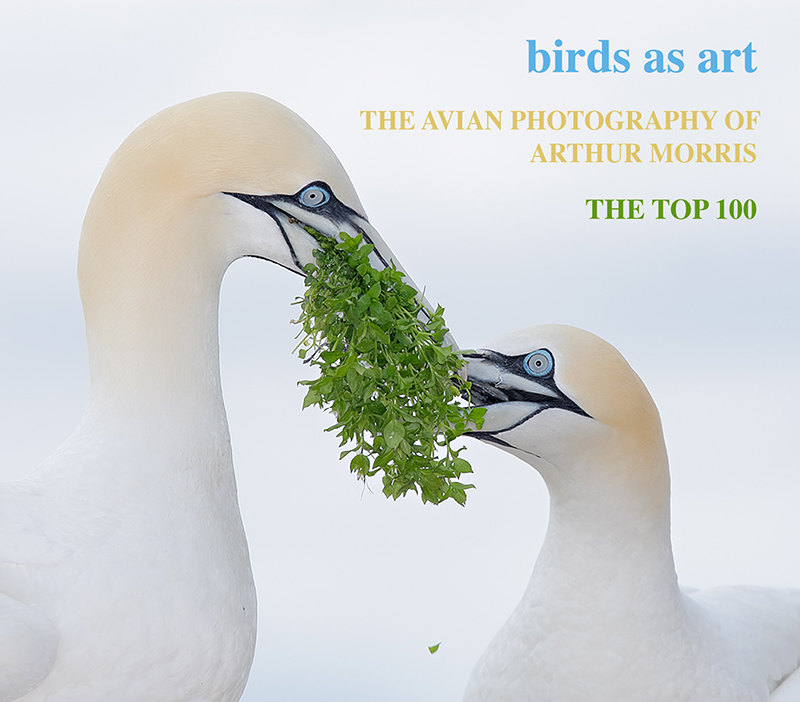 The Exhibit Companion CD Book Cover. The idea for the cover — with Gannets in Love as the featured image and the matching type-face colors — was mine. Milton Heiberg –see more below — helped me fine-tune the final crop and design.
BIRDS AS ART: The Avian Photography of Arthur Morris
At TheNat, San Diego, California
Learn more here. Learn about the opening NATtalk, Choosing and Using Lenses for Bird and Nature Photography, here.
Harebrained
harebrained (hâr′brānd′) adjective. Having or showing little sense; foolish. "With no more sense than a hare."
As I mentioned recently, I decided — on a wing and a prayer if you would — at the last minute, to try to put together a companion e-book that would include the 67 images that will hang in my solo exhibit in the Ordover gallery at the San Diego Natural History Museum, January 16 through April 25, 2016 along with 33 additional almost-made-the-show images. That of course brings the total to an even 100. All of the above despite the fact that I knew that Adobe InDesign is an exceedingly difficult program to work with, no matter how simple the tasks.
I called my one and only photography teacher — 8 two-hour Tuesday night sessions that began in February of 1984–Milton Heiberg to enlist his help. He was up to the task. Jim drove me up to Milton and Dani's home in eastern Orlando on Monday morning and dropped me off. We went to work.
I forgot to mention that part of my harebrained scheme was that I would purchase, download, and install InDesign (as part of the Adobe Creative Cloud 1-Year Subscription Student & Teacher Edition). I figured that I qualified as some sort of teacher… In any case, I actually had the program open on my Apple 15.4″ MacBook Pro Notebook Computer with Retina Display & Force Touch Trackpad by the time we left at 10am.
After three hours of hard work we had been pretty much been stumped by InDesign. I was ready to write off the cost of my Creative Cloud subscription and head home. It took almost two hours to complete one page with one photo and a caption. And even worse, when we tried to repeat what had just done, we failed. Milton, however, remained confident. So I stayed and working together, we ironed things out. I hammered away at the project for the rest of the day while Milton worked on the CD-cover art on his main office computer. By the time I hit the sack at 10pm I had inserted 52 of the one hundred images with their accompanying captions. We still have lots of work to do today so that I can get the project ready to be sent second-day air to the CD manufacturer in Texas on Thursday. But even that looks do-able now.
My dream all along has been to have product in California no later than the Thursday before the opening so that we can sell them at the opening. As I said, "harebrained." Wish me luck.
Gotta get back to work now.
Facebook
Be sure to like and follow BAA on Facebook by clicking on the logo link upper right. Tanks a stack!
Typos
In all blog posts and Bulletins, feel free to e-mail or to leave a comment regarding any typos or errors. Just be right 🙂