What's Up?
Wow: what a finish!
When we arrived at the cliffs there were no pelicans. And there were none in sight. And then they came, and came, and came, and landed right in front of us. We had some great flight chances. Some of the participants concentrated on head throws and I joined them for a while. But since one bird was more beautiful than the next, and they were all just sitting there set against gorgeous blue water Pacific Ocean backgrounds, I soon succumbed, grabbed my 500 II with the 2X III TC and the EOS 5DS R, and went to work doing what I love to do best: make clean, tight, and graphic images.
Participants began leaving to head home as early as 9:30am and trickled away for the next hour. There were lots of thanks and hugs all around. It really was a wonderful group. As usual, we had about 60% recidivists. I always take that as a good sign; if folks return for another IPT it is a indication that you are doing things right. Many thanks to co-leader Denise Ippolito who did her usual stellar job; it is amazing how perfectly our teaching skills mesh. And huge thanks to all who joined us.
By 10:30am there was just one pelican left. And only one photographer. And you can guess who that was…
birds as art: The Avian Photography of Arthur Morris
At TheNat–the San Diego Natural History Museum, San Diego, California
Learn more here. Learn about the opening NATtalk, Choosing and Using Lenses for Bird and Nature Photography, here.
The Streak
In spite of having been buried by travel, teaching, and several major writing projects for the last two months, today's blog post marks 70 days in a row with a new educational blog post. Please remember to use our B&H links for your major gear purchases.
Important Note
Please understand that if you are up in the air about selling any old gear that the price of your item is dropping every day….
Used Gear Apologies
Apologies to those who have written recently asking about selling their used gear through BAA. I will get back to y'all no later than next Monday (if not before) as I have been swamped with the IPT, the exhibit, and the Saturday morning program 🙂
Selling Your Used Gear Through BIRDS AS ART
Selling your used (or like-new) photo gear through the BAA Blog or via a BAA Online Bulletin is a great idea. We charge only a 5% commission. One of the more popular used gear for sale sites charges a minimum of 20%. Plus assorted fees! Yikes. The minimum item price here is $500 (or less for a $25 fee). If you are interested please e-mail with the words Items for Sale Info Request cut and pasted into the Subject line :). Stuff that is priced fairly–I offer free pricing advice, usually sells in no time flat. In the past few months, we have sold just about everything in sight. Do know that prices on some items like the EOS-1D Mark IV, the old Canon 500mm, the EOS-7D, and the original 400mm IS DO lens have been dropping steadily. You can see all current listings by clicking here or by clicking on the Used Photo Gear tab on the yellow-orange tab on the right side of the menu bar above.
Things have been heating up on the Used Gear page lately.
With three offers on the day his lens was listed the sale of Mike Quigley's Canon 500mm f/4L IS lens (the old five) sold in early January.
Bill Ellison sold his 100-400 for $650 in early January, 2016.
Alice Garland sold her Canon 500mm f/4L IS Lens for $3999 in late December 2015.
Doug Rogers sold his Canon 100–400mm L IS zoom lens (the old 1-4) for $649 in late December 2015.
Troy Duong sold his Canon 500mm f/4L IS II lens for $7500.00 in late December 2015.
Walt Anderson sold his used Canon 1D X for $3000 in late December to a BAA friend before it was even listed!
Larry Master sold his Canon EOS-1D Mark IV in excellent condition for $1399 in mid-December 2015.
Melissa Hahn sold her Canon 400mm f/2.8L IS II lens in mint condition now for $8299 in early December, 2015.
Monte Brown sold his 300mm f/2.8L II lens in near-mint condition for $4499 two days after it was listed in mid-December, 2015.
Stephen Zarate sold his used Canon 100-400mm L IS zoom lens very quickly in early December for $650, the original asking price.
New Listings
Canon 800mm f/5.6L IS USM Lens
Andres Leon is offering a used Canon 800mm f/5.6L IS lens in Very Good Plus condition for the very low price of $7899. The lens has clean glass and is in perfect working order but has a few scratches on the finish. Feel free to request photos of the lens. The sale includes the lens trunk and keys, a LensCoat, the front leather cover, the rear cap, a Wimberley P-40 lens plate, and insured ground shipping via FED-EX Ground. Your item will not ship until your check clears unless other arrangements are made. Please contact Andres via e-mail or by phone at 1-954-621-6678 (eastern time).
I used this lens, often with a 1.4X TC, as my main super-telephoto lens for close to five years. It is a superb lens that offers lots of reach for those working with birds that are skittish. It is great from the car. I was astounded that about 15 of the 67 images in the exhibit were created with my 800. I often miss it terribly. As the lens sells new at B&H for $12,999, Andres's lens is a superb buy; grab it now and save more than $5K! artie
Canon 300mm f2.8L IS USM Lens
Roberta Olenick is offering a used Canon 300mm f/2.8L IS USM lens in near-mint condition for $2950 USD. The sale includes the original lens trunk with keys, the leather front lens cover, the rear lens cap, and insured ground shipping via UPS Ground to either the US or Canada. Your item will not ship until your check clears unless other arrangements are made. Please contact Roberta by e-mail (preferred) or by phone at 604-224-0724 (Pacific time).
I met Jake Levin on a recent IPT about a year ago. He just completed his second IPT here in San Diego. He was and is obsessed with image sharpness. He purchased an old 300mm f/2.8 from the Used Gear listings and is now thrilled with his images. This makes a great workhorse telephoto lens when used either naked or with either TC and a 7D Mark II. Roberta's is priced to sell. artie
Canon EOS-1D Mark IV
Roberta Olenick is also offering a used Canon EOS-1D Mark IV camera body in excellent condition for $1279 USD. The sale includes the Really Right Stuff camera plate B1DMKIII, three batteries (the original and two spares), the original charger, the stereo AV cable, the cable protector with attaching screw, gridded focusing screen Ec-D and the original focusing screen (these two are interchangeable), the never-used original lens strap still in the package, the front cap, printed manuals in English and French, original box, and insured ground shipping via UPS within US or Canada. Your item will not ship until your check clears unless other arrangements are made. Please contact Roberta by e-mail (preferred) or by phone at 604-224-0724 (Pacific time).
As regular readers know, two 1D IVs served as my workhorse professional camera bodies for about four years. They are fast, rugged, and dependable and produce high quality image files when in the hands of a competent photographer. artie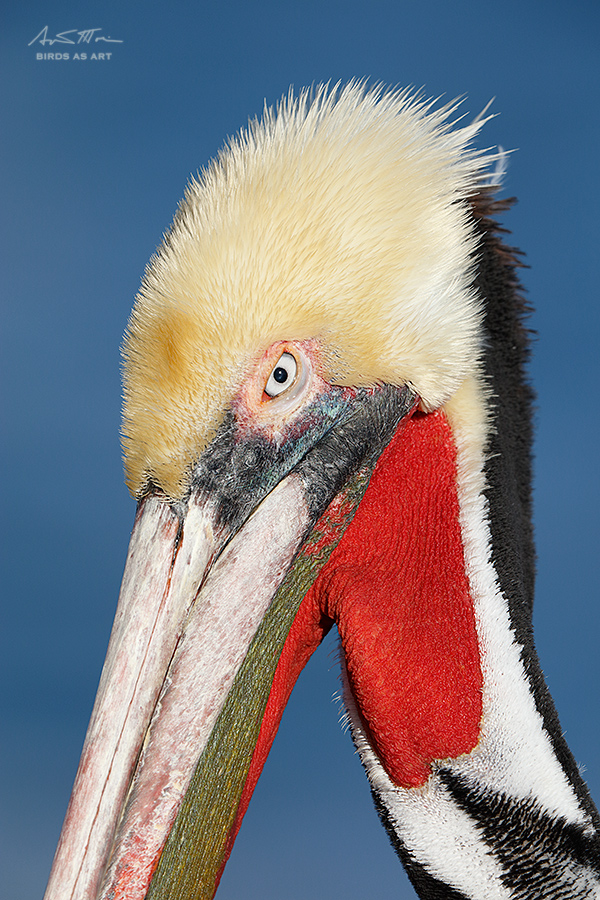 This image was created at La Jolla, CA on the last morning of the hugely successful 2016 San Diego IPT with the Induro GIT 304L/Mongoose M3.6-mounted Canon EF 500mm f/4L IS II USM lens, the Canon Extender EF 2X III, and the Canon EOS 5DS R. ISO 400: 1/640 sec. at f/11. AWB.
Center AF point (by necessity)/AI Servo Expand/Rear Focus AF as originally framed was active at the moment of exposure. This is a very, very, small crop from the left and the top. Click here to see the latest version of the Rear Focus Tutorial. Click on the image to see the incredible fine feather detail in a larger version.
Brown Pelican bill pouch detail
Your browser does not support iFrame.
Eye-opening Image!
This breeding plumage Pacific race Brown Pelican was in peak condition and as clean and as bright as any I have ever seen. I was fixated on his red bill pouch so I went to 1000mm. The problem was that as the bird preened its neck it refused to open its eye. He did once for one second and I was thrilled to come up with a sharp, dramatic image with a perfect head angle; you could say that I was one for one.
The San Diego Site Guide
Whether you are visiting San Diego for photography for the first time or live in the area and have done the pelicans many dozens of times, you will learn a ton by studying the San Diego Site Guide. Why spend days stumbling around when you can know exactly where and when to be depending on the wind direction and sky conditions? In addition to the pelican primer, there is great info on the best beaches for the gorgeous gulls, on Marbled Godwit, on the lower cliffs, Lesser Scaup, and Wood and Ring-necked Ducks as well.
Learn more or purchase your copy here.
Please Remember to use our Affiliate Links 🙂
To show your appreciation for my continuing efforts here, we ask, as always, that you get in the habit of using my B&H affiliate links on the right side of the blog for all of your photo and electronics purchases. Please check the availability of all photographic accessories in the BIRDS AS ART Online Store, especially the Mongoose M3.6 tripod heads, Gitzo tripods, Wimberley heads and plates, LensCoats and accessories, and the like. We sell only what I have used, have tested, and can depend on. We will not sell you junk. We know what you need to make creating great images easy and fun. And we are always glad to answer your gear questions via e-mail. I just learned that my account was suspended during my absence; it should be up and running by Monday at the latest.
I would of course appreciate your using our B&H affiliate links for all of your major gear, video, and electronic purchases. For the photographic stuff mentioned in the paragraph above we, meaning BAA, would of course greatly appreciate your business. Here is a huge thank you to the many who have been using our links on a regular basis and visiting the BAA Online store as well.
Facebook
Be sure to like and follow BAA on Facebook by clicking on the logo link upper right. Tanks a stack!
Typos
In all blog posts and Bulletins, feel free to e-mail or to leave a comment regarding any typos or errors. Just be right 🙂