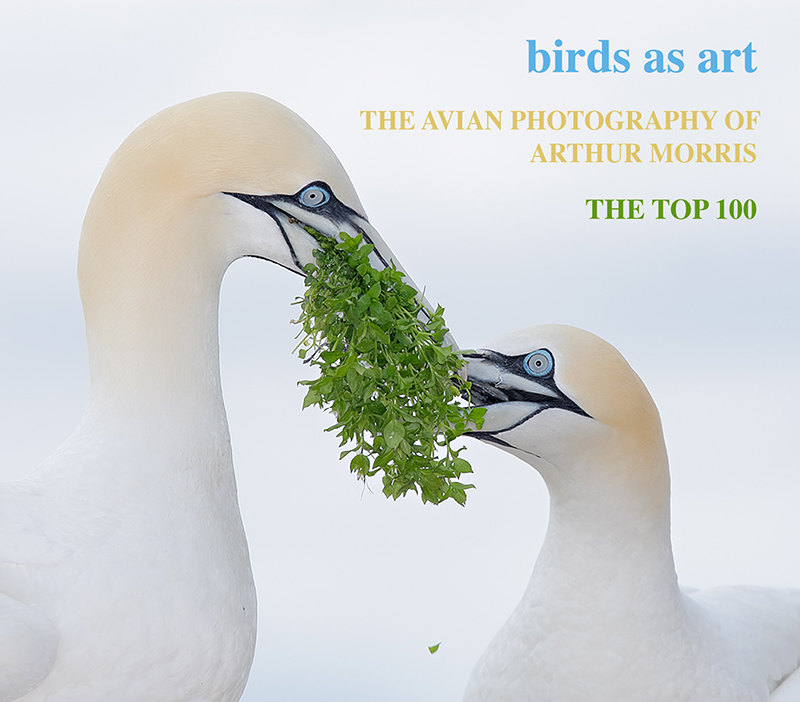 birds as art: The Avian Photography of Arthur Morris/The Top 100
The companion e-book to the solo exhibit at TheNat, San Diego, California
The new e-book on CD is available here.
birds as art: The Avian Photography of Arthur Morris/The Top 100
My latest e-book, created on a wing and a prayer in less than two weeks–see Harebrained Scheme here–includes the 67 spectacular images that hung in the Ordover Gallery at the San Diego Natural History Museum in a career-retrospective solo exhibition in 2017. In addition, there are an additional 33 images in the spectacular e-book that barely missed making the show.
This exhibition companion e-book makes it possible for everyone to "visit" TheNAT gallery retrospectively — and, in addition, to enjoy seeing my then-top one hundred bird photographs under one roof. Each image includes a title, the species name, the location, relevant EXIF data, and an anecdotal caption.
birds as art: The Avian Photography of Arthur Morris/The Top 100: $23 for the professionally produced CD (includes shipping to US addresses only)
Please click here to purchase the CD. As above, your purchase price includes shipping to all US addresses. If you would like your CD signed on the inside cover with a black Sharpie, you will need to place your order by phone and request a signed copy: 863-692-0906. For our Canadian friends we are offering the CD for $28 with shipping to Canada via phone orders only: 863-692-0906. Those who purchase the CD are advised to copy the file to their computers and then archive the CD.
To purchase via convenient download for $20, click here.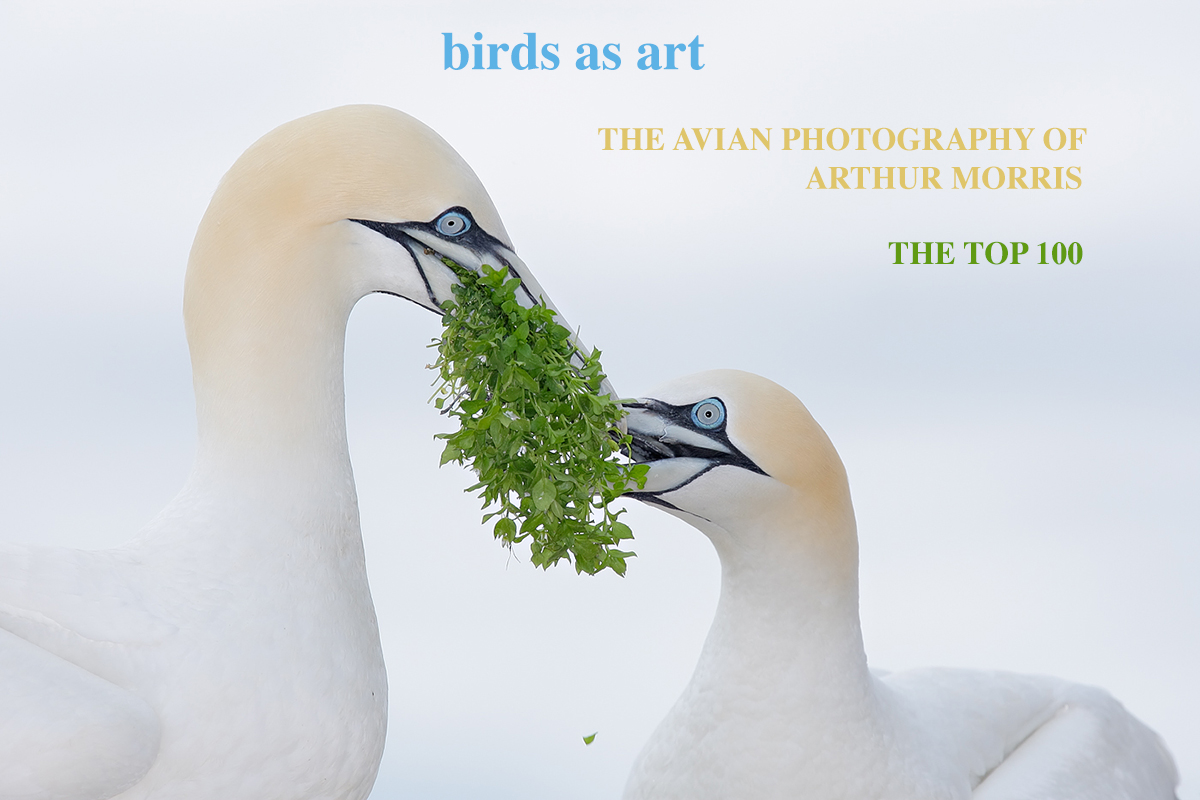 The new e-book via is also available via convenient download for $20 by clicking here.
birds as art: The Avian Photography of Arthur Morris/The Top 100: $20 via convenient download.
Overseas folks, and anyone else as well, can purchase the e-book via convenient download for $20 by clicking here.
Notate Bene
Please share this e-book only with your spouse or significant other. If a friend asks you to share a copy with them, please direct them either to this blog post or to the appropriate link in the BAA Online Store as above. All of the images and text are protected by international copyright law and may not be copied or printed without written permission from the photographer/author. Many thanks for honoring these requests.
You will–of course–need Adobe Acrobat Reader or another PDF player to view the PDF.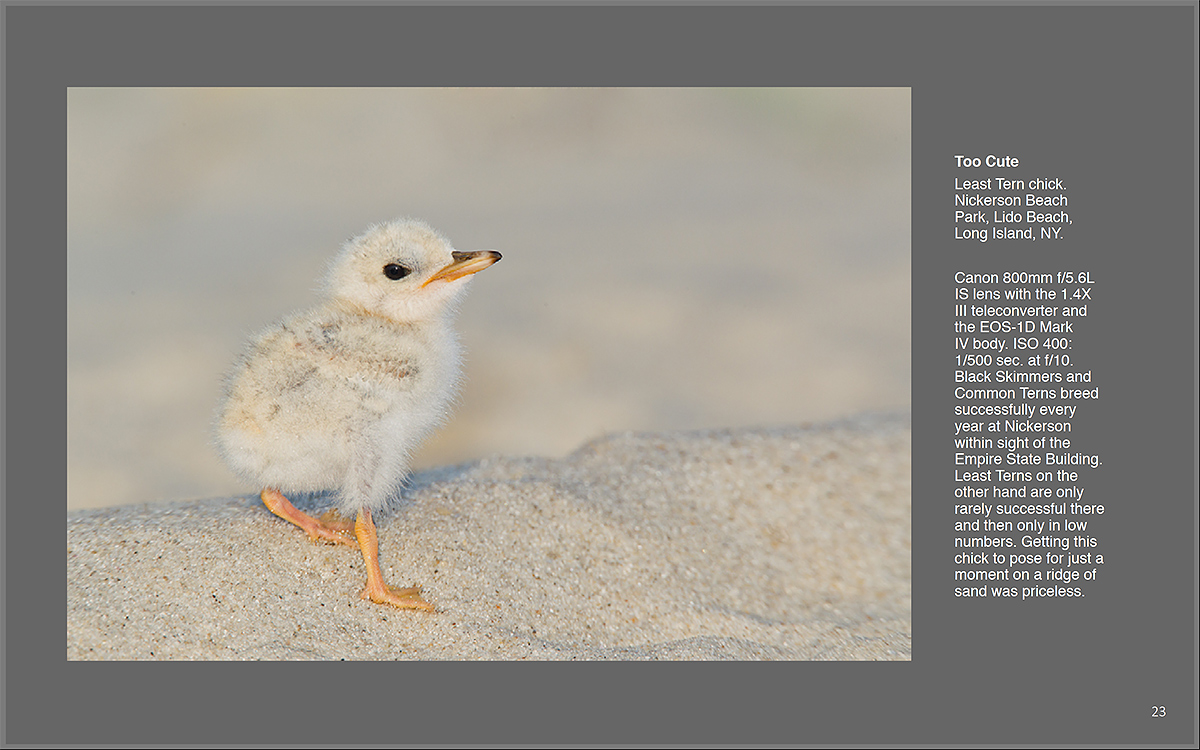 Sample page from birds as art: The Avian Photography of Arthur Morris/The Top 100.
Adobe Acrobat Reader Tip
To maximize your viewing pleasure, click Command + L on a Mac, or Control + L on a PC to view the e-book full screen. And then press Esc to exit full screen.
The 800 f/5.6L IS
I was amazed by how many of the exhibit images were created with the 800 f/5.6L IS… If you need maximum reach and would like to add this great lens to your gear bag consider the great buy below. You can see the complete Used Photo Gear listings here.
Canon 800mm f/5.6L IS USM Lens
Andres Leon is offering a used Canon 800mm f/5.6L IS lens in Very Good Plus condition for the very low price of $7899. The lens has clean glass and is in perfect working order but has a few scratches on the finish. Feel free to request photos of the lens. The sale includes the lens trunk and keys, a LensCoat, the front leather cover, the rear cap, a Wimberley P-40 lens plate, and insured ground shipping via FED-EX Ground. Your item will not ship until your check clears unless other arrangements are made. Please contact Andres via e-mail or by phone at 1-954-621-6678 (eastern time).
I used this lens, often with a 1.4X TC, as my main super-telephoto lens for close to five years. It is a superb lens that offers lots of reach for those working with birds that are skittish. It is great from the car. I was astounded that about 15 of the 67 images in the exhibit were created with my 800. I often miss it terribly. As the lens sell new at B&H for $12,999 Andres's lens is a superb buy; grab it now and save more than $5K! artie
Please Remember to use our Affiliate Links 🙂
To show your appreciation for my continuing efforts here, we ask, as always, that you get in the habit of using my B&H affiliate links on the right side of the blog for all of your photo and electronics purchases. Please check the availability of all photographic accessories in the BIRDS AS ART Online Store, especially the Mongoose M3.6 tripod heads, Gitzo tripods, Wimberley heads and plates, LensCoats and accessories, and the like. We sell only what I have used, have tested, and can depend on. We will not sell you junk. We know what you need to make creating great images easy and fun. And we are always glad to answer your gear questions via e-mail. I just learned that my account was suspended during my absence; it should be up and running by Monday at the latest.
I would of course appreciate your using our B&H affiliate links for all of your major gear, video, and electronic purchases. For the photographic stuff mentioned in the paragraph above we, meaning BAA, would of course greatly appreciate your business. Here is a huge thank you to the many who have been using our links on a regular basis and visiting the BAA Online store as well.
Facebook
Be sure to like and follow BAA on Facebook by clicking on the logo link upper right. Tanks a stack!
Typos
In all blog posts and Bulletins, feel free to e-mail or to leave a comment regarding any typos or errors. Just be right 🙂