What's Up
I got lots done on Monday but am not quite sure exactly what I did. Had a great swim and am planning on another ice bath. As has been usual lately, I started and finished this blog post. It took close to four hours in all…
The Streak
Today's blog post marks an insane 200 days in a row with a new educational (and fun) blog post. And I still have dozens of new topics to cover; there should be no end in sight until my big South America trip next fall. As always-–and folks have been doing a really great job recently–-please remember to use our B&H links for your major gear purchases. For best results use one of our many product-specific links; after clicking on one of those you can continue shopping with all subsequent purchases invisibly tracked to BAA. Your doing so is always greatly appreciated. Please remember: web orders only. Please remember that if you are shopping for items that we carry in the BAA Online Store (as noted in red at the close of this post below) we would appreciate your business.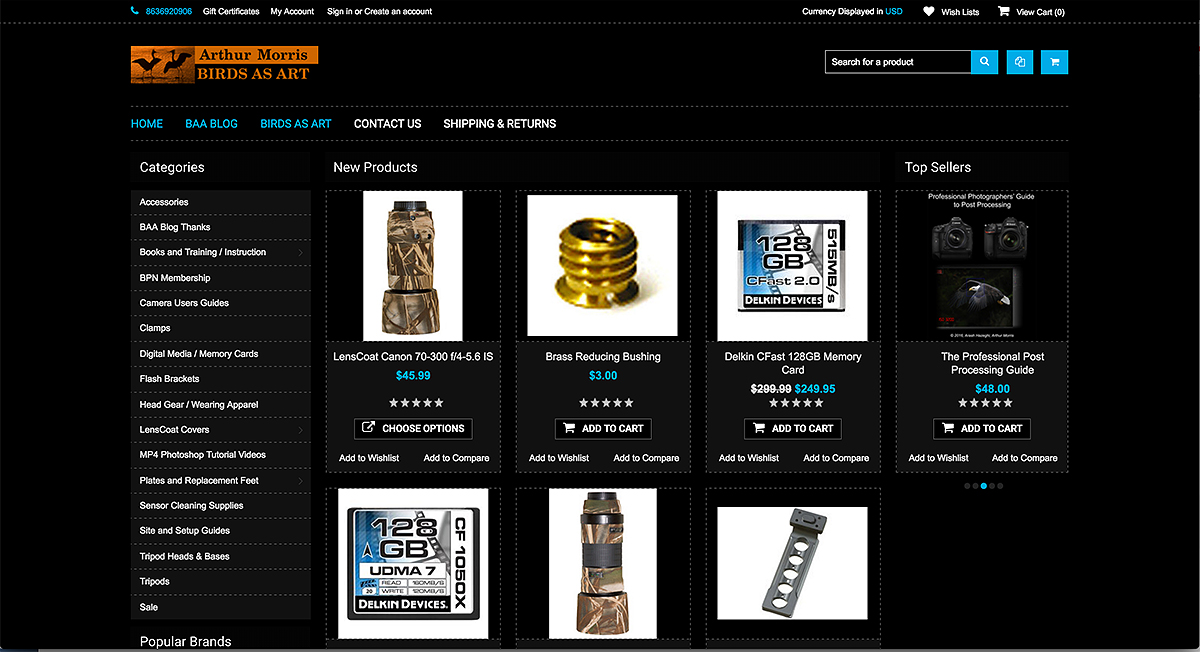 The new BIRDS AS ART Online Store
Click here to check out the new store.
Announcing the New BIRDS AS ART Online Store
For far too long the BAA Online Store has been an embarrassment. While it has been partially functional, and many BAA friends have made thousands of purchases in the old store, an equal number of folks have been rightfully turned off and fled. Shipping has been the huge problem from day one: overseas folks would purchase a $40 CD and be billed for $87 postage… Folks who e-mail Jim their concerns were issued a timely refund of the overcharges. The old store was designed to offer US Mail as a legitimate shipping choice. That never came to be. When folks entered their address they were often baffled when the state abbreviation came up as OT. Many folks e-mailed expressing their consternation and we responded to each letting them know of the glitch in the system. And the "This Site is Not Safe" warnings will be a thing of the past. (We always kept our security certificates updated, but getting the system to consistently recognize that was simply beyond us.)
Thanks to good friend Chris Klapheke of Outdoor Photo Gear who kindly recommended a pre-packaged store from BigCommerce.Com. Thanks to the hard work of my righthand man, Jim Litzenberg, and the folks at BigCommerce.Com, the new and long overdue BIRDS AS ART Online Store is now open. All can access it here, or always, by clicking on the New BAA Online Store! tab on the left side of the lower yellow-orange Menu Bar (on most browsers). It should be just to the left of the hugely popular Used Photo Gear tab (again, on most browsers).
Loyal patrons of the old store will appreciate the ease of ordering from the new store and the deadly accurate shipping choices and function. Though you can checkout as a guest, we urge everyone to take minute to register. Doing so will allow for faster checkout and in addition, you will be able to track the status of your order. And your next visit will be that much easier.
Once you get to Checkout, be sure that "Register an account" is checked. All, including patrons of the old BAA store, will need to register (just once). Please type carefully, check your data carefully before hitting OK, and make a note of your password. If you have a question or need our help, simply click on "Contact Us."
Big time thanks to the many who have patronized the old BAA Online Store despite the problems. All should really enjoy the new version.
Please note that it will not be too long until BAA store links in old blog posts and Bulletins will not work. We hope to have a page in place soon that will direct folks to the new store but not to the identical product page. You will need to surf around a bit.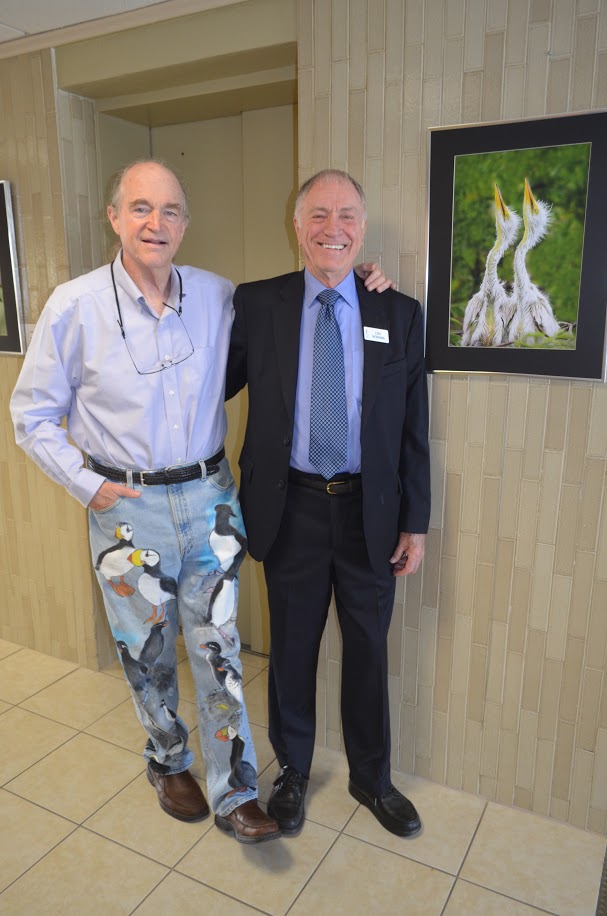 artie (on the left in his Pribs pants) and Lou Newman at Lou's recent photo exhibit opening in Sarasota, FL. The two baby Great Egrets in the nest image that you see on the wall in the image above was one of my very favorites from among Lou's new exhibit images.
Photo courtesy of and copyright 2016: Kristen Herhold, Community Editor of the Sarasota Observer
The Pribs Pants
Wildlife artist Ramiel (Ram) Papsish painted my dungarees for me in 2001 after my second visit to St. Paul Island where I believe he was working as a tour guide. I ran into him on Facebook a few weeks back and decided to wear the pants to Lou Newman's opening. They proved to be a big hit. I also learned that Ram is headed back out there this summer!
I think that I first saw some of Ram's artwork on a poster or two on St. Paul. I was blown away by how beautifully he captured each bird as if in life. I remember thinking, "This guy really knows these birds." Many artists paint this or that species but the shapes and proportions often do not add up to the living thing. Ram nailed every bird he painted. At some point, I realized that he had painted the filthy, dirty, ragged, threadbare jeans that he wore around the island every day with the birds of the Pribilofs. We struck a barter deal: some prints for a pair of painted Pribs pants.
I've worn them only a very few times but plan to change that as time is getting short :). Yeah, I know, 70 is young but I am thinking that it will be the first birthday ever to get my attention… The pants can be washed inside out in cold water I think, with a gentle detergent. Enjoy each of the pants legs below.

Artwork copyright 2001: Ramiel Papish
Right leg front
…..

Artwork copyright 2001: Ramiel Papish
Left leg front
…..
Artwork copyright 2001: Ramiel Papish
Right leg back
…..

Artwork copyright 2001: Ramiel Papish
Left leg back
Pribilofs Pants Questions
Which is your favorite pants leg? (Be sure to note front or back) Which is your favorite bird? How many birds can you identify as to species? Go ahead, name them if you like.
Grammatical Question
I did some surfing to see if I could learn if "pants legs" needs an apostrophe somewhere. But came up empty. If you know for sure, please share.
Please Remember to use our Affiliate Links 🙂
To show your appreciation for my continuing efforts here, we ask, as always, that you get in the habit of using my B&H affiliate links on the right side of the blog for all of your photo and electronics purchases. Please check the availability of all photographic accessories in the New BIRDS AS ART Online Store, especially the Mongoose M3.6 tripod head, Wimberley lens plates, Delkin flash cards and accessories, and LensCoat stuff.
As always, we sell only what I have used, have tested, and can depend on. We will not sell you junk. We know what you need to make creating great images easy and fun. And we are always glad to answer your gear questions via e-mail.
I would of course appreciate your using our B&H affiliate links for all of your major gear, video, and electronic purchases. For the photographic stuff mentioned in the paragraph above we, and for everything else in the new store, we, meaning BAA, would of course greatly appreciate your business. Here is a huge thank you to the many who have been using our links on a regular basis and those who will be visiting the New BIRDS AS ART Online Store as well.
Facebook
Be sure to like and follow BAA on Facebook by clicking on the logo link upper right. Tanks a stack!
Typos
In all blog posts and Bulletins, feel free to e-mail or to leave a comment regarding any typos or errors. Just be right 🙂