What's Up?
Jake Levin and I had a pretty good morning at Nickerson on Saturday despite the gentle west wind and clear skies. After brunch at Bagel Plaza in Merrick he head back to New Hampshire to the family property and I headed back to Mom's. Tomorrow–weather permitting, I will attend a Mets game with younger daughter Alissa, granddaughter Maya Egensteiner (daughter of my older daughter Jennifer) and the younger of my two autistic grandson's, Idris. Unfortunately the Mets have been stranding runners in scoring position at record levels; they lead the league in runs not batted in…
The Streak
Today's blog post marks a totally insane, absurd, completely ridiculous, unfathomable, silly, incomprehensible, what's wrong with this guy?, makes-no-sense, 263 days in a row with a new educational blog post. And I still have dozens of new topics to cover; there should be no end in sight until my big South America trip next fall. As always-–and folks have been doing a really great job recently–-please remember to use our B&H links for your major gear purchases. For best results use one of our many product-specific links; after clicking on one of those you can continue shopping with all subsequent purchases invisibly tracked to BAA. Your doing so is always greatly appreciated. Please remember: web orders only. AND Please remember also that if you are shopping for items that we carry in the new BAA Online Store (as noted in red at the close of this post below) we would appreciate your business.
What They Had to Say: Canon
From multiple IPT veteran Will Schilling after the Nickerson Beach IPT via e-mail:
All is well back here in Houston. Made it back late Sunday. Excited to see my image on your blog soon; it will be such an honor…
#1.) Thanks again for a wonderful 4 1/2 days at Nickerson last week. As discussed on the last day, I'm very glad I was able to come back for a second IPT. I learned a lot last year on the Bosque IPT In fact, maybe too much to take in all in one session, so having a second go to re-emphasize the key points was very beneficial. I feel I was able to take away a lot of the technical points in the first IPT, such as long lens handling techniques, manual exposure and the all important sun angle business but one of my favorite things to see you do is react to the situation at hand. This is really where the more time spent with you the better. I really appreciate how you vocalize your thoughts during the in the field decision-making process. As you've shared on the blog recently, we had a lot of challenging situations with wind against sun, rain and even the wind/sand storm. It would be easy for you to just move us to another spot and put us on a different subject, but I really appreciate how you involve us in the decision-making process and share your field knowledge with us as weather conditions and the subjects change. This is extremely helpful when we go back home, head out on our home turf, and are left to make decisions on our own.
I also think that the other IPT members make these trips so much fun. Now that I've been on two, I can say that you seem to draw an excellent group of photographers/students and all-around nice folks. Everyone is obviously there for the same general purpose, but all are at slightly development levels. This is good as we can all learn from each other in addition to you. The Nickerson IPT was a smaller group than in New Mexico; this was very nice for the logistics and learning, but even in a larger group such as the Bosque trip all we had to do was stay close to you and ask lots of questions.
Thanks again and hoping to be able to see you on the San Diego IPT next year!
What They Had to Say: Nikon
From first timer Bob DeCroce after the Nickerson Beach IPT via e-mail:
I have to tell you, I have followed and admired you for many years, but getting to know you in person has really been the best.
On another bright note, or two, or more…
I have purchased, installed, and become slightly proficient in using PhotoMechanic. I have been using your workflow and liking it! I can really see the difference in the quality of my images made by exposing for "a bit shy" of the right edge of the histogram. I have made many notes throughout the week and continue to capture the "why" things are working and not working as to ensure some decent level of retention of the things that you taught me this week. And many, many, more
Thank you again for everything. I am really glad that I have finally gotten to learn from you in person.
Please don't forget to include me when you have a date for Fort DeSoto in the fall.
Bob.
I asked Bob via return e-mail if he would share his notes with us. He agreed to do just that:
These are the notes and key take-aways that I made in the field, during the breaks between shooting sessions, and while reviewing my images:
The importance of being on sun angle; sun at your back; when you point at the subject, you should be shooting directly in line with your own shadow. Never exceed +/- 15 degrees off sun angle for best results. Step left or right to ensure that you are on sun angle.
Make sure that the subject is parallel to the sensor plane for sharpness. For birds, their bodies should be in line with their heads and/or 2 degrees from that towards the camera.
It is critical to expose to the right and with few if any blinkies and no significant blinkies on the subject to maximize image quality and reduce noise.
Relationship of Sun position and wind direction (on sunny days): birds will turn to face the wind; if the sun and wind are not from the same direction they will not be facing the sun; having the wind 90 degrees to the sun is great for portraits of birds on the beach as they will be square to the back of the camera.
Backgrounds: make sure that there are not any stark lines of color or tonalities passing through the birds head. Water on the shore should either envelop the birds legs or not touch the bird in any way; beware of breaking waves cutting through the bird. Shoot birds on the shore on berms or rises to help isolate them from the backgrounds. Alway include feet in the image if possible.
If going vertical or if you must crop the bird in the image, do so just past natural feather tract end points; cut don't clip. If cropping bird mid-body, always do so at least 1″ parallel to and past the bird's legs.
If a bird is captured flying from the left to right (or vice versa), the wings should either be up fully–close to 12 o'clock–or fully down near 6 o"clock for the best shots. Anything else will usually not look as good. If a bird is flying directly towards you the wing position is not as critical as it is when it is flying from side to side as above.
Pleasing blurs: make test shots for exposure settings. Shutter priority mode: 1/15th second. Auto-ISO or safety shift.
Exposure tests for flight photos: meter the sky and depending on the strength and quality of the light and the tonality of the bird, add or subtract light as needed. Then make a test exposure. Check the histogram and adjust plus or minus until histogram is just to the left of the right edge of the graph. Keep the RGB values for the whites in the mid-230's. Make sure that there is a little gap on the right side of the histogram, the highlight side. When converting the image, use the eye dropper to check the RGB values of the brightest whites.
Exposure on sunny days; always use ISO 400. Go up from there as required on days with less light. Always test shoot the neutral sky and adjust plus or minus from there. Remember that when the sun is out, the meter is pretty smart but when it is cloudy or overcast the meter is pretty stupid; you will need to add as much as two to three stops of light to come up with a good exposure on cloudy and overcast days.
AF stuff for flight or when hand holding. It is important that the camera be locked on the eye, the bird's head, or the face if possible when the shutter is released. Use a single AF point or a small cluster for flight photography; if you use an AF array the system might lock onto a near wing… Consider switching to shutter button focus for flight photography. You need to have AF active at the moment of exposure when hand holding for a static subject. Simply breathing (and other bodily movements) after you set rear button focus and before making the image can cause you to miss focus.
Sunrises and Sunsets: Set WB to K8,000. Start by setting the exposure compensation to zero if the sun is in the frame and then adjust after looking at the histogram. Expose for the highlights and check the histogram for blinkies; no blinkies means exposing correctly for the bright sun. If you look away from the sun and see purple quit it—the sun is too bright to photograph and you risk retina damage. It is better to wait until the sun is somewhat muted by thin clouds or fog…
While reviewing final day's shots. It can be very difficult to see the right edge of the histogram while in the field especially on sunny days. I need to do a better job of this as had the histograms touching the right axis or with not enough of a gap off the right edge; image quality and WHITEs suffered as a result.
I began to find many that had a bigger gap on the right, not a lot, but exactly what Artie had said. Those images have much better quality and more detailed WHITEs. They did not require pulling down highlights, and the detail is all there!
As I work through my images I cannot believe the difference of the quality of the images with the correct histogram! Wow!!! Much better.
Don't forget that best composition is head angle in line with the angle of the body with 2 degree turn of head/bill/beak towards me. Also head angle can be at least parallel to the camera's sensor.
There were no problems with me being the only Nikon shooter relative to everyone (including you) on Canon. You shared with me how Nikon compensation would be different. Once the compensation issue while shooting manual was revealed, it was clear why I was struggling to follow you as you called out the compensations and exposures. That was a really big deal, and as you said, I have no idea why this (exposure compensation in Manual mode) could or should work like that…
I was out this morning shooting a Great Egret locally and am just going through my images when you e-mailed. One thing I wanted to try and practice was holding the AF-On while releasing the shutter and then checking during image review for sharpness.
Hope this helps!
Best regards, Bob
Questions?
If you have a question about any of the points that Bob made or about anything else above, please feel free to leave your question or questions in a comment below.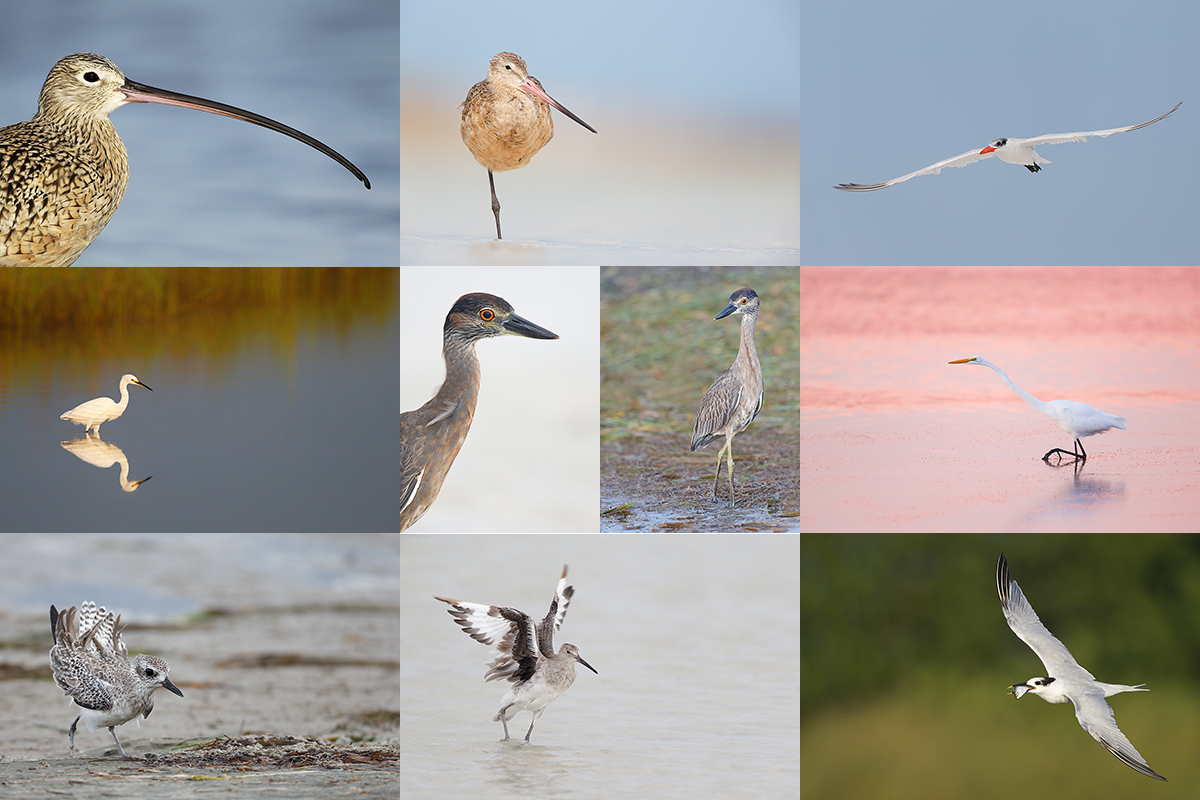 Fort DeSoto in fall is rife with tame birds. All of the images in this card were created at Fort DeSoto in either late September or early October. I hope that you can join me there this fall one way or another. Click on the composite to enjoy a larger version.
BIRDS AS ART Fort DeSoto In-the-Field Meet-up Workshop (ITFW): $99
Join me on the morning of October 2, 2016 for 3-hours of photographic instruction at Fort DeSoto Park. Beginners are welcome. Lenses of 300mm or longer are recommended but even those with 70-200s should get to make some nice images. Teleconverters are always a plus.
You will learn the basics of digital exposure and image design, autofocus basics, and how to get close to free and wild birds. We should get to photograph a variety of wading birds, shorebirds, terns, and gulls. This inexpensive morning workshop is designed to give folks a taste of the level and the quality of instruction that is provided on BIRDS AS ART Instructional Photo-tours. I hope to meet you there.
To register please call Jim or Jennifer during weekday business hours with a credit card in hand to pay the nominal registration fee. Your registration fee is non-refundable. You will receive a short e-mail with instructions, gear advice, and meeting place one week before the event.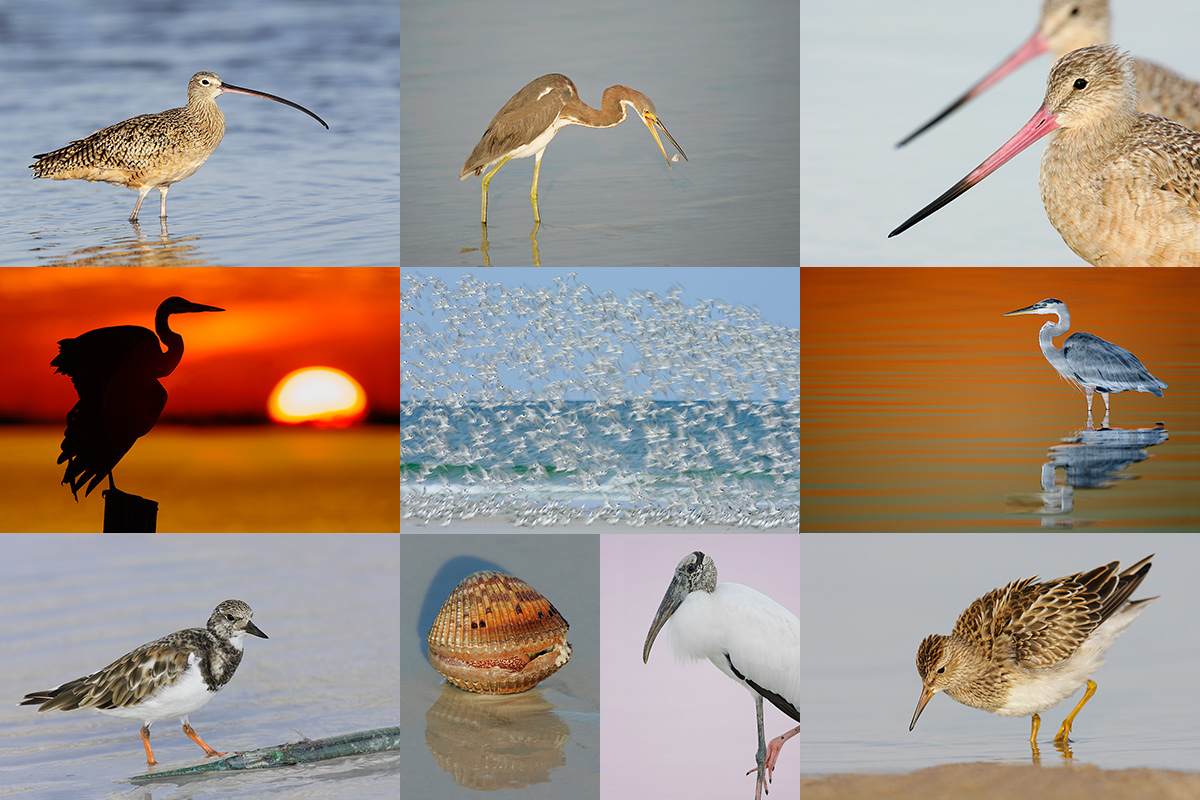 Folks attending the IPT will be in the field early and stay out late to take advantage of sunrise and sunset colors. The good news is that the days are relatively short in early fall. Click on the composite to enjoy a larger version.
Fort DeSoto Short Notice Fall IPT/September 28 (meet & greet and afternoon session) through the full day on October 1, 2016. 3 1/2 DAYs: $1549. Limit 10. Sunday morning ITFW free to IPT registrants.
Fort DeSoto, located just south of St. Petersburg, FL, is a mecca for migrant shorebirds in fall. There they join dozens of egrets, herons, night-herons, gulls, and terns who winter on the T-shaped peninsula that serves as their wintering grounds. With any luck, we should get to photograph two of Florida's most desirable shorebird species: Marbled Godwit and the spectacular Long-billed Curlew. Black-bellied Plover and Willet are easy, American Oystercatcher likely. Great Egret, Snowy Egret, Great Blue Heron, and Tricolored Heron are easy as well and we will almost surely come up with a tame Yellow-crowned Night-Heron or two. We should get to do some Brown Pelican flight photography. And Royal, Sandwich, Forster's, and Caspian Terns will likely provide us with some good flight opportunities as well. Though not guaranteed, Roseate Spoonbill and Wood Stork would not be unexpected.
Folks who sign up for the IPT are welcome to join me as my guest on the ITFW on the Sunday morning following the workshop. See above for details on that.
On this and all other IPTs you will learn basics and fine points of digital exposure and to get the right exposure every time after making a single test exposure, how to approach free and wild birds without disturbing them, to understand and predict bird behavior, to identify and age many species of shorebirds, to spot the good situations, to choose the best perspective, to see and understand the light, to, and to design pleasing images by mastering your camera's AF system. And you will learn learn how and why to work in Manual mode (even if you're scared of it).
At brunch (included) we will review my images–folks learn a ton watching me edit–why keep this one and delete that one. If you opt to bring your laptop, we can take a look at a few of your images from the morning session. We will process a few of my images in Photoshop after converting them in DPP. That followed by Instructor Nap Time.
As I already have one signed up for this workshop, it is a go. Hotel info will be e-mailed when you register. The best airport is Tampa (TPA). It is always best if IPT folks stay in the same hotel so if you are interested it would be a good idea to register now and make your hotel reservations as soon as you hear from us. We can, however, coordinate with local folks who opt to stay at home.
Because of the relatively late date, payment is full is due upon registration either by check or credit card. If the former, please e-mail us immediately so that we can save you a spot. If the latter, please call Jim or Jennifer during weekday business hours at 863-692-0906 with a credit card in hand to register. Your registration fee is non-refundable unless the IPT sells out with eight so please check your plans carefully before committing. You will receive a confirmation e-mail with detailed instructions and gear & clothing advice a fairly soon.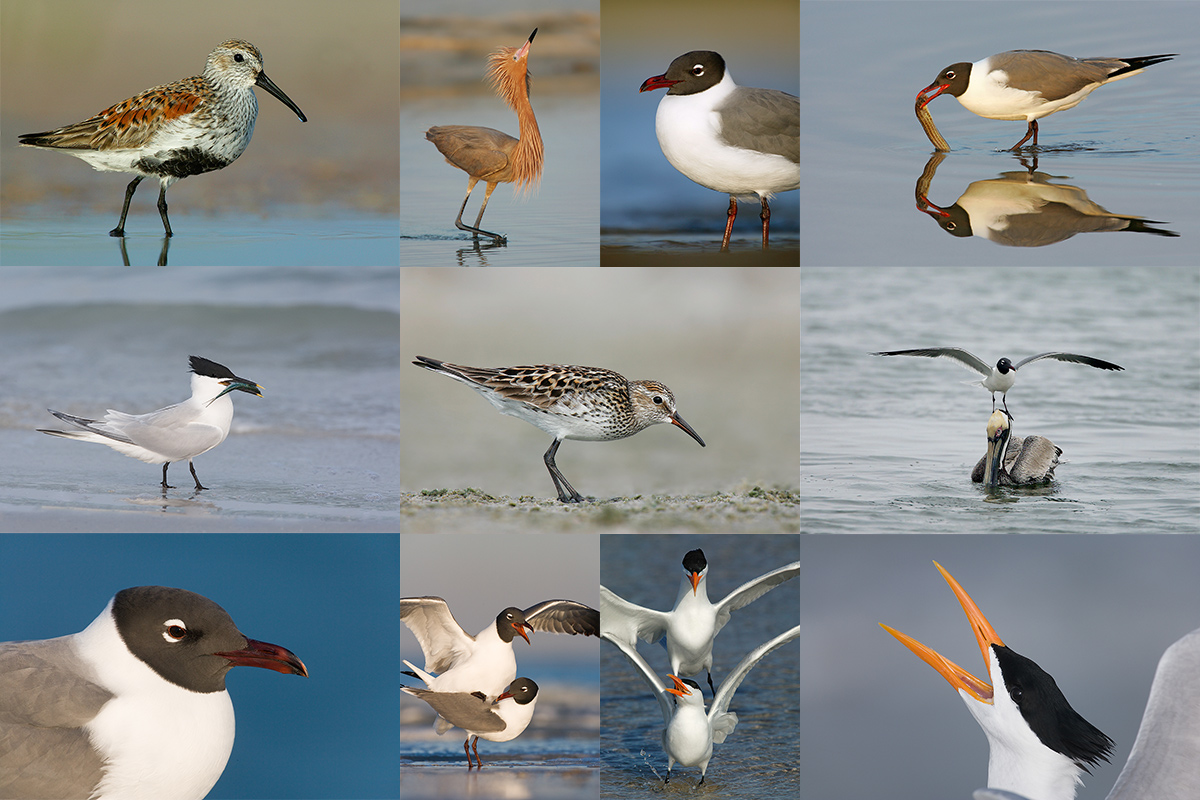 BAA Site Guides are the next best thing to being on an IPT.
The Fort DeSoto Site Guide
Can't make the IPT or the ITFW? Get yourself a copy of the Fort DeSoto Site Guide. Learn the best spots, where to be when in what season in what weather. Learn the best wind directions for the various locations. BAA Site Guides are the next best thing to being on an IPT. You can see all of them here.
Please Remember to use my Affiliate Links and to Visit the New BAA Online Store 🙂
To show your appreciation for my continuing efforts here, we ask, as always, that you get in the habit of using my B&H affiliate links on the right side of the blog for all of your photo and electronics purchases. Please check the availability of all photographic accessories in the New BIRDS AS ART Online Store, especially the Mongoose M3.6 tripod head, Wimberley lens plates, Delkin flash cards and accessories, and LensCoat stuff.
As always, we sell only what I have used, have tested, and can depend on. We will not sell you junk. We know what you need to make creating great images easy and fun. And we are always glad to answer your gear questions via e-mail.
I would of course appreciate your using our B&H affiliate links for all of your major gear, video, and electronic purchases. For the photographic stuff mentioned in the paragraph above we, and for everything else in the new store, we, meaning BAA, would of course greatly appreciate your business. Here is a huge thank you to the many who have been using our links on a regular basis and those who will be visiting the New BIRDS AS ART Online Store as well.
Facebook
Be sure to like and follow BAA on Facebook by clicking on the logo link upper right. Tanks a stack!
Typos
In all blog posts and Bulletins, feel free to e-mail or to leave a comment regarding any typos or errors. Just be right 🙂