What's Up?
Friday was a day of rest (that means no early morning photography…) with lots of work done on my B&H Event Space programs… See the details below.
The Streak
Today's blog post marks a totally insane, absurd, completely ridiculous, unfathomable, silly, incomprehensible, what's wrong with this guy?, makes-no-sense, 268 days in a row with a new educational blog post. And I still have dozens of new topics to cover; there should be no end in sight until my big South America trip next fall. As always-–and folks have been doing a really great job recently–-please remember to use our B&H links for your major gear purchases. For best results use one of our many product-specific links; after clicking on one of those you can continue shopping with all subsequent purchases invisibly tracked to BAA. Your doing so is always greatly appreciated. Please remember: web orders only. AND Please remember also that if you are shopping for items that we carry in the new BAA Online Store (as noted in red at the close of this post below) we would appreciate your business.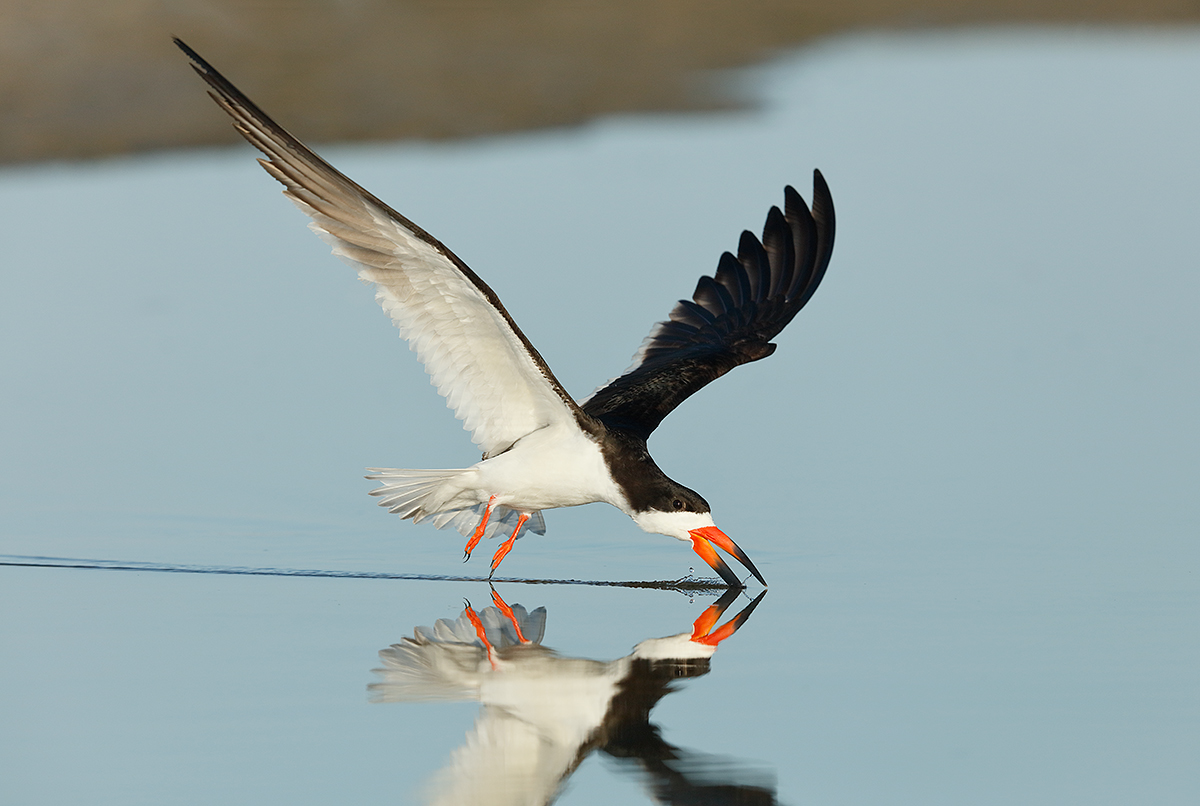 This image was created on Thursday morning, August 4 with the Induro GIT 304L/Mongoose M3.6-mounted Canon EF 600mm f/4L IS II USM lens, the Canon Extender EF 1.4X III, and the mega mega-pixel Canon EOS 5DS R. ISO 800. Evaluative metering +1 stop off the light blue water: 1/3200 sec. at f/6.3. Daylight WB.
Center AF point/AI Servo Expand/Shutter Button AF as originally framed was active at the moment of exposure (as is always best with moving subjects). The active AF point fell on the spot where the wing attaches to the bird's body, right on the same plane as the eye. Click on the image to see a larger version.
Black Skimmer skimming in still water in early morning light
Your browser does not support iFrame.
Thursday Morning…
After taking note of the (ridiculous) new bird protection area at Nickerson I decided that I had had enough of the chicks so I headed down the beach to see what I could find. Again, it was fun hanging with good buddy Tom Pfeifer. We both had the same thoughts as to where we might find some skimmers skimming. We thought that it would be a slaughter but it turned out to be a very slow pick. But for me, my determination is always a huge factor in any success that I might achieve. The crazy thing is that though the wind was from the northeast most of the skimmers were skimming to the west, albeit with perfect mirror-like reflections.
My Critique
In an ideal world, the bird would have had the near wing fully raised to offer a better view of the underwing detail. Otherwise, perfect. What do you think?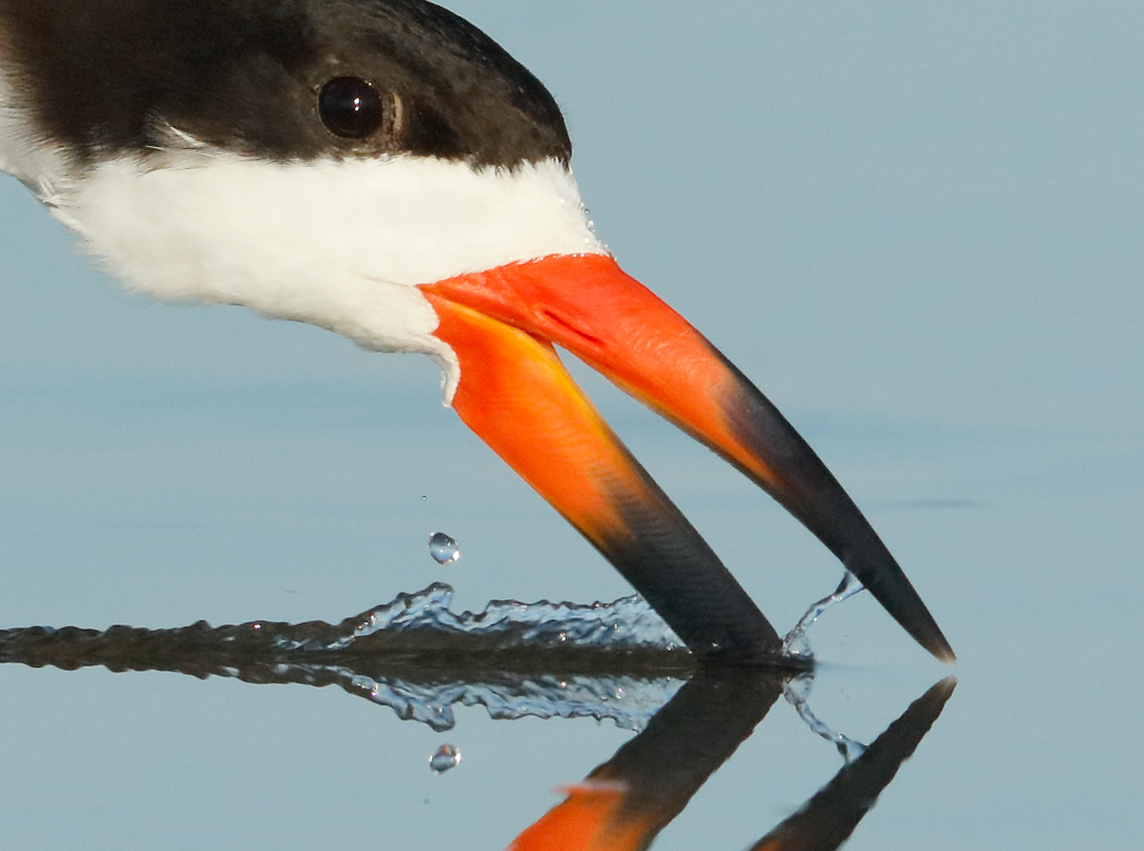 This is an unsharpened 100% crop of the head and bill of the bird in today's featured image
The First 100% Crop
I think that this 100% crop is pretty sick. What do you think?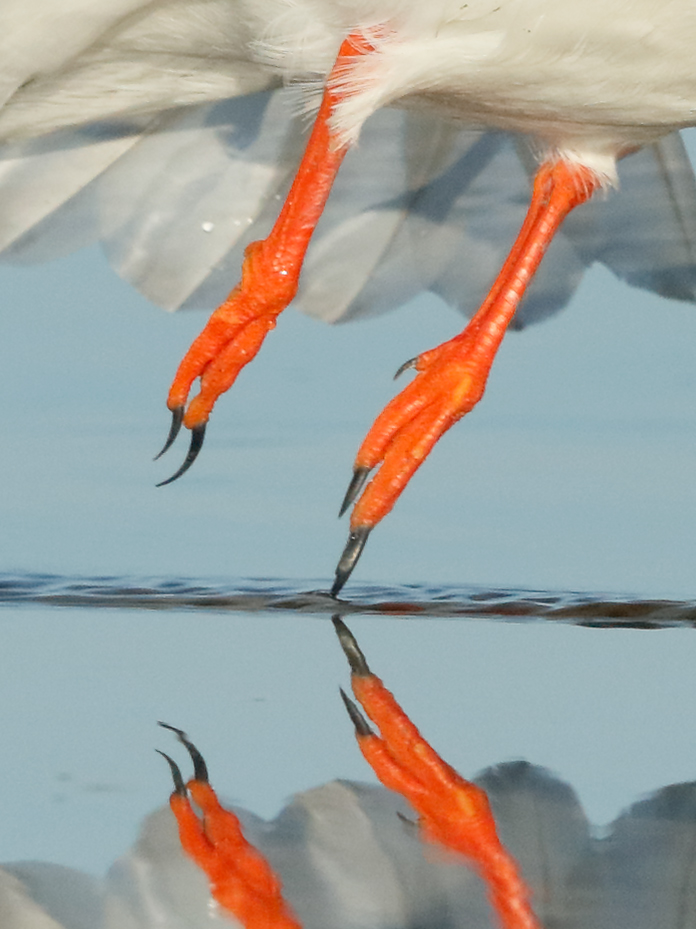 This is an unsharpened 100% crop of the feet and toes of the bird in today's featured image
The Second 100% Crop
I think that this 100% crop is even sicker. What do you think?
B&H August 11, 2016 Event Space Programs
On Thursday, August 11, 2016, I will be presenting two free programs at the B&H Event Space as below. If you would like to attend, it would be best to register asap as both programs have begun filling nicely.
Using Teleconverters with Intermediate and Super Telephotos Lenses: 1:00 to 2:30pm
The word on the street is that you simply cannot make sharp images with teleconverters (TCs) especially with the doublers. Nothing could be further from the truth. With some practice and good sharpness techniques you can learn to use TCs effectively to photograph small, distant, or shy subjects.
Teleconverters or multipliers come in a variety of strengths, most usually 1.4X and 2X. Nikon also offers a 1.7X TCE. Each will multiply your effective focal length by the factor in its name. A 1.4X TC will make your 400mm lens into a 560mm lens. A doubler, aka a 2X TC, will enable your 600mm lens to give you 1200mm of reach.
In this program, Arthur Morris, internationally noted bird photographer and educator, will share the tips, techniques, and secrets that he has developed and used for more than three decades so that you too can use teleconverters to improve your photography. This program will be illustrated with Artie's spectacular images of birds, wildlife, flowers, and even a few unexpected subjects.
Learn more or register here.
Putting Art into Your Nature Photography: 3:00 to 4:30pm
With today's amazing photographic gear that includes camera bodies with surreal autofocus that can routinely produce superb image files in the right hands and fast, sharp lenses (including and especially the amazing super-telephotos) creating images of various birds, animals, flowers, and landscapes, is pretty much child's play. Anyone can do it. In this program, Arthur Morris, internationally noted bird photographer and educator, will teach you to take your images to the next level. You will learn to identify good situations, to create pleasing backgrounds, to photograph action and behavior, to choose the best perspective, to read and use the light, when and how to create pleasing blurs, and how to consistently create dramatic, evocative images with contest-winning potential.
This program will be illustrated with several hundred of Artie's spectacular images, many published around the world above his most fitting credit line: BIRDS AS ART.
Learn more or register here.
Please Remember to use my Affiliate Links and to Visit the New BAA Online Store 🙂
To show your appreciation for my continuing efforts here, we ask, as always, that you get in the habit of using my B&H affiliate links on the right side of the blog for all of your photo and electronics purchases. Please check the availability of all photographic accessories in the New BIRDS AS ART Online Store, especially the Mongoose M3.6 tripod head, Wimberley lens plates, Delkin flash cards and accessories, and LensCoat stuff.
As always, we sell only what I have used, have tested, and can depend on. We will not sell you junk. We know what you need to make creating great images easy and fun. And we are always glad to answer your gear questions via e-mail.
I would of course appreciate your using our B&H affiliate links for all of your major gear, video, and electronic purchases. For the photographic stuff mentioned in the paragraph above we, and for everything else in the new store, we, meaning BAA, would of course greatly appreciate your business. Here is a huge thank you to the many who have been using our links on a regular basis and those who will be visiting the New BIRDS AS ART Online Store as well.
Facebook
Be sure to like and follow BAA on Facebook by clicking on the logo link upper right. Tanks a stack!
Typos
In all blog posts and Bulletins, feel free to e-mail or to leave a comment regarding any typos or errors. Just be right 🙂